The cost of building bunk beds depends on the type of materials used, the design, and the bed's size. But, on average, a custom bunk bed would cost between $2,500 and $5,000 to construct. If you want to DIY, the price range could be from $200 to $1000. 
What Are The Factors That Influence The Cost Of Bunk Beds?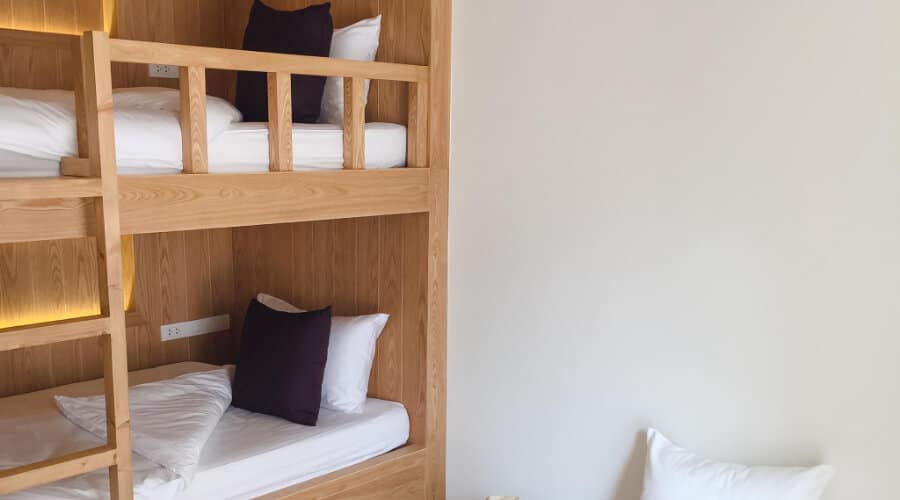 Several factors influence the cost of bunk beds, including
The Type Of Bunk Bed
Bunk bed types greatly influence their cost. The following table shows the comparison in prices of these different pieces;
| | |
| --- | --- |
| Bunk Bed Type  |  Price Range  |
| Detachable  | $200 to $1500 |
| Twin over full bunk bed | $200 to $600 |
| Futon (loft beds with futon) | $250- to $2000 |
| Trundle  | $400 to $4000 |
| L-shaped | $250 to $1000 |
| Loft  | $150 to $3500 |
| Study  | $500 to $1500 |
| Novelty  | $300 to $2500 |
| Triple  | $300 to $2000 |
| Rustic  | $500 to $3000 |
Detachable Bunk Beds 
This kind of bunk bed consists primarily of two twin beds placed on top of each other. The pieces can be detached and used separately on the floor as two twin beds. These bunk beds are ideal for a family with two kids temporarily sharing space as they wait to move out or separate their room. 
Twin Over Full Bunk Beds
This bunk bed comprises a full double bed on the lower bunk and a twin bed on the upper section. The bed utilizes the same amount of space as a double bed on the floor but gives extra sleeping space. This bunk bed is ideal when one of your children has outgrown a single bed. You may also use it in your guest room to host a family or more guests. 
Trundle Bunk Beds
These beds usually have a third pull-out bed (referred to as a trundle) stored underneath the lower bed. The third bed provides extra sleeping space and is generally hidden when not required. It is ideal for children who invite their friends occasionally for sleepovers. 
Trundle bunk beds are stylish, usually made of wood, and may sometimes come as twin over full beds. 
Futon Bunk Beds
Futon bunk beds (loft beds with futons) are generally made of metal. They are very versatile as they consist of an adaptable futon sofa on the lower bunk. Their classic design allows you to have two beds and a trendy sofa bed at the bottom. These pieces come in handy in tiny spaces where kids share a room and still want to watch the television during the day or entertain their friends. They can also be suitable for your guests as they offer a place to relax when not sleeping. 
Loft Bunk Beds
Unlike ordinary bunk beds, loft bunk beds only have a single bunk at the top for sleeping. The piece provides an additional floor space in the bedroom by leaving an empty area below. This spacious and modern bunk bed allows you to utilize your bedroom for other activities such as chilling out or working. 
Novelty Bunk Beds
This type of bunk bed is the most playful and one which many kids enjoy having since they are both fun and creative. One striking feature in novelty bunk beds is an attached slide from the top of the bed to the floor, which makes an amazing alternative to a ladder when your child is stepping out of bed. 
A novelty bunk bed gives you the option to design it like a treehouse and add a fairytale vibe. You will also get various themes to choose from, including a playhouse, fantasy, medieval, treehouse, or sports. 
Study Bunk Beds
As the name suggests, a study bunk bed adds space for study in your child's room.  This type of bunk bed uses the loft platform to open up the area below the upper level. Study bunk bed comes with a built-in workspace or desk in place of the bottom bunk. 
Most of the study bunk beds also include shelves or racks for storing books to help in the overall room's organization. 
Rustic Bunk Beds
This kind of bunk bed belongs to the same category as the novelty. Rustic bunk beds are gorgeous and often made of rare wood. These bunk beds together with the right furniture pieces will give your room a breathtaking appearance as they can add a natural, pastoral, woodsy feeling. 
Materials Used
Bunk beds are usually made from metals or wood, but there are some made of plastic. Like with other furniture pieces, their prices vary with the type of materials used. Plastic bunk beds are the most inexpensive, but you can only use them for very young children. 
Wooden bunk beds are the most expensive and common types of bunk beds. Some are made of less durable pine, which is cheaper than hard and other quality woods. 
The Style Of Bunk Beds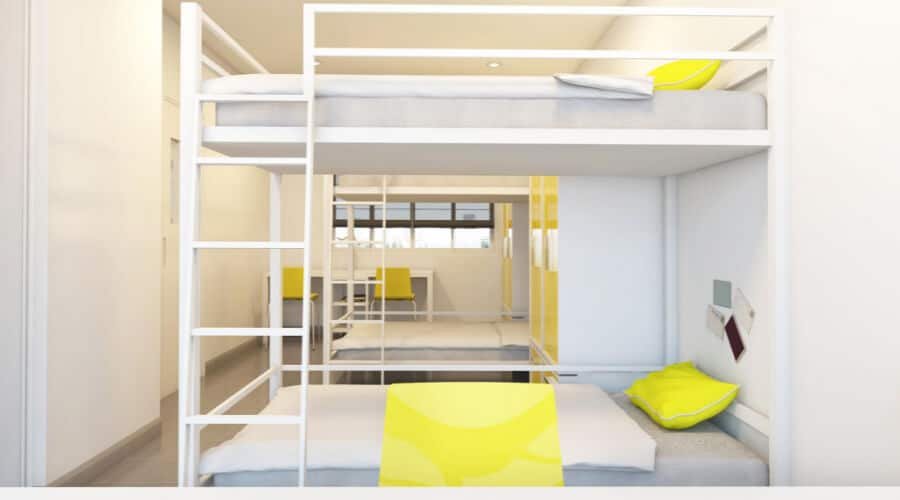 The bunk bed's design also plays a great role when it comes to the price. An all-wood bunk bed (especially quality wood) will be more expensive than an all-metal alternative. Whether your child prefers a traditional design in darker wood or a modern one with sleek lines also affects the cost. 
What Factors Should You Consider When Purchasing A Bunk Bed?
Several factors need to be considered when buying a bunk bed which include;
Your Space
Besides considering your floor space, it is also important to measure the height of your ceiling. Ensure that the size of the bunk bed that you purchase will leave at least 2-feet between it and the roof to avoid bumps. You may go for an average bunk bed whose height ranges from 5 ½ to 6-feet. 
You will also need to consider your floor space if your bed has special features such as pull-out drawers since they require additional space. Examples of beds that need more space are L-shaped bunk beds and trundles. 
How Safe The Bed Is
A bunk bed needs to have special features to enhance your children's safety. Ensure that it has headboards, footboards, and guardrails. Make sure that your children understand the safety rules and also observe them all the time. 
The Style
Bunk beds come in different designs and styles, and you must choose what is ideal for you. You can select an all-metal, all-wood, or a combination of both. You will also get various options, including country and cottage styles, themed, or even novelty bunk beds. 
Your Budget
Different bunk beds have varying prices, and what you buy depends on your budget. Be sure to look around and compare the different styles, materials, and the type that matches your budget. It is necessary to ensure that you get value for your money. 
Your Preferred Features
Most bunk beds have special features such as storage spaces, study areas, and fun features such as tents and slides. Ensure that what you choose is suitable for your children, but this will also depend on their age. Consider also whether your child likes inviting friends for sleepovers or not. If they do, get a piece that has pull-out beds or futons. 
Can Adults Use Bunk Beds?
Yes. Adults can use bunk beds, but it is necessary to look for the right size that accommodates both light and heavyweight. Industrial strength metal bunk beds (weight 500-pounds) are perfect for most adults since they are stable and strong. 
Ensure that the bunk beds have a sturdy ladder for climbing to the top bed and one with a stable base. 
Conclusion
Bunk beds come in different sizes and designs. They are also made of different materials such as wood, metals, and some plastic. All these factors play a role in determining the cost of these beds. Before buying a bunk bed, ensure that you compare the different options available and get one that satisfies your needs and meets your desires.