Last Updated on July 26, 2023 By Emma W. Thomas
To partition a room into two spaces, consider these options:
1. Use room dividers or decorative screens for a temporary solution
2. Install sliding doors or curtains for flexibility
3. Build a half-wall or bookshelf divider to add storage
4. Use large furniture pieces to create distinct areas
What Is The Cheapest Way To Divide A Bedroom?
Dividing a bedroom can be an excellent way to create additional privacy or differentiate spaces based on activities, especially in shared spaces or in smaller dwellings. Budget is often a pressing issue when planning room remodels or design changes. Here are some of the most cost-effective ways to divide a bedroom:
1. Use Curtains:
Curtains are not only decorative but also functional. They come in a variety of colors, patterns, and fabrics for any design aesthetic. Their easy installation involves simply hanging from a rod or wire.
2. Portable Dividers or Screens:
These options are an easy and non-permanent solution that can be moved around as the need arises. They come in many designs, fabrications, and styles to suit any decor.
3. Bookshelves:
An open bookshelf acts as a semi-permanent barrier and provides storage. Users can display items on the shelves, making the divider serve multiple purposes.
4. Install Lightweight Doors or Sliding Panels:
Installing doors or sliding panels offers more separation than the previously mentioned tactics. Although more expensive and permanent, they can be cost-effective, easy to install, and often come in DIY kits.
5. Use Rugs or Carpets:
Differentiating spaces using rugs or carpets is another cost-effective and non-permanent solution. If two or more rugs are used in a bedroom, each can denote a separate space.
6. Plants or Green Dividers:
Plants can make definite boundaries and add a touch of nature to the room. Using taller plants helps maximize the divide.
7. Lighting:
By creatively positioning and choosing different types of light, an individual can clearly demarcate separate spaces in a bedroom.
| Cheapest Way to Divide A Bedroom | Description |
| --- | --- |
| Curtains | Install hanging fabric curtains. |
| Portable Dividers or Screens | Moving or rotating room dividers or screens. |
| Bookshelves | Use for storage and separation. |
| Lightweight Doors or Sliding Panels | Easy to install and semi-permanent. |
| Rugs or Carpets | Differentiate spaces visually using floor coverings. |
| Plants or Green Dividers | Make use of plants to create natural boundaries. |
| Lighting | Use varying types and positioning to separate zones. |
Ways To Divide A Room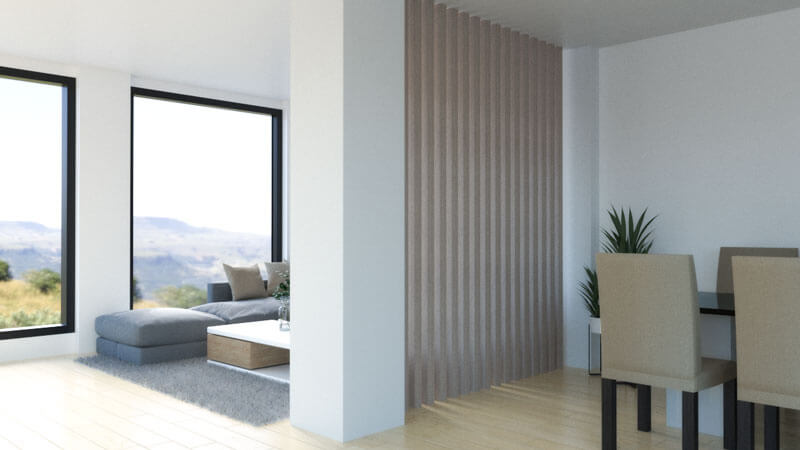 The following dividers are effective in creating a budget-friendly customized space;
Using A Bookshelf Or Other Furniture
A bookshelf is an excellent and stylish divider that helps break up a room and create extra space. Placing this piece of furniture carefully in the space you want to divide will make it appear like it was built in this area. 
Using a couch as a divider will also help create a separate sleeping area from your living space. Doing this will help save on the cost of buying new partitions. 
Use Of A Decorative Screen
You can also go for a decorative screen with elaborate carvings or modern metal designs to divide your space. A screen with mild fretwork is a good option as it will help to light up both areas. You may also choose a solid screen if you want to have two distinct parts within your room, giving enough privacy to the two rooms. 
Installing Glass Dividers
Glass partitions are a good alternative for dividing a room.  You can comfortably create extra space without affecting the lighting and volume of the larger area. Install these partitions floor to ceiling to join them into your room's shell. Doing this will also help make the partitions a good entry point for light between the spaces. 
Going for sliding doors will give your space an appearance that spells visual continuity as they can slide back and forth. You can use a translucent glass divider to act as an interior window and sync with the other furniture since it is framed in grey. 
If you are partitioning the kitchen, a sliding glass door can help keep the fumes and noises at bay since it can be pulled shut.
Using Accordion Doors
If you still want the privilege of folding your partition when in need of a larger space, then accordion doors are the way to go. These doors can be folded to the wall, thus creating an aesthetic addition to your room. 
Introduce Curtains And Blinds
If you are looking forward to splitting your room without affecting its walls permanently, then an easy method would be the use of curtains. You can use gauzy curtains to partition your space and still maintain the design of the room. Curtains are a great option, especially if your room is quite tiny and cannot be divided using foldable dividers or doors. Choosing bead curtains instead of fabric pieces can provide a quirky twist and produce a semi-private barrier. With these curtains, one cannot see what is in the other space but can walk through. The beads could be made of acrylic, plastic, glass, or bamboo.  
To shield the view completely, one can also go for louvers (shutters and blinds with movable slats). Some blinds can be rolled up when additional space is needed or pulled down to partition the interconnected rooms. 
Use Of Open Shelves
Using open shelves to partition a room will help to enhance the aesthetic appeal of a space while allowing light to pass through. For maximum visibility, you can exhibit your books and artifacts on one shelf and leave others empty. Open shelves give the illusion of a larger space and also sections off two zones. 
What Is The Cost Of Dividing A Bedroom Into Two Using Drywall?
The cost of installing an interior wall to divide a bedroom depends on location and the size of the new wall. Other factors that may impact the price include installing additional electric outlets, switches, and fixtures or framing in a closet. The type of partition you put in will also affect the cost depending on whether you want to raise the house's resale value or create extra room for your family. 
The following prices apply for different tasks;
| | |
| --- | --- |
| Type Of Work  | The Approximate Cost (In USD) |
| Dividing a room into two | 2500 – 5000 |
| Creating an extra bedroom | 4000 – 6000 |
| Installing a closet | 1000 – 6100 |
| Electrical installations | 50 – 100 (per hour) |
Partitioning A Room Into Two
One of the easiest tasks of dividing a room into two is to install an interior wall, and its cost ranges between $2500 and $5000. Besides the drywall and framing, this cost includes new light switches and electrical outlets, doors, paint, and trim. 
Producing An Additional Bedroom
Creating an extra bedroom from a large one may include framing in a new closet, adding some light switches & outlets, and fixing drywall. It may also involve installations of doors and trim as well as paints. All these tasks may cost approximately around $4000 to $6000. For a bedroom to be considered legit, it must include a closet. 
Installation Of A Closet
Two types of closets can be added to the bedroom, i.e., a reach-in and a walk-in. Installing the latter into a room will cost more, especially if it will have an organizer system and built-in storage. This task may cost between $1000 and $6100, depending on the size of the closet. Reach-in closets have a width of between 3-feet and 8-feet and a depth of between 24-inches to 30-inches. On the other hand, walk-in closets measure around 6.5-feet in width and at least 6.5-feet deep to give enough space for different storage areas. 
Trim And Doors 
If you intend to upgrade your regular trim and doors, it will cost you more due to the extra materials and labor. You may need to buy more baseboards and crown molding. 
Electrical Installations
Most contractors will work on minor electrical installations, like adding a simple fixture, a light switch, or installing a new power outlet. However, for more complicated electrical work, you will need to hire the services of a licensed electrician. A professional may charge you between $50 and $100 per hour or a flat rate for some particular tasks. 
Factors To Consider When Dividing A Room Into Two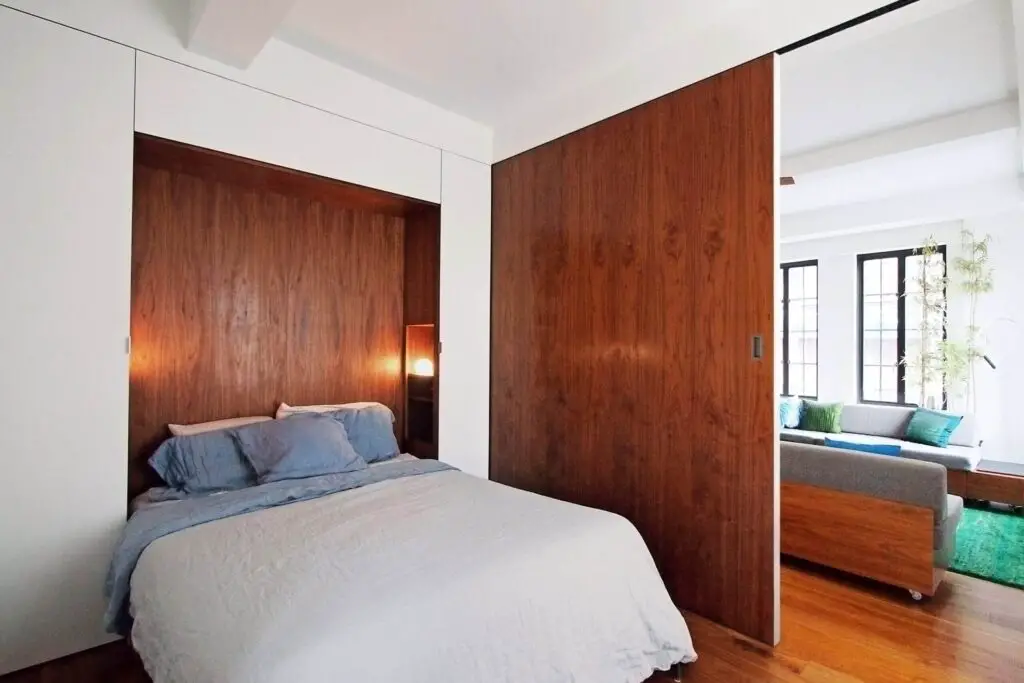 Several factors need to be considered when partitioning a room to create extra space. They include;
Lighting
When partitioning a room, it is necessary to consider its lighting. If you do not include an existing window in the area partitioned off, then a new window can be fixed on the outside wall. One could also incorporate glazing into the partition to help get light from the neighboring room. 
Accessibility Of The Room
It is important to ensure that the new room is easily accessible when partitioning. You can build a sliding door, two half-doors, a stable internal hinged door, or put a curtain. Make sure that there is proper planning to overcome the limitations of space. 
Ventilation
The new room needs to be properly ventilated either through a window or an electrical extractor fan. If there is an inadequate window opening in the new space, this fan will serve the purpose. 
Electricity 
When a room is partitioned, there may be a need to change the electric switches and ceiling lights. You may have to reposition the existing lights or add a switch and glow to the new space, and this means that you need to incorporate the switch and wiring during partitioning. You can also add a ceiling-mounted pull switch if the additional room is used as a shower or washroom. 
Additional wall sockets may also need to be added on each side of the partition.  You may also need to install outlets for shower units and heaters.  
Plumbing 
If the purpose of partitioning is to create a shower room, then plumbing is a vital requirement. If there is a need to provide water and electricity, installing the new partition outlets is easier than fitting them in the existing wall. 
For a better outcome of the partitioning, you can draw a room plan to be partitioned and include the intended division. Indicate where to put the ventilation, additional windows & doors, electric switches, and plumbing work. Since it may not be very easy to visualize the actual scale of the rooms, you can move the furniture into the two spaces to see if they will both be usable.
Conclusion
It is possible to partition a room into two either to create more space for your use or to upgrade the value of a house when you want to sell it. One can use open shelves, curtains & blinds, or screens. Whatever method one chooses, it is good to consider the outcome you want and give it all the necessary attention.
References:
https://www.homesandgardens.com/interior-design/bedrooms/how-can-i-divide-a-bedroom-into-two-rooms
https://mrbrownhome.com/2022/11/02/how-to-divide-a-room-into-two-spaces/
Emma is a graduate of Domestic Science or Family and Consumer Sciences (Home Economics) from the University of Wisconsin. She has 7 years of experience Working with the strategic section of BestBuy and now writing full-time for Homeeon.
From Managing the Home, Interiors, Cleaning, and Exteriors to Gardening and everything about Making A Home Liveable – is her passion and this Homeeon is the result of this.
Emma loves decorating her home with the best stuff found online. She cares about quality over anything and writes reviews about them here in Homeeon. Get in touch with her over Pinterest.
Keep reading her blogs.