Last Updated on July 16, 2023 By Emma W. Thomas
Deciding whether to choose Home Depot for a garage door installation service depends on various factors. Home Depot offers garage door installation services through certified contractors, ensuring professional work. However, the quality of service can vary based on the local contractor. Consider factors like pricing, customer reviews, and warranty options. Comparing Home Depot's offering with other local garage door installation companies is essential. Ensure the chosen service meets your requirements in terms of expertise, reputation, and cost-effectiveness.
Pros and Cons of Home Depot Garage Door Installation Service
When it comes to installing a new garage door, many homeowners turn to Home Depot for their expertise and wide range of products. However, like any other service provider, there are pros and cons to consider before choosing Home Depot for your garage door installation needs. In this article, we will explore the advantages and disadvantages of using Home Depot for this service.
Pros:
Wide selection of products: Home Depot offers a vast array of garage doors, ensuring that you have plenty of options to choose from. Whether you are looking for a traditional style or a modern design, you are likely to find the perfect fit for your home.
Expert advice: Home Depot employs knowledgeable staff members who can provide expert advice on garage doors. They can help you select the right type, style, and material based on your needs and budget.
Professional installation: Home Depot offers professional installation services for garage doors. Their team of trained technicians will ensure that your new door is properly installed, taking into consideration all safety measures and ensuring the functionality of the door.
Warranty options: Home Depot provides warranty options on their garage doors and installation service. This can offer peace of mind, knowing that you are covered in case of any unforeseen issues that may arise.
Competitive pricing: Home Depot strives to offer competitive pricing, making their garage doors and installation services affordable for many homeowners. They often have promotions and discounts available, helping you save some money on your garage door project.
Cons:
Limited customization: While Home Depot offers a wide selection of garage doors, the level of customization options may be limited. If you have specific design requirements or unique measurements, you may find it challenging to find the perfect fit at Home Depot.
Availability and schedule: Due to high demand, it may be difficult to schedule a garage door installation service with Home Depot, especially during peak seasons. You might have to wait for an extended period before the installation can take place, which can be inconvenient if you want your new garage door installed quickly.
Quality of installation: While Home Depot offers professional installation services, the quality of work can vary from technician to technician. It is important to ensure that the technician assigned to your project is experienced and diligent to ensure a proper installation.
Additional fees: Home Depot's advertised pricing may not include additional fees such as removal of the old garage door, disposal fees, or any required modifications. These extra costs can add up, so it is essential to clarify all charges upfront before committing to the installation service.
Customer service: Some customers have reported mixed experiences with Home Depot's customer service. In case of any issues or concerns during or after the installation, it may take some time and effort to resolve them satisfactorily.
Garage Door Installation Process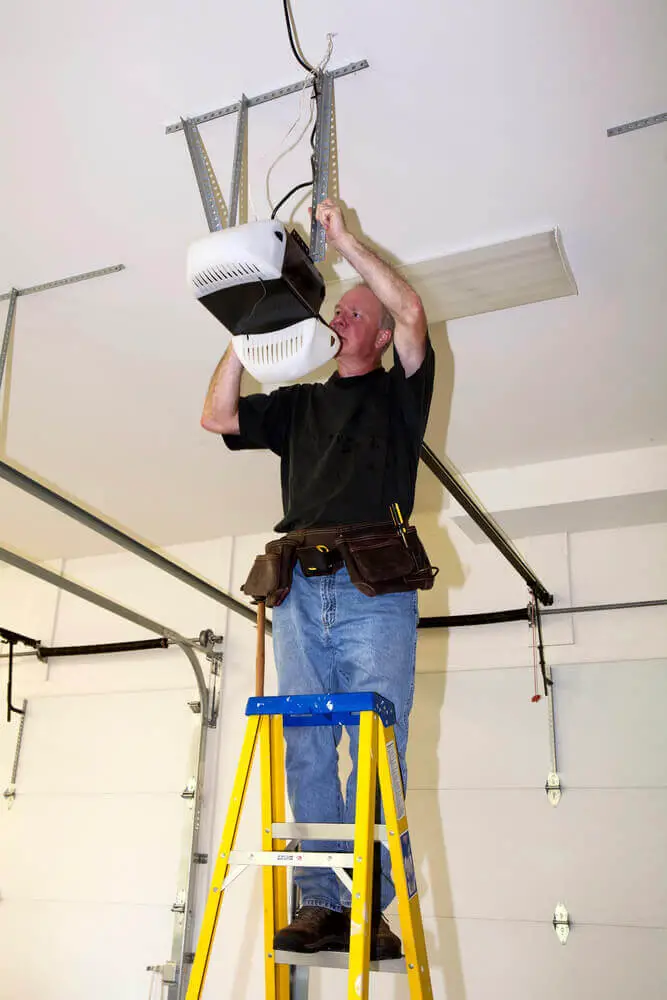 The garage door installation process begins with the measurement of the garage door frame. Measurement is done for clients who want a custom door installed. Garage doors are of different sizes, and this is one of the main factors that determine the installation process
After the garage door has been measured, the next step is choosing an installation company competent enough to do the job. The installation costs will depend on the company's mode of payment. Most companies will charge more for custom installation.
Many garage door installers are available; therefore, home depot is not your only option for garage door installation.
What Are Some Factors You Should Consider Before Choosing A Garage Door Installer?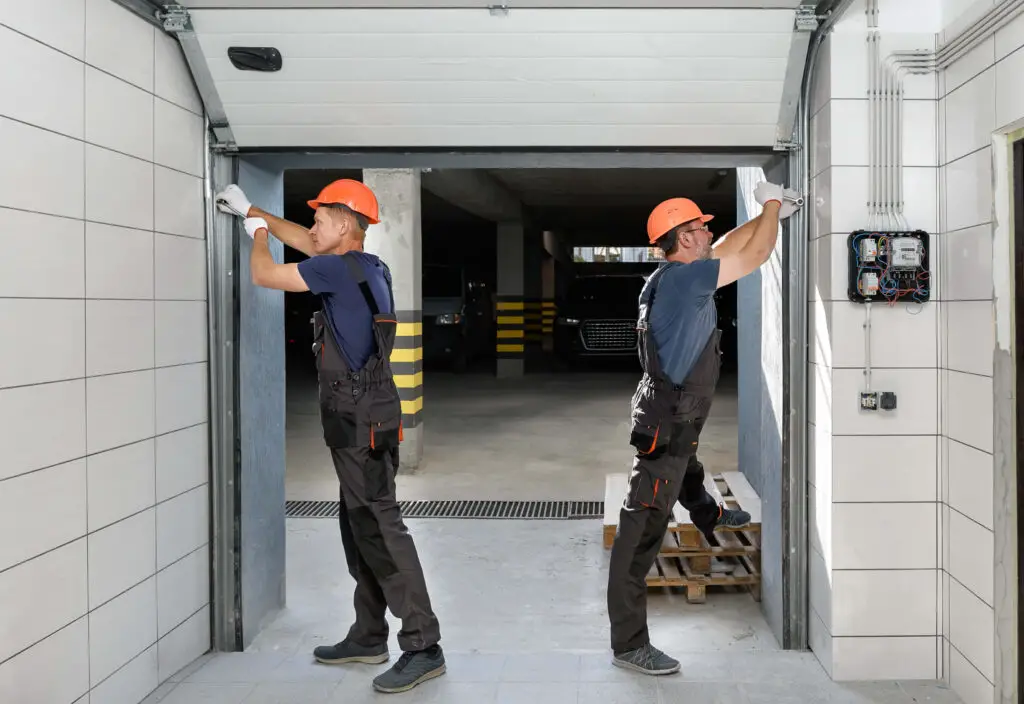 A good installer will have your garage door up and running in a day. And, since it is common to have more than one company in your location specializing in garage door installation, you should choose one wisely. Therefore, picking the right one, including a home depot, you need to know what to ask or look for in the company to better your decision.
Some of the factors to guide you include:
1. What Do The Reviews Say About The Company's Installation Service?
In recent times, the online platform has become very useful to consumers. Service users show dissatisfaction or satisfaction with a product via reviews. It is important to look at a company's review to get a feel of its services from a consumer's voice. The reviews will guide you in knowing the good and the bad about the different companies.
2. Does The Company Offer Discounts?
Companies or stores that sell certain products like garage doors will offer the installation service and give you a discount if you hire them to install the same door. A discount on any sale is always welcome to a buyer. Such an incentive can change your decision on who you want to install your door.
3. What Does The Installation Company Require You To Have Ready During The Installation?
Installation companies will have different requirements for the installation process to begin. Depending on what you can get or afford, this is an important question to ask. Once you find the company that suits you and what you can provide or purchase, you can pick them.
4. How Long Has The Installation Company Been In Business?
The longer an installation company or an installer has been in business, the more it is seen as capable of delivering quality work. A steady history of successful installation also boosts your confidence in the installer.
5. Does The Installation Company Offer A Satisfaction Guarantee?
Installation companies will offer you a certain level of satisfaction guarantee or a certain percentage of your money back when they fail to achieve the satisfaction levels set. Such an incentive should entice you to pick the installer since you are guaranteed quality work, and if not, you will be compensated.
Benefits Of Having Your Garage Door Installed By A Professional
With the rise of YouTube do-it-yourself channels, every home task seems doable, no matter how complex. Garage door installation videos are available just at the click of a button. However, what YouTube creators neglect to mention is that work done by a professional will offer you more service.
The YouTube videos will show the smooth sailing of the garage installation but edit out all the trips back to the store to purchase a small part that they forgot. A professional already knows all about that specific door. They will have no problems fixing it in place with zero issues arising.
Some of the benefits of having your door installed by a professional include:
1. The Right Parts And Tools
A professional garage door installer has done this task more than once, they are well aware of what they need, and most importantly, they know what might go wrong. With the do-it-yourself guidance videos, you go in blindly with zero experience. Garage doors and garage door openers come in different sizes and shapes; this requires a professional to know which door goes with which door opener.
2. Safety
There is minimal risk involved when using a professional garage door installer since they will use the right tools. As an armature, you will have a hard time. You might not have the right tools for the job, and any makeshift device might cause harm.
3. Warranty
Garage doors installed by a professional do not go against warranty guidelines. When you buy a garage door with a warranty, the guarantee is only valid if you take all the right precautions to ensure that the product is not damaged due to avoidable circumstances. You forfeit the cover when you install the garage door yourself, and you are not a professional.
4. No Risk Of Compromising Your Garage Door
Most times, a task like a garage door installation seems like an easy task when it is done by a professional. However, the professional has had years of experience and training. When you do the installation yourself, you run the risk of damaging your new garage door or even breaking it more if it requires repair.
What Is The Average Cost Of Installing A Garage Door?
The typical garage door installation cost ranges between 74 dollars and 1,585 dollars. However, the price varies since all garage doors are not the same size and are made of different materials.
The price of purchasing the garage door doesn't affect the installation cost. But, labor plays a major part in the final installation cost.
Factors Influencing Garage Door Installation Costs
Multiple factors influence the amount you will be charged to install your garage door. Some of these include:
Garage Door Size
The larger the garage door, the greater the costs incurred during its installation. Garage door sizes are fairly standardized, and the installation costs may be similar or vary by a small amount.
The Number Of Garage Doors
Garage doors can either be single doors or double doors. The single door will cost less than the double door. However, you will pay more for custom doors.
Garage Door Type
Garage doors are categorized by how they open and close. The way the garage door you choose opens will be a factor to consider during installation. Each garage door type also requires specific parts which vary in cost. 
The types of garage doors available include; sectional, single panel, swing-out/ slide, and roll-up. All these have their price tags. 
Here is the summary table of installation costs based on garage door type:
Estimates Of Garage Door Installation Cost By Type
| | |
| --- | --- |
| Walk-through (often custom made) | Installation cost  |
| Garage Type | $1,000 – $10,000 |
| French | $2,000 – $5,500 |
| Standard Panel | $300 – $800 |
| Tilt up | $500 – $1,200 |
| Walk-through (often custom-made) | $700 – $5,000+ |
| Glass roll up | $700 – $6,900 |
| Roll up | $400 – $1,500 |
Garage Door Material
The garage door material is the main determinant of the installation costs. Some materials include metal, fiberglass, vinyl, composite, glass, and wood. 
Here is the summary table of installation costs based on garage door material
Garage Door Installation Cost Estimates By Material
| | |
| --- | --- |
| Material  | Cost  |
| Vinyl  | $1,000 – $2,600 |
| Fibergalss  | $1,000 – $2,100 |
| Aluminum  | $700 – $2,000 |
| Faux Wood | $950 – $4,100 |
| Wood Composite | $950 – $3,700 |
| Wood | $700 – $1,800 |
| Steel | $600 – $2,000 |
Garage Door Design
The design refers to the appearance of the garage door. This is a customizable aspect of a door. The better or more complex your garage door design looks, the more you will pay for its installation.
The Type Of Garage Door Opener
Garage doors need a mechanism to be installed to allow for opening and closing. The door opener you pick for the garage will affect the installation cost as each operates on different parts and mechanisms. There are basic openers and more sophisticated ones with more buttons and controls to ease your garage door opening and closing.
Final Thought
Having your door installation done by the same company you bought the garage door is a straightforward task. It is easier than finding another installer after purchasing the garage door at another store. Home Depot is a good store that offers both the purchase and installation service of garage doors. Installation costs for a garage door do not differ much from one installer to another. However, home depot might have discounts if you buy the garage door from them and still use their installation services.
References:
https://www.bobvila.com/articles/best-garage-door-installation-companies/
https://canadoorsystems.com/blog/pros-and-cons-of-buying-a-garage-door-from-home-depot/
Emma is a graduate of Domestic Science or Family and Consumer Sciences (Home Economics) from the University of Wisconsin. She has 7 years of experience Working with the strategic section of BestBuy and now writing full-time for Homeeon.
From Managing the Home, Interiors, Cleaning, and Exteriors to Gardening and everything about Making A Home Liveable – is her passion and this Homeeon is the result of this.
Emma loves decorating her home with the best stuff found online. She cares about quality over anything and writes reviews about them here in Homeeon. Get in touch with her over Pinterest.
Keep reading her blogs.