Last Updated on October 6, 2021 by
A water heater is a fantastic device that provides luxury and comfort in your home. The appliance produces hot water for laundry, shower, dishes, and so on. It supplies hot water continually since the water is refilled as it empties.  If the heater burst, you should turn off the water and power supply, or contact a plumber. 
If you realize that your water heater is leaking or has burst, you need to act fast to prevent severe damage to your home or office. The following steps are essential;
1. Turn off the water supply
If you notice water leaking from your heater, you need to turn off the supply immediately. Close the pipe leading from the main water line to the top of the water heater. Look for a valve at the point of contact between the water supply and the tank and turn it clockwise to prevent water from entering the tank.
2. Put Off The Power Supply
A water heater has a gas or electric heating element inside it and is usually submerged. If the hot water tank becomes empty, the element will be exposed and get dry, which can lead to a fire hazard.
The element is designed to turn off automatically when it reaches a specific temperature, but a leaking tank may cause it to malfunction and remain on. Look for the breaker for your hot water tank in the electrical box and flip it.
3. Remove Everything That Is Near The Water Heater
If you have any furniture, boxes, or other items close to the water heater, move them away to prevent damage. Ensure that you remove the items from near the heater so that they don't come into contact with water, which may spoil them.
4. Call A Professional Plumber
Once you have put off the power and water supply, you need to contact an emergency plumber to clean up and repair your plumbing system and water tank. You can also reach out to the insurance company if the damage is extensive.
5. Clean Up Excess Water
Clean up the mess caused by excess water as you wait for the plumber to come and fix your device. You can use a wet vacuum cleaner if you have one or tidy up using a mop or towels.
What Causes A Water Heater To Explode?
Do you wonder why a water heater would explode? There are various reasons for such an explosion, which can be terrifying. Excessive pressure on the water heating system is the main reason why it can explode.
A lot of sediment build-up or weak anode rod can also cause an explosion on your water heater. Leakage in your gas system is also a tremendous fire risk, which is also a potential cause for the water heater to explode.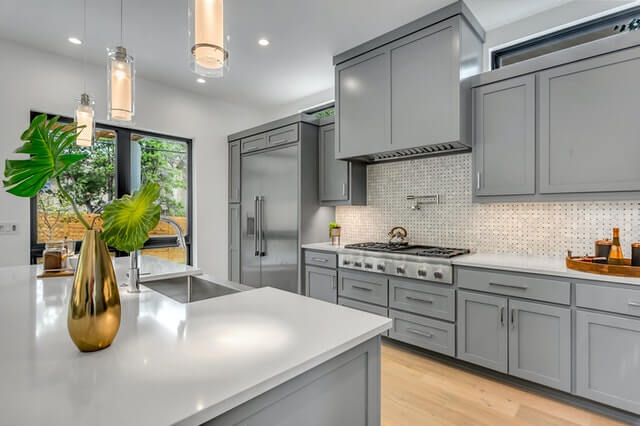 Signs That Your Water Heater Will Explode
Water heater explosions can be risky.  You need to look out for signs and call a professional to inspect your device and fix any issues before it is too late. The following indicators are worth checking;
1. Leakage In Pressure Valve
A valve prevents pressure from building up inside the water tank when your heater is treating the water. Sometimes this safety mechanism may malfunction and allow a lot of pressure to build up, which causes the valve to leak.
2. Foul Smell
If your water heater produces a rotten egg's smell, it is an indication of sulfur being released, which is a symptom of gas leaking. A water heater has a pilot flame that will explode when it catches fire.
3. Brown Water
If you notice brown water around your water heating appliance, it is critical to contact an expert to inspect it. This sign could indicate a possible explosion and pose a health risk to you and your family. Brown color in water could mean that there is sediment building up or rust in your water heater pipes.
4. Popping Sound
Mineral deposits can accumulate at the bottom of your water heater tank, and you need to drain them at least two times a year. If a lot of residue builds up, air and water can get stuck beneath it and produce popping noise due to a lot of pressure.
5. Poor Installation
Improper installations can cause pressure to build up, gas leaks, or other problems that can lead to an explosion of your water heater. You may not spot the defects if you are not an expert, but if you feel that the heater was not correctly installed, you need to contact a professional to help solve the problems. 
Here's The Best Water Heater
How To Fix A Popping Water Heater
A popping noise may mean that there are some mineral deposits at the bottom of the tank. Water below the sediment may steam and bubble up, pushing the residue around and causing some popping noise.
You can flush your water heater using the following steps;
1. If you have a gas water heater, turn its control to pilot or turn off the appliance at the circuit breaker if it is electric.
2. Cut off the water supply by turning clockwise the cold water ball valve or pull a cold water lever. (Coldwater lever usually is above the water heater)
3. Allow the heating appliance to cool down for a minimum of 30 minutes.
4. Attach a garden hose to a drain valve found at the bottom of the water heater tank
5. Place the other side of the garden hose at the basement drain or any place that water can quickly draw off to
6. Turn over the pressure relief valve at the top of the tank
7. Open the drain valve of the water heater using adjustable pliers
8. Allow the water to drain out totally.
9. Turn on the cold water valve or lever to flush out any remaining mineral deposit
10. When you notice that the water running out is clear, close the valve and let it fill your tank
11. Turn the water heater on again once the tank is full of water
Final Word
A water heater is a vital device in any home as it makes cleaning, laundry, and showering comfortable. You should ensure that the appliance is always functional and clean to prevent potential explosions, which can be risky.
Last update on 2023-05-31 / Affiliate links / Images from Amazon Product Advertising API