Charger plates are large plates used as under and decorative bases for other dinnerware such as entrée plates. They are used during formal occasions like banquets, upscale parties, weddings, and catered events but are not supposed to come in contact with served food. 
Charger plates are also called chop plates, under plates, or service plates. Mostly, they are used in multiple course meals to elegantly serve soup bowls, salad plates, and other dinner entrées. Using the service plates makes it easier to replace plates and bowls on it; plus, it catches food and spills that could stain your table linens. 
So, if you are not so familiar with charger plates, read on to know why you may need them and how to use them properly. 
What Is The Point Of Charger Plates?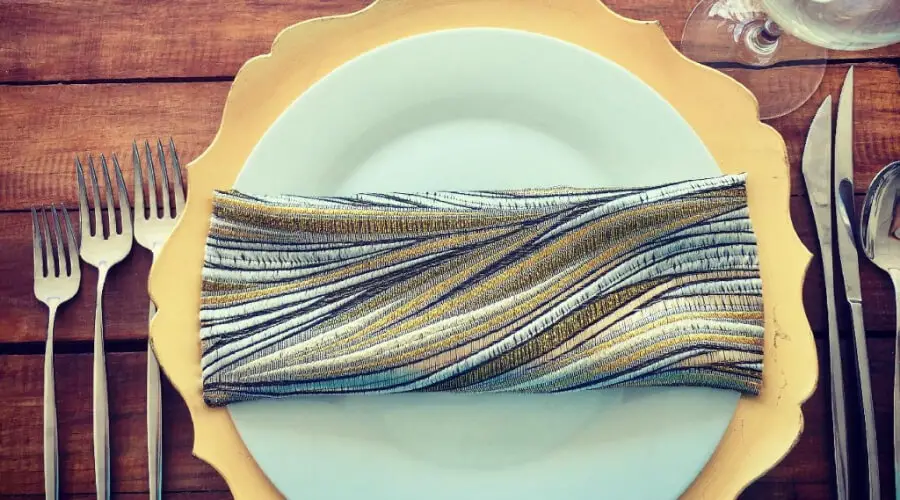 Besides charger plates being decorative pieces, they serve other practical purposes below:
Help Retain The Heat In Dinnerware
When the charger plates are placed underneath bowls and plates, the food remains warm longer as it helps in heat retention.
Serve As Placemats
Instead of using the traditional placemats that are somewhat outdated, use the charger plates as they serve the same purpose. It will hold spills and food that could mess up your tablecloths.
Enhances Food Presentation, Thus, Make It More Appetizing 
Good food presentation makes meals more appetizing. So, instead of serving food with white entrée plates only, which are too plain, charger plates make it presentable. 
Enhance Table Setting
Charger plates come in different styles and colors that elevate your dinner setup.  Using them during meals creates a great ambiance for your guests. 
Serve As Table Décor
You can use colorful charger plates as table décor during meals. Choose styles and colors that complement your dining room, tables, and other plates. 
How To Use Charger Plates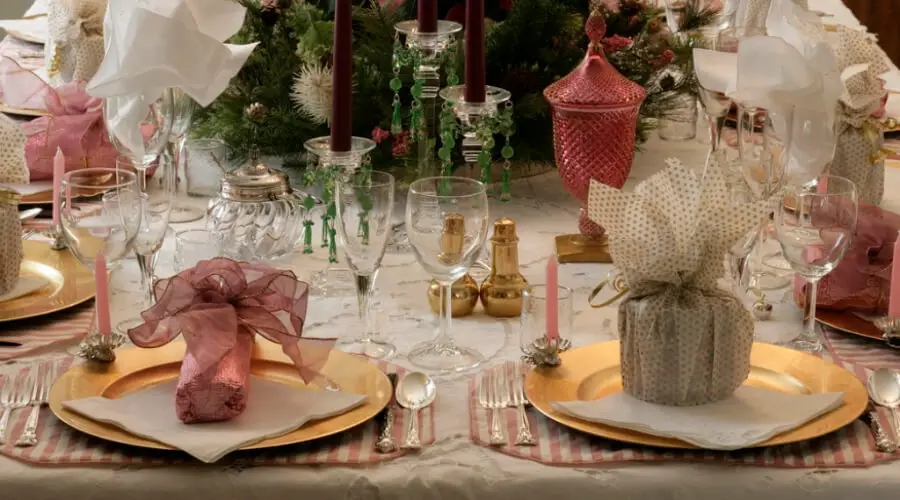 If you are not familiar with charger plates, you will need to learn how to use them properly to avoid unnecessary embarrassment. 
Follow the instructions below to use the service plates correctly:
1. Choose Charger Plates Based On Your Dinner Theme
Choose charger plates that complement your table décor in terms of their color, shape, size, and materials. For this to happen, you should consider the linens, location, silverware, flatware, beverage glasses, bowls, serving platters, centerpieces, fabric overlays, and floral arrangements and pick the service plates that match all. 
2. Set The Table
Place a charger plate one inch from the table's edge in front of each guest's seat setting. It should be set below the beverage glasses and between the flatware. Ensure there is enough elbow room for each guest by setting the chop plates at least two feet apart. 
3. Coordinate Table Accessories
Set napkins with napkin rings, menu, and name cards in the middle of the chop plates before your guests arrive. This impression will leave the guest in awe.
4. Serve Your Guest
Once the guests settle at the dinner table, it is time to serve them. Place the salad plates, soup bowls, and dinner entrées on top of the charger plate. Those serving foods should wipe or replace the charger plates between each course to keep them clean and leave the table neat. 
5. Clear The Table
Remove the charger plate after all guests have finished eating the main entrée. Take the charger plates with the dinner plates still on top. This ensures you clear the table without messing it up and leave ready for serving desserts. 
N/B: The dessert plate should not be placed on chargers. Clear the table before serving dessert. 
What To Look For When Buying Charge Plates
There are essential features that ensure you choose the plates that are right for you. These include:
Shape
Charger plates come in different shapes, so you can pick one that complements your dining table. The common ones are round and square, and you should go for one that you feel fits you.
Environmentally Friendliness
Go for environmentally friendly charger plates, i.e. made from sustainable materials. You should take every chance, including when shopping for charger plates, to positively impact the environment. 
Dishwasher Safe
Always prioritize dishwasher-safe charger plates to make your cleaning easy and faster. This ensures you do not feel the burden of replacing them in between each course.  
Color
Charger plates come in a variety of colors, and you should opt for a color that complements the theme of your event. Otherwise, choose one that goes with the style of your dinner tables and other accessories. 
Charger Plate Etiquette 
Since the underplates are used in a formal setting, there are some formalities that you should follow when using them. Here are some etiquette rules to follow:
1. Set the table with charger plates early. The guest should find the charger plates already dressed when they arrive. 
2. Remove the charger plates ONLY when all the guests are done eating. Take away the charger plates with entrée plates still on top after all guests have finished eating. Do this before serving deserts. 
3. Properly place the charger plates on the table. Charger plates should be placed one inch from the edge of the table and two inches apart. 
4. Never let food be in contact with the charger plate. Some charger plates are not food safe and therefore should never be in contact with the food. And, as a matter of etiquette, even food-safe ones should not be used directly to serve food.
Additional Uses Of Charger Plates
Other than the intended use, charger places can be used to:
1. Create a colorful base by setting floral centerpieces on top of it
2. Hide some imperfection on your tablecloth or table by placing it strategically where there is a fault 
3. Hold table cloth firmly to make it easier to place other decorative pieces on the table
4. With a linen napkin or doily on top of the charger, you can use it as a tray or platter
5. Create an elegant centerpiece by grouping pillar candles on it.
What Is Charger Plates Made Of?
Considering the charger plates are not supposed to come to contact with food, they come in a variety of materials that include:
1. Stainless steel
2. Rattan
3. Porcelain
4. Plastic
5. Melamine
6. Glass
7. Faux wood
8. Chrome
9. Acrylic 
10. Metal
11. Wood
12. Leather 
13. Mother of pearl 
Why Are Charger Plates Not Food Safe?
Charger plates are not food safe simply because they are not meant to serve food directly. They are purposely used as decorative pieces in a formal setting and as placemats to hold spills and any food dropped off from the entrée plates.
Note: Some charger plates have been coated to make them food-safe. But, also check well to avoid contaminating your meals. 
Can Charger Plates Go In The Dishwasher?
There are charger plates that are dishwasher safe and those that are not. So, if you want plates that would be easier and faster to clean, buy ones that can go in the dishwasher. Manufacturers indicate the dishwasher symbol at the bottom of the plate to guide you accordingly. 
Do You Use Placemats With Chargers?
It is not necessary to use a placemat with chargers. The chargers serve as placemats as they protect the table or tablecloths against food stains while adding color and formality to the event. However, if you do not intend to leave the chargers throughout the meal, it would be advisable to use the placemats. 
Alternatives To Charger Plates 
Instead of a charger plate, you can use lace doilies, paper, or cake boards. Rustic charger plates such as wood slabs can also serve the purpose. Just ensure the option you choose matches the mood, décor, and style of your event. 
Why Are They Called Charger Plates?
The word charger came about around 1275-1325 from the Middle English' chargeour'. Chargeour meant a way of carrying heavy items, and since the under plates hold the other dinnerware, it came to be known as chargers. Again, 'carricane', a Latin base, which means 'to load', contributed to the word charger. The antique silver specialist, AC silver, noted that under plates carry a load, hence charger plates from Chargeour. 
Final Word
You must have noticed some plates placed under the entrée dishware in formal events such as weddings, banquets, and other catered events. Those plates are known as chargers. They serve as decorative pieces and importantly protect the table and tablecloths against food stains. With the chargers, the warm food in entrée plates will retain stay warm longer as they are known to be good in heat retention. So, always follow the right etiquette when using charger plates to add some touch and style to your events or parties.