Last Updated on July 31, 2023 By Emma W. Thomas
Dining room tables and chairs cost varies widely based on factors like material, size, and brand. On average, a basic set can cost $200 to $600, while high-end options can exceed $2,000.
How Much Does A Dining Room Table And Chairs Cost?
Cost Range of Dining Room Table and Chairs based on Material and Design
| Material/Design | Low-End Cost(USD) | High-End Cost(USD) |
| --- | --- | --- |
| Wooden Basic Design | 500 | 1500 |
| Wooden High-End Design | 2000 | 5000 |
| Plastic or Metal | 100 | 500 |
| Glass | 1500 | 3500 |
| Upholstered Chairs (set of 4) | 150 | 500 |
| Wooden Chairs (set of 4) | 200 | 1000 |
| Leather Chairs (set of 4) | 400 | 3000 |
Average Cost Range of Dining Room Table and Chairs based on Brand
| Brand | Low-End Cost (USD) | High-End Cost (USD) |
| --- | --- | --- |
| IKEA | 150 | 1000 |
| Pottery Barn | 600 | 3500 |
| Crate & Barrel | 700 | 4000 |
| Restoration Hardware | 2500 | 10000 |
What Are The Factors To Consider When Getting A Dining Room Table And Chairs?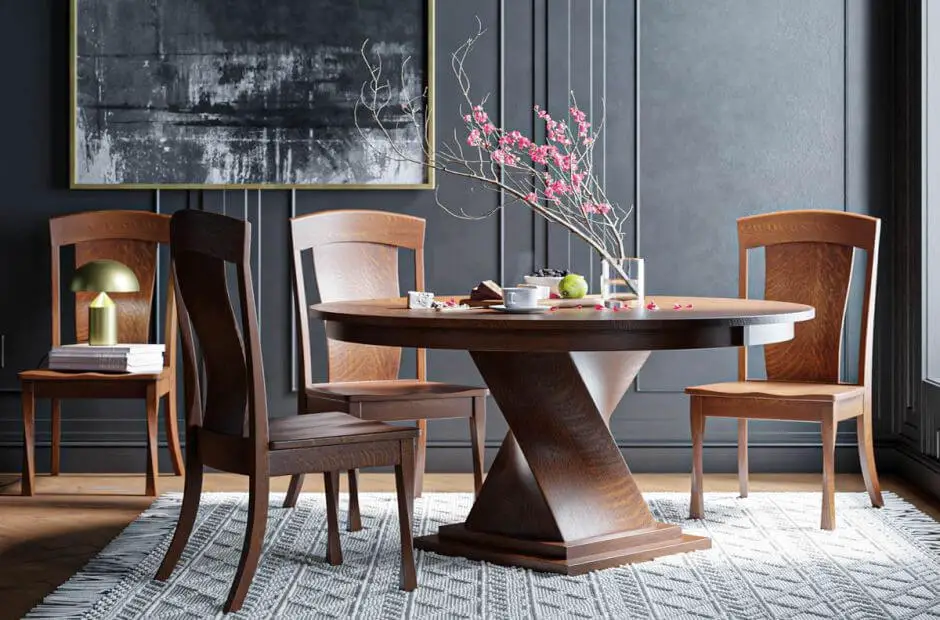 Before getting a new dining set or a new upgrade for the set you already have, it is important to think through several aspects depending on your budget. These factors come in handy for the pricing of different types of dining sets available. We can have a look at each of them in detail.
1. Place Setting:
Dining room tables are typically made to seat 2-8 people, and the price is determined by the size of the table you choose. Their price range  for dining tables, excluding chairs, is as follows;
2 Seater – under $200
4 seater – $150 to $350
6 seater – $300 to $800
Eight seater – $750 and above
You can opt to go for a set size table or an adjustable one: adjustable tables are pricier but come with extra leaves that can be used for extra length. Most people prefer round tables to rectangular ones since they save space, allow for more seating space, and are homelier.
2. Seating:
Two tables with the same size top might accommodate different numbers of people, based on the leg placement and top overhang. Consider armless chairs placed around the table closely or pair a trestle or pedestal table with benches in a small space. 
3. Color And Style:
The color and design of your dining table will greatly impact the ambiance of your dining room. Choose colors depending on the theme you are going for. If you want the room to feel brighter and breezier, go for lighter hues, as the color also matters. 
4. The Shape Of The Table
The shape of a dining room table has an impact on the room's appearance and social interaction. In a rectangular room, round dining tables won't look good, just as square pegs won't fit round holes. For an eye-catching dining room design, match the table's proportions with the room, and you will find the right dining table for your room. With the length and breadth being somewhat similar, a square-shaped space is the best match for a round table, while a lengthened room is for rectangular tables. You can also go for rectangular tables with rounded edges or oval tables if you are a curve lover.
Round tables are great for that social interaction since everyone sits about the same distance from the other person. Rectangular tables are great if you want to fit more tableware and food but might feel awkward interacting if fewer people are sitted on opposite sides. 
5. The Material Used To Make The Set
Dining room tables and chairs come in a variety of materials that are all priced differently. Let's look at some of the popular materials.
a) Bamboo:
Bamboo is a sustainable, market-friendly, and economical material that has gained popularity in recent years. They're found in the middle area of the price zone, and their light but steady makeup is perfect for trendy furniture.
b) Glass:
They come with metal chairs and tabletops combined with wood or metal frames. The dining room sets cost $200 – $400, and the chairs may have wood, leather, or cloth seats for a lustrous, elegant look.
c) Plastic:
The seats look incredibly comfy and can be found under $300 in a modern minimalistic style.
d) Metal:
They are mostly paired with wood and glass for an industrial look; their price ranges between $200- $300, adding a unique flair to your home.
e) Rattan:
Costing over $1,000, the dining room set they make is pricy. Various decorating styles would benefit from a rattan dining room set as the material is usually used for pool and patio furniture, perhaps a bohemian or tropical-themed vibe.
f) Wood:
Though expensive, it's always in style and makes wonderful dining room tables and chairs. If well taken care of, they can last for generations and range from $200 – $1,000 or extra. Examples are cherry, oak, mahogany, pine, and walnut.
What factors Affect the Price of Dining Room Table And Chairs
Several factors can influence the price of dining room tables and chairs:
Material: Tables and chairs made from high-quality materials like solid wood or metal tend to be more expensive than those made from engineered wood or plastic.
Size: Larger tables and sets with more chairs usually cost more due to the increased material and production costs.
Brand: Well-known and reputable brands often come with a premium price tag compared to lesser-known brands.
Design and Style: Intricate designs, unique styles, and trendy aesthetics may raise the price of the furniture.
Craftsmanship: Handcrafted or artisanal pieces can be more expensive due to the skilled labor and attention to detail involved.
Additional Features: Built-in extensions, storage compartments, or adjustable components can impact the cost.
Upholstery and Cushions: Tables with upholstered chairs or added cushioning will be more costly than simple, unadorned seating.
Market Demand: High demand for a particular style or brand can lead to higher prices.
Location: Prices can vary based on the region or country due to shipping and distribution costs.
Where Can You Buy A Dining Room Table And Chairs?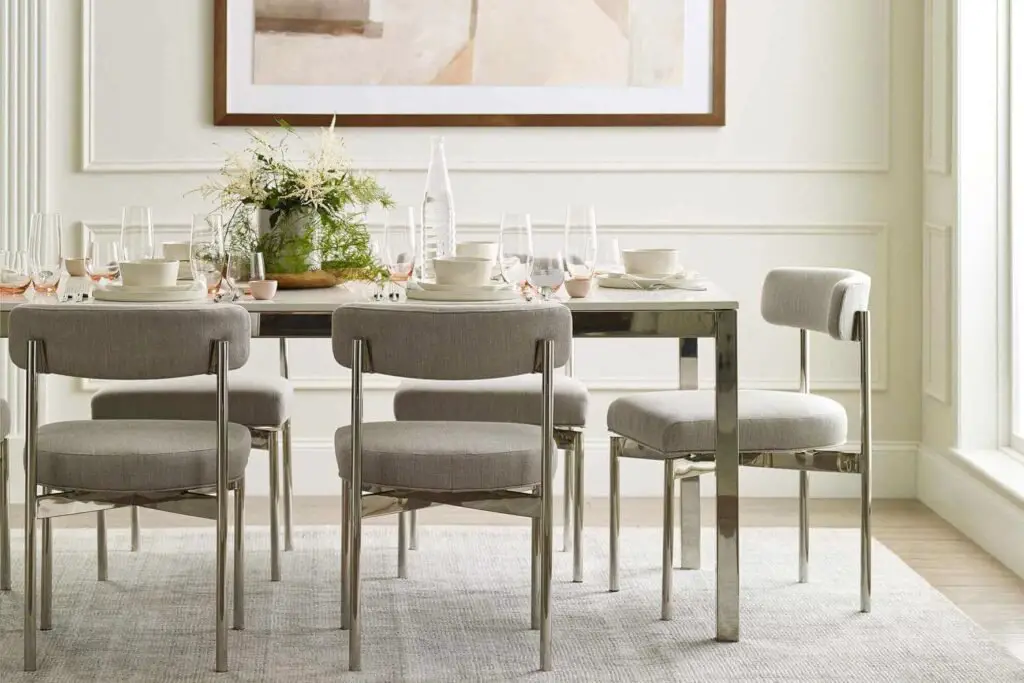 Have you been searching for places to buy a new dining set for your home? Search no more. The best places to buy a dining room set are listed below. No matter the size of your space, design, taste, or budget, you will find something in any of these stores. 
| | | |
| --- | --- | --- |
| Furniture: | Description: | Pricing: |
| Walmart  | This is a big-box retailer that helps you stick to your budget while getting great quality furniture. They have a quality that comes with stylish features and warranties.  | Considerably lower than average. |
| Crate & Barrel | It has been around for more than half a century and offers stylish products with reliable construction whether you opt for a banquet set, bistro table, plush upholstered chairs, a buffet, or an accent bench. With made-to-order offerings, classy and traditional to modern and trendy is the range for dining room furniture styles  | The service fee varies depending on your location from the shipping point. Their prices are generally high. |
| Lulu and Georgia | This is a Los Angeles-based company offering high-end home goods with a stunning selection of dining room furniture by vintage and found items worldwide; with yet cool and temporary, the brand's aesthetic is the perfect blend for classic and sophisticated. | It might be worth investing in a high-quality table, chairs, or a full set though the prices are higher than average. |
| IKEA | Although not all pieces have a similar classic Scandinavian design, modern minimalist furniture is the Swedish manufacturer's signature. Street style chic, floral, and much more are the new product lines. | You can often get a mix and match or an entire set with an affordable table and chairs for under $500 as the prices vary.  |
| Frontgate  | The retailer is known for its traditional, refined, and stately-looking pieces, as the furniture has a typical deluxe style. This is the grand dame offering if you appreciate classic design and splendid eating space. | The prices are high due to the aesthetics and elegant designs. |
| Amazon  | With hundreds or even thousands of reviews, their products always come in various quantities when buying their dining room furniture; reading comments and seeing photos of verified buyers give you some perspective when making a purchase.  | Most of the furniture is affordable and ships for free within a few days if you have a prime membership. |
| Target  | Along with individual tables and chairs, the big box store sells charming sets. Including some of its brands like project 62 and threshold, you'll find styling options from a long list of brands. | It is affordable with a cheap shipping fee, and there are no extra charges in some cases when picking up your products in the nearest store.  |
Conclusion:
The prices of a dining room tables and chairs vary by store as with any product and name-brand furniture. Depending on your style and preference, you can either decide to mix and match or buy new matching furniture. A good quality dining room table and chairs is a great investment that can last for years and improve the outlook of your home. If you're unsure what type of furniture to get, consider consulting the interior designers at these stores for guidance. Choosing something dynamic can help you reduce the cost of constantly needing to upgrade your furniture.
We hope that you're now well informed and can make the best choice for an upgrade or new dining table and chairs. Visit one of the listed furniture stores and make your purchase as per your budget. All the best as you upgrade your set and level up the appearance of your home!
References:
https://www.countrysideamishfurniture.com/blog/entry/how-much-does-a-wooden-dining-room-table-cost
https://homedecorbliss.com/how-much-dining-room-set-cost/
Emma is a graduate of Domestic Science or Family and Consumer Sciences (Home Economics) from the University of Wisconsin. She has 7 years of experience Working with the strategic section of BestBuy and now writing full-time for Homeeon.
From Managing the Home, Interiors, Cleaning, and Exteriors to Gardening and everything about Making A Home Liveable – is her passion and this Homeeon is the result of this.
Emma loves decorating her home with the best stuff found online. She cares about quality over anything and writes reviews about them here in Homeeon. Get in touch with her over Pinterest.
Keep reading her blogs.