Last Updated on August 3, 2023 By Emma W. Thomas
Dining room chairs typically measure around 17-20 inches in seat height, 16-20 inches in seat depth, and 16-20 inches in seat width. The overall height may range from 30-36 inches, ensuring comfort and proper dining table alignment.
Dining Chair Dimensions: How to Choose the Right Size
When it comes to choosing the right dining chair dimensions, several factors come into play. From the height of the table to the style of the room, each facet contributes to creating a harmonious and comfortable dining space. This listicle details five key aspects to help you select the perfect size for your dining chairs.
Understand Standard Dining Chair Dimensions
Standard dining chair dimensions typically range between 16 to 20 inches wide and approximately 18 inches deep. Chair height usually falls between 18 and 20 inches. However, these dimensions vary across different styles and manufacturers. Being aware of these standards provides a useful starting point when purchasing dining chairs.
Consider the Dining Table Height
The height of the dining table significantly impacts the choice of dining chair dimension. Sticking to a 12-inch difference between the height of the seat and the underside of the table will ensure ample legroom. For example, if a table measures 30 inches high, the optimal seat height should be around 18 inches.
Evaluate Available Space
The available space in the dining room also dictates the size of the dining chairs. If space is limited, consider opting for slimmer chairs without armrests. For larger rooms, broader and more imposing chairs may be a better fit. Allow at least 24 to 32 inches of space behind each chair to provide enough room for guests to move comfortably.
Match With Your Decor Style
The style of your decor may prescribe the size and type of chair that best suits your dining room. Traditional dining rooms tend to feature heavier and larger chairs, while modern minimalist styles often incorporate sleek, compact chairs.
Comfort Is Key
Regardless of dimensions, comfort should always be a priority. A chair can have perfect proportions but if it is uncomfortable, it will deter from the overall dining experience. Test chairs before purchase to ensure they provide enough back and seating support.
To summarize, choosing the right dining chair size involves a careful balance of various factors including standard dimensions, table height, space, style, and comfort. It's important to approach this process with a holistic perspective to create a functional, comfortable, and aesthetically pleasing dining area.
| Factors | Considerations |
| --- | --- |
| Standard Dimensions | 16-20 inches wide, 18 inches deep, 18-20 inches high |
| Table Height | Keep a 12-inch difference between table height and seat height |
| Available Space | Allow 24-32 inches of space behind each chair |
| Decor Style | Choose a chair size and type that matches the room decor |
| Comfort | Verify chairs provide adequate back and seating support |
What Are The Main Dining Chairs' Dimensions?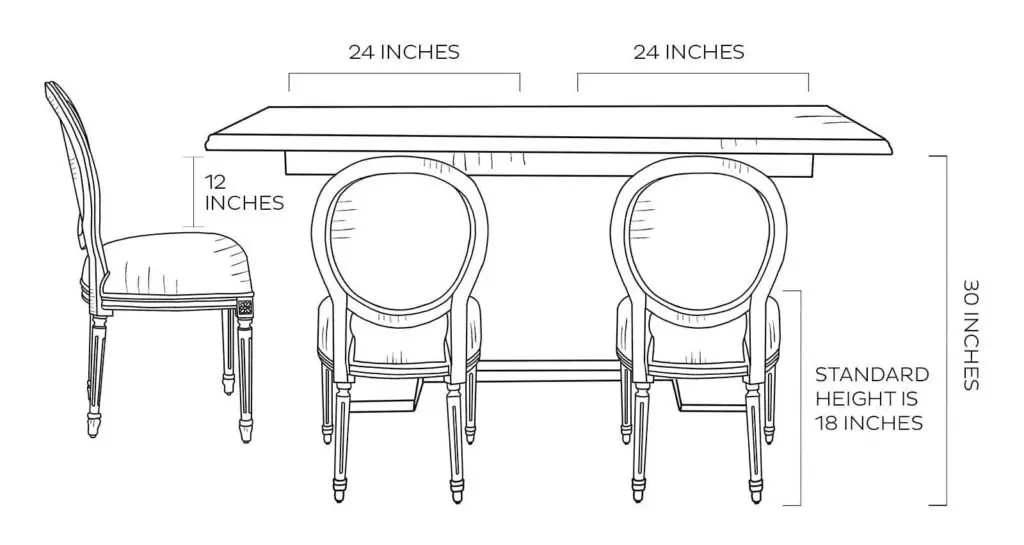 When taking chair dimensions, one should measure the broadest part depending on the chair style to get the best measurements. Two basic dining chair dimensions are mostly considered. They include:
Dining Chair Seat Height
 For dining chairs, chair seat height is more important than the chair's general height. Chair seat height refers to the distance between the floor and the top of a chair's seat. It mostly determines whether a dining chair will fit under the dining table or not. Most dining chair seats have a height range of 18-23 inches and 24-26 inches. This range applies to the standard dining tables, ranging from 28-30 inches and 34-36-inches for counter height tables. Generally, a space of at least 12-inches between the chair seat and the table is recommended. 
Dining chairs' arms should slide under the dining table comfortably with ease. The recommended dining chair height should leave at least 7 inches of space between the chair arm and the dining table's apron. It is recommended that one goes through the weights and dimensions tab to ensure the right dining chair size fits one's expectations.
Dining Chair Width
The recommended dining chair width is 16-inches. Before deciding on the size of a dining chair to pick, it is essential to consider additional spaces. For instance, each dining chair should have at least 24-26-inches of eating space. There is also an extra 6 inches for elbow space and free in and-out movement from the dining table. Arms increase the general width of a dining chair. If the dining room space is limited, one should consider using armless dining chairs. 
How Do You Measure Dining Chairs' Dimensions?
A dining chair perfect for one table might not be ideal for another. That is why it is important to take the right measurements that suit your dining room. The following are the most important dimensions used in dining chair measurements:
Height
Height is the distance between the topmost part of the chair to the bottom part that touches the floor. Different dining chairs have varying sizes making it important to check depending on one's preference. Tall dining chairs create a formal and enclosed look, whereas low-back chairs create a more open dining room.
Chair Width 
It's the measurement of the dining chair from side to side. Dining chair width dictates the number of seats that can fit around a dining table. Large chairs should be avoided as they take up so much space, especially where there is a need to preserve space.
Seat Height
Seat height is different from the back chair height and the chair's height. It refers to the dining chair's height from the floor to the seat's bottom. Seat height is important as it dictates the number of chairs that can fit comfortably under one's dining table. It also helps determine how comfortable a dining chair is on the dining table.
Dining Seat Depth 
It refers to the measurement from the front of the chair to the back. As far back as one can sit to the backrest. An instrument known as buttock popliteal length is used to determine the chair's anthropometric measurements. These measurements are carried out when there is mass production of dining chairs in schools and public places. A deeper dining chair offers more comfort and support and is more ergonomic.
Back Height
Back height is just the backrest's height and not the entire seat's height. Back height determines the look and feel of a dining room. It also affects the dining chair style, with high back heights being considered elegant and classy. 
Footprint
It measures the amount of floor space a dining seat occupies. Similar to seat width, footprints help determine the number of dining chairs that can fit under the dining table.
Factors To Consider When Choosing Dining Chairs Dimensions
 The following are some considerations when choosing dining chairs.
The Dining Chair Height
 Dining chairs are different from the normal sitting chairs, benches, and stools. As earlier seen, a standard dining table has a height of 30 inches, whereas a standard dining chair has a height of 19 inches, which leaves a difference of 11 inches between the two for movements. Very high dining chairs cause one to slouch, while too low seats will make one uncomfortable to use the dining table. 
Shape And Design Of The Dining Table
The dining table determines the size, shape, and design of the dining chairs to be used. Armed dining chairs will be mostly applied when the dining table is round and small. This way, they become conspicuous and attract attention away from the small dining table. On the other hand, regular dining chairs and benches go well with a long and rectangular table. Dining chairs with arms should be avoided where there is limited space in the dining room as they require extra space compared to armless dining chairs.
Matching The Room
Dining chairs add a finishing look to the dining room or area. One needs to know the look he/she is going for. One may consider using a single design for the dining chairs to avoid complexity and too many details in a room. On the other hand, some brave individuals may want to create a sophisticated look by mixing and matching different designs. For example, one may decide to use one arm dining chair for the host and armless chairs for the rest.
Time Spent At The Dining Area
Some people only spend time in their dining rooms or area during meal times, meaning that the area is usually less busy. Very little attention should be paid to the dining sets' dimensions in such a case. Other individuals spend most of their time in their dining area by carrying out most of their daily activities, such as playing board games and working using laptops or kids studying. Such a situation will call for comfortable and ergonomically designed dining chairs to prevent poor sitting positions and health issues. 
For example, the chairs should have cushions instead of sitting on a bare frame. It may even be health threatening, especially for back-related diseases, which may aggravate heart conditions resulting from poor sitting conditions as a lot of sitting is involved. The seat should have a deep seat depth to enhance comfort while using the chair. It will enhance ergonomics by helping avoid associated backaches.  
Space
Space is the most important factor to consider since the dining chairs will require a place to stand. Despite space constraints, one should accommodate as many people as possible around the dining table. In this case, armless dining chairs with just the standard seat width are recommended. Alternatively, one could consider using stackable dining chairs. These are extra chairs and stools usually stacked away when not in use. 
When there are many guests, they are added around the dining table to accommodate as many guests as possible. Dining chairs with arms should be avoided in situations where space is limited.
Type Of Floor Used In The Dining Area
It is important to put the flooring type into consideration. Some dining chairs are too heavy to lift and require dragging during cleaning. Delicate marble and parquet floors would easily get damaged from the dragging.  For such floors, it is advisable to get light and easy-to-carry dining chairs to protect the floor from scratches and damage. The movements in and out of the dining table could also result in floor damage when cumbersome dining chairs are used.
Comfort
 What is comfortable for one person may be uncomfortable for another. Some dining seats may be too high or too low for different individuals.  When getting ready-made dining chairs, one should consider those with standard dimensions. In this way, they will comfortably cater to a wide range of individuals. In cases of upholstered seats, they should be adequately padded and cushioned to avoid feeling the frame through it. The dining chairs should be comfortable to use.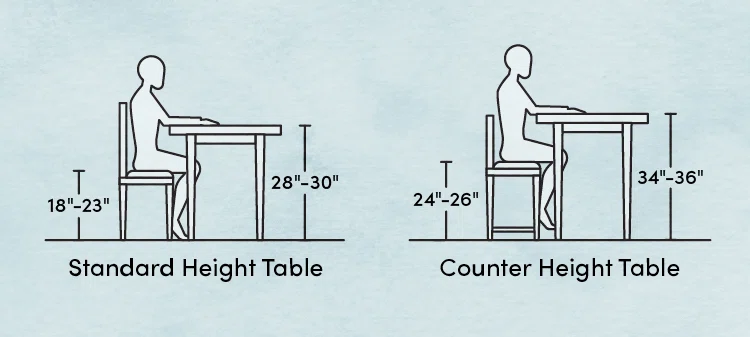 Conclusion
When taking dining chair dimensions, one should ensure they are comfortable and stylish. They should be comfortable since that is the only place people gather to eat, work and hold conversations. They should be stylish to look great and reflect one's home design. When the right dining chair dimensions are used, an ergonomic and healthy environment is created even though they may not be as glamorous. 
Other than the general width and height of a dining chair, other dimensions are considered, such as seat depth, enhancing a chair's comfort. Others, such as back height, are mostly for aesthetic and style purposes.
References:
https://www.dimensions.com/collection/side-chairs-dining-chairs
https://www.wayfair.com/sca/ideas-and-advice/rooms/how-to-choose-the-right-size-dining-chairs-T1082
Emma is a graduate of Domestic Science or Family and Consumer Sciences (Home Economics) from the University of Wisconsin. She has 7 years of experience Working with the strategic section of BestBuy and now writing full-time for Homeeon.
From Managing the Home, Interiors, Cleaning, and Exteriors to Gardening and everything about Making A Home Liveable – is her passion and this Homeeon is the result of this.
Emma loves decorating her home with the best stuff found online. She cares about quality over anything and writes reviews about them here in Homeeon. Get in touch with her over Pinterest.
Keep reading her blogs.