Last Updated on July 26, 2023 By Emma W. Thomas
The standard dimensions of a vanity or dressing table typically range from 30 to 36 inches (76 to 91 cm) in height, 30 to 36 inches (76 to 91 cm) in width, and 16 to 24 inches (41 to 61 cm) in depth. However, specific measurements can vary based on the design and style of the furniture.
What Height Should A Dressing Table Be?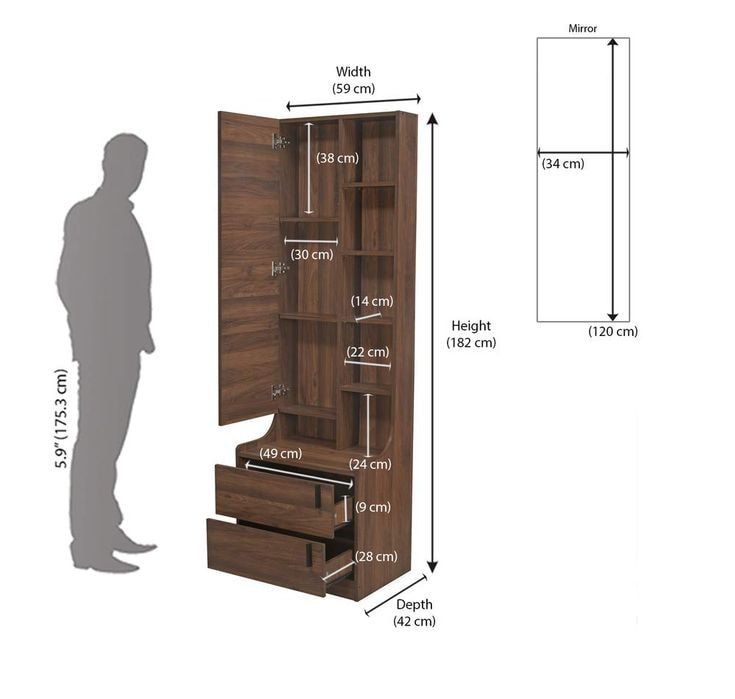 The height of a dressing table varies between 30- 36 inches. Since different people have different needs, you can always choose one that works for you. If you are taller, you need a tall table for ease of use and comfort, and vice versa. It would help if you also considered the height of the vanity stool when considering height. Ensure the dressing table you choose has a comfortable stool or chair that you can sit on even for long hours.
When choosing a stool, get one that gives an allowance of about 10-13 inches from the top of the stool to the top of the table. If your vanity desk is 30 inches, choose a stool that is 17- 20 inches tall.
Guide To Buying A Vanity Or Dressing Table.
  Dressing tables come in different shapes and styles: modern, vintage, small, large mirrored, and white vanity tables. When looking to buy a vanity, there are a few considerations you need to make to ensure your vanity blends well in your space. Below are a few factors you need to consider before buying a dressing table:
Mirror
Size of the dressing table
Age 
Style and model of the dressing table 
Cost
Makeup quantity
Other  bedroom  furniture
Mirror
There are different dressing table mirrors, with some being separate while others are joined to the table.  Some mirrors are plain, while others have lighting. Other mirrors also come as trifold mirrors to make it easier to see yourself from all angles. Which one should you go for?
Your personal preference will greatly determine the mirror you end up choosing. However, we advise choosing a mirror with lighting to help you control lighting regardless of the timing or intensity of natural light. For the design, choose what makes you happy and also fits into your space perfectly.
Room Size
Your bedroom or dressing room size should guide you on the size of vanity to go for. You don't want your dressing table to fill up the whole space and make it congested. If you have ample space, a small vanity will look misplaced in the room. Decide where you will place your dressing table: whether it's in the bedroom or a separate dressing room. If space is sufficient, then a dressing room in your bedroom is precise.
Find a tape measure to calculate the dimensions of vanity tables you come across in shops or online. Then measure and calculate the space that would fit best for your dressing table. The time, effort, and amount spent decorating your dressing room will determine how you will organize your room. How spacious your room is and the size of your room determines whether you will include or cross off the vanity table you have come across in the shops or online.
Size Of The Dressing Table
Will it be a small, standard, or larger one?
Small dressing tables should have a range of 70-80 cm in width and 35-41 cm in depth. Standard ones should be 100-120cm in width and 45-60 cm in depth. Larger ones have over 120cm in width.
Having a bedroom wall with a length of fewer than 3 meters will hinder you from going for a standard dressing table.
You also need to consider the amount of makeup you have and the person who will use the dressing table.
Age 
Is the dressing table being used by an adult or a teenager?
Are you tired of your girl spending time in your bedroom? Then it's the right time to get a dressing table for her. For children, there are small dressing tables for startup only. A standard dressing table would be precise for a 10-year-old girl or more. An adjustable stool or chair is preferred so that the girl can see her whole face and shoulders in the mirror. 
Style And Model Of The Dressing Table
The material and design bring about the style of a dressing table. Ensure you choose a vanity that blends with the rest of your room furniture. Wooden dressing tables are a perfect choice if you have wooden doors or beds. A white vanity would be the best alternative when you have oak furniture because it will contrast the dark color of oak furniture. Use modern and vintage dressing tables when your style is modern. When deciding on the model, will you go for a vanity table separately with a chair or a set?
Most retailers sell dressing tables without a stool or chairs. Chairs are important for your dressing room. Chairs, especially with raised backs and armrests, are ideal because it eases the getting ready experience. If you are to go for the chair separately, consider your vanity table's height before buying.
Stools can be used instead of chairs because they are available either way with or without aback. When you have many accessories, a dressing table with drawers or space under a seat cushion is a perfect choice. You can use the space under the seat cushion to keep some of your essentials like the hair dryer and straightener.
Cost Of The Dressing Table
Dressing tables differ in price ranging from as low as 100 USD to high as 500 USD and more. Have a set budget in place, then shop around for various options. If you are looking for a unique piece of furniture at a bargain, go for an interior designer and have them custom-made one for you. Inherited dressing tables can be refurbished since they have high demand, especially the vintage ones.
How Do You Make A Bathroom Vanity Taller?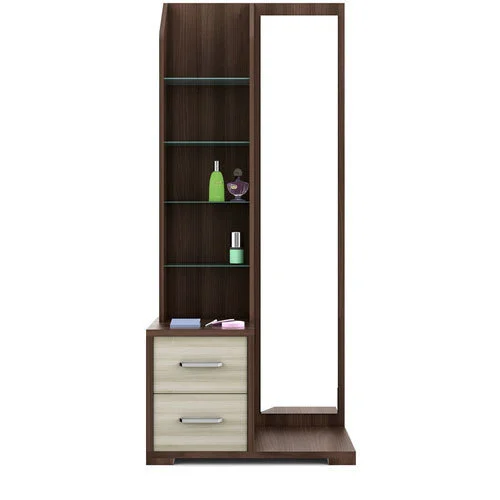 You can raise the height of your bathroom vanity when you have back problems, or you want to make it taller for easy use and comfort. Vanities of a low height as 30 to 32 inches can cause more discomfort, especially when you are tall.
Below are ways to make a bathroom vanity taller
Making Permanent Legs 
You can achieve making permanent legs by putting a frame at the bottom of your vanity using screws. 
Adjustable Legs
You can also buy adjustable cabinet legs that help you raise or lower your vanity whenever necessary without struggling.
Create A Foundation Using Wood
This is done by removal of the whole vanity and screwing a piece of wood at the base. Ensure that the wood foundation is away from the vanity edges to make it invisible. The wooden foundation is screwed into the floor so that the vanity won't move when in use. 
Remounting Wall Mounted Vanities
Wall-mounted vanities do not stand on the ground freely. You can make it taller by removing it and mounting it at a greater desirable height.
Raising The Top Of Your Counter
Add a frame or drawers similar to the appearance of your vanity at the top instead of raising the whole vanity. This is a suitable way to raise your vanity because it's relatively cheaper.
Why the ranges in dressing table size?
Dressing table sizes vary greatly depending on several different factors. Below is a table outlining these variables and the significance they have on the dimensions of a dressing table.
| Factor | Why it Influences Dressing Table Size |
| --- | --- |
| Available Space | The size of the dressing table is often dictated by the available space in the room. For small rooms, compact designs are more suited, while larger rooms can accommodate bigger, more elaborate dressing tables. |
| Storage Needs | Dressing tables come in a variety of styles with varying amounts of storage. Those requiring more storage might opt for a larger dressing table with extra drawers and compartments. |
| Functional Requirements | Some dressing tables come with added features like a built-in mirror or extra seating, which can increase the overall size of the furniture. |
| Design Preferences | Personal aesthetic taste also plays an important role in determining this piece of furniture's size. Some prefer minimalistic, sleek designs, which often tend to be smaller, whereas others might prefer larger, more grandiose styles. |
| Room Design | The overall room design and layout can also affect the size of the dressing table. If the room already has a lot of furniture and décor, a smaller, more streamlined dressing table might be a better fit. |
What kind of mirror do you use on a dressing table? 
Tri-fold Mirrors:
Tri-fold mirrors are a popular choice for dressing tables. As the name suggests, these have three mirrored sections that allow individuals to view their appearance from different angles at the same time. The center section is typically larger, offering a straightforward reflection, while the two side panels can be adjusted to different angles.
Magnifying Mirrors:
Some people prefer magnifying mirrors on their dressing tables. These mirrors provide a zoomed-in view, ideal for tasks that require precision like applying makeup or tweezing eyebrows. They often come with built-in lighting for additional convenience.
Oval Mirrors:
Oval mirrors bring a touch of elegance and sophistication to a dressing table. These mirrors offer a large surface area for reflection while their rounded contours soften the look and feel of the mirror compared to rectangular or square counterparts.
Double-sided Mirrors:
A double–sided mirror has a regular reflection on one side and a magnified view on the other. This type of mirror typically comes with a swivel pedestal, enabling easy access to both sides. Their versatility makes them well-suited to various beauty tasks.
Built-In Light Mirrors:
Built-in light mirrors, also known as illuminated or lighted mirrors, come with built-in LED lights around the border. They are especially useful in regions that lack good natural lighting, assisting in the application of cosmetics.
Cheval Mirrors:
A cheval mirror is a large, full-length mirror that comes with a stand. It is often used in bedrooms or dressing rooms, but smaller versions can also be used on a dressing table. This type of mirror is perfect for people who want to view their full getup before heading out.
Below is a table summarizing the types of mirrors used on dressing tables and their primary uses:
| Mirror Type | Purpose |
| --- | --- |
| Tri-fold Mirrors | Allows viewing from different angles |
| Magnifying Mirrors | Offers zoomed-in view for precision tasks |
| Oval Mirrors | Brings elegance and sophistication to dressing tables |
| Double-sided Mirrors | Provides regular and magnified views |
| Built-In Light Mirrors | Provides additional lighting, ideal for applying makeup |
| Cheval Mirrors | Offers full-length view of the outfit |
Wrapping Up
If you are a lady who loves well-organized makeup and personal products, then vanity is a must-have. They help keep your stuff organized and in place, and you can also use the space when getting ready. 
Before you buy a dressing table, take measurements of where you intend to put it to ensure it fits. Choose a mirror with good lighting and a design that defines your style. We hope that you can decide on the right size of vanity for your space with this information and you will make the best decision when buying one. Good luck!
References:
https://homedecorbliss.com/how-big-is-a-dressing-table/
https://ifurniture.expertexpro.com/en/prilavok/razmery/1366-tualetnyj-stolik-razmery.html
Emma is a graduate of Domestic Science or Family and Consumer Sciences (Home Economics) from the University of Wisconsin. She has 7 years of experience Working with the strategic section of BestBuy and now writing full-time for Homeeon.
From Managing the Home, Interiors, Cleaning, and Exteriors to Gardening and everything about Making A Home Liveable – is her passion and this Homeeon is the result of this.
Emma loves decorating her home with the best stuff found online. She cares about quality over anything and writes reviews about them here in Homeeon. Get in touch with her over Pinterest.
Keep reading her blogs.