Last Updated on September 25, 2022 by
As the name suggests, espresso furniture is a dark color similar to black coffee. This color is neither black nor brown. It is in between such that you would mistake it for true black.  Espresso furniture has a deep brown color which you only see well under a properly lit room. People go for this color furniture to add traditional warmth to a room. 
Where Do You Use Espresso Furniture?
Espresso furniture appears rustic dark brown. You get to see the color better with clear lighting. That is when its coffee-like color pops out. For this reason, people named it under a type of beverage, espresso. 
 One f the places you can use espresso furniture is for your floating shelves. The color tends to combine with other wall colors. They blend in with colored furniture pieces in a room. When used for making floating shelves, they add aesthetics with minimal effort, using it is a total game-changer for your space.
Another way to apply espresso furniture is in cabinetry. The dark color of espresso cabinetry creates a neutral feeling in a room. For this reason, people find it easy to blend it with other furniture pieces of different colors. For instance, you could go for laminate, hardwood, and tile flooring options with espresso cabinets in a room.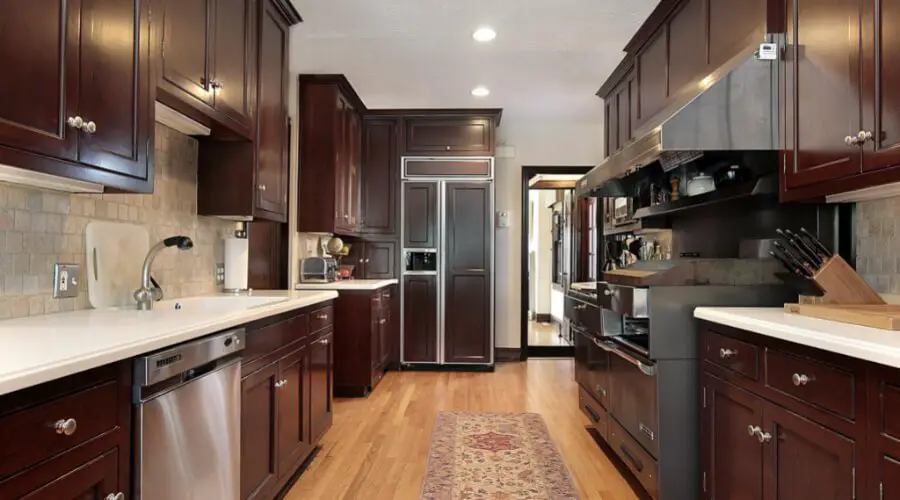 They create an appeal that matches a wide range of countertops. You can also match it with butcher blocks, granite, or concrete. The list of matching espresso cabinetries is endless.
When dealing with espresso furniture, the first thing is to understand the color. Is it a warm or cold color? How does it work? What colors best go with it? After answering such a question, you get in a better place to use espresso furniture pieces. You will understand how to use it to compliment other furnishings in your room.
How Can I Add Espresso To A Room's Interior Designs?
Espresso comes in many shades. You find a shade going by the name chocolate or mocha. Despite the different shades, espresso's hue remains the same. It is a deep brown color that is warm, clean, and contemporary. Paint manufacturers could describe it as black. It all depends on the lighting. When viewed under direct lighting, espresso radiates a reddish hue. That is when you see its coffee darkness.
The following are some tips you can apply in your room using espresso colored furnishes;
An Espresso Message Mart
Espresso is a dark, almost black color. The darkness provides a wide range of colors to use or customize an espresso mat through love messages, quotes, and personal mottos. Using them is a unique way to express yourself in writing. One of the colors you can use is gold. What other colors blend better than dark and gold?
Espresso Side Tables
An espresso table in your room creates a cozy and sophisticated look. You may worry about the color variance. The good thing with espresso furniture is its color and texture. Ensure you do not expose it to direct sunlight. It is also versatile, making it suitable for use in different ways.
For instance, you can enhance the espresso table look by changing the texture. A gator's skin is one of the most common textures applied in espresso side tables. It brings out a layered look on its reflective surfaces.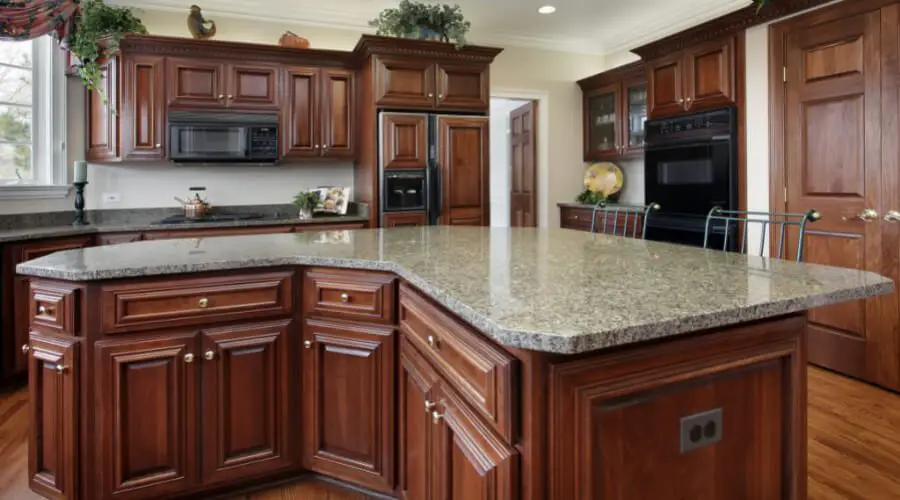 Espresso Lamps
Espresso finishes are rare in the world of design since people tend to mistake it for black despite the glossy look in well-lit rooms. Lighting used in a room plays a vital role in the look and feel of a room. You could have nice colors that blend in well. With poor lighting, all the designs and efforts go to waste as they do not serve their purpose.
The same case applies when furnishing a room using espresso furniture pieces. When you add espresso lamps in a room, it creates a modern and sophisticated look. The room's lighting becomes soft with a quasi-organic look.
How Is Espresso Wood Color?
Espresso is more or less like red. You have chocolate and red hues complementing it under direct lighting. You can refer to it as a warm color. The best colors to match with espresso furniture are the shades of green. For example, you have green-blue and green-gray. They complement each other as per the color wheel. 
With these shades, they reduce the shouting espresso's tone. That is why they match well when used in furniture pieces. Rich red-brown furniture pieces also work well with espresso. Other colors include fuchsia, yellow, orange, gold, turquoise, and blue.
The Table Below Shows Ways In Which You Can Use To Enhance A Room With Espresso Furniture;
| | |
| --- | --- |
| Items | Best shade |
| Beddings  | Different shades of green, caramel, muted yellow, slate blue, and brown |
| Couch  | Blue, greens, turquoise, emerald |
| Wall paint | Blue-green, light olive, mint green, blue-gray, lavender |
| Rugs  | Black-brown |
Besides the above blending colors, espresso can stand alone as decorations in a room. It is among the few colors with this ability. For example, you do not need to add matching items and furniture pieces when you have an espresso couch. With basic room furniture, you are good to go. They give you an intimate and soothing atmosphere. That is why you find most people going for espresso couches, cabinets, and dining sets.
Knowing what works with espresso furniture gives you an upper hand in designing your room. Ensure you combine it correctly to create your room a focal point.
How Can You Use Espresso To Create Ambiance In A Room?
You can only pull out a look using espresso color by understanding it. After that, it becomes effortless creating whichever look you wish to achieve. Some of the ways you can use to enhance the ambiance in a room using espresso include; 
Adding Ivory And Cream Colors
Cream and ivory are warm colors. When used against espresso, they enhance the elegance in a room. It is a classic combination of improving the ambiance.
Using Monochromatic Color Schemes
 Using this option is for people with small spaces. In this case, ensure the espresso furniture goes to the backside. Enhance the cozy ambiance by bringing out the monochromatic colors. You can have the wall painted in different shades of espresso. You could also add some cabinets in a room to make the ambiance intimate.
Add Gray Furniture
 Nothing beats a combination of espresso and gray. It radiates the serenity of a room. The combination radiates warmth and a sense of solitude. For this reason, for people who want peace corners in their room, the gray and espresso combination is the way to go.
Go For The Dark Shade
 Dark colors create a peaceful and serene environment. Combining dark floors and espresso furniture is one way to achieve such feel. For instance, an espresso sofa would go great with deep blue slate flooring. The outcome is an attractive color palate.
What Are The Benefits Of Using Espresso Furniture?
Espresso is versatile and goes with many colors. You can make things interesting by adding minor furniture stains for a good finish. For this reason, using it comes with benefits. Some of them include;
It Is Convenient And Practical For Use.
 Espresso furniture is convenient when used in a family setting. For one, you barely notice grime and dirt on espresso furniture. For light-colored pieces, it is the opposite. You notice the slightest stain on them. For this reason, espresso pieces maintain a clean look. 
It Helps Create A Balance Of Colors In A Room.
Black is, at times, too heavy. You find it challenging to balance the color schemes in a room. With espresso, once you get the proper lighting, it creates a perfect blend. You end up having balance without any overdoing the other.
Espresso Is Neutral And Versatile.
 With this, it becomes easy to combine it with other color schemes. You get an easy time choosing matching colors for espresso furniture.
It Creates A Cozy Look. 
Some people define espresso as an edible color. The reason is its chocolate nature; hence they associate it with other sweet treats. Such thoughts help in imparting soothing effects in a room. For this reason, you find most people going for espresso sofas. They claim that they play a role when relaxing after a long day's work.
Espresso Is A Noble Color. 
These are colors that tend to stand out by themselves. It is not a must for you to combine them with others. They stand alone as enough decorations in a room. There are few such colors, and espresso is one of them. In addition, you do not need additional décor to enhance your room's look.
Conclusion
Espresso is a dark color that people mistake for black. Only people with an eye for details can identify it. It combines red and chocolate-brown hues that bring out the glossy look. You can use espresso furniture as finishes for your room. For instance, you can go for cabinetry, side tables, lampstands, and couches. It has a wide range of matching colors. The most common ones are red and some shades of green.
References:
https://dengarden.com/interior-design/What-is-the-Espresso-Color-Used-in-Furniture
https://rightonbracket.com/what-is-espresso-wood-understanding-the-furniture-color/#:~:text=What%20Color%20Is%20It%3F,only%20detectable%20under%20direct%20lighting.