Last Updated on September 25, 2022 by
Brown sofas have been deemed boring by many people, but when matched with good colors, they can be extraordinarily stylish. They can go with different white shades, grey, brick red, burgundy, and rick terracotta. Your choice will mainly be determined by your personality, whether naturalist, sophisticate, or dazzle devotee.
Brown furniture is versatile, and it can go with different moods. However, ideal wall color and interior design tips can spice up your living room. And depending on what you pair the brown furniture with, a room can be warm and enveloping, earthy and natural, elegant and sophisticated, or full-on glam. 
Of course, you have to think of your preferred overall look before deciding what colors will go with your brown furniture. The shades can either be on the walls or on additional pieces in your living room. Plus, you can go for various color combinations or one-color all-around based on your needs and preferences. 
Check below the colors best fit for brown sofas and what else can be added to make your room classy and elegant. 
The Overall Looks That Guide You In Choosing The Best Color For Your Brown Sofas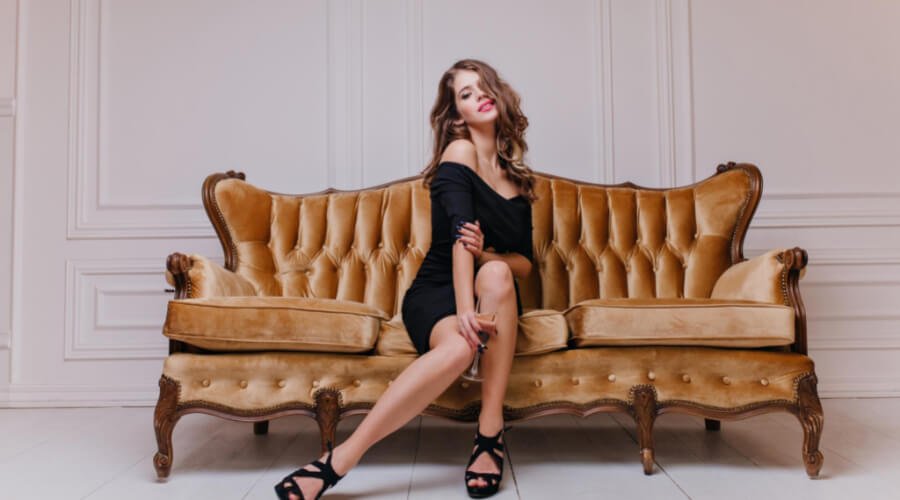 1. The Naturalist
This is also known as the organic oasis. If you are more inclined to hit a hiking trail than head to a mall or some urban entertainment joint, this is the best look for you. Nature has a lot of brown in it. If this is you, earthy tones will fit your decor. Burnt umber, peach southern pallet mixture will be great with the brown sofas.
2. The Sophisticate
Billy Baldwin, an American actor, made brown fabulous. He made it look elegant with rooms featuring rich, glossy brown and having iconic written all over it, metaphorically, of course. Every shade of brown tends to become sophisticated when paired with a creamy ivory wall. High contrast colors with brown sofas provide an upscale feeling that fits any era.
3. The Dazzle Devotee
If you are bold and bodacious, the dazzle devotee look is best for you. A punch color complements your brown couch, and an orange wall, no matter the shade, will make your living space feel exciting and homely. You can have one wall orange and add other colors to the other walls. You do not have to paint your entire house orange to pull this off. If orange is not your color, you can consider a deep or glossy brown to acquire the same results.
Wall Colors That Go With Brown Sofas And Other Combinations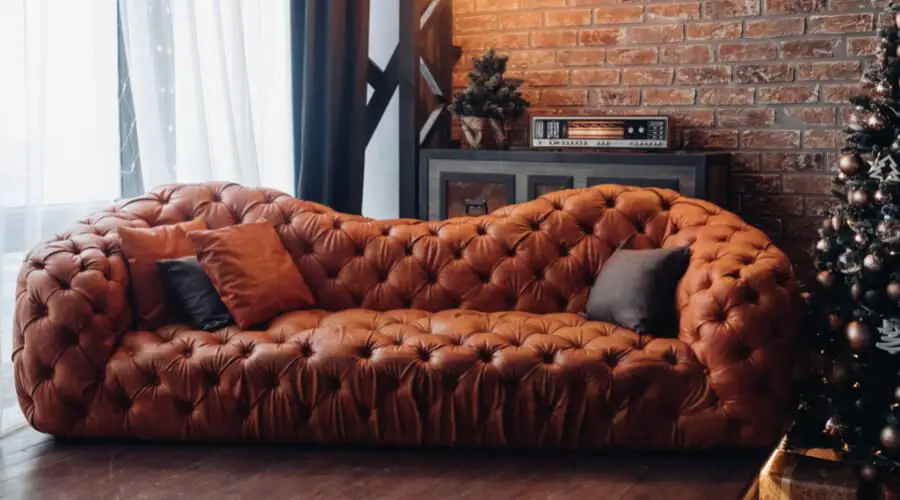 Various specific colors go with brown couches. These include;
1. Creamy White
A velvet brown or dark brown sofa goes with a creamy white wall. The two colors are far apart, and their contrast makes the couch look clean and formal. Multi-color throw pillows can be a great addition to this color scheme.
2. White Grey
Mahogany or cocoa-colored soda combined with a white-grey wall make for a cool and warm surroundings. Warm-colored pillows and a grey rug can spice up this look.
3. Bright White
If you love coastal flair, this is the color to match your brown sofa. It has a clean and minimalistic finish and can accommodate the decoration of different designs without crushing your decor.
4. Tarnish White
Dark furniture combined with this color gives a soft glow that accentuates them. Dark-colored throw pillows and rugs can be a great addition to make the room warmer and homely.
5. Grey
If you want to get an industrial design look flowing, concrete grey walls combined with any shade of brown furniture, hardwood floors, and a black rug will be the best combination. Grey gives off a raw feeling that is softened by the bold brown sofa color.
Light grey walls go well with dark brown furniture.
6. Brick Red
Maroon or brick red walls go great with a reddish-brown sofa; they somehow resemble each other, creating a balanced industrial cozy look. Lighter color throw pillows or rugs are a great addition to these colors.
7. Burgundy
If you are going for rich and warm surroundings, this is the combination. A deep brown leather sofa and a burgundy wall go well with bright-colored pillows and rugs.
8. Rick Terracotta
If you love Midwestern taste, this is the color to go for. It complements any shade of brown and is dynamic; you can add any natural fiber rug, and it will fit perfectly.
9. Monochromatic Brown
Contrary to what people think, brown on brown is not always a bad choice. Monochromatic brown works great with lighter-colored brown sofas; they bring a balanced and earthy look to your home. You can have different shades of brown on the walls to make the colors pop.
The brown colors are also great when different shades are used on alternating walls to create a multi-shaded brown. Minimalistic colors on your other furniture can help pop this decor and make it visually surprising to everyone.
10. Burnt Umber
Sky blue and burnt umber are a great match for that brown sofa in your living room; it is a good fit for anyone looking for a southwestern vibe. You can add white tables and indoor plants like a cactus to give the room a clean, appealing look.
11. Black Matte
Black and brown, these two somewhat dark colors are very good when marched correctly and combined with small brass, gold, or silver pieces. These two colors combined oozes elegance in your living room. Charcoal black is another shade of color that goes great with faux leather. Huge windows that bring in tones of natural light make this look sophisticated and posh.
12. Moss Green
Mother Nature is the ultimate example of a good combination of brown and green look. The forest has green and brown, which is satisfying to many. So, you can go for moss-green walls with some warm-colored rugs and pillows for your brown sofas.
Emerald green is also considered an earth color because it is lighter than moss green. It produces the same look as moss green does with brown furniture. It works well with a few white walls, paintings, and indoor plants.
Lime green, which is in the same setting as moss and emerald green, works well. It brings on a trendy look to your living room.
13. Mustard Yellow
If you prefer a Tuscan design, this is the best color for you. Lighter shades of brown are the best for this color of walls and decor. In addition, brightly colored rugs and throw pillows can brighten your living area.
14. Marigold
If you have a villa-type house with caramel or tan brown sofas, this is the color for your walls. Consider complementing it with wide glass windows. 
15. Sandstone
For that warm living room feeling and autumn look, these are the colors for you. You can combine this with bright colors like orange and paintings to make it pop.
16. Midnight Blue
A stylish Victorian era is achieved with this combination. Dark mahogany coffee tables and light-colored rugs enhance the brown sofa making the combination a cool decor.
Cornflower blue is another color that can soften a dark brown sofa. Combining this with leafy indoor plants also helps in creating a seaside feel in your home.
17. Teal
Light brown sofas fit perfectly with teal-colored walls, this two create a sophisticated look.
18. Rose Pink
Pink, accompanied by a brown sofa, can bring a playful vintage to a sophisticated look in your living room.
19. Peach
Peach walls and brown leather couches produce a very inviting combination. When combined with some vintage-looking furniture or paintings, it brings a homey feel.
20. Purple
Many people perceive purple-brown as a masculine color combination. If you go for the look, balance them out by adding a softer color like white or gold to make it less masculine.
21. Orange
Orange is a very bright color; it can neutralize any gloomy and dark effects of brown furniture.
22. Apricot
The color combined with brown sofas evokes a rustic ambiance. The addition of rugs and extra white or blue couches makes for an impeccable look.
Colors To Be Careful With When Matching With Brown Sofas
For the many colors available, you can always find a way for them to work with your brown sofa. However, some colors might be challenging to even out and produce a good finish.
Any shade of red can be damaging to your brown furniture look. The two colors crash and make the brown look dirty.
Pink can sometimes work, but mostly it will look ancient and out of date. So, if you want to have a contemporary look and feel, you will want to avoid pink walls. If you are painting pink for your baby girls' room with brown beds, consider adding other colors and paintings to reduce the contrast.
Final Thought
Brown is not boring when combined with different colors that make it exciting. However, not all colors make it look great. Check out the 22 great color ideas we have highlighted, and above all, consider your taste and preference. Regardless of the interior aesthetic you choose, a brown sofa can bring out different feelings and match your dream look.
References:
https://www.bhg.com/rooms/living-room/ways-to-decorate-with-a-brown-sofa/