Last Updated on September 25, 2022 by
The Bay area consists of counties in San Francisco from where you can get high-quality furniture. You can get your couch from KCC modern living, Norden living, Palace furniture, the local flea, Dzine, Funky Furniture, and Marcy's. 
Simply, there are many places to buy a couch in the Bay, and it all depends on your choice's types, prices, and design.
Places To Buy A Couch In The Bay Area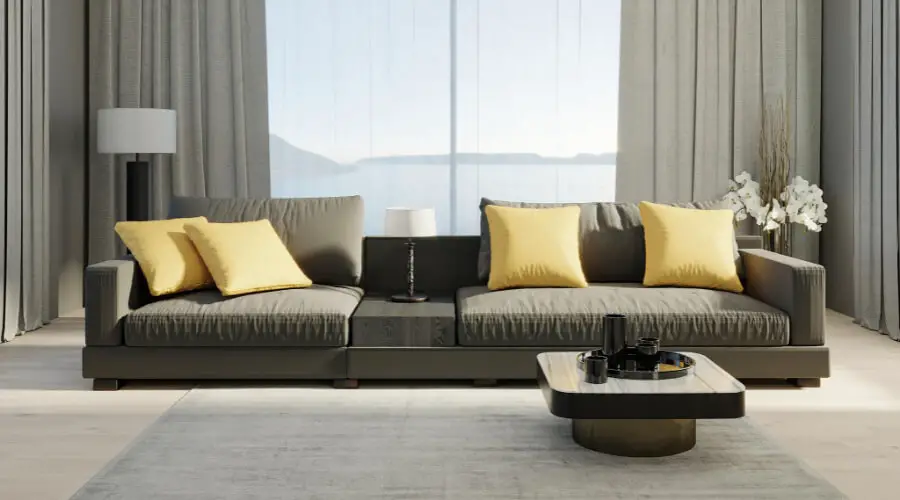 1. KCC Modern Living
This furniture store is located in San Francisco. It comprises many couch creations from over 60 foreign carpentry styles. They possess a wide range of furniture, including tables, couches, cabinets, wardrobes, original arts, and other types of furniture. What makes the company stand out is its exemplary services and affordability of sofas. In addition, it caters to both commercial customers like wholesalers and residential clients. 
2. Norden Living
Once more, it is a furniture store known for its excellent and high-quality couches. Unlike other showroom furniture stores, it specializes in making Scandinavian design couches. It is home to various small and large sofas in multiple colors and manufacturing materials. If interested, you can call or log in to their website to access their property in-store.
3. Palace Furniture
As the name suggests, this store is home to one of the favorite couches. It is the best place to buy a couch if you have a busy schedule since it operates seven days a week. Advantageously, it comprises staff members who are eloquent in English and Spanish to accommodate many clients around the globe. It is a trusted brand as it carries other brands like Coaster, Furniture of America, and Ashley. Its prices are reasonable, and it's worth giving a try.
4. The Local Flea
Although the Local Flea has a reputation for handling home decor, electronics, and sports equipment, it also has couches. Its items are easy to find as you can log in to its website and compare its prices, quality, and rating to get a suitable sofa. Moreover, they have traditional and modern couches for various places and functions. 
5. Dzine
Dzine store offers and sells a variety of couches from trusted marketers and brands to ensure customer satisfaction, outstanding comfort, and elegance when using the sofas. Its showroom is large to accommodate indoor and outdoor viewing of available couches before a customer selects. Its reputation has grown to enhance marketability and nurture trust from customers. If you want to access a collection of couches and other home-based furniture, Dzine is the best place to go. 
6. Funky Furniture
Durable and stylish couches made of non-toxic wood are only in a few furniture shops, like Funky Furniture. Its couches have metal pieces at the base to ensure durability and ease of maintenance. Couches for restaurants, living rooms, and motels are found here. Their products come in different sizes and wood, giving you a perfect opportunity to select one that matches your preferences. 
7. Marcy's
Buying couches at Marcy's is easy. The center accepts credit card payments to ensure fast and easy payment after purchasing the couch. It also allows the movement of customers with ease, including those with disabilities. You can quickly move around with your wheelchair and look at the couches, even with your dog! The prices are low, and it's ranked among the top 10 cheapest furniture stores in the Bay area. Lastly, it offers military discounts.
What Determines The Couch Price In The Bay Area?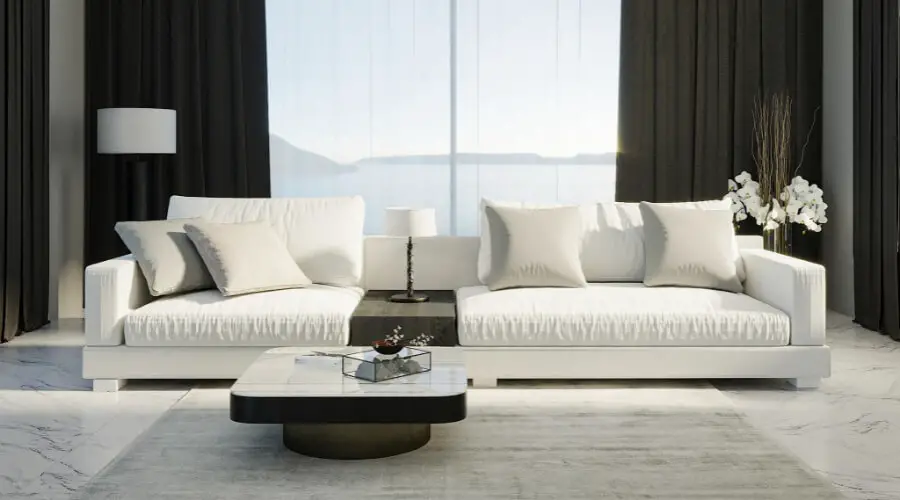 The presence of many furniture showrooms in the Bay area creates a challenge and competition in determining the prices of various couches. However, the leading price determinants include the materials, sectionals, type, and number of couches you want to purchase. Leather couches differ from fabric couches, and modern ones may be costly compared to traditional designs.
If uncertain about determining the price regarding these factors, choose from low to mid-range options. Some furniture shops may charge an additional delivery fee, raising the prices. 
What Are The Top Furniture Stores In The Bay Area?
Below we give you the top-rated furniture stores in the Bay area, particularly Chicago. The rating is based on the quality of services rendered to customers, the rate of couches, and other items in the showrooms.
1. CORT Furniture outlet
This store offers many couches in different styles, designs, and colors complemented by a good client reception and streamlined payment systems. You can find sales on "New" when they get couches and other items in extreme amounts, and sometimes on "Inventory" or "Stocks." 
They divide their items into ranges, A to D, to enable you to find the couch with ease and know its quality. The grading also helps to distinguish the quality of the couch and its price. Additionally, it allows you to purchase a couch with quality assurance since all their items are certified by their pledge.
2. Noriega Furniture
Since 1948, Noriega has remained home to high-end home furniture like couches. Its standard encompasses American-made items to achieve quality. Their staffs are friendly, knowledgeable in helping clients choose the right furniture, and professional. What's more, furniture delivery is done with equal care, especially the couches. 
It has also built a positive reputation in the Bay area that helps it get referrals and new clients. All couches exist in Noriega Furniture like the L-shaped, straight, and many more. Besides offering couches for sale, they can help you with upholstery, arts and crafts, and making traditional couches.
3. Sofa Creations
The staff members in Sofa Creations will help you find the best couch with the right size, material, shape, color, and price. There's low pressure to buy, and its high value and aspect are responsive communication. Sofa Creations produces its couches locally and is among the most esteemed brands in the Bay area. It has several showrooms in Redwood City, San Rafael, and San Francisco. 
The designers are professionals and competent to make every couch satisfy your desires. When modifying the couch, they make a few cuts and customize the sectionals to enhance the elegance. 
4. BoConcept
If you need the right couch urgently, BoConcept is the right place to get it done. It has a speedy technology for space planning and customization for quality rather than aesthetics. They create and design couches for single and commercial customers all over the Bay area. Above and beyond offering some of the best couches, they help you create a personal home with interior design services. 
Which Is The Best Way To Buy A Couch In The Bay Area?
There are many places to buy a couch and other furniture in the Bay area, but the prices differ. It also depends on the quality, size, and type of coach you plan to buy. Nevertheless, the best way is to buy couches in large quantities. This is because most companies give discounts on items once sold commercially. However, it can only work for you if you are a business person interested in furniture. 
Places In The Bay Area With Quality Used Furniture
Depending on your budget, you can find used couches of high quality. Most of these couches come at high prices except for a few places and shops. Modern Artifact is an excellent place to find used furniture, including couches, at affordable prices. Specific repairs are done for long-term use and some replacements on such couches. 
Another place is Alameda Flea Market. The place is not in San Francisco but on the Bay area bridge and is held on the first Sunday of each new month. Your visit may be more than a trip as you are likely to find what you are looking for.
Tips For Buying A Couch In The Bay Area
When looking for a couch in the Bay area, look out for the type of couch. This will help you get a better product by comparing different sellers. Some may sell similar couches with similar materials at different prices. Next, look for the style of couch. L-shaped couches are the most common in the Bay area and showrooms. Flat-range couches also differ due to the design of the legs. 
Other types include sleek couches with contemporary metal legs and overstuffed cushion couches. It's pretty noticeable that as you continue filtering, the prices keep fluctuating until you get the best product of your choice. 
The cost of the couch is equally essential. In most cases, many people focus on prices and purchase couches they never had in mind when going to the showroom. If the product is not available at the moment, keep hunting until you get it, or even a better one for that matter.
How Do You Find A Good Place With Couches In The Bay Area?
Nearly all places are equipped with furniture stores full of couches. The best way to find a suitable showroom in the Bay area is to check out customer reviews. Customer reviews give a more accurate picture of every product's services, delivery, and general performance from the showroom. It is essential to read both positive and negative reviews before visiting any showroom in preparation for buying a couch.
Final Thoughts
The Bay area is a good place for buying couches since most sellers have positive feedback from their customers. However, consider the features of your desired couch and check available showrooms to get them a good couch.
References:
https://www.yelp.com/search?cflt=furniture&find_loc=San+Francisco+Bay+Area%2C+CA