Last Updated on July 26, 2023 By Emma W. Thomas
Hotel beds are often more comfortable due to higher-quality mattresses, premium bedding, and professional setup. To replicate the same feeling at home, invest in a high-quality mattress and pillows. Use soft, clean sheets, duvets, and mattress toppers. Pay attention to proper bed setup and maintain a clutter-free sleeping environment.
Reasons Why Hotel Beds Are So Comfortable
Several factors contribute to the comfort of a hotel bed, including;
Superior-Quality Design Mattress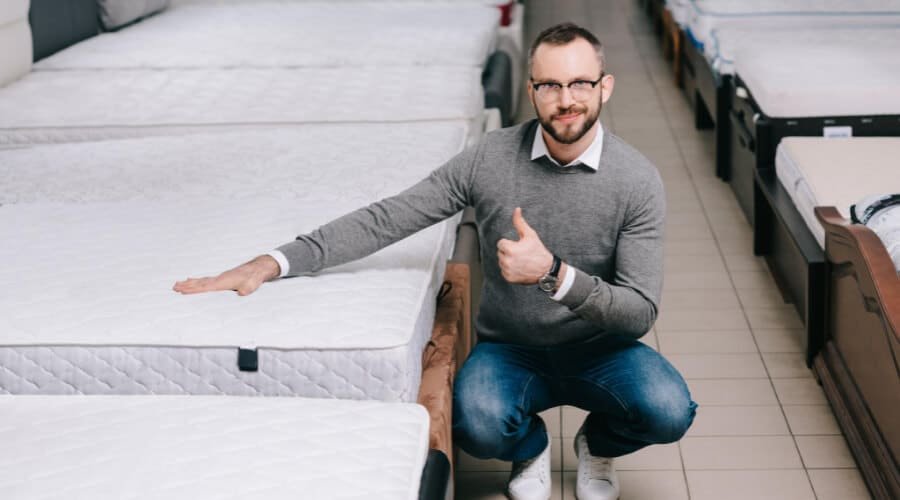 Hotels invest in purchasing quality mattresses whose designs can help control temperature and also relieve pressure points. Most hotels go for memory foam, innerspring, and hybrid mattresses since they offer great support and comfort.  
With memory foam mattresses, one can sleep without any disturbances since they conform to the body shape, absorb motion, and relieve pressure points. On the other hand, innerspring mattresses provide bounce, proper ventilation, and support because they come with a series of coils. 
A combination of coils, foam, and hybrid mattresses is preferable since it allows maximum heat dissipation. The bed will also give enough ventilation, which helps regulate the temperature; hence one gets a cool sleep. Medium-firm mattresses support any sleeping style and can help to alleviate back pain in some people. 
Special Beds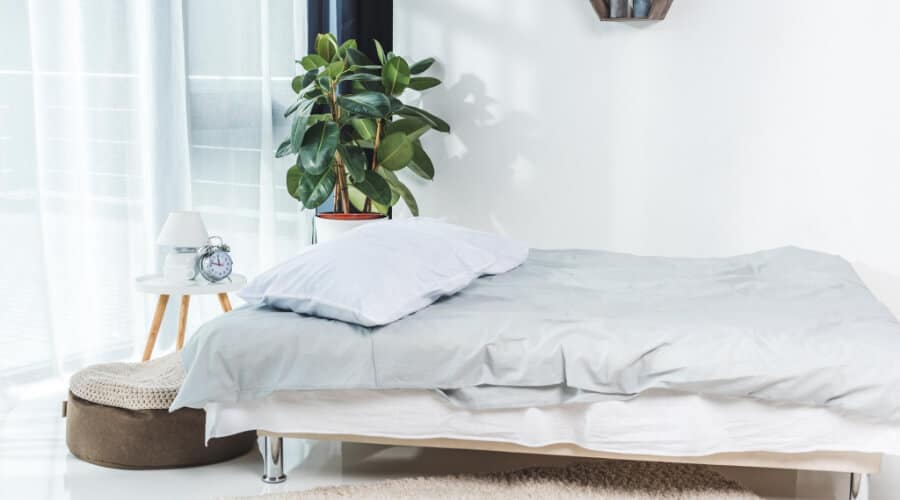 Hotels know that their reputation depends on the comfort of the people they host and will do everything possible to achieve this. Most of them invest in special beds that are custom-made to serve the purpose. Hotels follow specific regulations and rules when purchasing their beds to be different from standard beds used at home. 
Soft Sheets
Sleeping between a pair of soft, breathable, and light sheets provides a good feeling on the skin. An example of such sheets is long cotton fabrics with a higher thread count (around 300). A high thread count makes bed sheets softer. 
Sheets used on hotel beds are normally cleaned using special detergents, cleaners, and fabric softeners. Doing this gives the sheets a pleasant smell that adds to the comfort of sleeping on these beds. This sweet scent provides a serene environment that helps you to sleep peacefully. 
Besides the sheets being very clean, they are also normally ironed, spread, and tucked in tidily in the mattress. 
Mattress Toppers
Mattress toppers help to provide additional cushioning and comfort, and most hotels know this secret. So apart from the regular mattress, this item is part of the bed since it helps adjust the firmness and prevent the mattress from wearing out. 
Fuzzy Comforters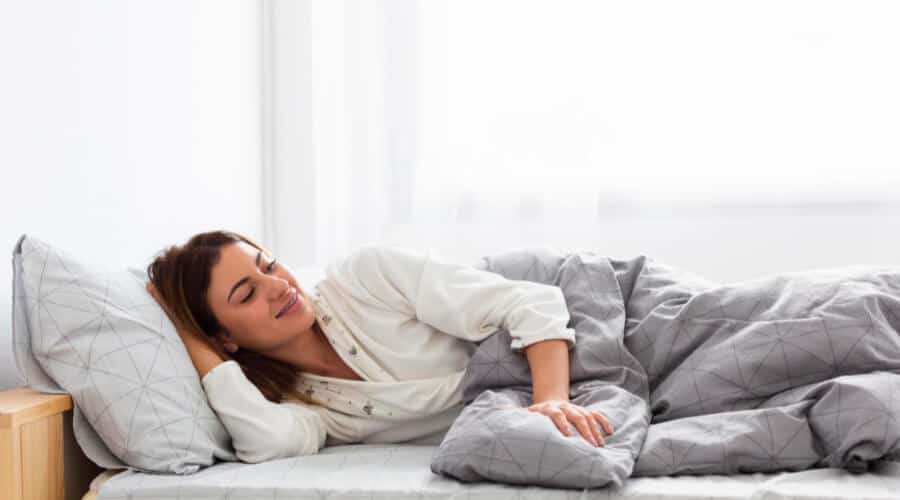 Some hotels also use fluffy comforters on their beds to help keep the user feeling cozy and warm. Most comforters are insulated to provide warmth throughout the night; hence one can sleep undisturbed. In most cases, the comforters used in hotels are longer and wider than those used at home to give the bed a more luxurious look. In addition, some of these items are breathable as they come with baffles that prevent the clumping together of the down filling. 
Assorted Sets Of Pillows
Most hotels use different pillows to provide their guests with maximum support for their neck and head. For example, some beds may have two firm pillows and two soft down-fill pillows since they are durable, smooth, and light. These pillows are also normally stuffed properly to prevent them from flattening out after a short period of use. 
Use Of Quilts Instead Of Duvets
In most hotels, one will sleep under a quilt and not a duvet. Since quilts are larger than duvets, you get plenty to wrap yourself and remain warm. They also make the bed look more stylish and cozier, unlike the duvets. Quilts are usually tucked into the duvet cover to make them fluffy, plush and give them a filled appearance. Doing this makes the bed so comfortable that one feels like jumping on it immediately after you enter the room. 
Perfect Room Décor
Hotel rooms have beautiful arrangements that make them feel calm. Most rooms have luxurious beddings and white-painted walls that make them look attractive and hygienic. The hotel rooms are also clutter-free and tidy, which helps their guests unwind the body and the mind. 
Some hotels may even follow the Feng Shui principles to help create a more relaxing experience due to energy balance. For example, by tucking the bedsheets into the mattress and using overlapping folds, the hotels can create a comforting allure in the room, which gives you a peaceful sleep. 
With this clever design in a room, the hotels play a psychological trick on their guests who perceive the room and bed from a different perspective. 
A Summary Of Items That Make Hotel Beds Comfortable
| | |
| --- | --- |
| Item  | How It Helps |
| A luxury mattress ( for example, innerspring, memory foam, and hybrid) | Offers support and relieves pressure |
| Mattress topper | It enhances cushioning and comfort and also protects the mattress from wearing out. |
| Light, crisps, and breathable sheets | Feels soft and comfortable on your skin |
| Fuzzy comforters | It keeps you warm and gives a cozy feeling. |
| A variety of pillow sets | Provides support to the neck and head |
| Pristine room decor | It gives the room a luxurious, hygienic appearance and provides a clutter-free, tidy space. |
How To Make Your Bed At Home Give You The Same Comfort As A Hotel Bed
You can also transform your bed at home and make it as comfortable as that in a hotel by following these steps;
Purchasing A Luxurious Mattress
Sometimes you may experience restlessness or back pain while sleeping if your mattress is sagging or old. If this is the case with you, upgrade your bed to a luxury one. If you love a traditional mattress, then investing in a thick innerspring piece with a box spring beneath will be ideal. Such a mattress offers a steady surface for support and has an increased height, making it look beautiful. It is also easy to get in and out of bed.  
Purchasing a hybrid spring mattress that is topped with memory foam or latex will also add firmness suitable for your sleeping style and physical characteristics. 
Investing In A Mattress Topper
A mattress topper can help adjust the firmness of a mattress and improve its performance without purchasing a new one. This item gives an additional cushioning layer on top of an old bed hence making it more comfortable. It also helps to cradle your body and relieve pressure points on your knees, hips, and shoulders. 
For better comfort, one can go for latex or memory foam to absorb motion and make you sleep undisturbed by your partner. However, a cheaper option is to buy a featherbed since it has a very velvety and soft sleeping surface that helps to regulate your temperature and relieve body aches. 
Pick Flat White Sheets
If you desire your bed at home to have the feel and appearance of a hotel bed, then buy crisp white sheets. Flat sheets help to prevent overstretched elastic corners, unlike fitted sheets. These sheets also produce a wrinkle-free and smooth fit.
A good choice would be cotton percale sheets with over 300 thread counts that make them more breathable and soft than other materials. Cotton sheets are also more durable. Go for white sheets like in hotel rooms as they help to create a sense of tranquility and freshness. 
Use Smart Pillows
Placing a variety of plush pillows on your bed helps generate a feeling of 'sleeping on a cloud' which makes your bed very comfortable. In addition, you can go for down-fill pillows since they make your bed look luxurious and provide a lush sleeping environment. These items can also be used as body pillows to help relieve pressure points. You may also lean your back on the pillows while reading or watching TV from your bed. 
Keeping Your Sheets Clean
Ensure that your sheets are cleaned and replaced regularly to enhance better sleep and health. You may have them cleaned every week to eliminate dust mites.  Use fabric cleaners and softeners to keep the sheets wrinkle-free and soft and give them a light fragrance. 
Besides using laundry detergents with pleasant scents, you can also add essential oils to water and spray the sheets to make them smell sweet. A pleasant smell is believed to enhance better sleep. 
Create Hospital Corner Folds
Hospital corners help to create an elegant and crisp ambiance on the bed. To make a hospital corner on your bed, you need to place a flat sheet on it. Next, tuck the four corners of the sheet underneath the mattress. You can then pull the remaining part on top of the bed to create a triangle. You will then pull the remaining portion and tuck it tightly underneath the mattress. 
Make sure that your covers and sheets are always neat and smooth. You can do this by ironing the sheets or using your hands to smooth them after spraying them with water. Tidy and soft covers and sheets make your bed look and feel comfortable like a hotel bed.
How much It will Cost To Make Your Bed At Home Give You The Same Comfort As A Hotel Bed
Creating a comfortable bed like the one in a high-quality hotel can be an appealing prospect. Here is a breakdown of the potential costs involved in achieving this within a domestic setting:
| Item | Estimated Cost (USD) |
| --- | --- |
| Hotel-quality mattress | $500 – $2000 |
| High-thread count sheets | $50 – $200 |
| Duvet cover | $30 – $200 |
| Down comforter | $90 – $500 |
| Luxury pillows | $20 – $100 each |
| Mattress protector | $15 – $50 |
| Down feather or memory foam mattress topper | $50 – $300 |
Additional Costs
Aside from the basic items listed above, there might be extra costs to consider, which might arise from any required bedding accessories or maintenance costs.
Bedding Accessories: Items like plush throws, bed skirts, and decorative pillows can add an extra cost of approximately $50 to $300 depending on how luxurious and elaborate one wishes their bed setup to be.
Maintenance: Regular professional laundering can ensure the longevity and freshness of bedding items, and might cost between $20 to $50 per service.
Conclusion
Hotels invest in a variety of items to make their beds very comfortable to attract more guests. These items include luxury mattresses, mattress toppers, pillows, soft sheets, and plush comforters. They also create elegance and ambiance by ensuring that the room décor is attractive and painting the walls white. 
It is possible to make your home bed comfortable like one in a hotel by investing in the items above and maintaining the same standard as in a hotel.
References:
https://www.rocketlinen.com/why-hotel-beds-are-so-comfortable/
https://alexandrialivingmagazine.com/why-are-hotel-beds-so-comfortable/
Emma is a graduate of Domestic Science or Family and Consumer Sciences (Home Economics) from the University of Wisconsin. She has 7 years of experience Working with the strategic section of BestBuy and now writing full-time for Homeeon.
From Managing the Home, Interiors, Cleaning, and Exteriors to Gardening and everything about Making A Home Liveable – is her passion and this Homeeon is the result of this.
Emma loves decorating her home with the best stuff found online. She cares about quality over anything and writes reviews about them here in Homeeon. Get in touch with her over Pinterest.
Keep reading her blogs.