Last Updated on July 26, 2023 By Emma W. Thomas
To create a New York-themed room, use iconic elements like cityscape wallpapers or wall decals, NYC skyline art, and subway signs. Add furnishings with modern and urban designs. Use yellow taxis, street signs, and black-and-white photography as accents. Tools needed: wallpapers, decals, art prints, furniture, and decor accessories.
New York Theme Room – Overall Cost
| Item/Services | Description | Estimated Cost |
| --- | --- | --- |
| Wallpaper & Paint | Cityscape print curtains and stylish rugs match the theme. | $300 – $600 |
| Furniture | Depicting landmarks like the Statue of Liberty, the Empire State Building, and Times Square. | $1500 – $3000 |
| Decorative Items | Includes faux taxi cab, miniature New York landmarks, vintage NYC maps, etc. | $100 – $500 |
| Lighting | New York-style pendant lights, table lamps, and possibly a neon sign. | $200 – $600 |
| Rugs & Curtains | Cost if professional help is sought for designing. This cost may include consultancy, labor, and other charges. | $100 – $300 |
| Art Pieces | Framed postcards, Broadway posters, and other NYC-themed art. | $200 – $500 |
| Professional Interior Designer | Cost if professional help is sought for designing. This cost may include consultancy, labor and other charges. | $2000 – $5000 |
How Do You Achieve A New York Theme Room?
After finding your dream apartment, having signed the lease, and moving in, you can easily customize it to have a New York theme to your liking. This article will help you decide on the tools and furniture pieces you can use to decorate a New York theme room.
The Entryway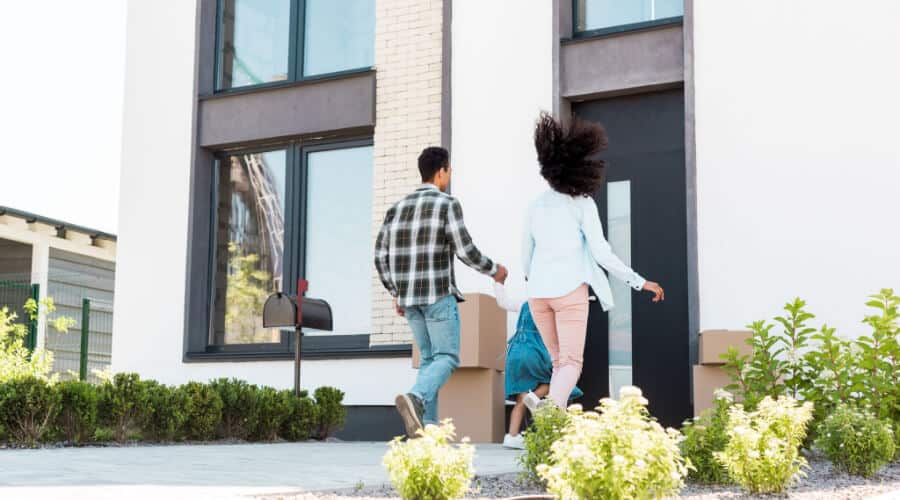 As part of New York culture, you do not leave shoes trampled on the entryway or have dust and dirt across your apartment. You need to invest in small rugs or doormats that you can place by the front door to wipe off the dust before entering the house easily. You can have one customized by having some public art printed on them to enhance that New York theme. 
In some apartments, entryways tend to be smaller, which calls for good organization skills in creating space for everything. You can have a hall closet for hats, scarves, and gloves, and since New Yorkers are associated with a lot of walking, you can add an umbrella holder. It would be better if placed near the door for easy pick up when leaving the house. 
If there is enough room, you can consider a bench or a small end table to add to the decorations bits. To enhance the New York look, you can have a fun table lamp to give the area some warmth and a welcoming look instead of having a plain and boring entryway.
Dining Area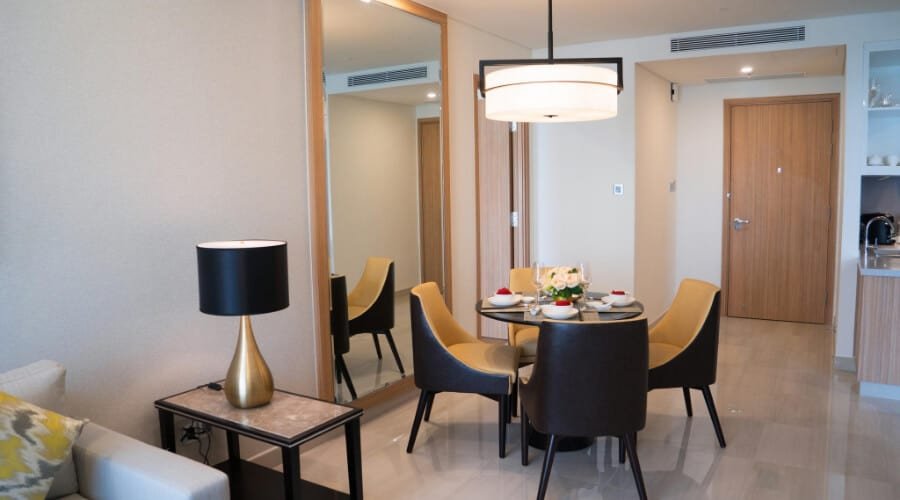 New Yorkers like to dine and enjoy their culinary creation with some added accessories, which may be necessary at times. For instance, you can invest in some nice placemats, tablecloths, napkins, and a dining area rug. All these accessories can be customized to bring out a New York theme, for example, by having them printed with the art of beautiful scenery. You can also invest in a nice dining set made of natural wood with neutral tones to enhance the look of your dining set.
Kitchen Area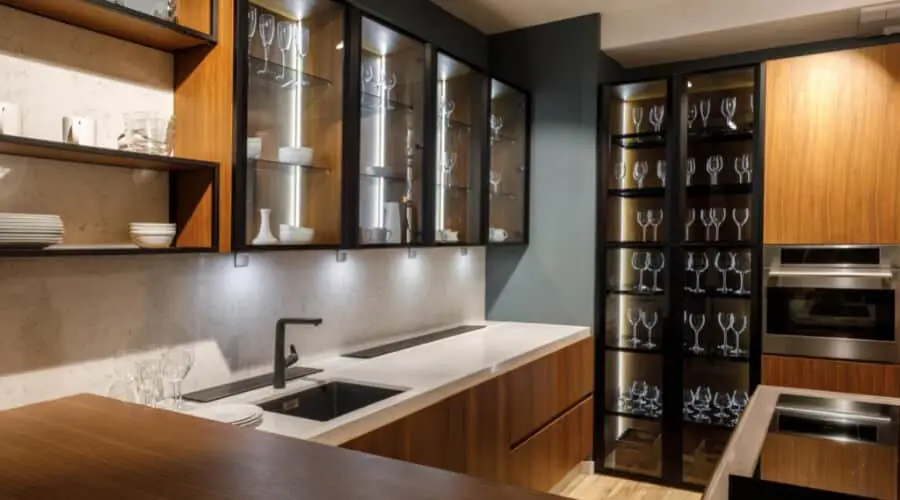 It is said that the kitchen is the heart of every home. Therefore, picking out kitchen accessories should be fun. For a New York theme, you will need to tie up that cooking apron tight since the kitchen has quite a long list of basics. First, the silverware set and the knives for every meal from poultry to fish and vegetables. Then there are dishes like bowls, glasses, plates, and cups. 
It would be best also to consider the pots and pans designs that come with measuring cups, cooking sheets, baking and mixing utensils, and oven dishes and mitts. You will also need other kitchenware such as cutting boards, trash cans, corresponding bags, and other small kitchen appliances such as a toaster, blender, can opener, coffee maker, and hand mixer. Like the tablecloths, you can also have your plates and cups customized. However, you should avoid too many prints on them to avoid overdoing it. 
Living Room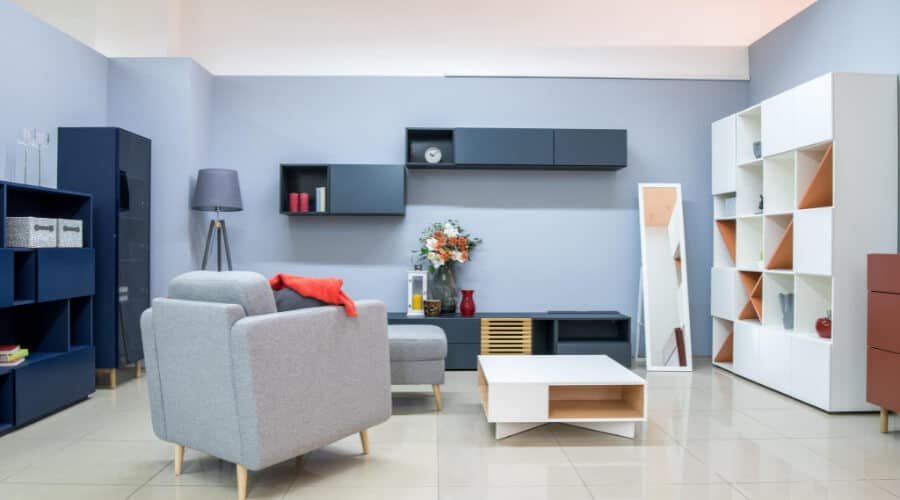 It holds the majority of your large furniture. For a New York theme, you need to have a table lamp and other standing lamps to provide enough lighting in the room to be not too dull. You will also need to have some end tables or a coffee table, a mat or rug that adds some color and personality to the living space, and blinds to serve as window coverings.
You also need to throw blankets and throw pillows for your couch, loveseat, or end chairs which sometimes serve as a signature for New York-themed rooms. 
Bedroom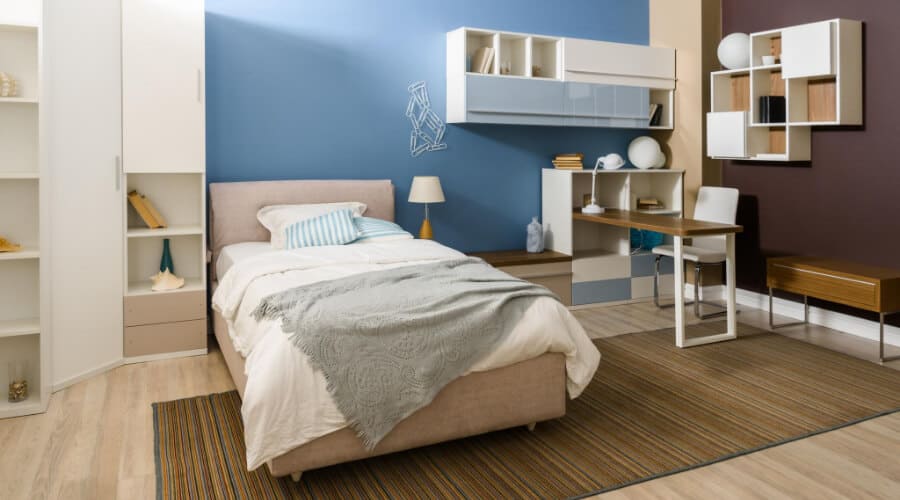 A bedroom is another room holding large furniture like a bed, mattress, dressers, and television. Such pieces take up much space, which calls for good organizational skills. You can have a NYC-themed bedding set that includes a comforter with a witty take printing. You can also invest in wall photographs related to places in the city with a combination of gingham and checks to create an urban and cozy look.
For people into dark bedrooms with some urban vibes, you can have a New York theme with moody gray and black colors, which can be enhanced with touches of yellow pop. You can also add in some words, and cityscape photos to create an artsy New York look. Such a bedroom look is more suitable for young thespians who love the New York theme.
For a subtle New York-themed bedroom, you can have a monochromatic picture gallery above your ceiling for an elegant and urban roof look. However, the pictures should be in solid and neutral tones such that they do not attract too much attention. It prevents them from taking too much focus and attention in the room.
You can add some New York City stickers known as peel-and-stick wall art for kids' bedrooms. They tend to have a sketchy style that creates a carefree mood perfect for children's space. In addition, the peel-and-stick wall arts advantage is that you can easily remove them whenever you want to change the room's look.
What Is The Cost Of Paintings And Wall Stickers Used In Creating A New York-Themed Room?
The exact prices of different items used to enhance a room into a New York theme room may vary depending on where you purchase them from. Some are cheap and affordable, especially the peel-and-stick wall stickers, whereas others such as paints and art tend to be expensive. In the table below, there are some items readily found in the market and their approximate prices;
| | |
| --- | --- |
| Décor Item  | Approximate Price In USD |
| Mid-Town New York 3D CityScape | 89.99 |
| New York City Art Print | 80.43 |
| An NYC Neon Light Sticker | 99.00 |
| New York City Neon Sign | 58.80 |
| Warm Pastel Cityscape | 8.00 |
| New York Taxi Cab Print | 20.61 |
| New York City Print Statue of Liberty  | 10.34 |
What Are The Most Common Tools Used In New York Theme Rooms?
New York-themed rooms are unique and, in most cases, have innovative décor, which is present in almost all homes. Even for houses with small spaces, there is a trifecta that enables them to develop innovative and edgy décor making the small spaces appear high-end and elegant. There is a wide range of highly textured and dramatic items combined with wall-mounted pictures to small space decorations used to pull out a New York theme look in a room. Some of these items include;
Lanterns And Lamps
The use of lanterns and lamps is a growing trend that has extended far beyond New York City. They are increasingly gaining popularity in interior design following the rule of thumb; the bigger, the better. For a better New York theme look, ensure your lamps and lanterns are styled with bright white walls among other cohesive elements like an earthy finish with a few pops of color to lighten up space. 
Black Marble Coffee Tables
White marble is widely used, but the black marble coffee tables are some signature for New York-themed rooms. They grace a living room, making it appear moody. Besides sticking to using them in the living room, you can spice up your house by using low lounge-inspired coffee tables as counter surfaces or floating shelves. You can also enhance their look by adding small accessories such as flower vases or other artifacts.
Abstract Neon Lights
It is only logical that since neon lights are flashing everywhere outside the city's apartment, people would love them inside their apartments. Most people prefer to replace their traditional lighting with indoor neon lights. You can have them trailing down your hallway or framing the living room. Sometimes you can have them spell out a statement piece like "I love you," which brings out a special kind of glow and personality in a room.
Channel Tufted Beds
New Yorkers are so much into channel tufting especially using velvet fabrics. Of course, the best place to add channel tufting is the bedroom though some people do it in their living room on sofas and couches. For a New York-themed bedroom, you should complete the look by going for a full channel bed frame with top-to-bottom upholstery and some light style. Then, you can finish it up with a pair of airy, fresh beddings. 
You can have matching throw pillows for the furniture to create a complementary look for the living room.
Conclusion
New Yorkers have small apartments, and for this reason, every space is important to them. As a result, they are very organized. So for you to pull out a New York theme in any room, good organization is the first factor you will require. The rest will follow, which involves matching décor arts and furniture to bring out the theme.
References:
https://homescopes.com/interior/new-york-themed-room/
https://www.decorilla.com/online-decorating/home-decor-nyc-interior-decorating-styles/
Emma is a graduate of Domestic Science or Family and Consumer Sciences (Home Economics) from the University of Wisconsin. She has 7 years of experience Working with the strategic section of BestBuy and now writing full-time for Homeeon.
From Managing the Home, Interiors, Cleaning, and Exteriors to Gardening and everything about Making A Home Liveable – is her passion and this Homeeon is the result of this.
Emma loves decorating her home with the best stuff found online. She cares about quality over anything and writes reviews about them here in Homeeon. Get in touch with her over Pinterest.
Keep reading her blogs.