Last Updated on August 3, 2023 By Emma W. Thomas
Yes, passengers flying with American Airlines can typically print their boarding passes at home. After online check-in, the airline allows passengers to download and print their boarding passes for a hassle-free boarding process at the airport.
Ways To Print An American Airline Boarding Pass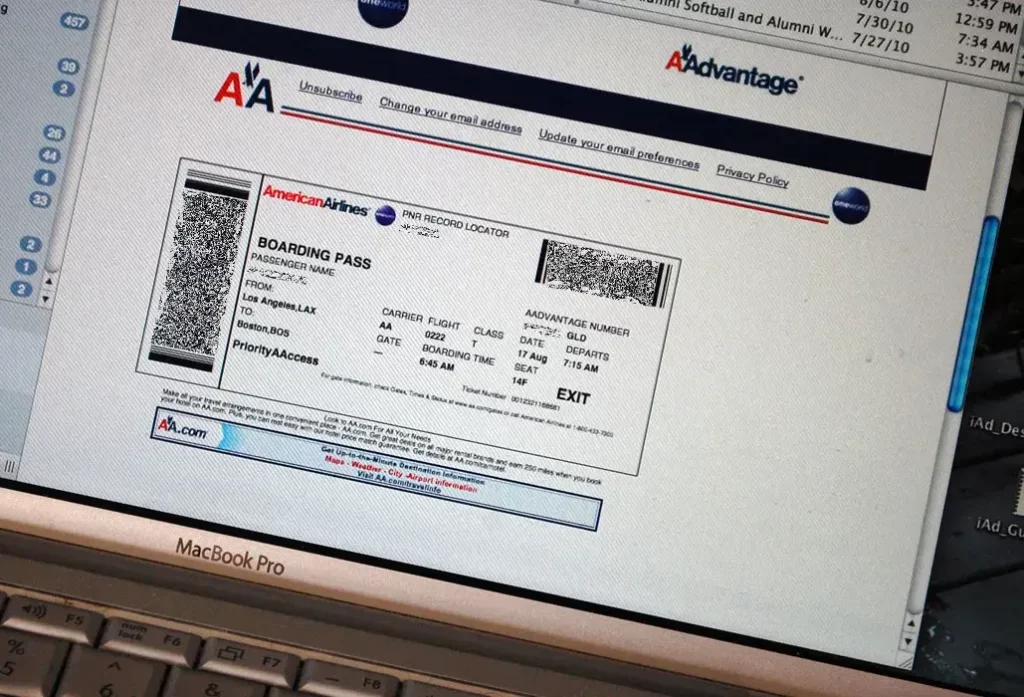 Passengers can print their boarding passes anytime after they have checked in. There are three options on the way to go about printing boarding passes. They include:
Passengers Visiting The American Airline's Website. 
A passenger will provide his/her details, such as their names and confirmation numbers, to create their records. This process is simple and requires a very short time, and you can do it at home or at work. 
Waiting Until You Get To The Airport
There are two options that you can use to get your pass. First, you can print the boarding passes from a kiosk in the airport by following some simple instructions. The other option is to approach a human assistant from the airline. A passenger approaches people at the American Airlines counter who should guide them on how to print them. International travelers must have their passports whether they decide to use the kiosks or approach the American Airline staff counter.
American Airlines App
This app provides passengers with various benefits, such as using an electronic boarding pass whose acquisition is easy as one does not have to print off a boarding pass manually. It is most convenient for environmentalists who want to protect the environment by eliminating paper use.
How to Obtain an American Airlines Boarding Pass
Are you going on a trip with American Airlines and wondering how to obtain your boarding pass? Look no further! This listicle will guide you through the simple steps to secure your American Airlines boarding pass and make your flying experience hassle-free.
Online Check-In: One of the most convenient ways to get your American Airlines boarding pass is by using their online check-in service. Visit the American Airlines website or use their mobile app and enter your flight details. You can check in as early as 24 hours before your scheduled departure time.
Mobile Boarding Pass: If you prefer traveling light without printing any documents, American Airlines offers a mobile boarding pass option. Once you complete your online check-in, you can choose to receive your boarding pass on your mobile device. Just keep the pass accessible on your smartphone or tablet to present it to airport personnel during security checks and at the boarding gate.
Printed Boarding Pass: If you prefer traditional paper boarding passes, you can easily print one after completing your online check-in. Use a personal printer, an airport kiosk, or print at a participating print location. Ensure that your boarding pass includes your flight details, seat assignment, and a unique barcode.
Airport Check-In: If you're unable to check in online or prefer a more personal touch, you can obtain your American Airlines boarding pass at the airport. Head to the designated check-in counters and present your ID and flight information to the American Airlines staff. They will assist you with the check-in process and print your boarding pass.
Kiosks at the Airport: American Airlines provides self-service check-in kiosks at most airports, making it quick and convenient to secure your boarding pass. Simply input your flight details and follow the prompts to print your boarding pass without the need for assistance.
Ticket Counter: In case you face any issues or need additional assistance, you can always approach the American Airlines ticket counter. The friendly staff will verify your identity, and flight details, and print your boarding pass while addressing any concerns you may have.
Advantages Of Using The American Airlines App
American Airlines have made it easy to interact with their passengers with the use of an app. This app has some features to benefit of the passengers in the following ways:
1. Passengers can watch free entertainment during flights. They are only required to stream to the airline's library of free flight entertainment found on the app. It provides passengers with unlimited entertainment choices due to its vast range of entertainment.
2. This app allows passengers to rebook instantly in cases of delayed or canceled flights, which would inconvenience them. The ability to rebook instantly using the app has made many travelers go for American Airlines.
3. Ability to acquire and use a mobile boarding pass. This feature has created many conveniences since many people miss their flights due to forgetting their boarding passes. Some forget to print and, in other cases lose them especially when the boarding passes are for a large group like family members. It also allows up to a maximum of nine people in a similar reservation. 
4. Using the app, one can scan the barcode of their passport instead of carrying it. It is for international travelers who in other airlines have to carry their manual passports. American airline app has reduced risks associated with carrying manual passports, such as losing them. Entering manual information during check-in may be tedious, and sometimes one may input the wrong information. All these have been catered for by the app.
5. You will get the ability to track your luggage and pre-order food before the flight. Pre-order food and beverages enhance passengers' experience during the flight by availing their food and drinks choice. It is nice to travel with the knowledge of how safe your luggage is. Passengers can keep track of their items throughout the flight.
6. This app also provides passengers with notifications and reminders of important dates and times. For example, in case of travel delays and cancellations, departure time reminders and gate changes are communicated to you. All these enhance passengers' experience with the airline by keeping them updated on the airline's things.
When Can't One Use The American Airlines App To Check-In?
Online check-in, whether using an app or by visiting the airline website, is convenient to both passengers and the airline. It is inconvenient for some travelers such as:
When traveling in large groups. Many travel procedures are carried out in such a case, and individual passengers must give out their details for security purposes.
It is also inconvenient if a codeshare partner operates the passenger's first flight when one checks-in in on a different airline flight. Passengers are therefore required to present themselves to American Airlines.
Passengers with special needs such as wheelchairs are required to manually check in as their physical presence is required. It is also the same case when a child is traveling alone since special care will be required.
Passengers with TSA records cannot check in online because they are mostly selected for special and secondary screening, especially if they have been suspected of insecurity and calls for such passengers to check in manually at the airlines.
In other cases, the airline may lack a passenger's passport for an international flight. In this case, passengers can only check in manually by visiting the airline.
How Do You Get An American Airlines Mobile Boarding Pass?
A mobile boarding pass is used in cases where the passengers prefer not to use a printed one. Acquiring a mobile boarding pass involves the following process:
You check in on the American Airlines website and select email with mobile option. After a short time, an email is sent to your email account.
Check your email inbox and follow the link sent to get a boarding pass.
Download and save the boarding pass as it appears for ease of access during the security check. 
Ensure visibility of the barcode when showing the boarding pass at any entry point.
Most airports accept mobile boarding passes though some do not. It is necessary to check whether one's departure or connecting airports accept mobile boarding passes. For American Airlines flights, barcodes of the mobile boarding pass are scanned at security checkpoints making it easy and convenient for the airline and passengers.
Can You Use One Phone To Display More Than One Boarding Pass?
Mobile boarding passes can only be used on one phone for one person. After processing the boarding pass, it is sent to an email. One email can only receive one boarding pass. Therefore, each individual should be able to present their boarding pass. For example, those without a phone can use a boarding pass provided when passengers check in online. 
Checking In Tips For American Airlines To Prevent Delays
One has to consider some minor things while checking in with an American airline to help prevent delays. For example, it is important to have your confirmation number while checking in at the airport. It helps to save time since the kiosks might default to asking for this code. It is also important to consider using mobile boarding passes since they are time-saving since they only involve scanning the barcode. With this, all the required information is displayed. They also reduce the tension and weariness of misplacing paper documents. 
All one needs to ensure is their battery charge for the entire trip. It Is also advisable to take a screenshot once the mobile boarding pass is processed. Doing so will help ease retrieving it, especially during check-in. At this moment, both passengers and airline staff are under pressure to keep time, which creates tension and anxiety. Do not be alarmed if you cannot check in online. Some people are on the military fare, traveling with an unaccompanied minor, or have a pet. These are some of the things that may hinder one from checking in online with American Airlines.
Rules When Online Checking In With American Airlines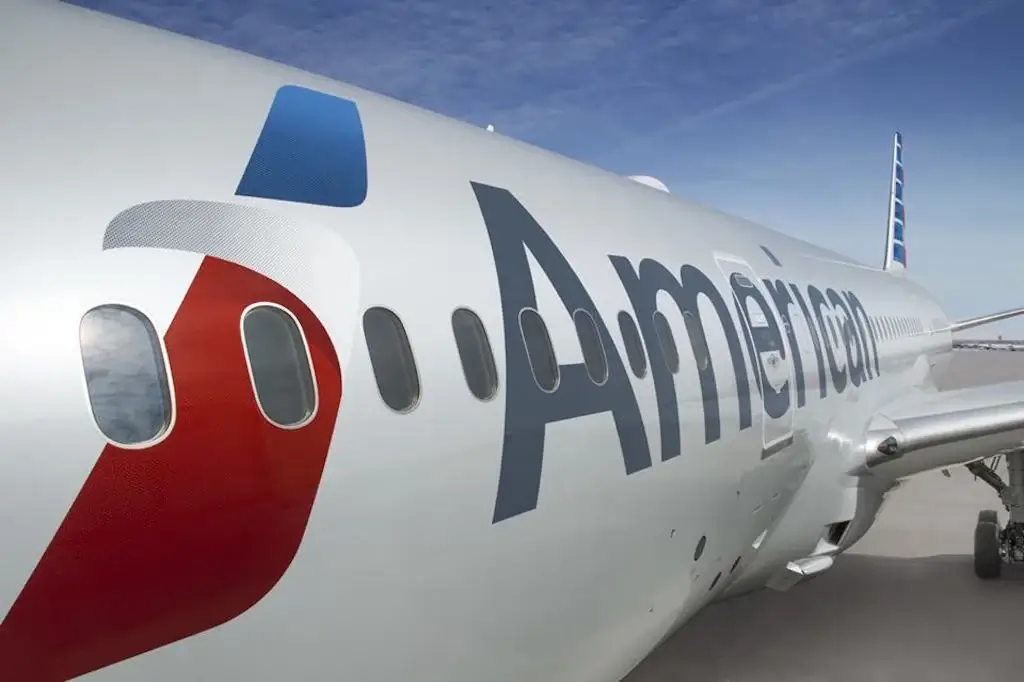 American Airlines have a few guiding rules when checking in online. For instance;
passengers can only check-in online starting 24 hours before up to 45 minutes before departure of the intended flight. 
Online check-in and use of the app close before the departure of the intended flight. For international flights, the app closes one and a half hours before departure.
Another rule is that checking of bags is done 45 minutes prior and 1 hour before domestic and international flight departure, respectively. The time left is to allow the staff and passengers to settle in their respective flights before takeoff.
Airlines whose first flight is operated by American Airlines Partners cannot check-in using the website or app. They are required to visit American Airlines and make their bookings directly to avoid inconveniences.
Conclusion
Checking in with American Airlines is an exciting experience. The use of their automated app makes the experience enjoyable and unforgettable. Some of their features, such as selecting your entertainment and instant rebooking options, make the airline friendly and easy to interact with. The ability to print or not print a boarding pass caters to all types of passengers, including environmentalists. Using mobile boarding pass by American Airlines has made traveling by air easier and less complicated.
References:
https://www.aa.com/i18n/travel-info/travel-tools/mobile-boarding-pass.jsp
https://www.guidebuz.com/blog/can-i-print-my-american-airlines-boarding-pass-at-home
Emma is a graduate of Domestic Science or Family and Consumer Sciences (Home Economics) from the University of Wisconsin. She has 7 years of experience Working with the strategic section of BestBuy and now writing full-time for Homeeon.
From Managing the Home, Interiors, Cleaning, and Exteriors to Gardening and everything about Making A Home Liveable – is her passion and this Homeeon is the result of this.
Emma loves decorating her home with the best stuff found online. She cares about quality over anything and writes reviews about them here in Homeeon. Get in touch with her over Pinterest.
Keep reading her blogs.