Last Updated on July 17, 2023 By Emma W. Thomas
When siding a house, the size of the J-channel used depends on the thickness of the siding material. Typically, for vinyl siding, a J-channel with a width of 5/8 to 3/4 inches is commonly used. For fiber cement or wood siding, a larger J-channel with a width of 7/8 to 1 inch is more suitable. The J-channel serves as a receiver for the cut edges of the siding panels, providing a neat and finished appearance while allowing for the expansion and contraction of the siding material.
What Is A J Channel In Siding?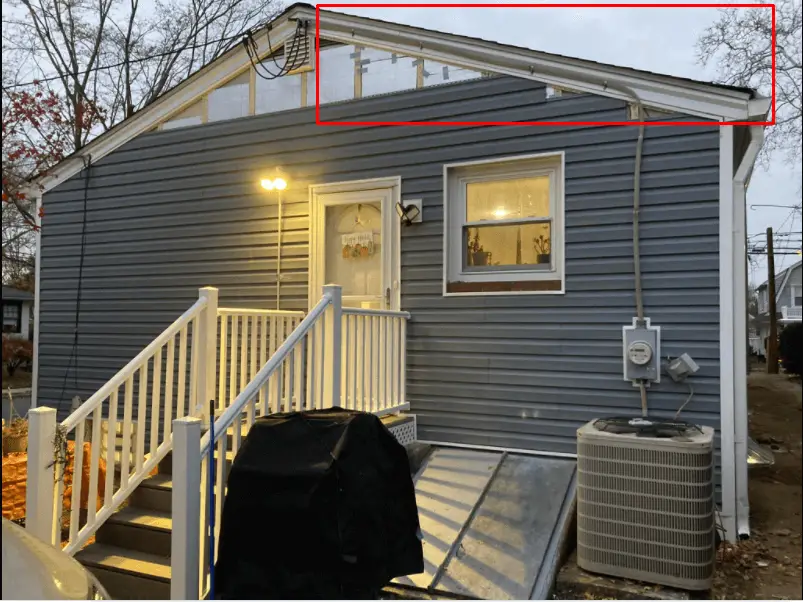 J channel is a long structure with open slots for nails and is used for siding edges of a house. It takes after the typical letter "j" when you look at it from the sides. The main purpose of the j channel is to hide the end of a piece of vinyl siding with a slight curve at the bottom. 
What Size J Channel Should You Use For Horizontal Siding?
Horizontal siding is best when you apply it at the lower parts of the wall, while vertical siding works well on the upper parts. J channel of about ¾ to 1 inch is suitable for horizontal siding but must have holes. Also, get the actual measurements to know the exact length of the channel to avoid underestimation or wastage.
Can You Use An Aluminum Size J Channel With Vinyl Siding?
The size j channel is suitable for corners and windows and is used along with other siding materials. You can decide to use an aluminum size j channel with a fold to create a good combination. Do not just limit it to windows and doors because it is meant for all edges of your house. 
F Channel And J Channel – Which Is Suitable For Siding?
The two channels are excellent and applicable to different parts when finishing a house. F channel is specific for soffits because of easy installation and shape. It is suitable for studs and beams and may not bear siding weight by holding them together.
J channel is recommended for siding because of its features. It has slots for nails on the top and points of insertion for the siding on top of it. The open spaces allow nails to pass through to hold the siding materials together, unlike the f channel, which may not perform such functions. 
How To Determine The Size Of A Channel Trim
It would help if you took measurements for the edges of your house, like the door or windows, depending on where you need to trim. For example, if you want to have siding for the entire home, measure the length of windows and doors in similar units. Again measure the top length of the wall, and the bottom size for starter strips, then get the total. You can repeat the process to confirm the accuracy of your measurements. 
Can You Use A Size J Channel For The Soffit Besides Siding?
Using a size j channel for a soffit is not always good because there would be a great variation in measurements and sizes. For example, using a 5/8 j channel for soffit vents leaves too much extra space for soffits with similar measurements. Use a smaller size j channel for soffits to make them fit comfortably. It is best to use standard size j channels of 5/8" for siding and  1/2 inch j channel for the soffit.
How Do You Stop Water From Getting Into The J Channel Of The Siding?
Usually, it may not be possible if the j channel stands atop a window or door. However, you can still prevent rainwater from getting behind the j channel. Some siding materials are potentially risky to rainwater, but improvise a flap to make side channels overlap j channels whenever possible to reduce the amount of water getting behind them. 
How Do You Remove A J Channel For Siding?
When you feel like replacing the siding, always get rid of j channels before accessing the siding materials. You may also remove the starter strips first if they are made of metal. To remove a j channel:
1. Find the edge of the siding
2. Use a hook to thrust through the j channel overlap and gently pull it down.
3. Repeat the process for all sections bound on the siding.
How Far Should You Nail A J Channel When Siding?
Whether you are nailing a J-size channel on vinyl or any other siding material, leave an allowance for expansion and contraction. An interval of ¼ inches is suitable for edges of windows and doors if you reside in areas with low temperatures or experience long summer seasons. 
How Do You Install A J Size Channel On An Existing Siding?
There are several ways to install a j size channel on any existing siding material, but here are the easiest steps: 
Step 1: Remove The Silicon
Usually, silicone does siding that embeds the j channels on siding materials like vinyl. Use any tool such as a knife to remove the silicone. 
Step 2: Get Rid Of The Existing Panel
Cut off the existing edges that are affected. It is not necessary to be very precise since you won't need them anymore. 
Step 3: Measure And Cut Out The Appropriate Sizes
Use a tape measure to get the measurements of the pieces you need to install. Use a saw to cut it lengthwise for efficiency. 
Step 4: Replacement
Move your new piece of the j channel to occupy the position of the initial one. You can use silicone to hold it in place and make adjustments when necessary.
Apply silicone just below the j-size channel to ensure it is compact on the siding and to avoid further wind damage.
What Should I Look For In A J Size Channel For Siding My House?
The fact that technology keeps improving makes everyone susceptible to fake goods, including j size channels for siding. When looking for the best product, these features can guide you to choose the best j size channel. 
| | |
| --- | --- |
| Length | 10.5 feet |
| Recyclability | 100% |
| Material | 29 gauge steel |
| Warranty | 40 years |
| Maintenance | Low |
It should also be resistant to pests, overcome rot and be long enough to cut into small pieces of the desired length.
What Is The Cost Of A Single Box Of 1-Inch Size J Channel For Siding?
Visit the nearest shop to get an accurate price. There is always a fluctuation when the items are in and out of season. The prices also vary according to the materials used and different manufacturers. Get online and request a free quote from your company of choice, which may offer $137.45 for a 150 linear feet carton. 
The boxes come in different sizes with different size j channels for siding. However, buying a box will cost you, but you can always have extra materials for future replacement. 
How Many Pieces Of J Channel Sidings Come In A Box?
The surface of your siding determines the number of J-size channels in a box. Typically, most of them have 14 to 24 pieces, covering a maximum of 200 ft2. If you have a large surface for siding, order more parts since they come in different sizes and dimensions with various pieces. 
How Many J Size Channels Do You Need For Siding?
You will not need a lot of J-size channels for siding your home, provided they are of adequate length. You will require two pieces for each window. However, you might buy extra pieces for future replacement or emergency if your siding doesn't have all the j channel requirements. 1.5" pieces are enough for the door because of the longer vertical distances and the bottom. 
Where Do You Use A J Size Channel On A Vinyl Siding?
Vinyl siding and any other material have similar applications for j size channels. You need to install it around corners of a building, like where siding intersects the roof, near windows and doors. For a J-size channel vinyl siding, install it on three sides if dealing with the door. On the other hand, you have to use it all around the window. 
What Is The Appropriate Length Of J Size Channel Trims On A Vinyl?
Most j size channels depend on the manufacturer and where you buy them. All in all, the manufacturers have made it easier by designing them in the lengths that you require for siding. That's why most of them are 0.5 inches by 12 inches and do not require painting to make the installation process easy. This length is suitable for your house during siding because you don't have to reduce or increase dimensions for additional expenses. 
How Do You Measure The Size Of A J Size Channel For Siding?
Measure the distance for the sides of the doors and windows and doors. Add the upper length for every wall to get the actual length that you will use to determine the right j-size channel. The final word is from the person you hire to help you get the correct number of pieces for the job.
Final Thought
Size j channels are good materials for maintaining a compact design between the siding material and making a home attractive. Always consult experts to know the number of pieces you need. Please do not use size j channels for siding as a DIY process because it requires someone with skills.
References:
https://mirrorcoop.com/j-channel/
https://homeinspectioninsider.com/vinyl-siding-trim-j-channel/
Emma is a graduate of Domestic Science or Family and Consumer Sciences (Home Economics) from the University of Wisconsin. She has 7 years of experience Working with the strategic section of BestBuy and now writing full-time for Homeeon.
From Managing the Home, Interiors, Cleaning, and Exteriors to Gardening and everything about Making A Home Liveable – is her passion and this Homeeon is the result of this.
Emma loves decorating her home with the best stuff found online. She cares about quality over anything and writes reviews about them here in Homeeon. Get in touch with her over Pinterest.
Keep reading her blogs.