Last Updated on July 27, 2023 By Emma W. Thomas
Yes, it is normal to have a sofa in the bedroom. A bedroom sofa can serve as a comfortable seating area, a space for relaxation, or a place to read or watch TV. It adds versatility to the room's functionality and can be a stylish addition to bedroom decor.
Is It Normal To Have A Sofa For The Bedroom?
Indeed, adding a sofa to your bedroom can offer numerous advantages you might have not considered. If you're debating whether it's normal to have a sofa in the bedroom, here's ten reasons why it's certainly an excellent idea. 
1. Enhances Comfort
A sofa in the bedroom makes the space more comfortable. Whether you're reading, watching TV, or having a casual conversation, a sofa provides spacious seating.
2. Offers a Focal Point
A well-placed sofa can be an impressive focal point for the bedroom and contribute towards the overall room aesthetics.
3. Provides Extended Seating Space
It can provide additional seating space, especially when hosting guests.
4. Adds Versatility
It adds versatility in the room's use, transforming it from simply a sleeping space to a multifunctional area.
5. Allows for Personal Space
It creates a personal sanctuary where one can relax and unwind.
6. Enhances Sleep Hygiene
A sofa in the bedroom discourages the use of the bed as a lounging or working area, enhancing sleep hygiene.
7. Creates a Place for Rest
A sofa gives less mobile individuals a place to rest while dressing or putting on shoes.
8. Frees Up Bed Space
It prevents one from cluttering the bed with books, laptops, or other items, thus keeping the sleeping space clear.
9. Contributes to a Luxurious Atmosphere
A plush sofa in the bedroom lends a luxurious hotel-suite-like feel to your private space.
10. Increases the Room's Functionality
A bedroom sofa enhances the room's functionality, while also increasing its aesthetic appeal.
However, whether or not to add a sofa depends on individual needs and available space.
| Pros | Cons |
| --- | --- |
| Enhances comfort and versatility | May clutter smaller spaces |
| Provides extended seating space | This might lead to the overuse of bedroom |
| Improves aesthetics and functionality | Can be an additional expense |
How Do You Place A Sofa In A Bedroom?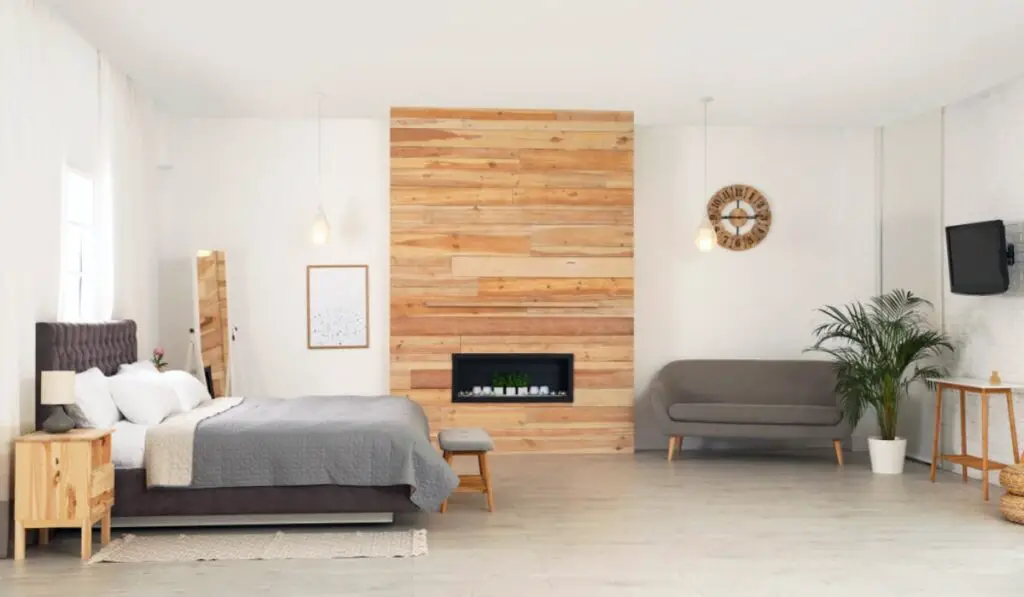 Some people have no idea where to place sofas in their bedrooms. You are likely to find someone putting it at the feet of their bed, which is wrong according to décor experts. A sofa is better placed where you are unlikely to topple on it, such as alongside a wall. A bench or an ottoman would be the perfect piece for your bed's feet. 
Some good locations in your bedroom to place a sofa include;
In Front Of A Window
 Even though you wouldn't want to block a window, placing a sofa in front of it would look great provided it comes with a relatively low back. A sofa at this point of your bedroom will only require you to leave some small gap of about 10-12 inches to allow some breathing room. These gaps also allow for bedroom window treatments.
Across From A Window
 If your bedroom comes with big and nice windows from the back or front, you should try and place a sofa across it. It helps you take advantage of the great view provided by the large windows. It also enhances the awesome feeling associated with a natural architectural element.
Facing The Mantel
 One of the most important tips to remember when placing a sofa in your bedroom is that it must face the focal point. In this case, if your bedroom has a mantel, then you should have the sofa facing it since it serves as the focal point. It would be best if you had the sofa placed directly across it to face the mantel.
Across From Another Sofa
 There is no better visual balance of the sofa than to have another facing it. However, you can consider using one that matches to avoid so many details in your bedroom. It is impossible to have two sofas in small bedrooms, but in large master and guest rooms, where space and accommodation are not an issue. It is a layout to consider. 
In Front Of A Door
 Having a sofa in front of the door is not for design novices. It is a general rule not to have a sofa in front of a door to avoid blocking the entrance or for people to walk into its back. However, since sofa placements are done in large and spacious bedrooms, there are chances that there is enough space for it to fit. Additionally, a sofa with nice upholstery can work perfectly in this position. To have a sofa in this position, you must ensure limited visual obstructions and enough space for comfortable movements within the room.
In The Middle Of The Bedroom
 This design is for risk-takers and the pros, which also suits only the large and spacious bedrooms. Having a sofa in the middle of the bedroom helps break up the bedroom and provide room for conversation. A perfect sofa for this position would be a backless one or a chaise.
If you decide on sectional sofas, finding a specific position in a bedroom can be tricky due to their shapes which tempt you to place them in bedroom corners. However, they can be perfectly beautiful when pulled away from the bedroom corners and walls. Due to their large seating capacity, they do not require additional furniture pieces, leaving you with enough space to play around with. They are good for the bedroom since they act as visual breaks between spaces.
What Factors Do You Consider When Placing A Sofa In Your Bedroom?
A bedroom's arrangement can increase or decrease your decorating options. Some people may have large bedrooms, but poor decoration and organization skills make the room appear smaller. On the other hand, some will have a small one and easily turn the bedroom into a multifunctional space. Most extended families tend to have a couch or sofa in their gust and master bedrooms.
Some important factors to consider when placing a sofa in your bedroom include;
Room Balance
 Whenever you are arranging furniture in whichever room, you must always consider balance. Having most of the visual furniture on one side of the bedroom could create some imbalance. It is therefore illogical to have the bed and the sofa on the same side. In this case, the bed is large-scale and should take up most of the visual space. Adding a sofa across it is one way to provide equal weight hence providing balance in the room.
Traffic Patterns
As if the bed is not big enough, adding a sofa in a bedroom creates a big impact on the traffic flow within the room. You don't have to step awkwardly around bedroom furniture pieces and other items because you have added a sofa. There should also be no tripping hazards. To avoid these, you should ensure a clear path you can freely use to walk through the room by leaving a couple of feet between the sofa and your bed. Space should be enough for you to walk through from one end of the bedroom to the other with minimal difficulty.
Breathing Room
 Many people tend to push all furniture in their bedroom against the wall, including the bed. Some rooms may be due to space restrictions, but there is enough room to pull them away from the wall in the majority of cases. It is amazing to have the bed, sofa, and other furniture pieces given some breathing space away from the wall.
What Sofas Are Recommended For The Bedroom?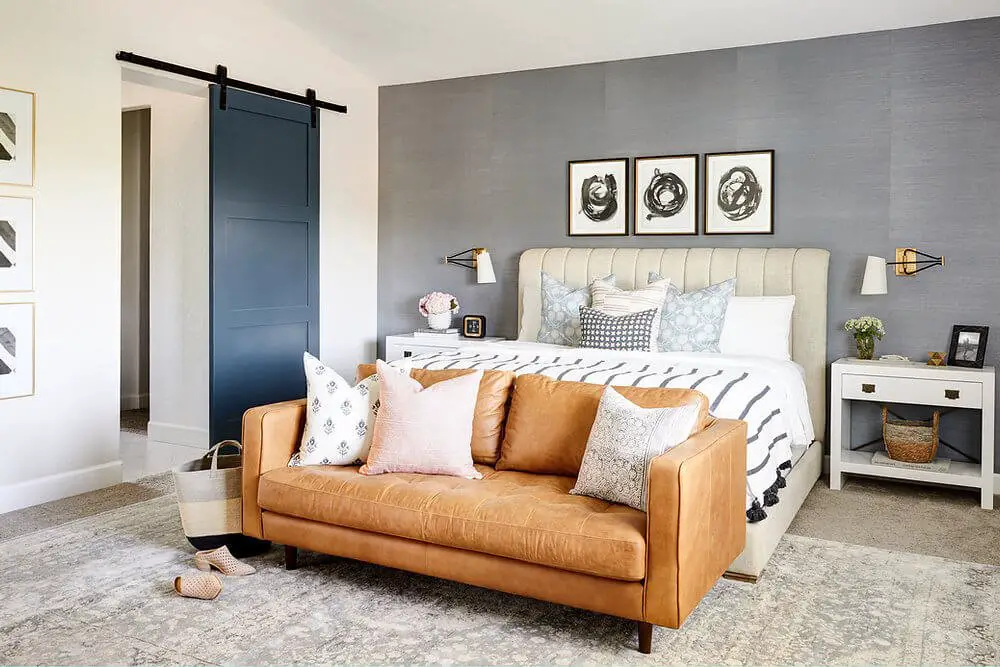 If you have a space in your bedroom and wonder about the furniture piece to fill it up, a bedroom sofa is the best option. It tends to give a room its completeness and some aesthetics, which make a statement indicating it is the key furniture piece. Some of the recommended bedroom sofas that have various fabrics and textures with pocket-friendly prices include;
Brittany Sofa Futon
A Brittany sofa futon is a convertible couch available in about nine colors providing you with enough range of choice to match your bedroom. It is convertible and comes with a comfortable and ribbed tufted cushioned back. It has other additional features such as linen upholstery and slanted oak-colored wood legs. It is strong enough to serve as an alternative sleeping pace complemented by its comfortable features.
Velvet Quentin Chesterfield Sofa
A velvet Quentin is a classic button-tufted sofa that can provide your bedroom with the highest elevation when it comes to sophistication. They are available at pocket-friendly prices in the world market. Among their most unique features is that they are made of hardwood frames giving them a sturdy backbone. 
Sofi Sofa
It is commonly known as the Sleep Envie sofi. It also comes with tufted buttons hence the ability to spruce up your bedroom sofa space with a classic and elegant look. The soft sofa is a versatile piece and can be ordered in two forms: a loveseat or sofa version, depending on your taste and preference. 
The Essential Sofa
This sofa comprises 100% recycled water bottles making it the perfect choice for the go-green environmentalists. Other than being eco-friendly, the essential sofa is also luxurious and long-lasting with an appealing appearance. It comes in eight different bold colors ranging from moss velvet to mustard, providing you with a wide range of choices to match your other bedroom furniture pieces.
Abberton Velvet Square Arm Sofa
Abberton velvet square arm sofa comes with solid walnut legs and boxy frames. Its appearance can easily transform your bedroom into some retro pop room as they are warm and very welcoming. Additionally, their warm fabric is also cozy and complimented with toss pillows included during their manufacture to spice their look.
Other recommended bedroom sofas are Pascale sofas, which are mostly made for people with limited bedroom space. They are smaller and come with removable back and arms, which are easy to assemble. Another one is the Mrs. Godfrey sofa, mostly used by people who want to personalize their bedroom spaces. It is very important to note that discreet, comfortable, and fabric sofas are more preferred and suitable for the bedroom than leather ones. 
Conclusion
Having a sofa in a bedroom is very normal, especially for those large master and guest rooms with so much space. It is only abnormal if you add an enormous sofa in a tiny bedroom that could appear dramatic and tamper with the room's relaxed state, which should be maintained at all costs. Consider going for a simple sofa made of fabric instead of going for a leather one.
References:
https://www.quora.com/Is-it-normal-to-have-a-sofa-in-a-bedroom
https://homedecorbliss.com/bedrooms-with-a-couch-layouts/
Emma is a graduate of Domestic Science or Family and Consumer Sciences (Home Economics) from the University of Wisconsin. She has 7 years of experience Working with the strategic section of BestBuy and now writing full-time for Homeeon.
From Managing the Home, Interiors, Cleaning, and Exteriors to Gardening and everything about Making A Home Liveable – is her passion and this Homeeon is the result of this.
Emma loves decorating her home with the best stuff found online. She cares about quality over anything and writes reviews about them here in Homeeon. Get in touch with her over Pinterest.
Keep reading her blogs.