Last Updated on July 10, 2023 By Emma W. Thomas
Anime color palate, anime bedding, anime furniture, anime wall décor, the kawaii bedroom design, one-piece anime bedroom décor, and the dragon ball z are some bedroom backgrounds and décor ideas you can draw inspiration from. You can stick to one option or blend some to achieve the desired look in your room.
Top anime bedroom background and décor ideas
Below are some of the best anime bedroom background and décor ideas to consider when decorating your room:
1. Anime Plush Toys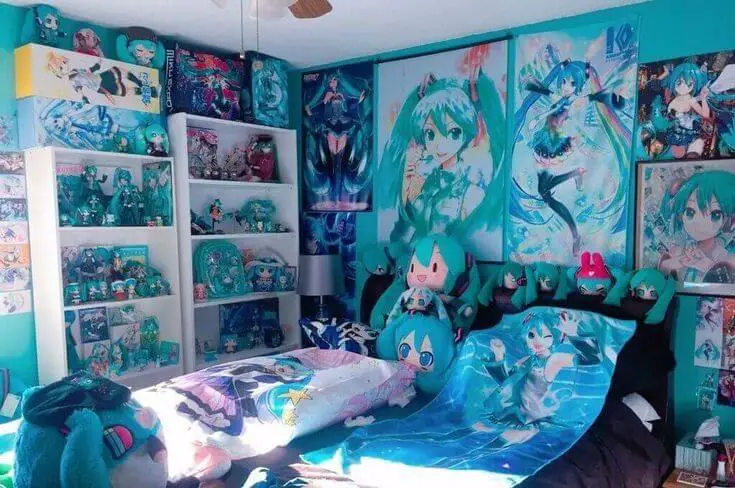 There is no doubt you had at least one plush toy while growing up. It's a must-have item in any anime bedroom. They are enormously popular anime room items. It would be best to put them on your bed or arrange them on your ledge to bring a lovely cute anime room vibe. With stuffed animals in your room, you will have a sense of warmth, protection, and even friendship.
These anime plush toys possess some unique essence. Kids are emotionally attached to them as it brings comfort and reassurance. Remember, you can never have enough of these toys! So, buy some whenever you come across them to get a touch of anime décor in your room.    
2. The Kawaii Bedroom Design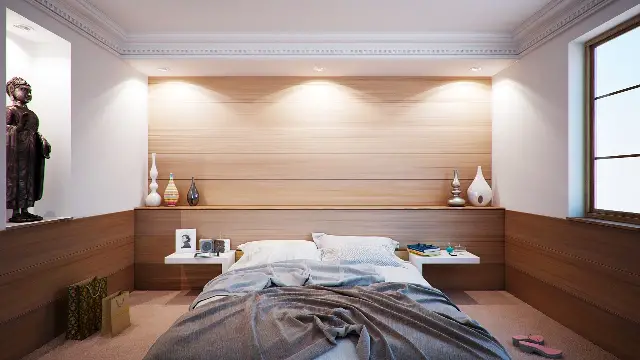 Kawaii is a word that originated in Japan, and it means cute or pretty. Start with a pastel color palette and select a décor that suits your personality to create such a room. Things like stuffed animals, inspirational quotes, and fairy lights will give your room a cozy and comfortable feel. You are assured of an anime theme in your bedroom with these things. Once done, keep your bedroom tidy to ensure everyone adores your kawaii theme.
3. Anime Bedding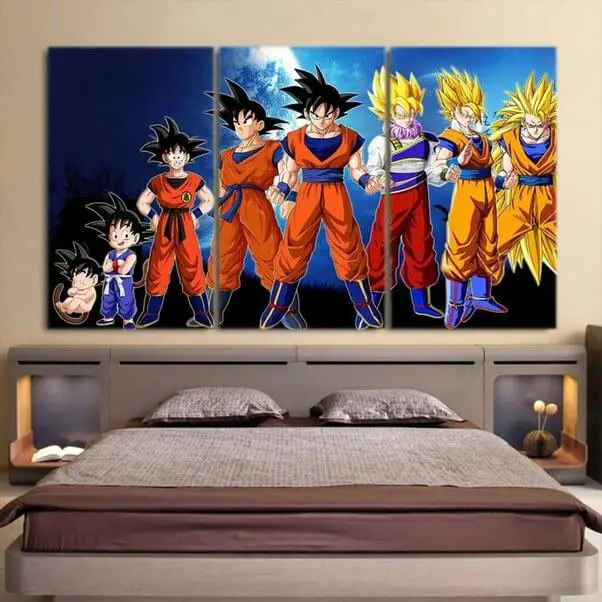 Don't get bothered if you find it challenging to paint your walls in an anime theme. Anime bedding is yet another more straightforward way to realize your dream of creating an anime-inspired bedroom. Some good ideas for your anime beds comprise anime-themed pillowcases, cushions, and sheets with your beloved hero. You can also add a cute anime throw blanket to your collection for those colder seasons. Put your favorite anime plush toys on your anime bed to make your room more appealing.
4. Anime Furniture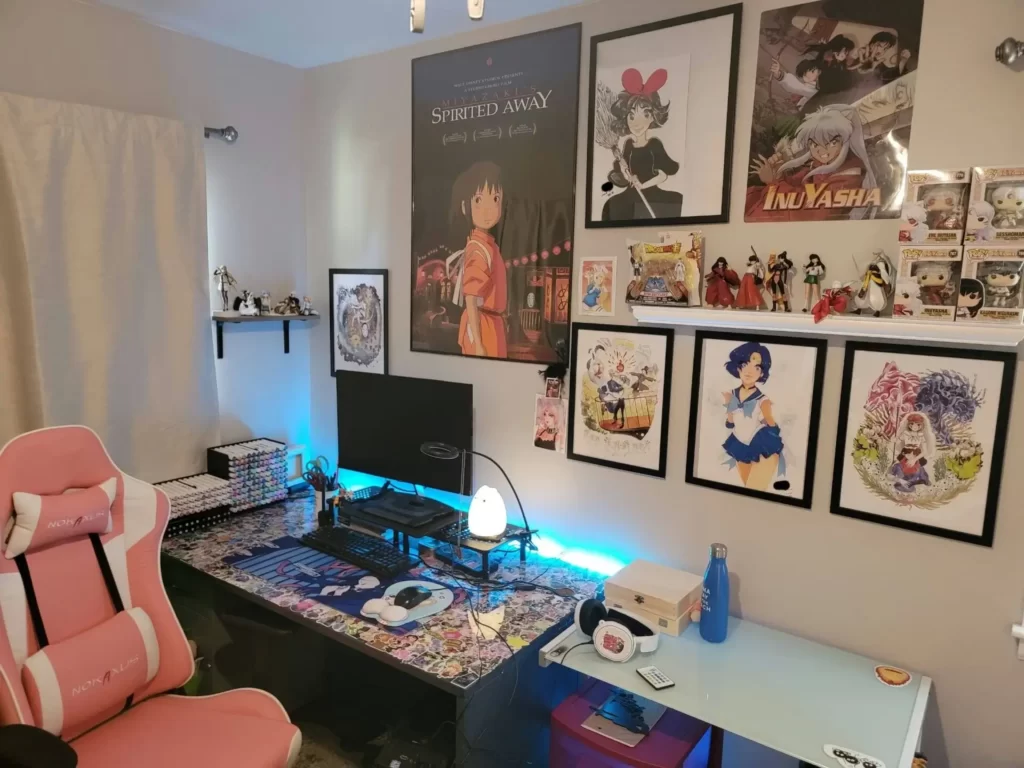 When you think of anime bedroom ideas, the anime furniture theme should be among the options in your mind. Some great anime furniture includes display shelving, an anime theme rug, an anime gaming chair, and an anime bean bag lounger. With anime furniture in the room, there is no doubt it will be a dream come true for an anime lover.  
5. Anime Figure Display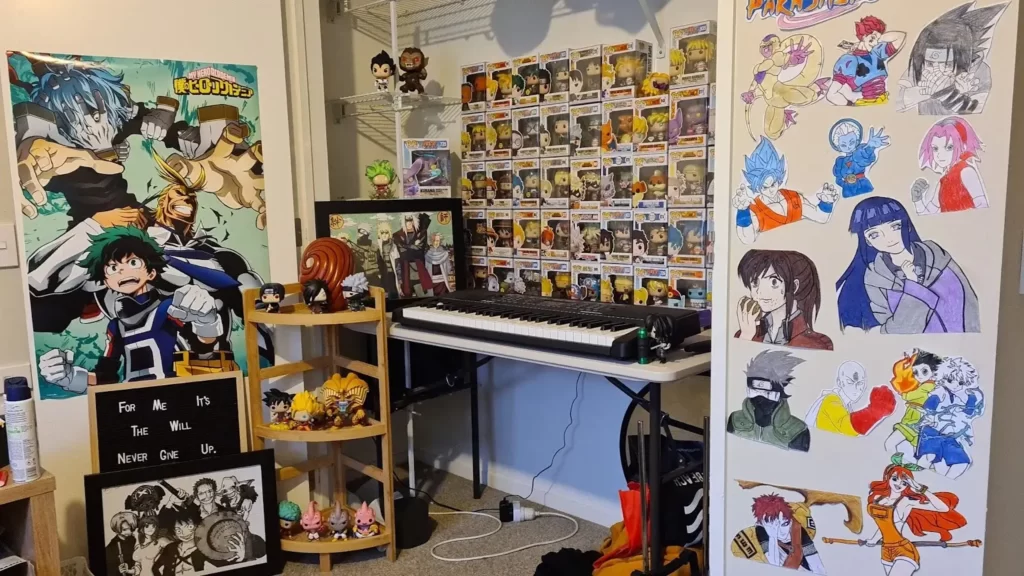 No doubt, all anime collectors will want a place to display all their figurines and anime characters. So, having an anime figure display in your bedroom will be the best thing. You can have wall-mounted shelving, anime glass, or a perspex display case, among other options. This depends on the collection of anime figures you own.
Putting these figures on display gives you a sense of accomplishment, and you will have something to show to your friends. These figures look exceptional in a bedroom. Consider adding LED lighting to create a fantastic anime vibe in the room!
6. Anime Room Accessories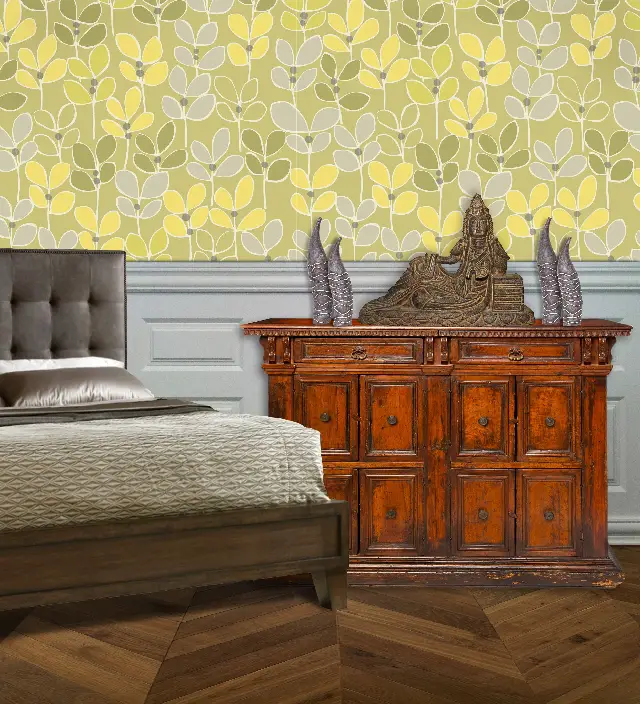 Suppose you desire to add some practicality to your bedroom; some exceptional ideas for anime room accessories could include anime jewelry holder, anime stickers, anime desk organizer, gaming accessories, and neon anime desk lamps. There is no doubt having such artistic anime bedroom accessories create a unique feeling and enhance your experience. So as an anime fan, you can consider acquiring these accessories to decorate your bedroom.  
7. Anime Lighting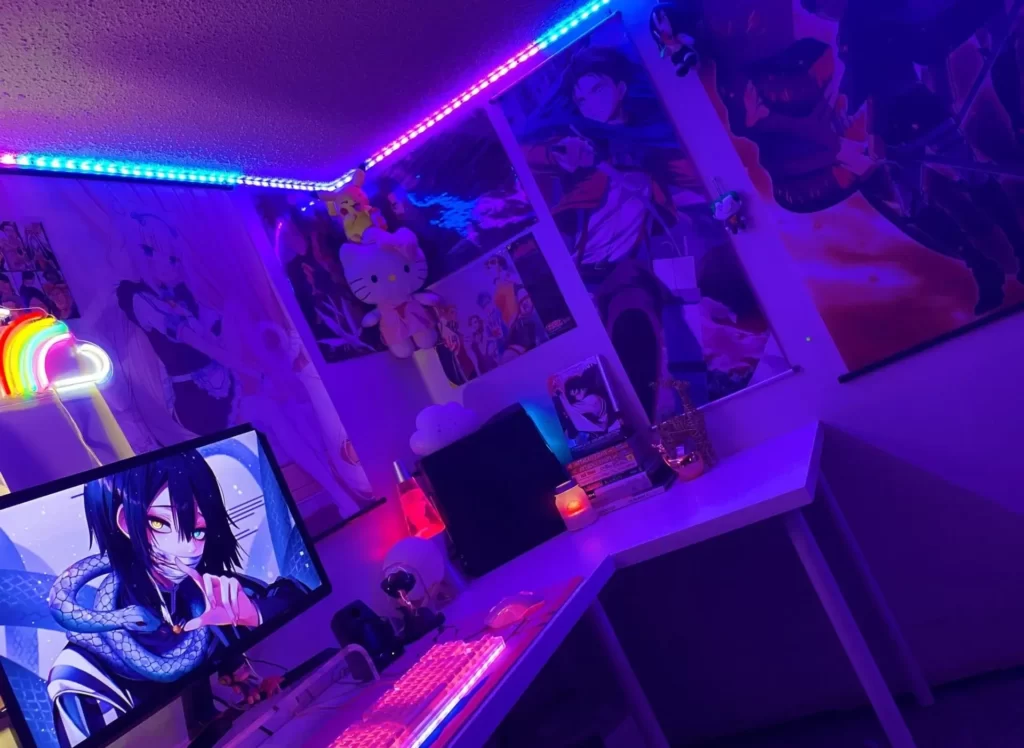 There is no doubt every anime lover will want a space built with anime inspiration. Anime bedrooms are a well-known anime space. So, after collecting and arranging all the anime characters you like, it's good to add anime light to achieve an anime aesthetic vibe in your room. You can have color-changing strip lighting, neon wall, or desk lighting for your late-night TV or gaming session.
8. Anime Wall Décor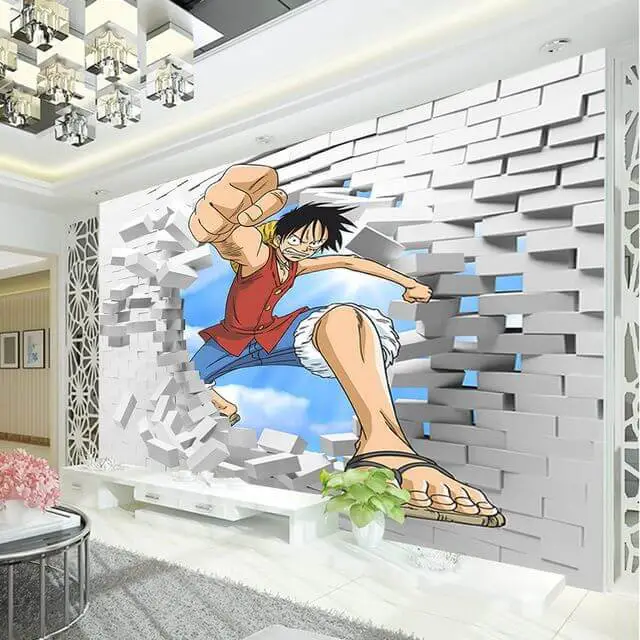 Anime love is unstoppable for many individuals, and having an anime wall décor offers a unique storyline, epic actions, and a fantastic representation of art. And thus, anime wall décor is a must-have thing for any anime fan. Some options include Naruto Hatake Kakashi wall art, Osaka tower city street poster, and demon slayer poster.
Wall décor is the simplest way to achieve anime-themed bedrooms for big and small rooms. You can choose to place several posters of the same characters or different anime characters on the walls. What is more amazing about wall decor is that they don't damage the walls.
List of most known anime wall décor themes to consider  
Naruto anime-themed bedroom
There is no doubt every anime lover has an exception corner for the courageous and notorious Naruto. Naruto is among the most beloved anime of all time. It is a masterpiece, and everyone is in love with the series. The series is familiar to almost everyone, given that they introduce all its main characters at the very beginning. This makes it more widespread.
What makes the series even more inspiring is the characteristics of Naruto, the ideal protagonist- he never gives up on his friends, and his determination is unmatched. Those are characteristics exhibited by heroes. So, it makes a good anime in your bedroom.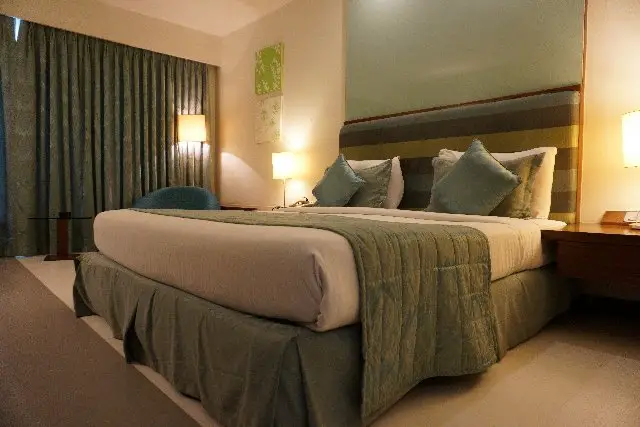 Haikyuu Volleyball-themed anime bedroom
Haikyuu Volleyball is a well-drawn and fun sports anime series everyone would love to watch. Consider this anime in your bedroom and be a champion like the 'small giant.' With this, there is no doubt your bedroom will look more intense. You can buy Haikyuu-themed wall art to decorate your room.
Jojo's bizarre adventure-themed bedroom
Bizarre is the longest-running anime series with fans worldwide. It has kept its fans entertained for over 35 years and has earned respect worldwide. With its unique character designs and constant tonal shifts to exceptional music, there is no doubt it's one of the best anime ever. Decorate your bedroom wall with beloved characters from this series and make your dream of associating yourself with these characters come true!
Dragon Ball Z Bedroom wall
Dragon Ball Z, without a doubt, is among the most successful manga and anime series of all time. Interestingly, its continuous story arc was unknown in Western animation, especially ones dedicated to kids. It's the best series, given that they knew how to do appropriate character development. As an anime lover, you can get yourself wall art based on dragon ball Z and light it up to bring more vibe to your bedroom.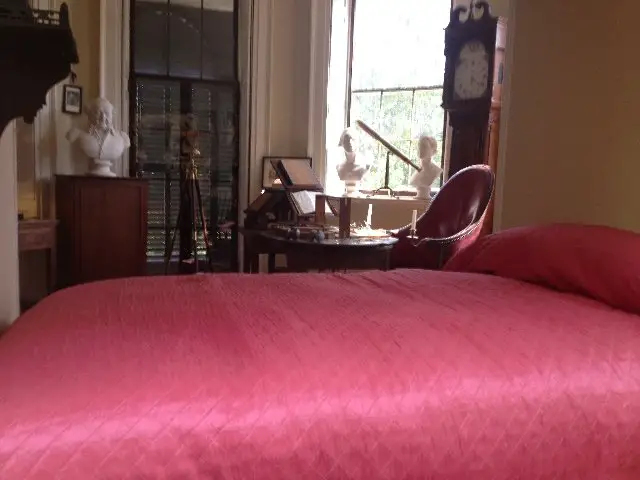 Attack on titan-themed bedroom
Attack on Titans is impressive because it stays true to its source material. It is a good script that fans and critics have approved. In addition to that, it exhibits some vibrant and exciting characters. There is a main character, a supporting character, and extra characters in the hierarchy. The attack on Titan displays many themes, such as revenge, trauma, and survival. Many anime enthusiasts will love to have script-related art in their bedrooms. You can hang the tapestry of this anime on the wall to achieve anime décor in your room.
Byakugan and sharingan frames
If you want to make your bedroom appealing with an anime theme, you can decorate the walls with either Byakugan or Sharingan frames. These frames are best for minimalistic vibes who want to achieve anime-themed rooms.
Alchemist-themed anime bedroom
Alchemy is one of the beloved series that emphasizes science and the potential of humanity. Any wall art of this theme will be great for all anime lovers. Designing your place with this theme is also something remarkable and will bring the needed vibe to your room.
Inazuma-themed anime bedroom
No doubt any soccer fan and anime lover will love to have an Inazuma-themed bedroom from the trailblazing anime series. To achieve this, gather all the players and decorate your bedroom with a beloved Inazuma eleven-wall art poster. This will make your room pleasant and intense.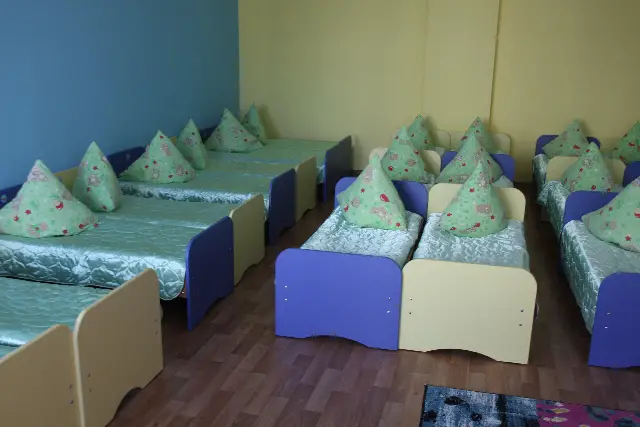 What is an Anime bedroom?
An anime bedroom refers to a bedroom that is inspired by or designed with elements from anime, which is a style of animation originating from Japan. Anime often features vibrant colors, unique art styles, and imaginative settings. In an anime bedroom, you might find decorations, accessories, and furniture inspired by popular anime series or incorporating anime-themed artwork.
This can include posters, wall decals, bedding, pillows, figurines, and other items that showcase characters or scenes from anime. Some people who are passionate about anime create anime-themed bedrooms as a way to express their love for the art form and create a space that reflects their interests.
Final Words
Many people are obsessed with anime, especially with characters they have fallen in love with. This shows that anime is an irresistible force in popular culture. Many individuals worldwide have even admitted to having watched their favorite anime series countless times and would like to showcase the love in their rooms. Luckily, with the 8 ideas highlighted above, you can easily achieve an anime-themed background in your bedroom. You can stick to one idea or blend it more to your liking!
https://farmfoodfamily.com/anime-bedroom-ideas/
https://www.clicbrics.com/blog/anime-themed-room-ideas
Emma is a graduate of Domestic Science or Family and Consumer Sciences (Home Economics) from the University of Wisconsin. She has 7 years of experience Working with the strategic section of BestBuy and now writing full-time for Homeeon.
From Managing the Home, Interiors, Cleaning, and Exteriors to Gardening and everything about Making A Home Liveable – is her passion and this Homeeon is the result of this.
Emma loves decorating her home with the best stuff found online. She cares about quality over anything and writes reviews about them here in Homeeon. Get in touch with her over Pinterest.
Keep reading her blogs.