Last Updated on July 10, 2023 By Emma W. Thomas
There are many girly room ideas to make the room comfortable.  Work on the walls, improve appearance with accessories and create a whimsical look for the furniture. Organization and using the best bright colors factoring in the teen's girly preferences also help you achieve a good appearance in their room.
Below we discuss the ideas in detail to help you make the room look girly, whether your girl is young or a teen. 
Girly room ideas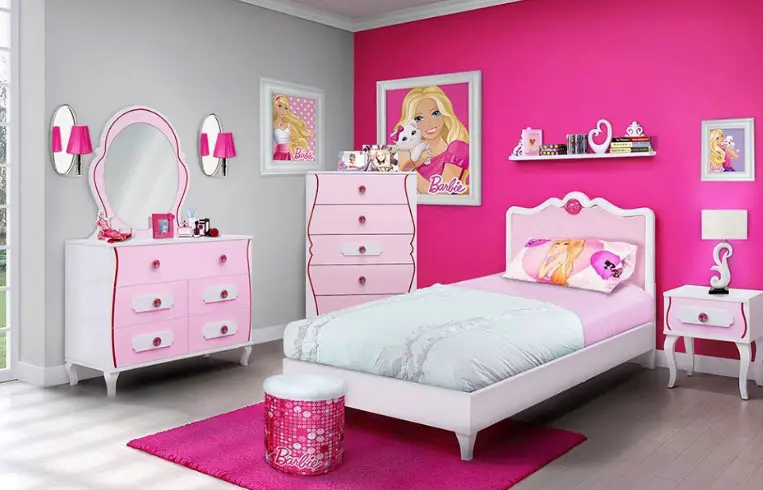 1. On Walls
Paint the walls with a pink complexion to make them look feminine. Pink also comes in many shades: orchid pink, cameo pink, champagne pink, Spanish pink, and others. Choose a shade that best suits your room's appearance and the available furniture. Pink walls create a classic girly theme that accentuates the aesthetics of a room, and course, the entire house.
Make the wall hangings girly by hanging photos of your family and friends in a pink frame or any other color that looks bright, but more feminine rather than masculine. Soft and beautiful curtains on windows further embrace the girly look, particularly on windows. Curtains of pastel colors with tree wall decals of alternating colors make the room lively.
You can add flowers to the walls and use curtains that match your bedding if you want to decorate your bedroom. Favorite colors resembling your couch, rugs, or carpets will give an elegant look in a living room, giving it a girly look. Other color pallets will work best where you can easily modify them in the future. Murals and stickers are another option is to make the wall look decorative and girly.
2. Displaying the art
Save more by using the art from school to display on walls instead of purchasing new artistic structures. It will encourage them and boosts their talent, which may spike their interest in academic activities. Moreover, this idea is great in a way that it saves you money. 
3. Maximizing space
A bedroom with special features such as a pillowcase printed with unicorn pictures makes a girl happy. A metallic lampshade next to the bed will also work out, especially with a different bright color. A girly room demands enough space for various activities. Therefore, go for a bunk bed if the room is to be shared by two girls.
Better yet, a room for a single girl can still have space when you use a bed with drawers. You will often create more space for doing workouts every morning if you love wellness and fitness. Continue creating more space by using wall baskets where she can store her favorite toys and other important play tools.
4. Mismatch of colors
You can try a mismatch of bold colors to suit teenagers and young girls. That is, creating a beautiful and bright complexion. For instance, a mixture of tangerine, pink and red will still make the room better. Invest in a comfy bed that supports various activities, not limited to sleeping. It should allow more space for studying, watching television, and even hanging out with friends.
Enhance the theme of the bedroom with a Disney color. You can get wallpaper with her favorite animation such as Cinderella. Including some pom-pom lights with patterns of fairy lights give good memories of the girl's favorite programs. Although this idea will work well for young girls, teens can still implement it.
If you have a young adventurer in your house who would rather spend hours camping, bring her outside in the room. Try out different murals and paintings of a forest, mountain, or world map to keep her exploring. It elicits her interest to continue learning more as she explores the bedroom.
5. Fabrics choice
Use fabrics that are not childish, and use those you can change as the girl grows up. Interest is likely to shift from animations to adventure, painting, and other activities depending on how you bring her up and the influence of a friend. 
If you have a shared room with girls who have different perspectives and likes, choose what will suit each one's hues. Select a double bed and customize each of them according to their likes. A rug with a good color combination of the two girls' preferences will blend the appearance and make it more girly.
6. Improving appearance with a girly look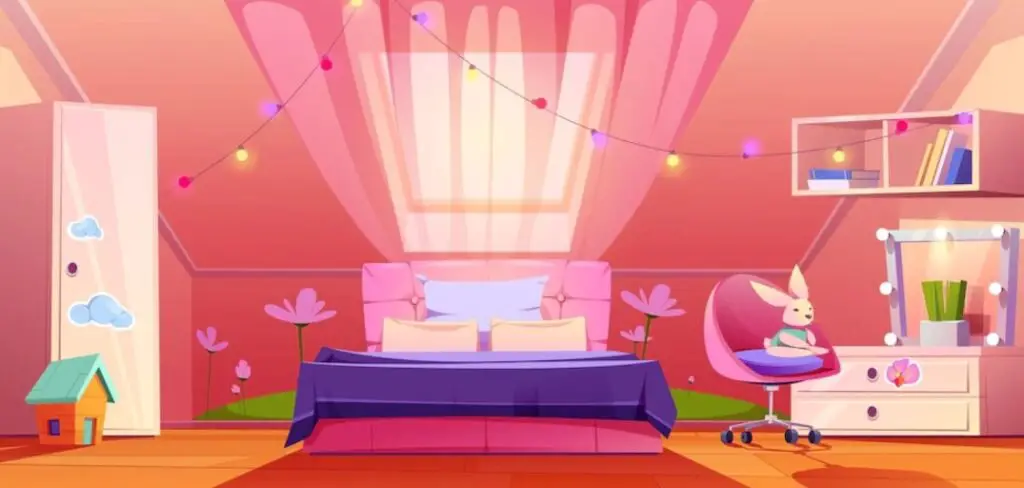 Accessories
Like the fabrics, accessories should be changed over time. As your girl grows up, she will change her perspective of childish characters and shift towards beauty. Most girls will focus on hair and makeup as they approach teenage age. Customize each accessory and ensure it is not permanent in the room.
Organization
One of the most important factors to consider is organization. A girly room looks good with a small study table for keeping important books, storage spaces for valuable items, and a desk space behind a cupboard door if the girl is still young. A nice wardrobe will keep the room organized if the clothes are in their right positions.
Keeping the room neat goes along with leaving space for play. A multifunctional shelving unit will help your girl keep the room in place and orderly at all times. Use open and closed drawers to keep more and less frequently used items. Also, make bins and baskets easily accessible in the room for girls to easily remove items when needed.
Wallpaper the ceiling
Including a carpet without a clear and beautiful ceiling makes the room boring. Use a wallpaper with a single bright color or a mixture of decorative colors to make it lively. A girly wallpaper for a ceiling could be a combination of chevrons and stripes geometrics, according to your child's preferences.
 Better off, engage your girl in selecting the most appropriate wallpaper for the ceiling. Different personalities among girls also present a wide range of wallpaper options. The wallpapers on the ceilings bring a cozy style but improve the beauty of the room. Sunshine colors for the ceiling bring a perfect match with the light bulbs, giving the room a girly appearance.
7. Create whimsical features for furniture
Create furniture other than the normal way. The ideas are many, and you can come up with a dollhouse large enough to work as a wardrobe. Make its shape appealing to your girl and improvise other types of furniture, be creative and develop something unique. 
An all-chair taking after the shape of your girl's favorite pet will offer a more classical and girly look. The shapes of curtains can be of different colors and patterns around the window frames. Another great way to make a room girly will be by making a bed resemble a royal type of bed.
8. Color combination
Although it is making a room girly, it doesn't have to be all pink. A slight combination with a calm color still preserves its beautiful look, such as using pale sage green. Bed sheets can have green accents while walls maintain the ambiance of the room while staying with their friends. 
You can hang up lights on walls where teens can place their photos of their good moments and important people in their lives, such as mentors. The twinkling lights will stir up the memories in their minds, helping them strive forward to emulate the positivity set by their mentors. 
9. Comfortable bed
Teenage girls will always prefer a comfortable bed to enhance their sleep. It doesn't have to be too costly, but a bit d with nice pillows will be okay. A pillow with the shape of their favorite pet makes it better, coupled with a standard mattress. A cozy blanket that's more comfortable also adds to the room's ambiance, portraying the girly nature.
10. Comfy sitting
Almost all teens agree that the more comfortable the seat is the better. A bean bag chair or saucer chair allows a good and comfortable sitting posture for a girl to watch the television or hang around with friends in style. Let the chair be foldable but light and sturdy for durability. Other chairs will serve as second beds for girls, which is good for most teenagers.
Comfortable sitting can be complemented by plants, especially for teens who love seeing the beauty of nature. Whether they are potted or real plants for watering, you can have a few. However, real plants will be good, as they contribute to cleansing the air in the girly room. 
What is the best theme for a girly room?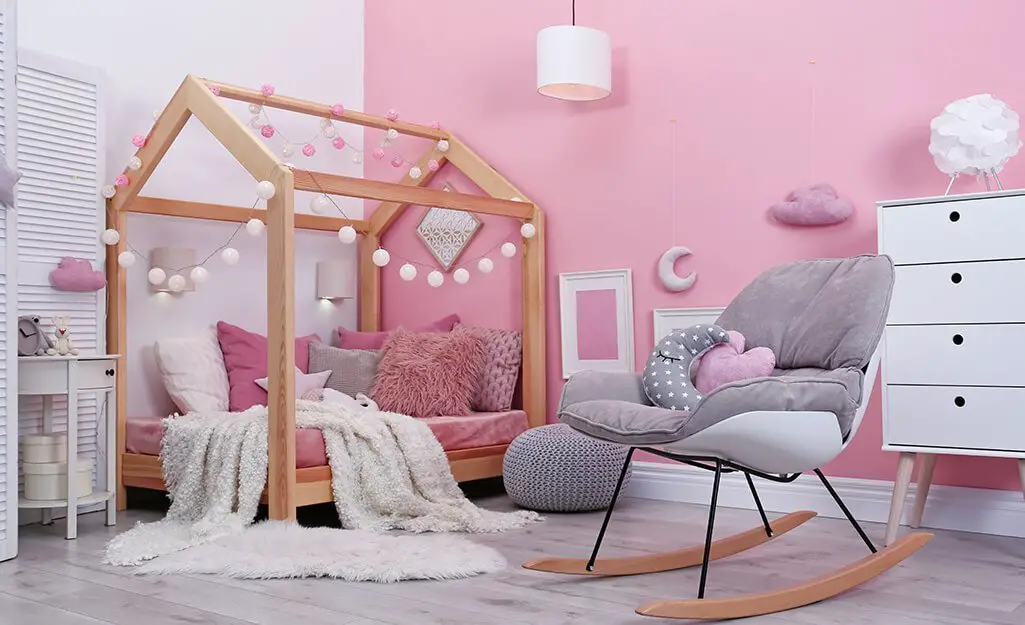 The best theme for a girly room depends on personal preferences and individual style. Here are a few popular themes that are often associated with a girly aesthetic:
Floral: A floral theme can create a soft and feminine atmosphere with patterns and designs inspired by flowers. Floral wallpapers, bedding, and curtains can add a touch of elegance to the room.
Princess: A princess theme is often associated with girly rooms. It can feature elements like canopy beds, sparkling accessories, and soft color palettes, creating a whimsical and magical ambiance.
Pastel Colors: Using soft pastel colors like light pink, lavender, mint green, or baby blue can give a room a delicate and feminine feel. This theme can be complemented by matching furniture, decor, and accessories.
Vintage: A vintage theme can incorporate antique furniture, lace curtains, vintage-inspired wallpapers, and decor pieces to create a charming and nostalgic atmosphere.
Glamorous: A glamorous theme can involve metallic accents, mirrored surfaces, chandeliers, and luxurious fabrics, creating a sophisticated and elegant girly room.
Remember, the best theme for a girly room is one that reflects the individual's personal taste and style. It's essential to choose a theme that brings joy and comfort to the room's occupant.
Conclusion
Different girly room ideas exist and choosing what your girl likes is the best option. Also, consider the age, to have a distinction between what young girls would love as opposed to teens. Focus on the beds, walls and ensure that the general organization is good and keep your room more girly.
References:
https://www.housebeautiful.com/uk/decorate/bedroom/g35589644/girls-bedroom-ideas/
https://www.livingetc.com/spaces/interior-inspiration/girl-bedroom-ideas-196157
Emma is a graduate of Domestic Science or Family and Consumer Sciences (Home Economics) from the University of Wisconsin. She has 7 years of experience Working with the strategic section of BestBuy and now writing full-time for Homeeon.
From Managing the Home, Interiors, Cleaning, and Exteriors to Gardening and everything about Making A Home Liveable – is her passion and this Homeeon is the result of this.
Emma loves decorating her home with the best stuff found online. She cares about quality over anything and writes reviews about them here in Homeeon. Get in touch with her over Pinterest.
Keep reading her blogs.