Last Updated on July 10, 2023 By Emma W. Thomas
When considering colors that go well with cherry wood furniture, there are several options to create a harmonious and visually pleasing space. Neutral tones like beige, cream, and ivory complement the warm tones of cherry wood. Earthy colors such as olive green, deep brown, and terracotta can add depth and richness to the room. Cool colors like shades of blue and gray can provide a contrasting and calming effect.
This article looks into everything you need to know when styling cherry wood furniture, including paint, curtains, and carpets that go well with cherry wood furniture. Read on!
Summary of colors that work well with cherry wood furniture
| | | |
| --- | --- | --- |
| Effect/feeling you aim to achieve | Accessory  | Best color |
| warmth | Curtains Carpets  | Orange, yellow, green, blue, grey, and gold |
| elegance | Accent wallCurtainspillows | BlackBrilliant white Beige  |
| Cool and modern aesthetic | WallsCarpet Décor  | Gold, grey, blue, muted green |
Overview of Cherry Wood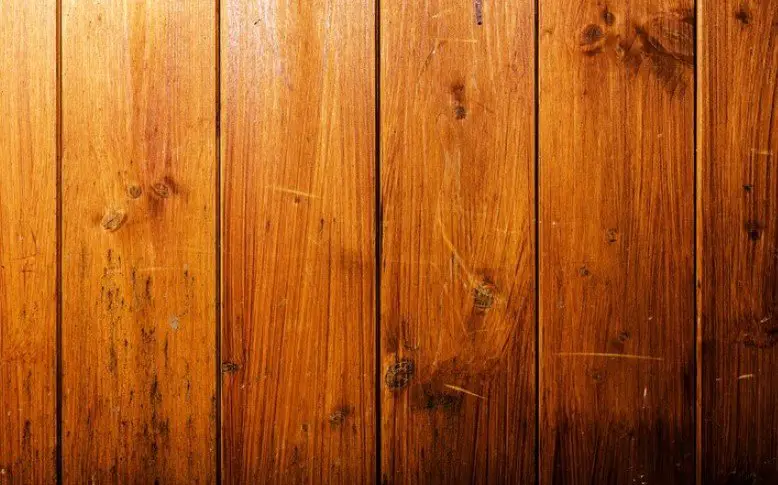 Cherry wood furniture comes from cherry wood, a hardwood that comes in various colors, namely, red, dark brown, white, and yellow. The point of it being hardwood gives the furniture made from it the characteristics of serving people for a longer and more desirable period.
Many people will say that the Cherry wood furniture is outdated, but that's inaccurate because it is timeless. Cherry wood furniture is not unique but also outstanding, does not age that fast, and is stunning if combined with a set of warm colors, giving a variation like no other.
The following is a list of some of the well-known types of Cherry Wood;
Black Cherry wood
Chilean cherry
Caribbean cherry
Patagonian cherry
Brazilian Cherry
Sweet cherry tree wood
These types of Cherry Wood come with a lot of differences. This means that one type is very different regarding its use, name(obviously), ability or strengths, and odor. For odor, some may be mild, while others may be distinctive; the type of Cherry wood determines all these.
For furniture, then natural cherry wood is the most advisable type. It is smooth-grained, reddish-brown, and hardwood, giving it an upper hand for furniture-making use.
Colors that go well with Cherry bedroom furniture
Cherry wood furniture by itself already makes the bedroom look beautiful. However, adding some blended colors complements the look making it more interesting. The good thing about Cherry wood furniture is that it can go well with various colors, as mentioned above.
Here we shall look into two main parts; the first is the paint colors that go with Cherry wood bedroom furniture, and the second is the accent colors that go with Cherry wood.
Paint colors that go with Cherry Wood bedroom furniture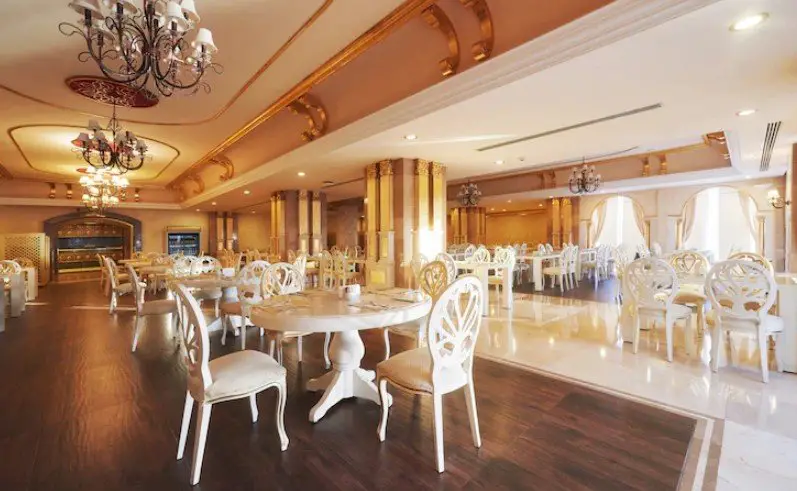 White
White is a color known to blend with almost everything and anything. However, it is not blended with Cherry wood furniture because it goes well with everything. It is used because it reduces and levels up the great intensity brought forward by the Cherry wood furniture. By so doing, an overall and balanced appearance is achieved. White is also a color you should consider if you plan on creating a dominant look.
Taupe
I recommend taupe if you wish to create a harmonious appeal with your cherry wood furniture. It works well with the furniture as it is good in matters of highlighting. It also enhances the color and the furniture proving that the wood texture is just as valuable and beautiful.
With taupe, you are assured of good color and wood coordination and a balanced blend that is neither too much nor too low. It does not disappoint.
Lemongrass
Lemongrass is a joyful color. When you pair it with Cherry wood which may seem dark and dull when alone, a joyful and vibrant look is the result. With the cherry wood bedroom furniture, the pairing with lemongrass brings a cheerful look and vibrant one, making the bedroom stand out with the look. The balance achieved by the two is perfect.
Pale green
We will get a natural and earthy look when pairing the cherry wood furniture with the pale green color. Extraordinary, vibrant, refreshing, and eye-appealing are the words to describe the look. Pale green has one characteristic that leaves out all the other colors you can use. It amplifies the qualities of the furniture, something that most colors cannot do. 
Grey
If you desire to create some depth and a little bit of contrast between the furniture and the walls, for example, the color grey is good at this. The only problem that may arise here is that one may go overboard. Nevertheless, an accent appeal will be created. Blending colors is a matter of trying out, and once in a while, a little overboard can be the thing to create an appealing look.
Accent colors that go with cherry wood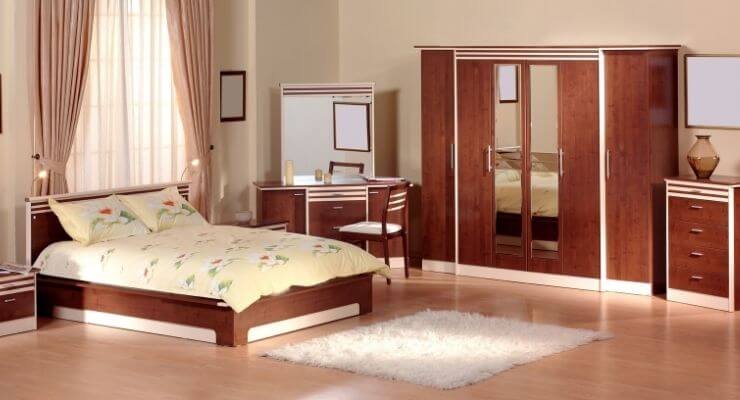 Light accent colors
As mentioned earlier, Cherry wood furniture tends to be dark; however, a contrasting appeal is made with lighter shades.
Light brown, grey, green, and blue are known to perform this look. They are accent colors that go well with the furniture—a tone of light caramel. Pale yellow or creamy ivory can also be good as slightly neutral accent colors.
Dark accent colors
Most of the time, light accent colors are the preferred color to blend with cherry wood furniture. Nevertheless, dark accent colors can also blend with cherry wood furniture.
Royal blue, jewel green and mustard yellow are colors that a distinctive look will be created when blended with Cherry brown furniture. The difference between the lighter accent colors and the dark ones is that the light colors bring a contrast between them and the furniture, but dark colors blend in.
What Color of curtains goes well with cherry wood furniture?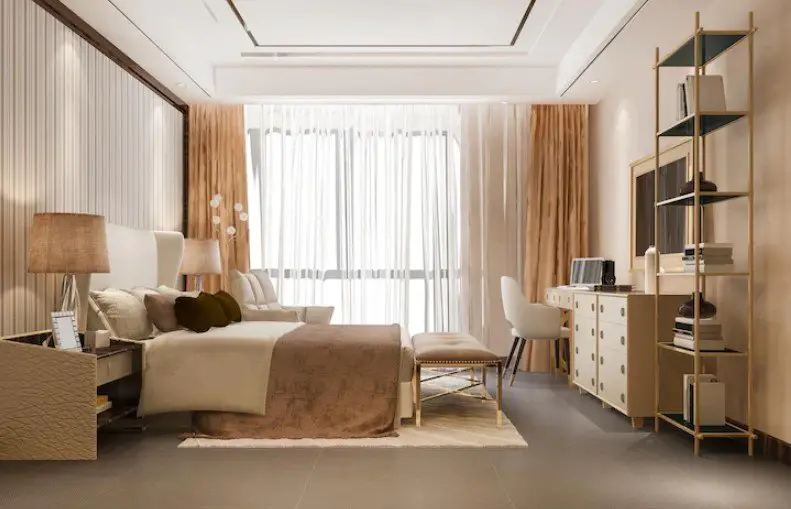 Curtains have been and will always be a booster for achieving an appealing look in any room of the house. The proper curtain selection is essential, especially when dealing with cherry wood furniture. As long as the two relate well and blend accordingly, I do not see a reason why you will need any other décor form in the house. 
Let us dive into the best-recommended curtain types and colors blended with cherry wood.
Sheer curtains
These curtains always bring a warm glow and a feeling of tenderness. However, not all sheer curtains go well with cherry wood furniture. White, off-white- and cream-colored sheers are a must-have if you want an assured match with the cherry wood furniture. They blend, but they also allow for the entry of natural light as they are light enough to do so.
Floral printed curtains with a white base
This type of curtain is mainly preferred where the walls where the cherry wood furniture has been placed contain only one color: white. The white base, the floral patterns, the color of the furniture, and the wall color coordinate to bring out the appealing look. For this type, try blue and green colors for best results as a loud contrast may lead to an excellent contrast which is not that appealing.
Muted green silk-lined draperies
Do you wish to have that regal feel with cherry furniture? Then these curtains will work for you. Silk is known to pair well with cherry furniture, giving these curtains an upper hand. Hang the curtains slightly higher, and remember to use as minimal contrasts as possible.
Solid neutral-colored curtains
If you prefer neutral curtain shades such as grey, olive green, muted blue, tan, or even mustard, bending with furniture will also be okay. Therefore, these colors are neutral and will have a complementing function, and easily blend with the cherry wood furniture.
For cherry wood furniture, the right blend is what matters. Cherry furniture can give out a classy look on its own; what is left is for you to get the correct blend. Whether it is a complementing or a contrasting appeal, try to do just that at a moderate level.
Carpet colors that go well with cherry wood furniture include;
Green; is both bold and colorful and can easily blend
White; the color itself is a sign of elegance and cleanliness. It will also work in hand with the furniture to provide a classy look.
Red shades
Blue; it brings a warm vibe and also contrasts somewhat with the furniture
Black; also boosts the furniture's classy appeal
Brown; this brings an earthy tone and a good vibrance
Orange; is known to bring out a rich and colorful appeal. It also contributes an earthy tone that blends well with the furniture
Yellow; It brings some warmness.
Final word
Decorating, designing, and blending colors work hand in hand. The intended result may be altered or challenging to achieve when one is overboard. However, it would be best if you never were afraid to try it. Regarding Cherry wood furniture at large, this has to be your first stop in this awareness journey of having that design or blend that you have always wished for your house.
References:
https://www.giorgibros.com/blog/2022/02/15/what-colors-go-with-cherry-wood-bedroom-furniture/#:~:text=Since%20cherry%20wood%20furniture%20stands,like%20to%20see%20the%20contrast.
https://www.thespruce.com/what-color-paint-with-cherry-wood-5442898
Emma is a graduate of Domestic Science or Family and Consumer Sciences (Home Economics) from the University of Wisconsin. She has 7 years of experience Working with the strategic section of BestBuy and now writing full-time for Homeeon.
From Managing the Home, Interiors, Cleaning, and Exteriors to Gardening and everything about Making A Home Liveable – is her passion and this Homeeon is the result of this.
Emma loves decorating her home with the best stuff found online. She cares about quality over anything and writes reviews about them here in Homeeon. Get in touch with her over Pinterest.
Keep reading her blogs.