Last Updated on July 11, 2023 By Emma W. Thomas
An air sofa cum bed can be a convenient and versatile piece of furniture. It serves as a comfortable sofa during the day and can be easily converted into a bed for sleeping at night. Air sofa cum beds are typically portable and inflatable, making them easy to move and store. They are often lightweight and come with built-in air pumps for quick inflation and deflation.
These inflatable sofas also come in handy when your space cannot accommodate additional furniture, but you have frequent guests. This article highlights the benefits of using an air sofa cub bed, the disadvantages of an air sofa cum bed, and the types of sofa beds. We also look at the reasons for choosing sofa beds over ordinary sofas. Read on!
Overview of Pros and Cons of Air Sofa Cum Bed
| | |
| --- | --- |
| Pros | Cons |
| Functions as both sofa and bed | May not offer the same comfort as a traditional mattress |
| Portable and lightweight | Susceptible to punctures or leaks |
| Easy to inflate and deflate | Limited support for extended use |
| Space-saving option | May require additional accessories (such as an air pump) |
| Suitable for temporary or occasional use | May not be suitable for individuals with back or joint issues |
What are the benefits of using air sofa cum beds?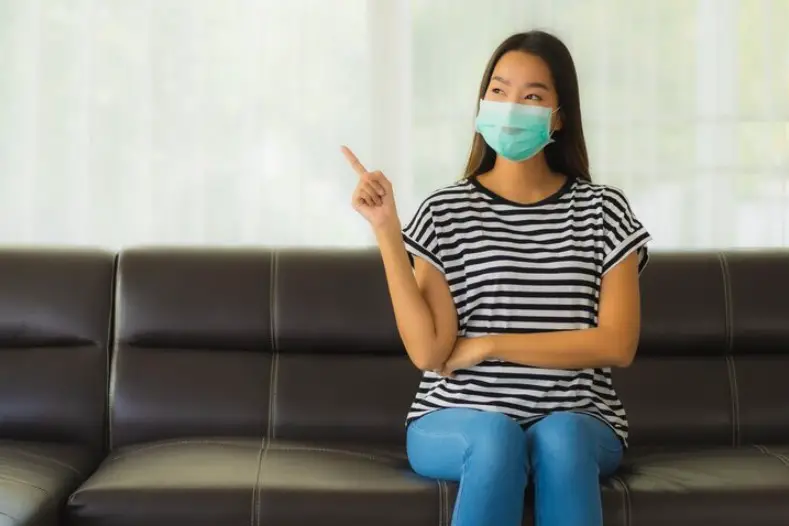 Inflatable furniture pieces have several advantages, including;
Portability
An air sofa cum bed is inflatable and easily portable. You will conveniently carry this piece of furniture with you wherever you go, together with your other luggage. You do not need to make any additional arrangements on how to take the air sofa cum bed since it can fit in your traveling bag or a suitcase. You can also put it inside your car boot after folding it, and you are good to go. 
It is easy to inflate and deflate.
An air sofa is convenient to use since it is easy to deflate when packing and inflate when you want to use it. Setting up takes a short time, which is advantageous when you want to save time.  
Easy to store
One of the primary advantages of an air cum sofa bed is that it is easy to store. You do not need to worry about its storage as it can easily fit in your limited space available. You can either keep it in your garage, your basement, under the bed, or any other convenient area. 
The air sofa cum bed is comfortable.
Air sofas cum beds are pretty comfortable since you can use them as a bed or seat at your convenience. For example, you can quickly turn it into a bed when you feel tired and need some rest. You will also not have to worry about hosting your guests since they can quickly turn the air sofa into a comfortable bed. 
It is more functional than a standard sofa.
An air sofa cum bed has more features than a standard sofa, and you can quickly get it in the market. It is a trendy furniture piece with multiple functions and features such as convertibility and storage. 
It is cost effective
This furniture piece saves you a great deal on the cost. It would be costly to buy a bed and sofa separately. But, with an air sofa cum bed, you pay for one piece, which doubles as a bed and sofa. It will also save on cost when on an adventure since you only need to fold and carry it along with other belongings. 
What are some disadvantages of air sofa cum bed?
While an air sofa cum bed has several benefits, it also has a few disadvantages, including;
It costs more and may need more space.
An air sofa cum bed piece may cost more than the ordinary sofas since it acts as two in one. It will also require more space for inflating and deflating, hence may not be ideal if your place is congested. When not in use, you will need an extra storage area for this item. 
It may lose flexibility and shape over time.
An air sofa cum bed may eventually lose flexibility due to repeated inflating and deflating. The continuous inflating and deflating process leads to the expansion and contraction of the furniture, which tampers with the original shape. 
What are the factors to consider when buying a sofa cum bed?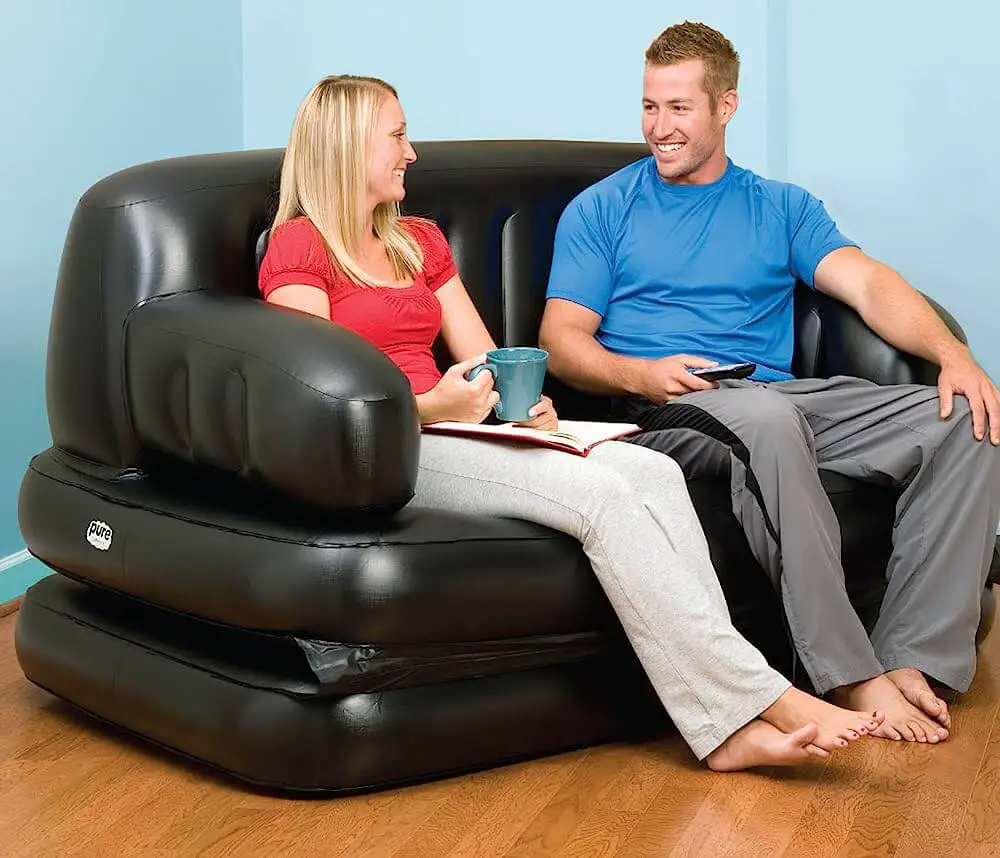 Air sofa cum beds come in different sizes, shapes, and styles. What you choose depends on several factors, including;
Convenience and comfort
A sofa cum bed needs to be comfortable and convenient too. When looking forward to buying one, make sure that you get what is comfortable for you, depending on your uses and space. Make sure also that the features and configurations best suit your needs. You do not want to buy a sleeper sofa only to get back pains after sleeping on it. 
You will also want to buy a sleeper sofa that gives you and your guests the convenience of watching movies in a relaxed mood. If you're going to use the air sofa cum bed in your kids' room, make sure it adds the aesthetic values of the space and makes it fun for them. 
The purpose of the furniture
How you intend to use the sofa bed plays a vital role in picking one. For example, you need to consider whether it will be the main sofa in your living space. If this is the case, ensure that it is sturdy and made of durable material due to its frequency of usage.  
If the sofa cum bed is for your office or guest room, you will also want to make it as comfortable. 
How frequently you will use the piece
Choosing an air sofa cum bed will also depend on the frequency of usage. For example, if you use it more as a sofa than a bed, you can go for an average foldout sleeper. But, if you intend to use it more often as a bed, you can purchase an air-topped foldout mattress or a pullout pop-up. 
Amount of space available
A sofa cum bed needs some space to convert it for either use. Ensure that what you buy does not require you to move many other furniture pieces. If your room is limited, you can avoid foldout sleepers as they will occupy more space when converted to a bed. Instead, you can choose a pullout pop-up. 
Why should you buy an Air sofa bed instead of a sofa?
There are several reasons for choosing sleeper sofas over sofas, including;
Comfort
You can get the same comfort with a sofa bed as a sofa, yet it has multiple uses. But, be sure to look out for essential features like quality construction, fillings, and frames. Make sure to get what suits your personal needs. For example, if you want a bright but firm seat, buy one with foam fillings. You can also go for plump feathers if you desire a squashy-looking sofa bed that is soft. 
A sofa bed with a hardwood frame will also come in handy to add comfort.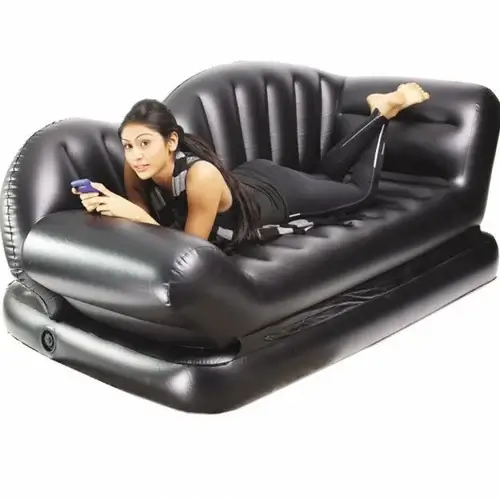 They are stylish
Sofa beds are stylish, and they enhance the aesthetic value of your home. Since there are several designs to choose from, you can pick what matches your style and décor. Doing this will satisfy your needs for a bed and sofa without compromising your taste.
You also have different sizes and shapes to choose from to make it suitable for all homes. Whether you are tight on space or your home is spacious, there is always something for you. For example, you can get stylish armless sofa beds for a bit of living space.
They are space-saving
Sofa beds have several features that help in space-saving. Most of them come with hidden storage spaces that you can use to stash the bedding when not in use. You can also keep any household items that you are not using in this place. Some modern designs may also have pullout tables that you can use to hold drinks and food. 
A great option when on budget
Sofa beds are excellent pieces to buy when on a budget. They help save on cash since you will use the same furniture for sitting on and sleeping. You can get an affordable good, quality sofa bed that serves your purpose. 
Different types of sofa beds
The following table summarizes the different types of sofa beds and their features.
| | | |
| --- | --- | --- |
| Sofa beds  | Features | usage |
| Sleeper sofa | Include a pullout mattress made of cotton, memory foam, innerspring, or polyester fill | Can fit two people |
| Daybeds | Resemble compact-sized couch. They have metallic or wooden backs and sides that are stylish. | Perfect for kids or short-term guests |
| Pullout couch | They include a mattress inside and metal legs for support.  | It is ideal for use in a tiny room as they don't need much space.  |
| Power open | They feature a motorized structure that helps open the sofa and convert it to a bed. Easy to operate with a button.  | Suitable for people with mobility challenges or back problems.  |
Wrapping up
Air sofa cum beds are good to use since they are stylish, economical, portable, and comfortable. You can easily use them indoors or carry them when traveling. They are easy to inflate and deflate within a short time and are a great choice when you have limited space. You do not have to worry about hosting your guests or having kids sleeping over, even if you don't have an extra bed.
References:
https://www.amazon.com/Comfortable-Waterproof-Mattress-Multi-Functional-Inflatable/dp/B08J9N1XCS
https://www.walmart.com/ip/Air-Sofa-Bed-5-in-1-Inflatable-Couch-Durable-Comfortable-Multi-Functional-Inflatable-Sofa-Bed-For-Living-Room-Bedroom-New/514142315
Emma is a graduate of Domestic Science or Family and Consumer Sciences (Home Economics) from the University of Wisconsin. She has 7 years of experience Working with the strategic section of BestBuy and now writing full-time for Homeeon.
From Managing the Home, Interiors, Cleaning, and Exteriors to Gardening and everything about Making A Home Liveable – is her passion and this Homeeon is the result of this.
Emma loves decorating her home with the best stuff found online. She cares about quality over anything and writes reviews about them here in Homeeon. Get in touch with her over Pinterest.
Keep reading her blogs.