Last Updated on August 9, 2023 By Emma W. Thomas
Home Depot truck rental cost varies depending on the type of vehicle you choose. Pickup trucks and cargo vans are charged a base rate of $19, while box trucks are charged $29 for the first 75 minutes and $5 for every extra 15 minutes.
Home Depot Truck Pricing Template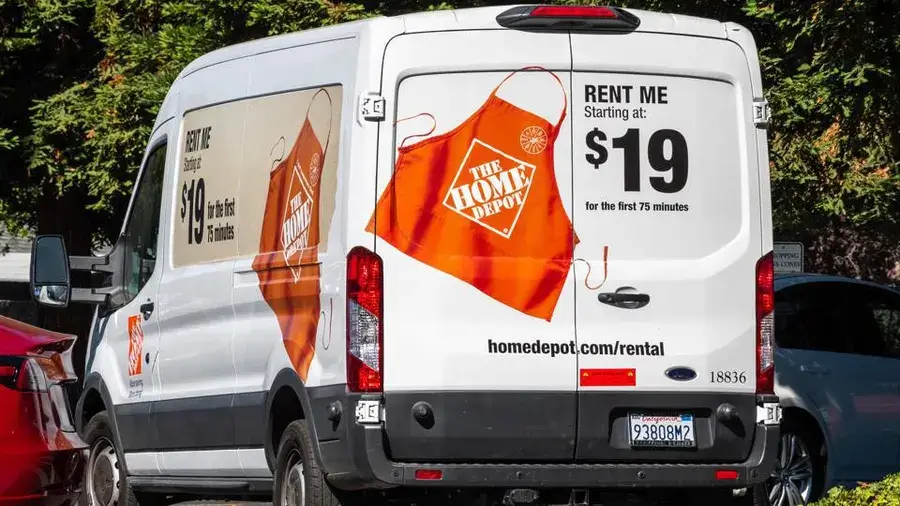 | | | |
| --- | --- | --- |
| Cost Factor | Pickup Truck/Cargo Van | Box Truck |
| Move distance | Local | Local |
| Estimated weight (lbs.) | 3000 | 3850 |
| Trunk volume (cubic. Ft.) | 77.3/277.7 | 515 |
| Base rate | $19 | $29 |
| Cost for extra time (every 15 mins) | $5 | $5 |
| Required deposit(refundable) | $50 | $100 |
| Fuel surcharge | N/A | N/A |
| Total moving estimate (3-hour rental) | $54 | $64 |
Please note: tanks and gas must be refilled upon return
Pickup trucks and cargo vans match in capacity and cost, with their only difference being that cargo vans have a roof to cover the luggage while the pickups are open. Pickup trucks are ideal if you are moving wide loads or oddly shaped furniture, while cargo trucks are ideal for packed boxes and fragile items.
If you have lots of luggage, a box truck comes in handy since it's slightly larger and will only cost you $10 more than the base price. All trucks charge the same $5 every extra 15 minutes. The best part about the home depot load n Go option is that you don't have to pay a daily rate when you only need a truck for a few hours. Your deposit is also fully refundable upon bringing back the truck in excellent condition.
Home Depot trucks are ideal when you have lots of errands to run in a short time that will add up to lots of miles. If you plan to move and you expect loading and off-loading to take up a considerable fraction of your time, a full-day rental will give you more value for money.
Here Are Some Pros And Cons Of Choosing Home Depot Rental Trucks:
| | |
| --- | --- |
| Pros | Cons |
| No hidden charges | No reservations for local rental trucks |
| Choice of different truck sizes | Extra time surcharges are pricey |
| Flexible hourly rates | You have to return the truck to where you picked it |
| Refundable deposits |   |
Services Offered by Home Depot Truck Rental
1. Moving Trucks Rental
Home Depot offers moving truck rental to aid in the loading, transferring, and unloading of huge items. They provide large commercial trucks ideal for moving large furniture, sizable building materials, equipment, and appliances.
2. Load 'N Go Trucks and Vans
For smaller and quicker moving needs, Home Depot offers Load 'N Go trucks and vans. These vehicles are perfect for transporting smaller items and can be rented on an hourly basis, providing a cost-effective solution for short-term transportation needs.
3. Flatbed Truck Rental
This service caters to homeowners or contractors undertaking large projects. The flatbed trucks are ideal for transporting large materials such as: lumber, drywall, or heavy equipment that ordinary vehicles can't handle.
| Service | Vehicle Type | Ideal For |
| --- | --- | --- |
| Moving Trucks Rental | Large Commercial Trucks | Large furniture, sizable building materials, equipment, and appliances |
| Load 'N Go | Trucks and Vans | Smaller Items |
| Flatbed Truck Rental | Flatbed Trucks | Large materials such as: lumber, drywall, or heavy equipment |
4. Penske Truck Rental
Home Depot partners with Penske Truck Rental to offer reliable services ideal for interstate or across-town moves. The trucks are equipped with modern safety features and are available in different sizes, guaranteeing a suitable option for any move.
5. Towing Equipment Rental
In addition to the truck rental services offered, Home Depot also provides towing equipment rental. They help ensure that customers can transport their items securely and safely.
6. Extended Hours Service
Home Depot's rental trucks can be accessed during extended hours, providing the flexibility needed to complete tasks without stress. This service is ideal for those unexpected situations requiring a truck outside of traditional business hours.
7. Plant Nurseries Transport
Home Depot offers specific services for those looking to transport plants or purchases from their plant nurseries. Tools and vehicles designed for safe transportation are available, enhancing the company's wide range of truck rental services.
8. Professional Customer Support
Home Depot provides professional assistance throughout the process, ensuring customers understand their rental options, operating instructions, and safety guidelines. The customer service team is trained to address equipment queries, booking issues, and provide general support.
Factors To Consider Before Renting A Home Depot Truck
Before you settle on a home depot truck rental, you need to consider factors that determine the cost and decide whether they suit your needs. You also need to factor in how much you are willing to spend on moving to make an informed decision. Here are some key points to consider when looking for a rental truck:
1. Size Of Truck You Need
Before renting a truck, you need to know the size that will fit all your luggage perfectly. At home depot, you choose between a pickup truck, a cargo truck, and a box truck. A cargo truck is the same size as a pickup truck but with a closed trunk. It is ideal for transporting boxes and packed luggage that could move as you drive. A pickup truck is open at the back and is suitable for transporting bulky stuff or oddly shaped furniture. A box truck is slightly bigger than a pickup or cargo truck and is ideal if you are moving houses or offices since it can fit more stuff.  The box truck also has a loading ramp that makes work easier when heavy stuff is involved. You will pay a base rate of $19 for 75 minutes and an extra $5 for every 15 minutes for a pickup or cargo truck. For a box truck, you will pay a base rate of $ 29 for the first 75 minutes and $5 for every 15 minutes. You also need to pay a refundable deposit, depending on the size of the truck you choose. For cargo or pickup, the deposit is $50, and for the box truck, the deposit is $100.
2. Amount Of Time You Need The Truck
Since home depot charges an hourly rate, you need to know how much time you will use their truck. Estimating how long it will take to move between home depot to where you are moving from, your destination, and back are essential in calculating cost. If you think you will take a lot of time loading and off-loading than driving, you might need to consider another option. If the place you are moving to is prone to traffic jams, you might also need to weigh your options. You also need to factor in the times it takes to take the truck from a home depot store and take it back since it's calculated. Home Depot is ideal for transportation where less time and more miles are involved since it gets more costly when time increases.
3. Gas Needed For Your Travel Distance
When you rent a home depot truck, you are supposed to return it having refilled gas. So, other than the rental cost, you need to account for gas in your calculations. With Home Depot, you get the freedom of unlimited miles, but you have to foot gas charges. Ensure you know how much you are supposed to spend in total and compare it to renting from a company that charges a daily rate.
Are You Moving Long-Distance?
If you are moving long-distance and estimate your journey will take longer than expected, you can hire a Penske truck at Home Depot. They have partnered with Penske to provide trucks for long-distance moves, which could take days. With Penske, you can make a reservation earlier, pick up the truck at the nearest Home Depot, and then drop it off at a Home Depot store in your new location. Penske truck rental costs vary depending on the size of the truck you want, the distance, and the number of days. Penske trucks make moving long-distance on a budget easy and stress-free. Their engines are designed to save on fuel costs, and they have interior lights and a transparent roof to make moving at night easy.
What Is Needed To Rent A Truck From Home Depot?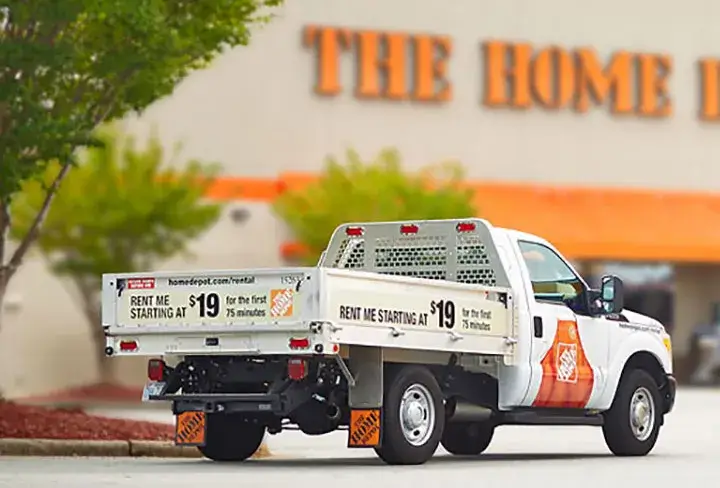 For a first-timer, you need to know the basics of renting a truck from home depot. You will need a state-issued driver's license that's valid, a credit or debit card from major brand (Visa, Mastercard, etc.) for a deposit, and proof of current vehicle insurance for the driver. You also need to be above 21 years old to rent a truck from home depot. Ensure you look up the company's website or give them a call beforehand for you to be sure you have everything they need.
Alternatives To Home Depot Rental Trucks
Since you can't reserve a home depot truck, it's essential to have alternatives as your backup plan. You can also compare prices between different rental truck companies and choose one that offers the most value for your money. Here are some popular alternatives that you can consider:
1. U-Haul
U-Haul pioneered one-way truck rentals and is the most popular moving company now. This company is available in more than 20,000 locations in the US. They have a variety of truck sizes, and they allow you to make reservations online. U-Haul is famous for its convenience and ease of availability. However, unlike Home Depot, U-Haul doesn't offer unlimited mileage; you pay per mile.
2. Budget Truck Rental
As the name suggests, this company offers economical moving options with low pricing and lots of discounts. You are guaranteed a discount for students and the military when you reserve a moving truck with them. For local and short-distance moves, a budget truck is the most affordable option.
3. Enterprise Truck Rental
Enterprise has the most vehicle sizes to choose from and is ideal when you are moving bulky stuff. This company is excellent for local moves and roundtrips since you have to return the vehicle to its original location.
Conclusion
Now that you have an idea of different truck rental companies, DIY moving will be more comfortable and feel less of a chore. Before settling on any of the companies, make sure you understand their terms and inquire about any hidden charges. You could also use some extras to make work more comfortable and safer for you. Ask the company for ramps or pushcarts to help with heavy loads. You can again hire a helping hand to help you with moving.
Some companies have restrictions on what you cannot carry on their truck so ensure you know this. Ask if they allow pets and live plants if you have one to avoid extra surcharges. It is also essential to enquire about the company's protection policy. In case of an emergency, have direct contact with whom you can call. Rental trucks are supposed to save you the cost of hiring professional movers and make work easier. Ensure you do your due diligence before renting out a truck to get the most out of it. We hope that this post enlightens you and helps you settle on the most suitable truck rental company.
References:
https://www.forbes.com/home-improvement/moving-services/home-depot-truck-rental-review/
https://www.move.org/home-depot-truck-rental-review/
Emma is a graduate of Domestic Science or Family and Consumer Sciences (Home Economics) from the University of Wisconsin. She has 7 years of experience Working with the strategic section of BestBuy and now writing full-time for Homeeon.
From Managing the Home, Interiors, Cleaning, and Exteriors to Gardening and everything about Making A Home Liveable – is her passion and this Homeeon is the result of this.
Emma loves decorating her home with the best stuff found online. She cares about quality over anything and writes reviews about them here in Homeeon. Get in touch with her over Pinterest.
Keep reading her blogs.