Last Updated on July 30, 2023 By Emma W. Thomas
Costco's mattress return policy doesn't have a specific time frame. You can return a mattress a few months or years after purchasing it. However, the mattress must be in good condition, and a receipt is required.
What Is Costco's Mattress Return Policy?
Costco is known for its lenient and customer-friendly return policy. This is especially true when it comes to their mattress return policy. Here is everything you need to know:
No Specific Time Frame

Uniquely, Costco doesn't specify a set time frame for mattress returns. This is unlike many other retailers who set a specific window for mattress returns. It operates under Costco's general return policy which is satisfaction guaranteed.

Costco's 'Satisfaction Guaranteed Policy

Costco's return policy is centered on customer satisfaction. If the customer is not satisfied with the mattress, they have the opportunity to return it. This policy indicates that a customer can technically return a mattress at any time if they are not satisfied with its quality or comfort.

Condition of the Mattress

Though the return policy is quite lenient, Costco can refuse a return if the mattress is found to be unsanitary or excessively damaged.

Full Refund

With the exception of some electronics, there is no restocking fee for returned items. Hence, for mattresses too, Costco provides a full refund to the customer once the return is accepted.

Process of Return

The customer needs to bring the mattress to a Costco warehouse to process the return. However, it's recommended to contact the membership desk before bringing in a large item like a mattress.
Costco's Mattress Return Policy: Key Takeaways
| Points | Details |
| --- | --- |
| Time Frame | Not Specified |
| Policy Basis | Customer Satisfaction |
| Mattress Condition | Must be sanitary, not excessively damaged |
| Refund | Full, without restocking fees |
| Return Process | In person at Costco warehouse |
How Can You Return A Costco Mattress?
Costco makes it easy for its customers to return items, and mattresses are no exception. You can either return your mattress;
To any nearby Costco warehouse and get a refund immediately. 
You can also call the personnel at Costco to assist you in taking back the mattress using United Parcel Service. Your refund will be sent to you once the mattress reaches the warehouse.  
Deliver the mattress online
How Can You Return A Mattress To Costco Online?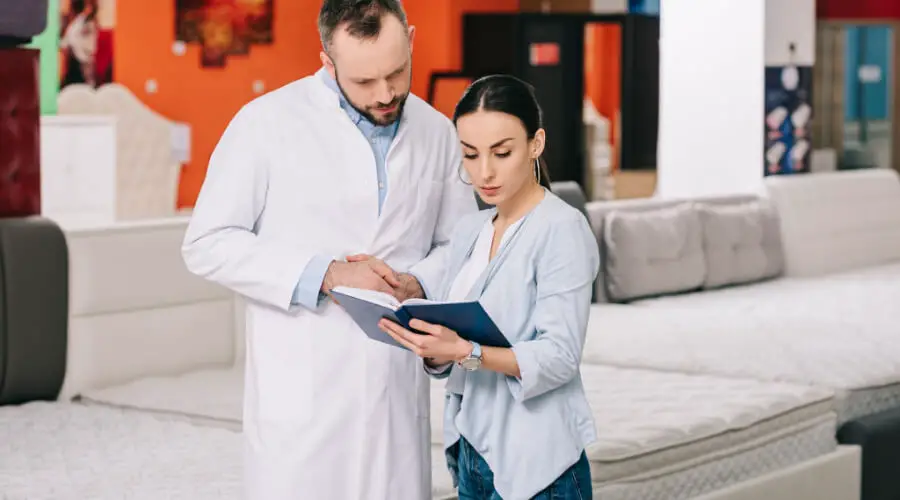 To return a mattress online, you will have to visit their website then;
Register for an account if you have none or sign in to your account if it already exists
Once signed in, go to the 'My Orders tab. Select the 'Return Items' button, which is next to the relevant order. You then need to follow all the prompts and finish your request to return
You can get your return label immediately, or you may organize to pick it up later where applicable. If your item is large, you will receive an email from Costco with more details
The refund you get will include handling and shipping fees, and this will be credited to the method of placing the order
Can I Have My Costco Membership Canceled?
Yes. A person's membership can be canceled when one misuses the privileges that Costco provides. For example, if one has a habit of returning Costco items every other time, it may appear like you are never comfortable with their products. It is similar to a mattress where Costco may revoke your membership if you return them more than a few times. 
Without a membership, one can never enjoy the various perks that Costco offers. So ensure that when you return a mattress, it is for genuine reasons. Some reasons for taking back a bed to Costco include lack of comfort, quality issues, or wrong size. 
How Long Can You Stay With A Mattress Before Returning It To Costco?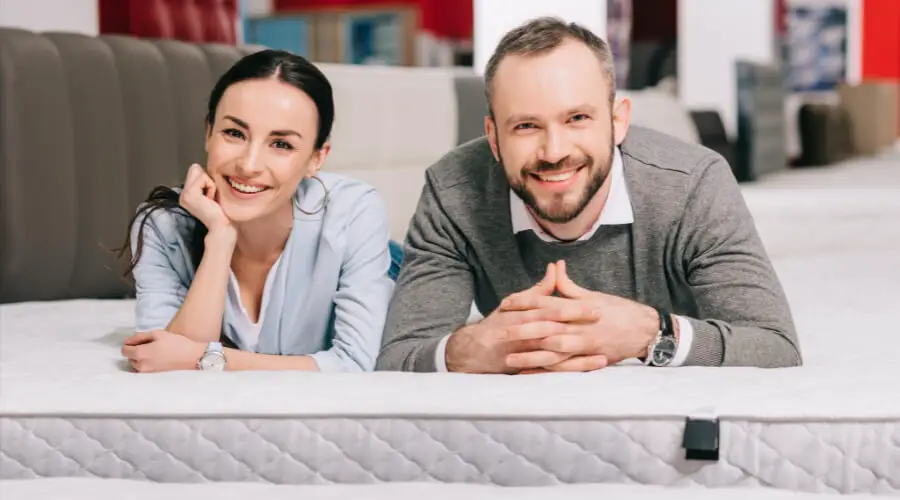 Costco does not specify this duration, unlike other companies that give a time limit of 9 months to return a mattress. Since this company is committed to a 100% satisfaction guarantee to their customers, they do not have any time restrictions before which you can take back the mattress after purchase. 
But, if the mattress you are returning was purchased a while back and visibly used, the staff at the returns counter might have issues taking it back. In this case, the store manager has the discretion to accept or decline the return of the mattress. Regardless of when you purchased the bed, you can return it anytime if it is a shape-conforming or memory foam mattress. This type of mattress takes a long to settle when one lies on them and may, therefore, take you longer to notice any defect or discomfort. 
How Long Does It Take For One To Receive A Refund After Returning A Mattress To Costco?
Costco's returns department processes your refund immediately after they receive the item. If you return it to the store, there will be minimal delays, and the refund will be processed to the card you used when purchasing. 
You can also get a cash refund upon delivery of the mattress, or you can have it processed into the Costco cash cards. The value of the card is the same for both non-members and members. But, if you return the mattress online, it may take a little longer before getting a refund. If you need the assistance of Costco personnel to help you return the mattress, the process of refund won't start until the item is back at the depot. A Costco carrier must pick it up from your home and deliver it to the warehouse. 
However, you will generally get your money back within 30 days upon request. 
Can Someone Else Return A Mattress To Costco On Your Behalf?
No. Unless a person is listed as a household member on your membership, they cannot initiate a return process on your behalf. A cardholder (Costco member) who makes the order and purchases the mattress needs to be the same person returning it. But, if the membership cardholder bought the mattress as a gift, then someone else can return it. 
In the above case, the person who was gifted the mattress can take it back as a gift return. But, one needs to have the buyer's membership card number, and one will receive the refund in the form of a Costco cash card. 
What Are Some Of The Highlights Of Costco's Return Policy?
Costco return policy highlights;
A 100% satisfaction guarantee on the merchandise and membership
A refund of 100% of the item's buying price plus handling and shipping fees you purchased online. You will get the cash on the credit used during the purchase
If you purchased online, there is no charge for return shipping
You have up to two years to return the items. But, if you return your soiled mattress every two years, your membership can be revoked as it will appear like a scam. 
You must ensure the mattress is in perfect condition, so it does not bring issues with the staff at the return desk. It should not have any mold, mildew, or other stains, as this may deny you a refund. You may even consider buying a cheap mattress bag to put it in. This bag prevents the mover helper or truck driver from touching the dirty mattress or your filth. 
Does Costco's 100% Satisfaction Guarantee Cover All Items?
Costco's return policy does not cover all items. Some conditions may also apply to returning these items. The table below gives a summary of these items and the requirements for returning them.
| | |
| --- | --- |
| Items  | Conditions To Be Met |
| Electronics – these include televisions, huge kitchen appliances, cameras, computers, MP3 players. | Electronics – these include televisions, huge kitchen appliances, cameras, computers, and MP3 players. |
| Diamonds | A diamond that is 1.00ct or larger should be returned with your GIA or IGI documents (these come with your purchase) – a qualified gemologist (must be an employee of Costco) inspects the diamond for its authenticity before you can get a refund. |
| Alcohol and cigarettes | It depends on the regulations of your area. Costco won't accept these items back if it is against the policy of your location.  |
| Custom products | If you purchase custom-made products for yourself, you won't return them to Costco unless they didn't meet your specifications. You can also return products that are faulty under the warranty terms.  |
| Items whose expected lifespan is limited (examples include car batteries and tires) | You cannot return the items unless they have a separate limited warranty. |
Conclusion
Costco's mattress return policy is quite lenient compared to other companies. If a customer is not satisfied with a mattress after purchasing, they can return it and get a refund as long as it is in good condition. Costco's commitment to 100% satisfaction of their customers allows one to try a mattress for size, comfort, and quality, and you can even take it back after removing the packaging. 
Costco allows one to return their mattress online or in-person to any nearby branch. This return method makes it convenient for many people regardless of their location.
References:
https://ojdigitalsolutions.com/costco-mattress-return-policy/
https://www.mattressnut.com/costco-mattress-return-policy/
Emma is a graduate of Domestic Science or Family and Consumer Sciences (Home Economics) from the University of Wisconsin. She has 7 years of experience Working with the strategic section of BestBuy and now writing full-time for Homeeon.
From Managing the Home, Interiors, Cleaning, and Exteriors to Gardening and everything about Making A Home Liveable – is her passion and this Homeeon is the result of this.
Emma loves decorating her home with the best stuff found online. She cares about quality over anything and writes reviews about them here in Homeeon. Get in touch with her over Pinterest.
Keep reading her blogs.