Last Updated on July 25, 2021 by
Yes. A queen bed frame can accommodate a full-size mattress, but it will require some adjustments.  A standard full-size mattress measures approximately 75-inches long and 54-inches wide and a queen frame measures 80-inches by 60-inches. It will leave 3-inches gaps on both sides. 
A standard queen frame's rails are not stable enough to secure a full-sized mattress in place. But if the frame uses extensive cross support, for example, many wooden slats, it can support such a mattress, but it would still leave gaps.
How To Make Your Queen Frame Fit A Full-Sized Mattress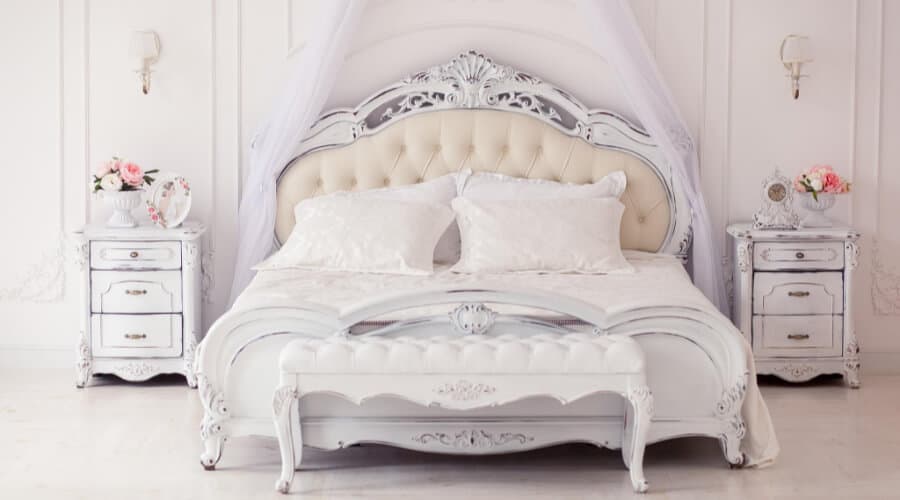 You can explore the following options, which will help to use a full-sized mattress on a queen frame;
Adjusting The Frame
If your bed frame is metallic, you can easily adjust it to fit your full-size mattress. Follow these simple steps;
1. Check whether your frame has four metal bars that make a rectangle or two mattress support bars. 
2. Look for extra holes on the headboard or footboard for adjusting the frame. 
3. If these features are there, move the support bars inwards 3-inches on each side. Bring the footboard closer to the headboard, about 5-inches. Doing this helps the frame to accommodate the full-sized mattress well. 
If your frame has no built-in holes for adjustments, you can follow these steps;
1. Remove the screws on the existing support bars. Measure 3-inches from where the screws were attached and make a mark. 
2. Buy new, shorter support bars (ensure that they are 5-inches shorter in length)
3. Drill new holes that are the same size as the ones already there
4. Join the new support bars to the footboard and headboard using the right tools
Using Brackets On A New Bed Frame
If you find it challenging to adjust a bed frame, you can purchase a full-size platform bed frame with no headboard. Here's how to go about this;
1. Get a frame that will match your headboard both in color and material. You may also plan to use your bedding to cover it. 
2. Fix the headboard brackets to the frame 
3. Assemble the queen headboard onto the new brackets, then place the mattress on it.
Are Both Queen And Full Bed Frames The Same?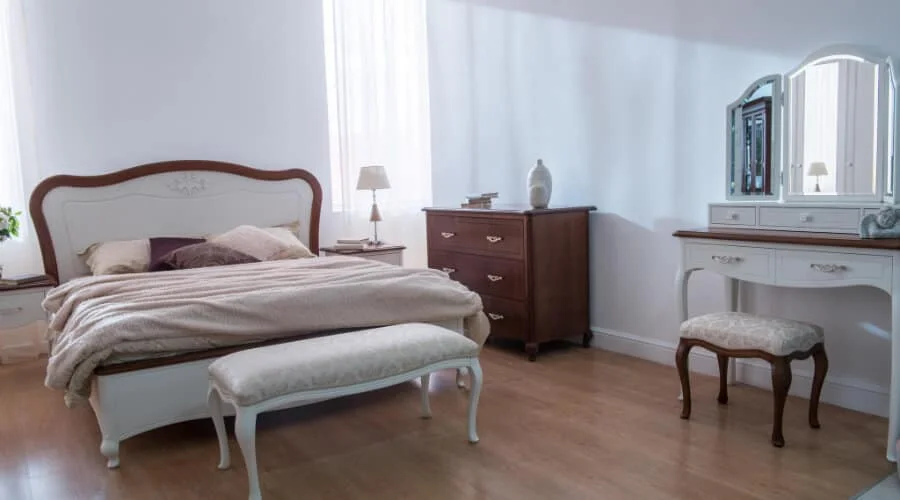 A full-sized bed (also known as the double or full bed) measures 54-inches (137cm) in width and 75-inches (191 cm) in length. It is smaller than a queen-sized bed whose dimensions are 60-inches (152cm) wide and 80-inches (203cm) long. The following table shows the comparisons between the two frames.
| | | |
| --- | --- | --- |
| | Queen Bed  | Full Bed |
| Dimensions                                         | 60 X 80 inches (152cm by 203cm) W x L | 54 X 75 inches (137cm by 191cm) W x L |
| Price | Less expensive than king beds but costly than full or twin beds | Frames, sheets, and mattresses are less expensive than queen size but cost slightly more than twin beds.  |
| Frame | It has a normal rectangular structure and a center leg. | It is just a rectangular box. |
| Use | Suitable for small master bedrooms and guest rooms  | Ideal for single persons and smaller couples. It can be perfect in a teenager's room.  |
| How popular | Makes 32 percent of all purchases of mattress | It makes 21 percent of all mattress purchases.  |
| Pros | Perfect for two or tall people | Ideal for a single person less than 5-feet, 9-inches tall |
| Cons  | Available space for a couple could be insufficient (30-inches each) hence not comfortable. | It can be too narrow and short for a couple. Lack of different styles of comforter bedding |
Can You Put A Queen Mattress On A Full-Size Box Spring?
Yes. A queen box spring can accommodate a full-sized mattress, but there is a need to check dimensions for both. It is also necessary to check the kind of frame of the box spring since some allow you to easily make adjustments on the box springs to fit the mattress's dimensions. 
A full and queen mattresses have a difference of 6-inches in width, and you can use them if you are comfortable. If your box spring also has a metal frame that can be adjusted, then you can adjust it to match your queen-sized bed. An overhung mattress is not only uncomfortable, but it also lacks proper support hence wears out easily. 
How To Ensure That Your Queen-Sized Mattress Fits Onto A Full-Sized Box Spring
You can do the following to make sure that the full-sized box spring supports your queen-sized bed;
Consider Your Box Spring Type.
Box springs generally come in two types, i.e., standard box spring (common in the market) and split box spring. 
Split Box Spring
This kind of box spring can be split into two portions to fit narrow spaces and hallways. A split box spring is ideal for a queen-sized bed, but it needs support in the middle, but you need to be certain that your bed frame can have this. 
Standard Box Spring
This type of box spring comes as a whole piece, and it is not adjustable. This piece has a metallic frame that prevents your queen mattress from sinking in the middle. 
Use Boards
The use of boards is a cheaper method to help utilize your full-sized box spring. Get two medium-density fiberboards (MDF) whose thickness is 5-8 inches. You can request that they are cut to size at the store where you buy them. Place the box spring between the boards (one at the top and the other one under). Doing this gives your mattress the stability it requires. 
Using Bed Frames
You may also use bed frames to give your mattress some added support on a full-sized spring box. Ensure that the bed frame has enough depth to accommodate the spring box and use it to extend the box spring's size. Doing this helps to avoid or lessen the 3-inches overhang. Be sure to also avoid metallic bed frames, as using them will lead to deformities on your box spring. 
Convert The Box Spring To A Platform Bed
You can also change your box spring to a platform bed. Doing this gives your mattress the solid foundation it needs and helps you reuse an old full-sized box spring. 
Conclusion
A full-size mattress can be used on a queen bed frame, but there is a need for some adjustments to leave a gap on both sides. If you are not comfortable with spaces, you can make adjustments on the frame or use brackets but make sure the mattress is as comfortable as possible. 
It is also possible to use a queen mattress on a full-size box spring. To do this, be sure to use the right box spring, use boards, or bed frames.