Last Updated on July 16, 2023 By Emma W. Thomas
IKEA's furniture is cheap and affordable. They use low-medium quality materials to ensure their products match their customer's budgets. It is hard to make similar products as IKEA for the same price since they enjoy low-cost raw materials due to their bulk buying. Getting your raw material is the cost of finished products in IKEA.
What Tips Does Ikea Use To Produce Cheap Furniture?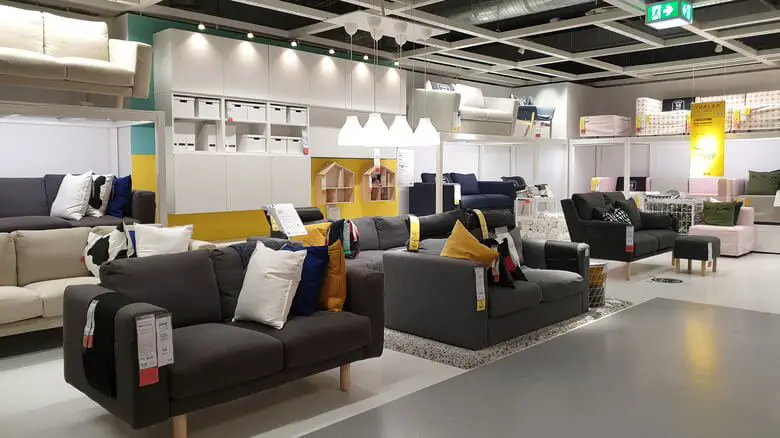 One thing that makes Ikea famous is its affordable prices for furniture pieces. They even leave their customers questioning the quality of their products. Their designs are suitable for such expenses. You can even find some pieces going for a lower cost than what you would pay for raw materials.
The following are the reasons why Ikea's furniture is cheap and affordable;
Use Of Cheap But Sturdy Materials
With furniture production, the materials used determine the cost of the end product. Using expensive materials leads to the production of high-cost furniture. IKEA prefers going for cheap but sturdy raw materials. The most common material they use is wood and plastic. But, they also incorporate glass to keep the costs down.
Instead of making furniture from wood, they hollow it out and then fill the empty spaces with cardboard. With such ideas in their fantastic designs, they build long-lasting products made from inexpensive materials. They tend to recycle and renew materials to make their furniture. With this, they cut their cost of production. There is a program they started. Here, they help their clients dispose of unwanted and damaged furniture pieces.
Producing Simple Furniture Pieces
IKEA focuses its production on simple but sustainable furniture pieces. Their designs are not complex. Hence, they do not attract higher prices. They require more materials that could be high-priced. With their designs, you find them reusing furniture layouts. They use similar materials for different items, which helps reduce their production cost.
The Offer Self-assembly Options
Customers assembling their furniture is a unique technique used to reduce their production costs. IKEA makes it easy to mount the products. Their furniture comes with simple instructions on how to put things together. Doing so cuts delivery costs since the package tends to be smaller than when put together. They require less labor during shipping.
They Have Minimal Staff In Their Stores.
IKEA's stores have little need for staff. First, they do not assemble their furniture. It is easy to shop and lift. They do not need people to carry items for the customers. The other thing is that most information about their furniture is available on displays. Customers do not have to call someone to ask questions. Once through shopping, buyers pick up their selected items at a self-service area. They do this without requiring any help from workers. 
Buying Raw Materials In Bulk
Their ability to buy raw materials in bulk is one of IKEA's strongholds. Purchase goods in sizes tend to be cheaper than in retail. The same way they get lots of raw materials is how they make their products. With this, they can manufacture many pieces of furniture using the same products.
 In addition to that, due to their concrete goals, they use the leftovers to avoid wastage. Buying raw materials in large quantities saves them much money, translating to affordable furniture for their customers.
What Products And Services Does Ikea Deal With?
Most people know Ikea for their furniture pieces. They are among the cheapest dealers in furniture pieces. One good about them is that they leave their clients to assemble the furniture. In this way, they help in reducing transportation costs. The items become less bulky compared to assembled ones. 
Other than furniture, Ikea deals with smart homes. It involves introducing the use of smart home appliances such as lighting kits. They have partnered with Philips Hue company to present chargeable furniture. Under this project, they developed an intelligent speaker. It is a wireless speaker that integrates with other households. For instance, you use it as a  bookshelf speaker, among other uses. 
IKEA is also into designing services. They began this after the COVID-19 pandemic. It was then that they decided they could offer design consultation services. Many people knocked on their doors for ideas to facilitate social distancing in their homes and offices. They started with Bahrain and Saudi Arabia after their improved consultation on queue management.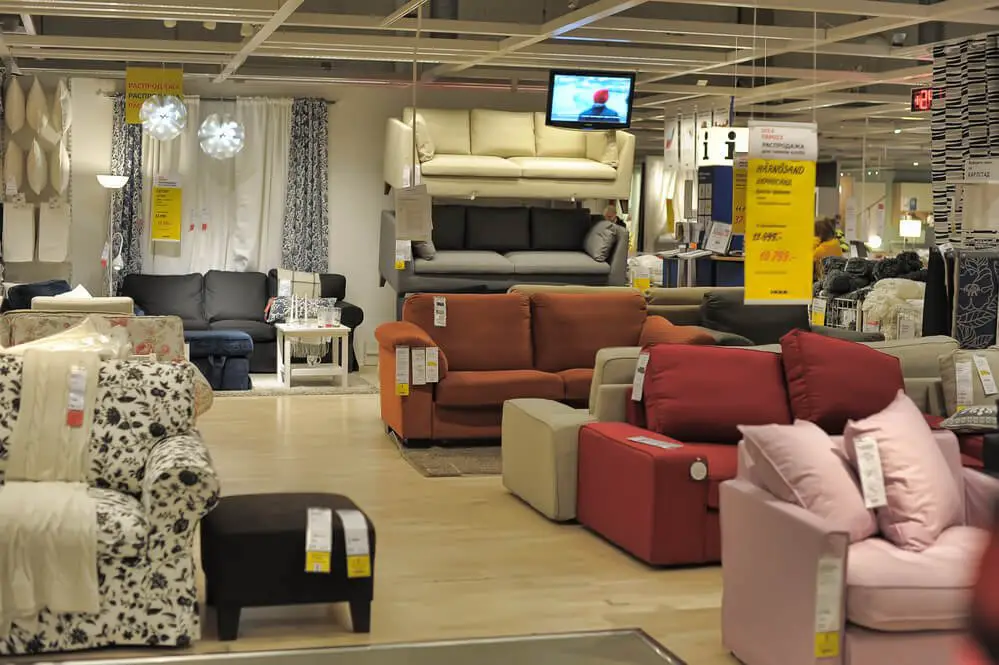 In 2019, IKEA announced renting furniture to clients. At this time, their customer reviews stated that most of their products did not last long. They were also disposable. Instead of having the environment carry the burden of scrapped furniture, they decided to put them up for hire. In this way, they gained control of damaged furniture pieces. They can recycle the materials used or improve the designs. The good thing about this is that they reduced solid waste pollution resulting from dumped items.
Another field they venture into is housing. They have rental houses and apartments under the name Boklok. Their housing venture first started in Sweden in the year 1996. At first, they worked with Skanska, then later with UK countries. They have other sites in England, such as Leeds, Warrington, Gateshead, and Liverpool.
IKEA deals with many items, including food services. They have several restaurants serving Swedish dishes. You can refer to IKEA as of jack of all trades. Their recipes change depending on location. For example, their stores in Israel do not serve dairy and meat in one restaurant. You find one selling meat and the other one doing dairy products.
Is Ikea Environmentally Friendly?
Ikea is among the few large companies that show concern for the environment. They ensure to carry out their activities sustainably. It is good to know that despite their large production, they still remember the source of their raw materials, mother nature. Without nature, the furniture industry would diminish. All the material used comes from the environment, such as wood, cotton, fiber water, etc.
For this reason, Ikea ensures nature's safety in the following ways;
Recycling And Reusing Their Waste
IKEA aims to avoid material wastage as much as possible. They ask their producers to try and use the waste to create something out of it. You can also recycle their products. That is why they came up with IWAY, to help their consumers deal with worn-out products. With this, they reduce solid waste causing minimal harm to the environment.
Using Sustainable Ways Of Cotton Production
Cotton is a significant raw material for furniture production. Growing it requires a lot of water supply. For this reason, IKEA works towards finding a better way to grow cotton in a nature-friendly way such that they do not have to use so much water. They do this alongside World Wildlife Fund. 
In addition to this, they partnered with local companies in Pakistan and India (their major cotton suppliers). They did this to educate farmers on the dangers of using a lot of chemical-based fertilizers. After that, they introduced alternatives to ensure their yields were as high. The cotton produced was better than that grown with high chemical fertilizers. It led to an increase in their earnings by 40%, translating to high-profit margins.
Making More Furniture From Fewer Resources
IKEA tries to make as much as possible even from the least resources available. Their designs ensure they use the least materials. For example, you find some of their tables made with rugs and recycled plastic that would be wasted in other companies. Another example is making legs from their furniture pieces hollow and filling them with chipboard o save on wood. They blend their cotton with other materials.
Using Water Sparingly
Water is a natural resource. IKEA ensures to use it sparingly without wastage. They have ways to help in wastewater treatment. They prefer going for furniture designs that consume less water. Before working on any structure, they consider the amount it is likely to consume. 40% of textiles used by IKEA consume less water than other furniture companies.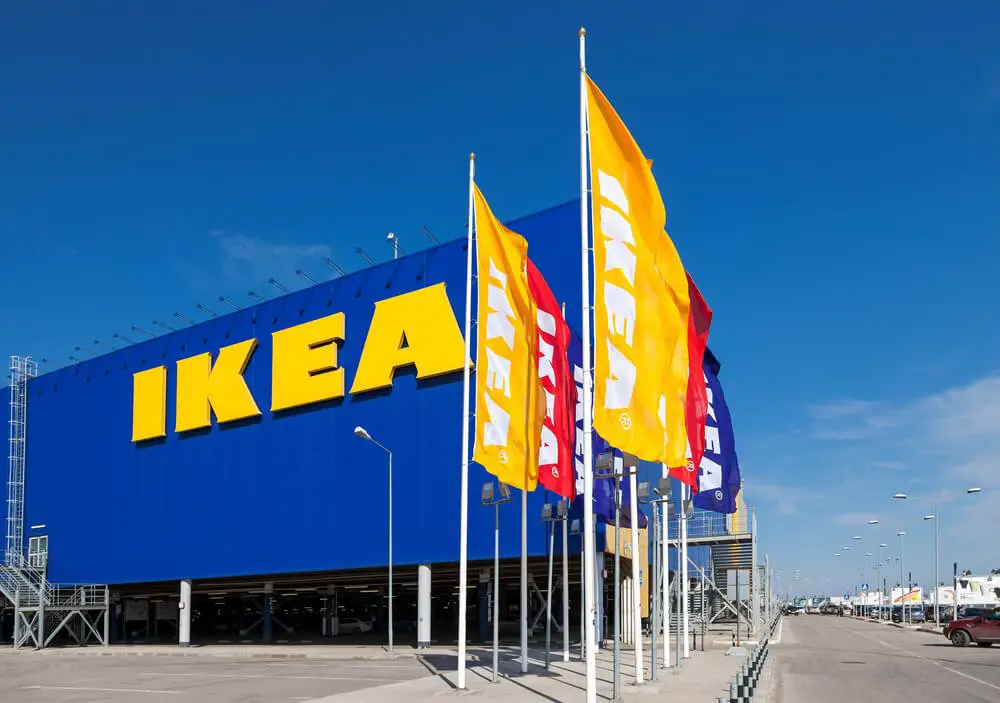 Where Does Ikea Make Its Furniture?
Ikea is a worldwide dealer in furniture production and distribution. It has over 30 franchising units and 300 stores. The company operates in 41 countries. Germany has the highest number of stores. Ikea sources most of its furniture designs from Sweden. their actual manufacturing takes place in China and other Asian countries. Some of the largest IKEA producers and outlets include;
| | | |
| --- | --- | --- |
| Store name | Location | Ground size |
| Stockholm  | Sweden  | 552,000 square feet |
| Shanghai | China  | 494,000 square feet |
| Shenyang  | China  | 470,000square feet |
| Tianjin  | China  | 457,000 square feet |
| Berlin  | Germany  | 450,000 square feet |
Conclusion
IKEA's products are so affordable that people question their prices. Their prices are so low that even if you build your furniture, it would be costly. You end up spending so much time on something you can get ready-made. Their low prices result from buying raw materials in bulk. They also use less staff in their store, reducing the cost of production. The other thing is that they recycle most of their raw materials. To cut the transportation cost, they make furniture pieces assembled by the customers. With this, they reduce moving labor and expenses.
References:
https://www.ikea.com/us/en/this-is-ikea/sustainable-everyday/choosing-materials-being-a-large-business-comes-with-large-responsibilities-pub47a5ba42
https://grist.org/climate/ikeas-ambitious-plan-to-make-its-cheap-furniture-last-forever/
Emma is a graduate of Domestic Science or Family and Consumer Sciences (Home Economics) from the University of Wisconsin. She has 7 years of experience Working with the strategic section of BestBuy and now writing full-time for Homeeon.
From Managing the Home, Interiors, Cleaning, and Exteriors to Gardening and everything about Making A Home Liveable – is her passion and this Homeeon is the result of this.
Emma loves decorating her home with the best stuff found online. She cares about quality over anything and writes reviews about them here in Homeeon. Get in touch with her over Pinterest.
Keep reading her blogs.