Last Updated on July 10, 2023 By Emma W. Thomas
You can buy pallets of DIY furniture from businesses such as furniture shops, hardware & equipment stores, and small garden shops. You can also consider checking at builders & construction sites, grocery stores, pet stores, and newspaper companies. You can contact the pallets distribution center about purchasing the pallets. 
What are the tips for obtaining free pallets?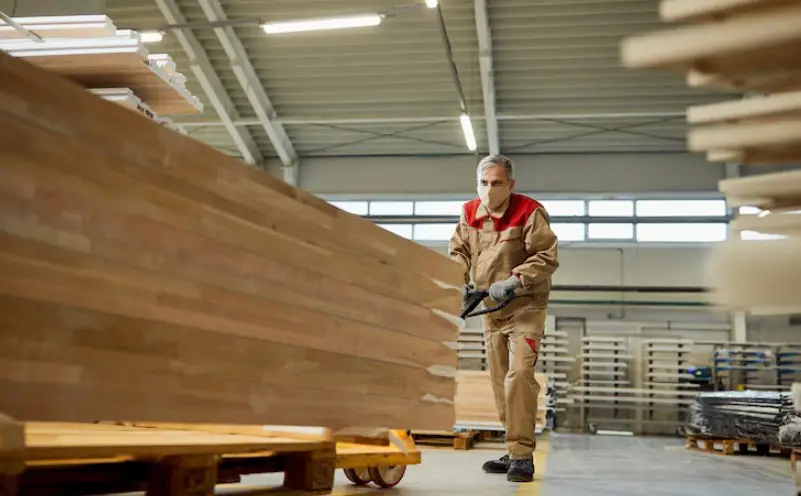 Since most firms and stores do not need the wooden pallets used when shipping their goods, it is easy to get them. But, unless you know how to go about everything, it could be quite frustrating. The following tips are helpful and will make it easy to obtain these things at little or no cost at all;
Identify the business and offer to pick up the pallets 
Start by identifying a small business with the pallets they don't need and pick them up. Since the store considers these items trash, they will be more than willing to let you collect them for free. The business will save on what they pay to collect the 'trash' while you get what you need for your DIY projects. 
Contact the distribution center.
Sometimes, the business may be reluctant to hand the pallets over to you. If this is the case, you can talk to the distribution center that ships out the pallets. Such centers may have several pallets that could be slightly broken or don't conform to their standards. They could also have some pellets that are not compatible with their equipment. 
It is also okay to look for recycling firms dealing with pallets and ask if you could pick those they don't need. 
Check online
You can also use the internet to check for places or companies with excess pallets and ask if you could get some. Some businesses may advertise what they want to get rid of, including pallets, and checking for these adverts can help you obtain them. Sometimes they can give you for free or at a low cost. 
The best places to check are social media sites such as Facebook, or you can use Freecycle, a freebie-finding website. You can also check Craigslist to see if people give away free pallets. 
What safety precautions should you observe when picking wood pallets?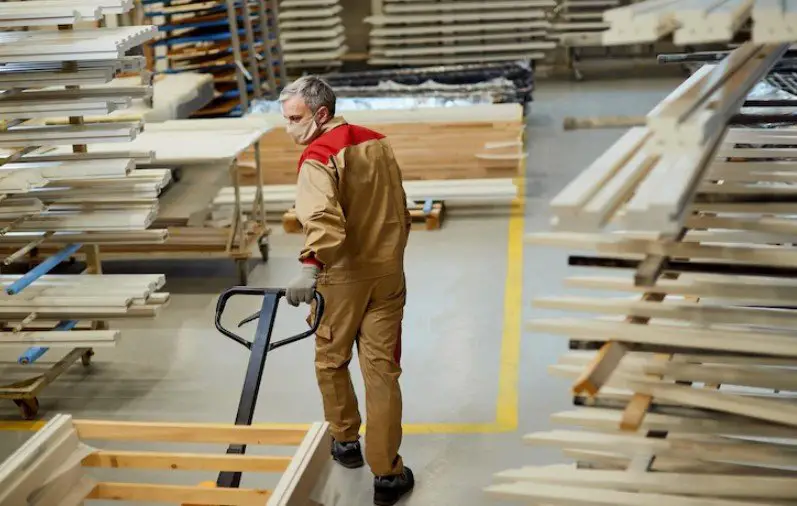 Working with wood pallets for DIY furniture can sometimes be risky, so one needs to take many precautions. Some of the safety measures include; 
Inspection
When using the pallets, it is necessary to inspect them for any food stains or pillage, sticking out nails, and splinters. Be sure to check the back and front of the pallets for splits and fissures to get the best choice. Since it is not easy to cover petroleum stains using paint, it is necessary to avoid those pallets with oil or grease stains. 
You could also consider using pallets from dry wood industries since they carry lightweight products. These pallets are usually intact, and they do not have issues with spillage, food & or other stains. 
Using protective gear
It is always good to take care when using wooden pallets to avoid getting injured. One of the safety measures for this is to use heavy-duty gloves and other protective gear when working with or picking pallets. You can also wear a mask or eye protection when cutting or sanding a wood pallet to avoid eye injuries. 
Check for stamps and markings.
Most pallets have markings or stamps, and it is important to look out for them. It is required that any plant or wood product from outside the country have an IPPC (International Plant Protection Convention) stamp. 
The table below summarizes some of the IPPC markings and their meaning.
| | |
| --- | --- |
| Markings/stamp | What it means |
| HT (Heat Treated) | The pallets are heat-treated using a dry kiln heat chamber or conventional steam. |
| DH (Dielectric heated) | It has undergone dielectric heat treatment using radio frequencies or microwaves. |
| SF (Sulphuryl Flouride) | This treatment involves fumigation treatment with chemicals. |
| MB (Methyl Bromide) | Fumigation chemical treatment with Methyl Bromide that leaves chemicals behind |
Looking out for the above markings is helpful as you will protect yourself from using harmful products. Avoid using chemically-treated pallets as they can be a health hazard, especially inside the house. It is also advisable not to sand, cut, or burn these wood products since they release toxic substances. 
How can you choose the best pallets for DIY projects?
The outcome of your DIY projects depends so much on how you choose the right pallets. The following tips are helpful when picking these wood pallets;
Choose the right variety.
Since pallets come from different varieties of wood, it is advisable to look for what suits your needs. Check for the right feel and appearance of the pallets that will give you the desired outcome for your furniture. 
Avoid damaged pallets
The pallet comes from cheaper wood and is prone to damage. Be sure to look out for any defects in these wooden products. Be careful also when taking apart the pallet to avoid further damage. 
You can try to look for different sources and get new or least defective pallets.
Check the markings
Since heat-treated pallets are the best to work with, it is advisable to look for the "HT" marking. Avoid those pallets marked "SF" or "MB" since they are pesticide-treated and may have harmful chemicals to your health and environment. 
The best pallets to use are ISPM 15 certified, as this means they are heat-treated.
Different types of pallets for DIY furniture and their dimensions
| | |
| --- | --- |
| Type of pallet | Dimensions |
| Euro-pallet | 1200 x 800 x 144 mm – weight 25kgs |
| ½ pallet (for small furniture pieces) | 800 x 600 x 144 mm |
| ISO pallet | 120 x 100 x144 cm |
Euro pallets are exceptionally sturdy and have universal dimensions and, thus, the most popular option for pallet furniture. These pallets are also made of thermally processed and impregnated wood, making them the best choice compared to the others. 
How to make pallet furniture?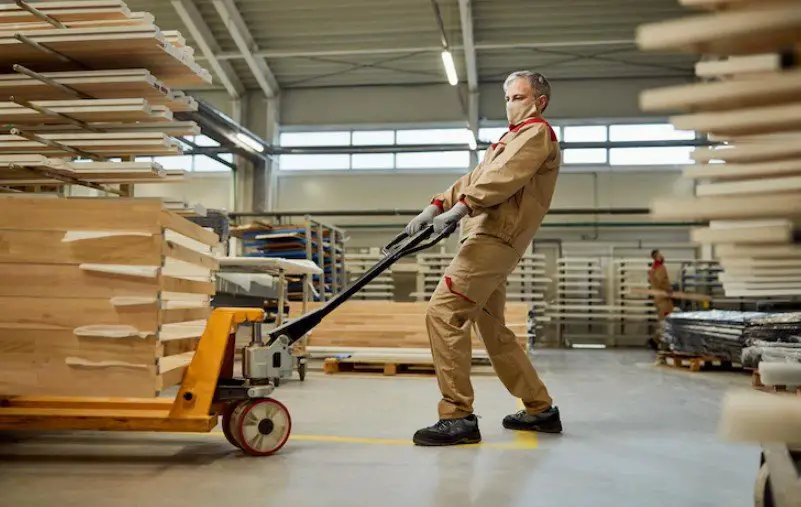 With the right tools and know-how, it is easy to make stylish pallet furniture for your patio, garden, or interior décor. The following guide is helpful;
Collect the necessary tools
Besides having the pallets, having the right tools for your DIY project is also necessary. The necessary items include;
Screw gun and screws, wood preserver, paint, and painting tools
grinder tool, 80-100 grit sandpaper (for the initial sanding), grit 200 (for final sanding)
wood adhesive (for filling any holes),
Get the right design
Before you embark on making the furniture piece, it is important to get the right design. Start by measuring the area where you will place the furniture. Make sure that your furniture size matches the pallets to avoid cutting. For example, the height or length of the furniture needs to be a multiple of the pallet' length or height. 
Prepare the pallets
After collecting all the correct pallets for your DIY furniture, the next step is to prepare them. These steps include;
Repairing damages and removing any rotten elements. You can also use adhesive to seal dents and holes in the wood. 
Smoothen the rough surface using the grinder tool while removing any splinters. Makes sure that the pallets have no sharp or rough parts by grinding them thoroughly. You will then have to hammer or remove all nails sticking out and fill all holes with adhesive. 
Clean the pallets to remove all the dust particles and apply the wood preserver to the surface. Use a varnish or paint to cover the pallets once the preserver has dried up. 
Make the furniture
Once you are through with the preparation step, it is time to piece the pallets together. Using angles, screws, and flat bars, link up the pallets. Be sure to match the pieces in areas that are least visible, such as the sides and bottom pallets. For ease of movement, you can add wheels to the table. You can also add mattresses and cushions to make your furniture more attractive and trendy. 
You can use your pallet to make different pieces of furniture such as an armchair, lounge chair, swing, flowerbed, and others. 
Wrapping Up
There are several places to buy pallets or get them for free. These places include construction sites, supermarkets, shipping centers, and furniture shops. You can talk to the staff managing these companies and offer to be removing the 'trash' for free.
References:
https://www.thespruce.com/find-free-pallets-easily-with-these-tips-1357101
https://www.etsy.com/market/pallet_furniture
Emma is a graduate of Domestic Science or Family and Consumer Sciences (Home Economics) from the University of Wisconsin. She has 7 years of experience Working with the strategic section of BestBuy and now writing full-time for Homeeon.
From Managing the Home, Interiors, Cleaning, and Exteriors to Gardening and everything about Making A Home Liveable – is her passion and this Homeeon is the result of this.
Emma loves decorating her home with the best stuff found online. She cares about quality over anything and writes reviews about them here in Homeeon. Get in touch with her over Pinterest.
Keep reading her blogs.