Last Updated on October 6, 2021 by
 When browsing through various types and styles of kitchen cabinets, do you get surprised to check the pricing of the kitchen cabinets? Yes, they can cost a bomb! You are not alone to think so. Many more people are asking this question, and we are here to answer your question.
 Kitchen cabinets are very expensive because of the immense hard work and effort put in the material quality used to make them. Moreover, most modern kitchen cabinets are built with MDF or clipboards, which may sound expensive to hear right. But there is nothing fancy.
 Well, big companies cut down the labor cost and use the particleboard in a distinct name. Again they use BLUM hardware, and many of them also attach the private label on the hardware. Hence, with all these, the cost goes insanely high.
What Are The Factors That Make Kitchen Cabinets So Expensive?
There are a few factors determining the cost of the kitchen cabinets you find stylish. Here we are going to list down the 3 key factors that make the overall pricing of the kitchen cabinet go high. So without any further ado, let us check them out:
1. The Material Quality Of The Kitchen Cabinets
The material of the kitchen cabinets plays one of the key roles in determining the cost of the cabinets. If the materials like granite or marble are used, then the price will go higher. Again the type of wood used will also influence the overall pricing of the kitchen cabinets. Woods like Birch are cheaper than Maple wood. Also, plywood comes cheaper but can be found as a better option for the sides of your cabinets.
So, if you are interested in saving money, then keep these points in mind. Remember, cheaper material does not always mean poor quality. You can choose a modern style for your kitchen in your budget.
2. Labor Cost
Yes, after you have chosen the materials for your kitchen cabinets, now the turn for labor charge comes for a debate. Nowadays, labor cost is one of the most expensive parts that add up to the overall pricing of the items. Skilled carpenters for making kitchen cabinets are no different because of the intensive hard work they furnish. 
And moreover, it is a time taking process to build good cabinets. This is the reason why skilled laborers are compelled to charge a heavy amount in return for their intensive work.
3. Manufacturing Type – Mass Produced Or Custom Build
This can play a big role in the final pricing of your kitchen cabinets. If you choose to buy cabinets that are mass-produced, then it costs different from any custom-made cabinets. Do you know which one is cheaper?
Mass-produced cabinets are cheaper than custom-made kitchen cabinets for a single reason. Big manufacturing companies cut down on the labor charge by using automation and machines to double productivity.
Unlike in the custom-made kitchen where workers manually make them with more effort, they usually involve little machinery to make ready the cabinets. Although it is much more expensive yet you can keep the aesthetic intact in your kitchen.
How Much Does A New Kitchen Cabinet Cost?
Kitchen cabinets are ranged in variety. It mainly depends on the three factors- material used, labor cost, and manufacturing type. If you want to install new kitchen cabinets in your home, then it may cost around between $4000 to $7000 on average. It can go up to $4000 or even more if you opt for the high-end styles.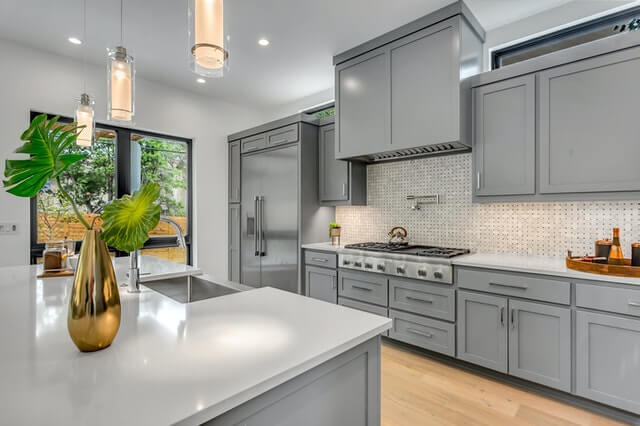 How To Cut Down The Price Of Custom-Made Kitchen Cabinets?
Custom-made kitchen cabinets are much more expensive than mass-produced cabinets due to the fact that only skilled laborers can build the cabinets with their hard work. We are saying intensive because they usually do it manually with little machine usage.
On the other hand, mass-produced items are built with automation and machinery to cut down labor costs. Anyway, mass-produced cabinets can look generic and break the aesthetic you always wanted to have for your own kitchen.
If you do not want to compromise on the looks of your kitchen but nonetheless save money, then you can take any of the ways mentioned below:
1. You can buy cabinet materials of your own and build the cabinets all by yourself. But remember, it is not so easy. You can find several tutorials on how to make your own kitchen cabinets. Follow and DIY them if you have time and energy.
2. Otherwise, you can simply do your research where you can get the desired materials at a cheaper price. Buy them and appoint a skilled worker to fix them according to your preferences. This can cut a little bit of the cost.
3. You can also make boxes locally and buy the fronts and doors. There are lots of suppliers available in the market.
4. You can even choose the semi-custom option. Visit your local lumber yard or any companies that make semi-custom products and ask them to fully custom the sizes to fit perfectly in your kitchen.
5. There is an option to also ready to assemble cabinets (RTA). But in most cases, it is found to be cheap in quality. So we would recommend you to go to a local lumber yard and customize your items over there.
How Much Is The Time Difference There To Get Custom-Build Kitchen Cabinets And Mass-Produced Kitchen Cabinets?
Apparently, it takes about 5 to 8 weeks on average for the companies to deliver the items. However, it takes around 4 to 5 weeks on average to completely build cabinets with your customization. It can also take 8 to 10 weeks for any high build specifications.
Difference Between Readymade Cabinets And Custom Made Cabinets
Take a glance at the table to know the difference between readymade kitchen cabinets and custom made kitchen cabinets-
| | |
| --- | --- |
| Readymade Kitchen Cabinets | Custom Made Kitchen Cabinets |
| Readymade kitchen cabinets are somewhat low in price. | Custom-made kitchen cabinets are much more expensive than ready-made ones. |
| They are built with automation techniques and machinery. | They are built by workers manually with very little machine use. |
| It takes around 5-8 weeks to reach your house on average. | It takes around 8-10 weeks to build custom cabinets. |
| Sometimes quality is compromised but still, you have to pay more. | You can choose the material and buy them according to your preferences. |
| The most aesthetic look of the kitchen gets compromised. | You can create an aesthetic look without compromise. |
Where To Find Low-Cost Kitchen Cabinets With A Modern Look?
Cabinets possess the ability to elevate the kitchen outlook, but to get that look, the pricing can break your budget. If you want to custom-build your kitchen cabinets, then you can choose from custom as well as semi-custom made brands available in the market. To name a few who are doing good in the business are Wood-Mode, Siematic, Wellborn, Henrybuilt, Viola Park, Eggersman, and a lot more. Contact them and make your own cabinets.
But if you do not want to go through the process of arrangements and still looking for really stylish kitchen cabinets that too at low cost. Accordingly, we have listed a few brands you could consider while buying kitchen cabinets.
1. IKEA- This Swedish brand has boxes made up of particle board coating with melamine foil. They also have wood veneers, wood, and lacquered fronts. But the only thing that may look advantageous or drawback is they pack the pieces in flats and assemble only in the field.
2. Viola Park- This brand pricing is somewhere in the middle comes as a good alternative to the Swedish brand IKEA. Viola Park offers high-quality materials like maple, bamboo, and walnut from its premium custom-made company Henrybuilt.
3. Cabinets To Go- Launched in 2008, this company offers affordable frameless kitchen cabinets with a lavish look of a European texture.
4. Kraftmaid- Kraftmaid offers cabinets in all styles. Whether you are looking for a vintage style or a modern look, you will get it all under the same roof. Their cabinets are built with wood face frames, dovetail drawers, and plywood boxes.
5. Semi Handmade- Semi handmade is a California-based company that launched a variety of fronts made up of melamine, solid wood frame, thermo-foil, wood veneers, and reclaimed wood. They also offer unfinished parts to stain in the field itself.
Are Soft-Close Features Essential?
The soft-close helps to ensure the doors are not slammed. Instead, it gets closed silently and smoothly. Mostly we fear children will go to the kitchen and open and close the kitchen cabinet doors. In doing so, their fingers can get in.
But if you add soft close features, then it can prevent your child's fingers from getting slammed due to its soft closing. Moreover, you can also save your fingers from being slammed while being ignorant. So it is safer to add soft close to your kitchen cabinets.
Additionally, it will also ensure the longevity of the kitchen cabinets and lessen your stress on its maintenance and getting slammed. In short, soft close extends the life shelf of your kitchen cabinets.
What Are Framed Cabinets And Frameless Cabinets?
If you go to purchase kitchen cabinets, you will see two types of construction. One is framed kitchen cabinets, and another one is the frameless kitchen cabinets. Confused? Well, there is nothing to get perplexed.
Framed kitchen cabinets consist of an overlying frame to the sides of the cabinet. This can consume very little space. However, the frameless kitchen cabinets are constructed in such a way that the doors are attached directly to the sidewall of the cabinets. There is no scope of revelation.
Generally, frameless kitchen cabinets are used to achieve a cleaner and modern look. Make sure to check the substantial material used to build the frameless cabinets as there is no external support. This little notice can increase the durability of the cabinets.
What Type Of Cabinet Is Better?
If you have a good budget, then go for custom-made cabinets. You can tailor the designs on the basis of your needs and liking. This will furthermore give a unique look to your kitchen.
However, if the budget is your concern, you can opt for stock cabinets. Right stock cabinets will still manage to give a good look to your kitchen. Otherwise, you can use semi-custom cabinets to input more details in the making of your kitchen cabinets. This is a great alternative to expensive fully custom-made cabinets.
Final Verdict
Kitchen cabinets are much more expensive if you want to custom-build the cabinets than mass-produced kitchen cabinets because of the use of automation and machinery. Sometimes, the companies also compromise on material quality. 
If budget is not a problem, choose custom cabinets or semi-custom cabinets. The best cabinets are stock cabinets. Remember to add soft close to the doors. It may higher your budget a little bit more but makes the closure safe and higher the longevity.
Kitchen cabinets are expensive, but how much you will have to spend depends on your design and preference. It is always better to choose the best alternative to get the look without going over budget. So remember these valuable points while building your own stylish kitchen cabinets.