Last Updated on July 30, 2023 By Emma W. Thomas
Roofing refers to the construction and installation of a building's roof, the uppermost covering that protects the structure from weather elements like rain, snow, and sunlight. It involves materials such as shingles, tiles, metal sheets, or other protective layers to ensure a waterproof and durable roofing system.
What Is Roofing?
Roofing is an essential component of any building, providing protection from the elements and ensuring the integrity of the structure. Whether you're a homeowner or a commercial property owner, understanding the basics of roofing is crucial. In this listicle, we explore everything you need to know about roofing:
Definition of roofing: Roofing refers to the construction or installation of a roof, which is the uppermost part of a building. It includes various materials, techniques, and systems used to weatherproof and waterproof the structure.
Importance of roofing: A well-built roof plays a critical role in safeguarding the building and its occupants from severe weather conditions, such as rain, snow, hail, and wind. It also provides insulation, and energy efficiency, and enhances the overall aesthetics of the property.
What Are The Types Of Roofing Materials?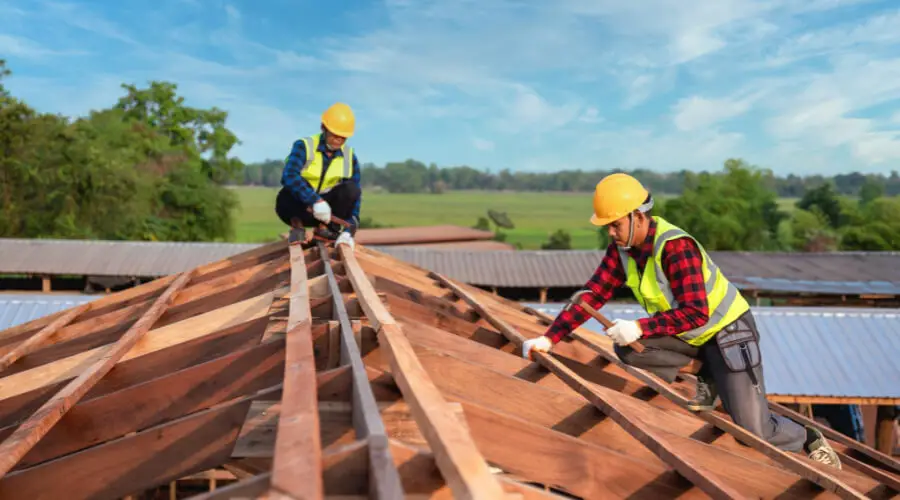 Some of the materials you can use for roofing include:
1. Asphalt Shingles
Asphalt shingles were first introduced in America and have now been used for many years worldwide.  Initially, they were made of rags, but the inventors have improved the roof shingles to make them more fire-resistant. 
Therefore, the Asphalt material became the choice for the inventors as it is fire resistant. Currently, asphalt shingles are first made of fiberglass and then covered in asphalt. Other materials such as mica, schist, and quartz have also been discovered and are being used to make shingles.
The back of the shingles may have sand, mica, or talc, which helps them stick together. 
Many contractors and many homeowners go for Asphalt shingles for their roofing as they are durable. Other benefits of asphalt shingles include:
Available in many different designs and colors
Fairly easy to install
They can withstand high temperatures
However, it doesn't come without some drawbacks. Asphalt shingles are:
Not reliable in areas with heavy storms and winds
Heavy when used to roof a large area
2. Metal Roofing
Metal roofs have been in use for a long time, mainly in commercial and industrial settings. But, recently, they have become more common in home settings due to their amazing features. The material is lightweight, requires low maintenance, versatile, and environmentally friendly. 
You also have a variety to choose from as metal roofing comes in different designs and colors.  And, although it might seem a bit expensive in the beginning, it is worth it in the long run as you will rarely have to do any maintenance on it. Therefore, the costs will be lower in the long term.
Installation of metal roofing can be a tricky process. You should thus hire an experienced contractor for a good job. DIY might be difficult as some pieces need cutting and shaping, which requires experience to avoid wastage and irregular cuts.
3. Flat Roof System
Flat roofs are cheap to install, and many homeowners prefer them as they can also use the flat space created on the roof. 
Flat roofs were used a lot after World War 2. They had a certain charm that attracted many homeowners during that era. In this era, flat roofs are more common in commercial buildings than residential buildings.
A slight slant is added to the flat roof to avoid water stagnating on the roof. You also need to clear leaves and twigs from the roof. This ensures that water and snow do not get trapped for the durability of about 15 years. 
4. Wood Shingles Or Shakes
Wood shingles or shakes are environmentally friendly materials to use as your roof. As the name suggests, this material is made from wood. However, most roofing shingles and panels can also be made from renewable resources making them environmentally friendly.
Some recyclable materials or refurbished wood are used to repair or upgrade your roof. Therefore, if you aim to reduce your carbon footprint, use this type of roof since it has zero effect on rainwater running off.
However, its installation is expensive compared to other roofing materials. 
But, wood shingle roofing is worth it in the end due to the benefits below: 
Lasts longer 
Provide a rustic and beautiful finish
Harmless to the environment
5. Clay And Concrete Roof Tiles
Clay and concrete roof tiles are similar; you have to be a professional and have worked with them to know the difference. 
Clay roofing tiles are more expensive than concrete roofing tiles. The cost difference comes down to the material and process used to make them. 
Aesthetically, clay tiles take the lead as they have a beautiful earthy look. They can also be burnt to change the concentration of their natural color. You can also consider disguising concrete tiles to look like clay, but they will be noticeable. 
The life span of concrete and clay roof tiles is great. They can withstand weather elements and tough conditions, which is why you will get a 30-year warranty. However, you might not utilize the warranty as the tiles will likely survive for at least twice the guarantee period.
Concrete roofing tiles have a higher absorption rate when compared to clay tiles. The water absorption rate is a huge determiner of the lifespan of the tiles. In areas with minimal rain regions, the two materials have similar reactions. However, mildew and stains might form on the concrete tiles in extreme conditions.
Also, concrete tiles are heavier than clay tiles; thus, you have to reinforce your roof when you install them.
6. Slate Roofing
Slate roofing is a roof made of natural slate and other slate materials. Slate is a naturally occurring metamorphic rock.
This sort of roof is among one of the most beautiful roofing materials. And, because of its prime and aesthetically pleasing looks, manufacturers of roofing materials like asphalt shingles try to mimic the slate color and look.
However, it has its drawbacks that include: 
1. Slate Is A Heavy Material
When you decide to use it to cover your home, you have to ensure that the building can withstand the weight of the slate roof. Therefore, you should talk with your contractors to ensure your home is able and ready to accommodate it. 
2. Slate Roofing Is Expensive
The roofing is considered one of the most durable and lasting roofing materials in the market. However, it might cost you almost 4 or 5 times the cost of Asphalt shingles roofing.
7. Spray Foam Roofing
Spray foam roofing is done through three parts; 
Silicone coating
Polyurethane foam spray
Granules
The spray foam used in roofing is made from heating two chemicals. The two chemicals are pumped from a truck via a heated hose pipe and then sprayed on an existing roof. The foam then settles and increases in size to about 1.5 inches. The thickness of the foam roof is deliberate, and it is set the same way for every roof.
Spray foam roofing can cost you about 7000 dollars to 9000 dollars. A few determinants such as slope and size will be considered when estimating your payment amount. 
8. Modified Bitumen Roofing
Modified bitumen roofing is an asphalt-based material made for buildings with a low slope or almost flat roof structure. The modified bitumen roofing originated in Europe in the mid-1960s but was embraced in America years later.
The main benefit of modified bitumen roofing is that they are made to withstand extreme weather conditions. The roof has five layers, and it is considered one of the most trustworthy roofs.
Some other benefits of this roof include:
Proven waterproofing ability
Broad application methods
Suitable for areas with extreme conditions like winds, hail, snow, etc.
The roofing material is supplied with a long warranty.
They come with insulation already installed.
9. Other Materials That Are Used For Roofing Include:
Hidden fastener metal panels
Exposed fastener metal panels
Liquid applied to the roof
Build up roofing
What To Consider When Choosing Your Roofing?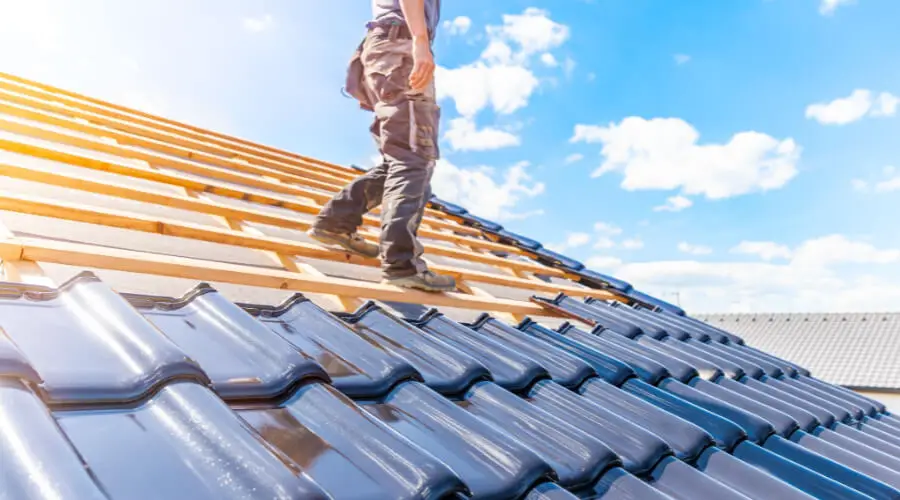 With so many options for roofing materials in the market, do your research and consider talking to a roofing expert before making a decision.
Some of the factors that should guide you include:
The Material Weight
Some available materials might be too heavy to be held up by the structure of your roof. You need to pick a material that will not collapse on you once it has been put up. There are heavy and light materials available for your choice.
The Durability Of The Material
The durability of the material is essential. You do not have to keep replacing your roof every once in a while after it is worn out. So, go for roofing that will last you longer. 
Overall Cost
The amount of money you will spend on purchasing the material and installation should not be too tasking for you. Materials in the market are too many, and therefore you should opt for a suitable one within your price range.
Maintenance Requirement
Picking a material blindly can lead to some complications in the future. Knowing the maintenance of your roofing of choice is important; it will have you mentally prepared for future repairs. 
Variety Of The Material
Some materials have many color varieties that you can choose from. The colors available can help you achieve that crisp look you have envisioned in your head. So, depending on the finishing of your home, you might want to consider a material that gives you many color and design options.  
Final Thoughts
Roofing is a necessary and almost compulsory part of the building. Therefore, if you intend to build your dream home or commercial premises, you have to make the right decision on suitable roofing. Talk to experts, do your research, and choose one based on the weight, durability, cost, maintenance required, and desired house finishing.
References:
https://expertcivil.com/what-is-roof-and-its-types/
https://www.forbes.com/home-improvement/roofing/types-of-roofing-materials/
Emma is a graduate of Domestic Science or Family and Consumer Sciences (Home Economics) from the University of Wisconsin. She has 7 years of experience Working with the strategic section of BestBuy and now writing full-time for Homeeon.
From Managing the Home, Interiors, Cleaning, and Exteriors to Gardening and everything about Making A Home Liveable – is her passion and this Homeeon is the result of this.
Emma loves decorating her home with the best stuff found online. She cares about quality over anything and writes reviews about them here in Homeeon. Get in touch with her over Pinterest.
Keep reading her blogs.