Last Updated on July 31, 2023 By Emma W. Thomas
The cost of a home gym can vary significantly, ranging from a few hundred dollars for basic equipment to several thousand dollars for more extensive setups with high-quality machines and accessories.
How Much Does A Home Gym Cost?
Home gym costs vary extensively based on the quality of equipment, the type of equipment, and the size of the gym. Here are some categories of expenses that need to be considered along with an estimated average price range.
1. Small Size Home Gym
A small size home gym typically consists of essential fitness equipment such as dumbbells, fitness mats, resistance bands, and a jump rope. The average cost can range between $100 – $500.
2. Medium Size Home Gym
A medium-sized home gym may include small-size equipment, and additional items like a treadmill, exercise bike, or a multi-gym machine. The cost for a medium-sized home gym usually falls between $1,000 – $3,000.
3. Large Size Home Gym
For those looking at creating a large, comprehensive home gym complete with high-end, commercial-grade equipment such as state-of-the-art cardio machines, complete weight sets, power racks, and more, the investment can range from $5,000 to over $15,000.
| Home Gym Type | Cost Range |
| --- | --- |
| Small Size Home Gym | $100 – $500 |
| Medium Size Home Gym | $1,000 – $3,000 |
| Large Size Home Gym | $5,000 – $15,000+ |
4. Flooring
It is necessary to protect your floor from scratches and reduce noise while exercising. Specialized gym flooring will cost around $2 – $5 per square foot.
5. Installation Costs
If one decides to have the home gym equipment professionally installed, one should consider the additional expense of professional installation costs which can range from $100 – $1,000, depending on the size and complexity of the installation.
6. Additional Accessories
Additional gym accessories like mirrors, sound systems, fans, televisions, and lighting for creating the perfect workout ambiance can cost anywhere between $500 – $2,000.
7. Maintenance
Maintenance of gym equipment is a recurring expense and typically ranges between $50 – $500 annually depending upon the type and number of equipment.
While the initial cost may seem steep, one should consider that a home gym is a long-term investment toward health and well-being. With a home gym, one can save on traveling time, gym membership fees, and enjoy the flexibility of working out at any time.
Factors To Consider When Building A Home Gym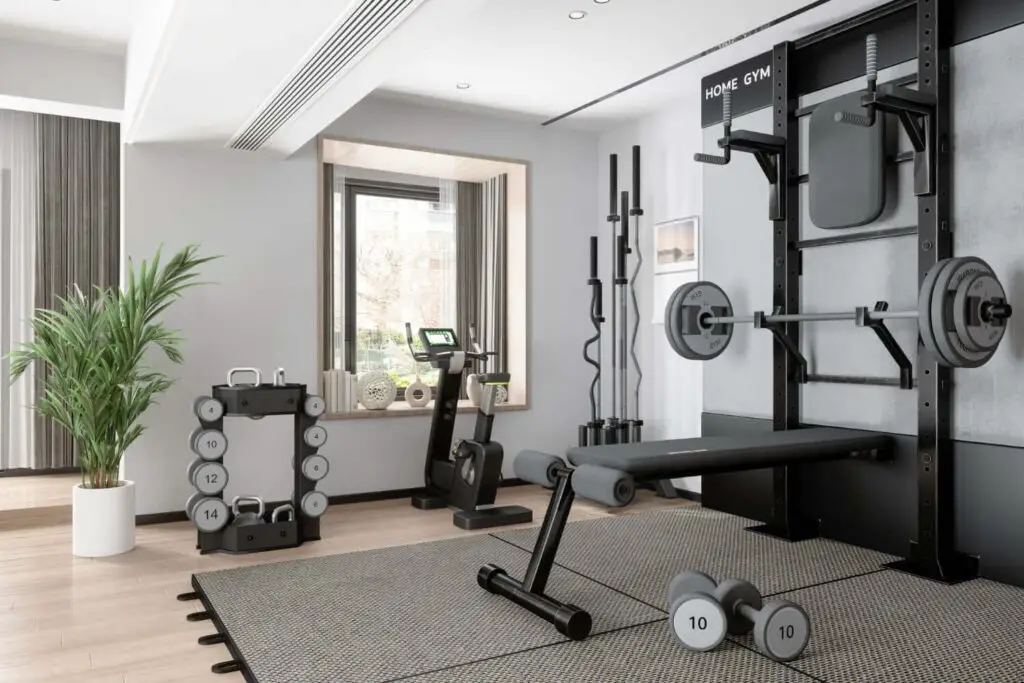 A home gym can be as simple or as complicated as you'd want it to be or as your budget allows. You can have a mini-gym by adding small equipment to an existing room in your house. A mini-gym with a small exercise bike, a yoga mat, and a dumbbell can cost about $300 on average and be suitable for some simple workouts. Your home gym will cost more if you need to change some structures, e.g. stabilizing floors, or need complex gym equipment. Below are some of the main factors that influence the final cost of your home gym.
1. Flooring:
Depending on the type of flooring you go for, the costs may range from $750 to $3,800. Examples of floors used in home gyms are:
a) Carpeting installation (Hard but durable) – $750 – $2,500
b) Rubber flooring (Soft but can grow mold) – $800 – $2,300
c) Polished concrete (Safe and durable) – $1,500 – $3,800
2. Sub Flooring:
Subflooring is a vital step in coming up with a home gym. It would help if you were sure that your floor could handle your gym's weight since repair and replacement can be quite costly. The price for replacing or repairing your sub-flooring ranges between $490 and $2,400. Work with an expert who can calculate the cost if you're uncertain that your space can bear the weight. Hiring a structural engineer will cost anywhere between $340 and $700, and they will help you come up with something workable. 
3. Lighting Fixtures And Installation:
To avoid eye strain, you'll need good lighting, and the installation will be between $150 and $800, depending on the brand and design. LED fixtures, with the ability to recreate sunlight, work best for a home gym.
4. Installing The TV:
Most gyms have TVs but do you know what their function is? A TV helps in staying distracted, especially during longer cardio exercises. Including the cost of the TV itself, the budget should be between $170 and $380.
5. Assembling The Equipment:
The cost of equipment varies depending on what you choose. We will look at some essential equipment and their cost. For now, let's look at the cost of installing the equipment in your home gym. As each piece takes 2 hours to install, the cost of fitness equipment assembly is between $85 and $95.
6. Mirror Hanging:
Mirrors help in making a small space appear bigger and also improve the quality of your workouts. They have a  price range of $150 and $460.
7. Installing Fans And HVAC For Air Circulation:
In most cases, the cost of an HVAC unit is between $2,000 and $5,000. If you're turning an unfinished room into a gym, you'll need it, and if you need some air circulation, you might similarly consider the cost of a ceiling fan installation at $140 to $350. You will spend $1,300 to $3,800 on charge for a dehumidifier if you plan your weight room in the basement.
8. Electric Wiring:
Ensure you have enough amperage to support the machines and enough outlets close to your electric workout equipment. You'll need to replace the electric panels and add on the costs for an upgrade if you don't have enough power. That'll cost you between $530 and $2,100 while hiring an electrician will be a range of $160 and $500.
9. Remodelling The Garage Or Basement:
Are you considering turning your garage or basement into a home gym? Including installation, adding electricity, finishing the space, and plumbing plus heat, be ready to spend between $6,000 and $ 29,000 without the equipment. A garage model project ranges from $6,000 to $11,000 while remodeling a basement is between $11,000 and $29,000.
What Are The Costs Of Various Home Gym Equipment?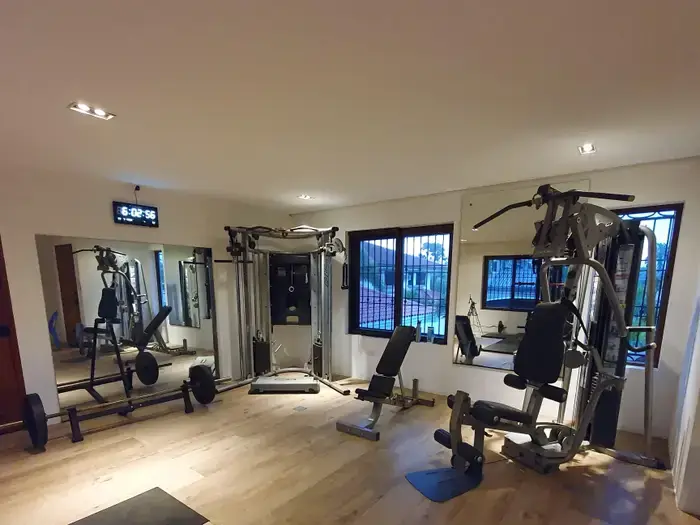 This is greatly determined by the type of workout you prefer based on the choice of weights and machines. For your gym equipment, the prices may vary depending on the brand you choose. You might spend between $50 and $5,000 for one purchase. Take a look at some of them;
| | | |
| --- | --- | --- |
| Equipment: | Description: | Price Range: |
| Kettlebell  | Some movements are unique, work better, and are more challenging with a kettlebell, though many movements can be similarly done with a dumbbell. Go for those without a painted coating and big smooth handles. | $20-$100 |
| Dumbbell  | To accommodate different exercises and the strength you will be gaining, get 3-5 sets in a range of weights. The most comfortable for working out and lasting longer is the hex-shaped dumbbells with black rubber coating. | $50-$300 |
| Resistance training system | Similar to outdoor running, the treadmill helps in burning calories. They improve lung function and allow you to pump your cardiovascular health.  | $300-$500 |
| Elliptical  | This lets you move your legs in oblong rotations working your glutes, calves, and squats. They're also less impactful to the joints. Working the biceps and triceps like skis while exercising, they have a great strength training component with poles that your hand grip. | $300-$2,000 |
| Treadmill | For the barbell, you need some weights. There are 2.5#, five #, ten #, 25#, and 45# weights if you are equally strong. Ensure you go for rubber bumper plates if you're planning to train for the Olympics. | $500-$1,500 |
| Weight plates | These are good for traveling or home gym for they are lightweight. They add a whole lexicon of gymnastic exercises with the ability to increase the variety in your workouts, so get a brand that is easy to hang and lightweight.  | |
| Barbell | They bring stabilization and coordination effects to your workouts and are much better than gym machines. Consider purchasing a women's bar which is well-made and neither cheap nor expensive. Also, pay attention to the diameter of the bar if you have small hands.  | $50-$300 |
| Jump rope | This works your coordination in a big way as fantastic cardio. Don't worry about the details but get a durable rope if you're a beginner. Go for a weighted rope to work on strength and a wire lightweight rope for speed if you have a jumping skill. | $5-$100 |
| Pull up bar | You can use this on several basic gymnastic exercises and not just pull-ups. Mount a bar on an archway or part of a wall or get those built for doorways.  | $50-$200 |
| Medicine ball | This is a great tool for core strength movements as well as plyometric exercises. Emphasizing speed and power, err on the lighter side if you are unsure about your weight. When doing exercises involving catching or throwing it, get a soft medicine ball to be forbearing. | $$100-$300 |
| Rings | These are good for travelling or home gym for they are lightweight. They add a whole lexicon of gymnastic exercises with the ability to increase the variety in your workouts, so get a brand that is easy to hang and lightweight.  | $30-$100 |
Conclusion:
You can build a home gym in an existing room by hiring a professional remodeler for more extensive remodels and larger weight rooms. Turning your garage or basement into a home gym will take a period of three to six weeks and have all the equipment installed. You can also get the equipment from large retailers like Target and Walmart or most sporting goods stores. Other advanced equipment is only available on websites from specific manufacturers.
A home gym is an asset to your fitness journey, and you can choose to start small and build it up or buy everything all at once. You can choose to buy only the equipment you need and already use at your gym or challenge yourself to try new things. Consulting and working with professionals will make your work much easier and more cost-effective. We hope that this post enlightens and inspires you to start your home gym project. We wish you the best of luck!
References:
https://www.garagegymreviews.com/how-much-does-home-gym-cost
https://www.bobvila.com/articles/home-gym-cost/
Emma is a graduate of Domestic Science or Family and Consumer Sciences (Home Economics) from the University of Wisconsin. She has 7 years of experience Working with the strategic section of BestBuy and now writing full-time for Homeeon.
From Managing the Home, Interiors, Cleaning, and Exteriors to Gardening and everything about Making A Home Liveable – is her passion and this Homeeon is the result of this.
Emma loves decorating her home with the best stuff found online. She cares about quality over anything and writes reviews about them here in Homeeon. Get in touch with her over Pinterest.
Keep reading her blogs.