Last Updated on June 20, 2021 by
Yes, U-Haul has its drivers, usually referred to as transport drivers. They mainly deal with transporting inventory to rental locations, especially in cases of one-way moving. They also have shuttle drivers who move vehicles between different stations and areas. These drivers are not involved in carrying renters and their luggage. 
How Does U-Haul Driver Insurance Operate?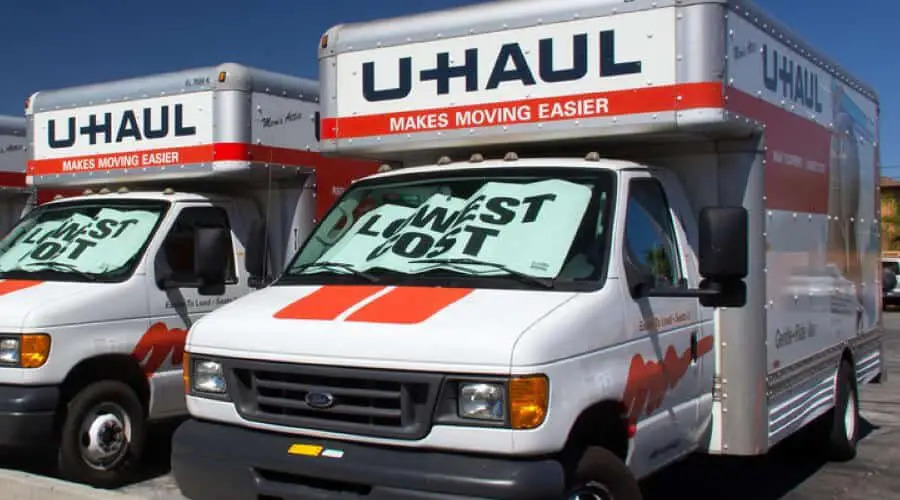 The most comprehensive insurance cover by U-Haul is known as a safeplus. It covers the hired driver, with their driving license being the only requirement. They are added as additional drivers onto the cover, and from there, they can freely operate a U-Haul track. Before a hired driver is added to their insurance cover, they are thoroughly vetted, and then their information is added online or in any U-Haul location. Usually, this information is handed over at the location where you pick up the truck. 
Why Go For A Hired Rental Truck Driver For U-Haul Trucks?
It is challenging and stressful to drive a U-Haul truck, even for a distance as short as moving across town. Additionally, you need licenses to show that you can operate such tracks, and the acquiring process is very long. Some of the benefits of using hired rental truck drivers include; 
1. You still get a chance to have a unique and planned DIY move and save on some money. Additionally, you get to utilize professional U-Haul moving services.
2. Hired rental truck drivers are trained for both long and short distances making them the best option when moving within and out of your local area.
3. U-Haul trucks and other moving rental trucks are hard to operate, making it dangerous for any person who is not well trained to use them. Most of these drivers have perfect knowledge of routes to follow to avoid low bridges and power lines, among other potential road hazards such as traffic and heavy vehicle laws. Such things are too complicated for a person who is not well versed in driving U-Haul trucks.
Other benefits include convenience and reliability associated with scheduling as they are available on phone calls and physical visits. They offer door-to-door deliveries, have no hidden fees, and provide a stress-free and safe moving experience using the U-Haul trucks.  Most hired rental moving truck drivers are insured and reliable; hence there are minimal delays.
What Are The Advantages Of U-Haul Truck Rental?
During the moving process, many decisions are required, like planning how to transport your item to a new location. Some of the advantages of U-Haul truck rental include;
Different Truck Sizes
U-Haul has trucks in all sizes, and the choice is upon you to decide on the one that will suit your needs best. The truck sizes range from an 8-foot pickup truck to a 26-foot moving truck. You choose the vehicle size depending on the amount of luggage you intend to move.
Convenience
Most U-Haul tracks are designed with unique features to enhance their convenience. For instance, all moving trucks come with engineered features to make loading and offloading easy. They have loading decks as low as possible, making it easy to load using a freight truck. Other trucks, such as trucks 15-foot have wide and sturdy loading ramps enabling you to roll your items up into the car using a dolly instead of lifting them manually.
Enhanced Safety
U-Haul cargo vans and trucks are equipped with rub rails and tie-downs to ensure that your items are secured in transit. Some of their trucks come with a mom's attic (a convenient compartment resting above the cab of a truck) to hold fragile items such as electronics and glass items. It helps to prevent putting such things at the same level as other heavier items. Their trucks also come with large mirrors and cans, enhancing their visibility when driving and seat belts for the driver's and passenger's safety.
Affordability
Moving luggage from one location to another should not cost you so much. U-Haul has affordable rates with rental trucks starting from as low as $19.95, including mileage and fuel for local town moves. U-Haul trucks have fuel-efficient engines and use unleaded gasoline, which is good news to your pockets. They also come in low-profile designs and enhanced aerodynamics which helps to save on fuel.
Free Storage For A One-Way Rental
When you hire a one-way U-Haul truck, you can receive a month's self-storage for free in the participating locations. Self-storage involves a unit near your place of origin and the destination of where you are moving your items. You benefit by getting the perfect solution to get some things out of the house during and after moving.
Towing Capabilities
U-Haul has box trucks and pickups which have towing capabilities of all-size vehicles. They come with ample extra space outside the track that you can use to pull your car for easier travel. 
No matter the size of your luggage, whether big or small, U-Haul truck rental is perfect as they make your moving easier.
How Do You Choose The Correct Size U-Haul Rental Truck?
Deciding on the right U-Haul moving truck is one of the most critical aspects that enhances a safe and pleasant move. When you go for a rental truck that is too small, you will be involved in issues such as going for more than one trip, which could be too expensive, especially if moving cross country. To know the size of rental truck you need, begin by going through your rooms listing the major furniture pieces. The furniture and oversized items are the first things to indicate the moving truck size you need.
After listing the large items, you can visit the U-Haul website page and post the list. From there, they will give you guidelines on the best equipment that best matches your need. They do this using two standard methods, which include;
The Number Of Your Bedrooms
It is the simplest method to determine the size you need. Using the number of bedrooms in your house helps the U-Haul company to estimate the capacity based on the typical furniture found in a bedroom. For instance, a standard one-bedroom usually contains a bed, a dresser, and two nightstands. The table below provides a guide to help you decide on the size of rental truck you should use based on the number of bedrooms of your house;
| | |
| --- | --- |
| House Type/Size | Moving Rental Truck Size |
| Studio apartment/ one-bedroom apartment | Cargo van or a 10-foot moving truck |
| Two-bedroom | 15-foot moving truck |
| Three bedroom | 20-foot moving truck |
| Four bedrooms or more | 26-foot moving truck |
By Cubic Feet
U-Haul company also uses the cubic feet of their trucks when the number of bedrooms fails to serve the purpose. It involves measurements and calculations whereby the numbers are entered in a specific online calculator. In addition, you can use the general rule of thumb where every 150 to 200 cubic feet truck space takes per room furniture. However, this is just an estimate; hence, you will have to allow more space for a highly furnished room.
What Does U-Haul Insurance Cover?
U-Haul rental truck insurance covers are known as safemove. The basic one covers three protections, whereas there are more safemove plus options known as supplemental liability insurance. They cover property damage, legal action taken by third parties, and body injury acquired by the truck driver. The insurance amount payable depends on the extent of coverage you want during your move.
The three protections covered by safemove insurance include;
1. A non-deductible waiver which pays for any accidental damages to the U-Haul rental truck
2. Cargo coverage caters to damages to your belongings. In this case, there is a $100 deductible amount which covers up to $25,000 and $15,000 for one-way movers and local renters, respectively. It protects your belongings against fire, windstorms, and damages from overturned trucks.
3. There is also a $1,000 medical bill coverage in case of an accident. It also comes with a $15,00 life coverage insurance in passenger death and $25,000 for the demise of a lessee.
U-Haul insurance does not cover some items, such as your car, if it is towed behind the truck. It only covers things that are inside the truck. Despite being covered in cases of fire, you are not covered in the event the truck suffers mechanical damage such as drive train problems or transmissions. However, this is different in some states, and it is essential to go through their fine print before going for the U-Haul rental truck.
Conclusion
U-Haul has drivers though they are not involved in renters moving. Their main job is to move the trucks to various locations for ease of access for their clients. For instance, sites that are popular for people to move require excess trucks. The U-Haul drivers will need to move them in such places, which could be across a state or country. You require to hire your truck driver whose details are submitted to the U-Haul company for vetting you renting the truck.