Last Updated on August 3, 2023 By Emma W. Thomas
To get a cable company to run a cable to your house, contact them to inquire about service availability in your area. Schedule a site visit to assess feasibility. If possible, sign up for their service, and the company will install the cable accordingly.
How Do You Get A Cable Company To Run A Cable To Your House?
Getting a cable company to run a cable to your house involves several steps. Here is a step-by-step guide on how you can make this process happen smoothly.
Step 1: Determine Your Needs
The first thing that needs to be done is to understand your specific needs. This includes deciding on the type of service you want (Internet, TV, telephone, etc.) and the package that best caters to your consumption patterns.
Step 2: Do Your Research
Research different cable companies and the packages they offer. Consider factors such as price, customer reviews, connection stability and speed if you're subscribing to internet service.
Step 3: Reach Out To The Company
Once you have decided on a provider, reach out to them. You can do this either online, by telephone, or by visiting a company store. Discuss your needs, and they will suggest the best package for you.
Step 4: Schedule An Installation Date
After your order is placed, schedule a convenient date and time for cable installation. The company will send a technician to your house to run the cable.
Step 5: Prepare For Installation
Before the technician arrives, make sure your house is ready. This might mean moving furniture or other objects that could obstruct the installation.
Step 6: Installation Process
The technician would typically start by installing a cable drop, which is the physical cable running into your house. They'll ensure the cable reaches your set-top box, modem or other devices.
Step 7: Post-Installation Checks
After the installation, the technician should check to see if all services are working properly. They'll test the signal strength, internet speed, or television reception, depending on the services you've subscribed to.
Step 8: Understand Your Service
Once everything is running smoothly, make sure you understand how to use your new service, including any hardware (like modems or TV boxes) that came with it.
What Is The Process Of Cable Installation To Your Home?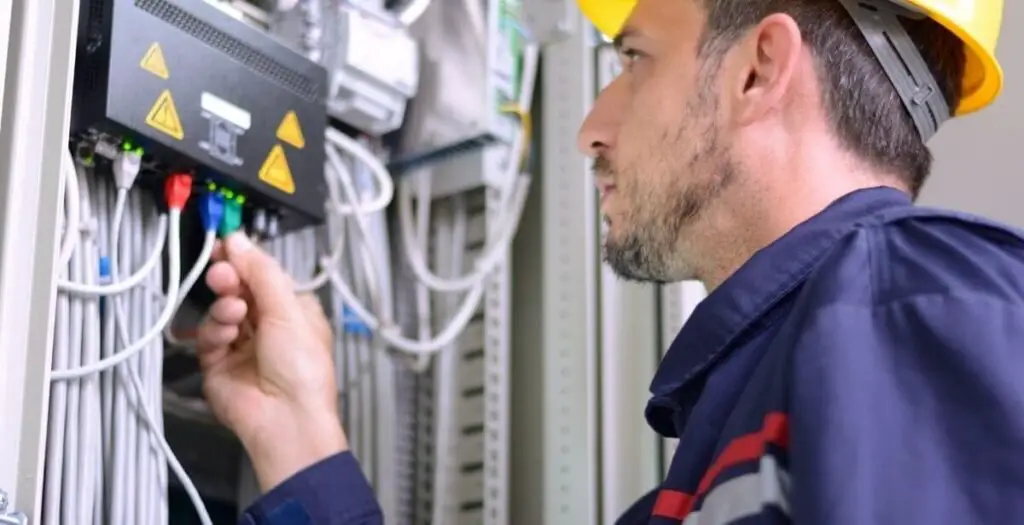 Cables bring electricity and other services to your home. Most people get them installed during the home-building process. In some other cases, one may fail to install them, or they get damaged and require re-installation. The following are the steps to follow to get a cable installation company to run one at your home;
Sending A Notification
It is the first step whereby an individual is required to notify the cable company. Here, one requests what needs to be done. Whether it is maintenance or repair, re-installation, or first-time installation, this enables the company to make plans on its way forward. The company gets back to a client by sending an email or a text informing you of the processes involved in installing cables to the home.
Cable Company Expert Visit
During this visit, the specialist carries out a simple survey of the home yard where the installation is required. They mainly look out for sprinkler systems, invisible dog fences, among others. The main reason is to ensure that there will be no interference during installation with such facilities. They also familiarize themselves with the place before installation time to create familiarity.
Submission Of Request To Underground Utilities Locate
 Underground Utilities locate is a group of companies involved in gas and electricity installation. They are mostly referred to as utility companies. Before installation, they must visit the site to identify and mark where other underground cables are installed. This check is usually done before installing other cables to prevent damaging pre-existing ones during the process. They use flags, chalk markings, or spray paint to mark where their utility cables are buried underground.
Utility Marking
Utility companies visit the home after receiving a request. Utility companies' locators do the actual marking of other underground cables, and they provide a go-ahead notice to the cable company.
Assigning Tasks To The Installation Crew
After all the markings and labeling of underground cables' possible location, a working crew from the cable installation company is assigned. They set a schedule, and the homeowner is notified of the date and time of installation. Scheduling allows homeowners to be prepared, and those willing to be present during the installation can share their availability schedule. They also provide a time range of when the entire installation process will be complete.
Completing The Cable Drop
It is the last step which involves the actual dropping of cables. It is first removed for people who had requested a temporary cable; then, a permanent one is dropped. Dropping cables marks the end of the installation, and clients can enjoy their services.
What Causes A Delay In the Installation Of Cables?
Cable dropping and installation usually take around 14 working days from the date of notification. Sometimes some delays occur occasionally. They can be caused by;
Permits Issues
Since the installation of cables tampers with the environment, permits from relevant authorities are vital. Some permits are easy to acquire, while others require some time to process. Some require assessment by health officials and environmental officials for a go-ahead of installation. In some places, especially in busy towns, a lot of underground wiring is done since they are highly inhabited. Mainly, permits processing and approval take between 5-30 days.
Prevailing Weather Conditions
Cable installation is highly dependent on weather conditions in a place. During rain and snow seasons, cable installation is almost impossible to carry out. Snow and rain may cause damage to instruments used in the process. Additionally, digging may be impossible and can cause a tremendous delay in installation. Such delays are unpredictable, and cases such as flooding and ground freezing can take even more than seven days.
Underground Utility Companies
Like permit-issuing companies, cable installation companies have to wait until utility companies give them the go-ahead. They have to wait until their ground is cleared of pre-existing cables and whether their installation will affect them or not. Some utility companies are difficult to schedule causing a delay in the survey process. A delay in marking by the utility companies causes a general delay in cable installation.
Other Causes
Causes from within the cable installation companies, such as damaged facilities to carry out the installation, may also delay the process. Other causes could be festivals and holidays that may limit access to one's home yard, causing delays. In this case, the cable installation company contacts their clients, and an explanation is given. Additionally, they provide alternatives that will ensure a complete installation. 
Methods That Companies Use To Install Cables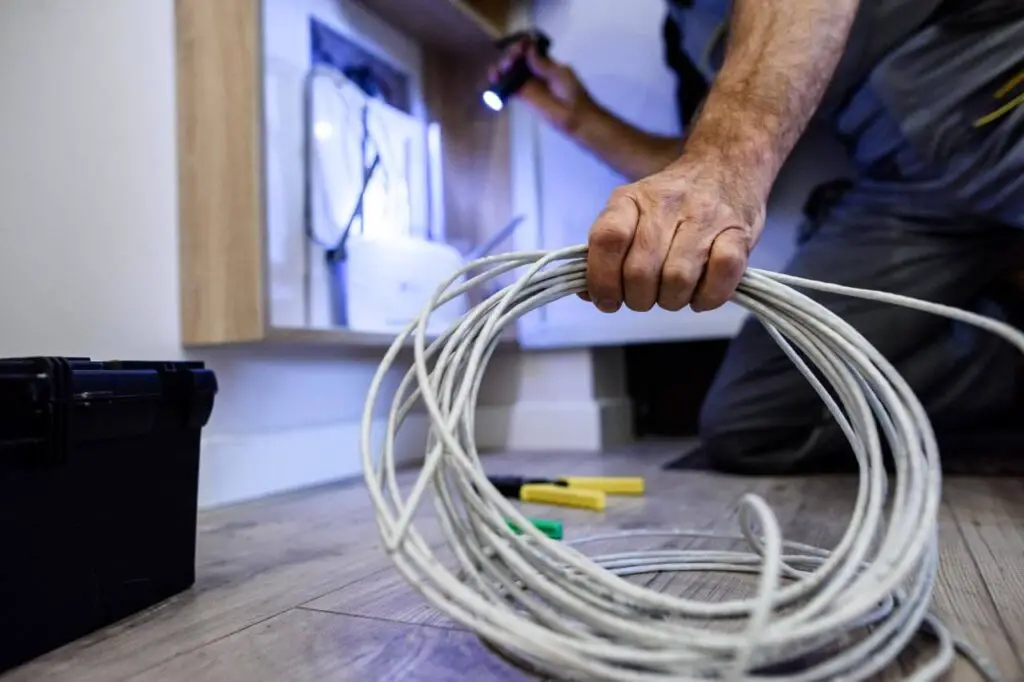 There are a variety of ways in which cable companies can use to install or drop cables in a home. They all depend on reliability, safety, quality, and the costs involved. These methods include;
Open Wire Method
This method involves the use of uninsulated conductors mounted on poles or high structures. The conductors have thin covering to cover them from corrosion and abrasion. The advantages involving this method of cable installation are their low costs and ease of damage detection. Their maintenance and repair are also less complicated, and less labor is required. On the other hand, using an uninsulated conductor creates a health hazard. They are also highly susceptible to damages and electrical outages from short-circuiting caused by birds. Such damages attract additional maintenance costs, which can be very expensive, especially in high-contamination areas. Such open conductors are also prone to the effects of lightning. However, this can be minimized by using lightning arresters and overhead ground wires. 
Aerial Cable Method
This method is similar to the open wire method. The difference is that fully insulated conductors are used. The aerial cable method is safer and more reliable compared to the open wire method. These conductors require very little or no maintenance as they are not susceptible to damage from birds' casual contact. They are not associated with safety hazards as they are well-insulated and protected. Their only disadvantage is that they require vertical clearance over roadways and high structures. They may cause accidents on the road, especially when high-boom trucks are involved. 
Installation of these aerial cables requires other considerations such as support. It could be poles or other high structures. Distance is a factor to be considered since aerial cables cannot be run over long distances. If running for long distances, a light-insulating material such as aluminum is used. These conductors reduce the weight, which is likely to cause sagging of the cables. Such cables are likely to cause accidents.
Above-Ground Conduits Methods
Cable companies prefer to use this method as it is the best among all above-ground cable systems. They use rigid steel conductors, which provide a very high degree of protection from any form of mechanical damage. This feature makes them superior to other conduit systems. Depending on their intended use, materials other than steel can be used. They include fiber and asbestos cement ducts, intermediate-grade steel, thin wall EMT and rigid aluminum.
Underground Ducts Method
 This method involves running conductors or cables underground. It is mainly used in cases where high safety levels and protection are required, for example, around schools. They are also used in places where above-ground cables create an unattractive look, such as cities. Some of the most used cables are made of rigid steel, fiber, and plastic as they do not require extra mechanical protection. On the other hand, asbestos-cement conductors are enclosed in concrete for protection against mechanical damage. The cables used in this case must be all-weather suitable and able to resist abrasion during installation.
Underwater Method
 It is also known as the submarine method. Cable companies only use this method when all other methods cannot be used. It is used to supply cable services in circuits that must pass through expanses of water or in swampy terrains. An asphalt-impregnated is applied over a lead sheath to reduce mechanical damage to cables. A wire armor is also applied over the jute to prevent electrolytic corrosion of the cables. In most underwater methods, cables are wrapped in spirals using galvanized steel wire to provide multi-conductor protection.
Conclusion
Cable companies undergo a lot of hustle to ensure homes enjoy services. Whether the installation is for electric cables or gas cables, the procedure is almost similar. However, most gas cables are underground as they have a higher risk pool. Electric cables can be run either overground, or underground, and in exceptional cases, they can be run underwater. Cable installation requires permits from relevant authorities as their effect differs depending on location. Their installation is highly dependent on environmental factors, and an assessment must be carried out before a go-ahead notice is issued. 
References:
https://computenext.com/how-to-get-internet-company-to-run-cable-to-your-house/
https://www.quora.com/How-do-I-get-an-Internet-cable-to-run-to-my-house
Emma is a graduate of Domestic Science or Family and Consumer Sciences (Home Economics) from the University of Wisconsin. She has 7 years of experience Working with the strategic section of BestBuy and now writing full-time for Homeeon.
From Managing the Home, Interiors, Cleaning, and Exteriors to Gardening and everything about Making A Home Liveable – is her passion and this Homeeon is the result of this.
Emma loves decorating her home with the best stuff found online. She cares about quality over anything and writes reviews about them here in Homeeon. Get in touch with her over Pinterest.
Keep reading her blogs.