Last Updated on July 20, 2023 By Emma W. Thomas
The dishwasher width and size play a crucial role in choosing the right appliance for your kitchen. Standard dishwasher widths are typically 24 inches for full-size models and 18 inches for compact versions. The height and depth may vary but are generally standardized to fit most kitchen cabinets and countertops. Consider the capacity and place settings when selecting a dishwasher size. Full-size dishwashers can hold around 12-16 place settings, while compact ones hold 8-10.
Dishwasher Dimensions 
| | | | |
| --- | --- | --- | --- |
| Type of dishwasher | Width | Depth  | Height  |
| Standard  | 2 inches | 24 inches | 35 inches |
| Standard compact size | 18 inches | 22.5 inches | 32.5 inches |
| Slimline | 17.7 inches | 24 inches | 35 inches |
| Convertible Built-In | 24 inches | 23.75 inches | 34 inches |
| Portable Wheeled | 2 inches | 20.75 inches | 34 inches |
| Portable Countertop | 20-25 inches | 23 inches | 25-28 inches |
| Custom | 30-45 inches wide | Varies | Varies  |
Standard Dishwasher Dimensions 
Most companies that deal with appliances have made a standard size for their devices, including dishwashers. This is to minimize the problem of getting the wrong measure of appliances. So, most dishwasher models come in standard measurements. The standard measure usually is 24 inches wide, 24 inches deep, and 35 inches tall. 
The standard dishwasher is deemed to fit in the space of most new homes and be enough to handle the requirement of an average family. If you would frequently wash large loads of dishes, this is the correct dishwasher for you. 
Like other appliances, a standard-size dishwasher comes with some features. It has a drop-down door and stainless steel front. Some individuals prefer to have a leaf of their cabinetry attached to the dishwasher front to blend well with their kitchen. 
A standard-sized dishwasher usually requires about 2.4 gallons of water for every load. It is the most energy-efficient among the three other dishwashers. So, if you are much concerned about your electric bills, then a standard dishwasher is the best for you.
Standard Compact Sized Dishwasher Dimension
This type is also known as a space-saving dishwasher and is best for smaller kitchens. 
The compact dishwasher measures 18 inches wide, 22.5 inches deep, and 32.5 inches tall.  Even though it is smaller than the standard-sized dishwasher, it operates perfectly like others. 
However, because of its smaller size, it holds fewer dishes compared to its counterpart. If you are staying in an apartment or condominium, then a compact dishwasher is ideal for you. You can still use it for secondary kitchens in your pool zones. 
Some compact dishwashers come with visible controls, whereas others come with hidden panels. Other models have towel bar fronts, seamless profiles, and stainless steel finish. Compact dishwashers typically stay with the house, so it is not the ideal option if you are renting your home or apartment.
Slimline Dishwasher Dimensions 
This kind of dishwasher strikes a balance between a full-sized and a compact dishwasher. It tends to be higher but narrower than a compact dishwasher. When compared with a standard dishwasher, the case is a bit different. The height is the same but is much slimmer. Therefore, it can wash more dishes than a compact dishwasher but less than the standard one. Its measurement is 17.7 inches wide, 35 inches high, and 24 inches deep. 
Convertible Built-In Dishwasher Dimensions 
If you are looking for a dishwasher to move into another house or apartment, the convertible built-in dishwasher is the one. In short, it's the ideal dishwasher size that provides the best of both worlds. What makes this dishwasher more outstanding is its freestanding and portable features. The measurement for this type of dishwasher is 24 inches in width, 34 inches high, and 23.75 inches deep. 
Portable Dishwasher Dimensions 
If you have a small household or you are on a tight budget, then a portable dishwasher is the best option for you. 
The portable dishwasher comes in two types: wheeled and countertop. 
Portable Wheeled Dishwasher 
This one can be positioned in a dishwasher opening like the built-in dishwasher, providing enough clearance for it. You ought to have a permanent water source to use a wheeled portable dishwasher.  Its measures 24 inches wide, 20.75 inches deep, and 34 inches high. 
Portable Countertop Dishwasher 
Unlike a portable wheeled dishwasher, this one is positioned on the countertop. The dishwasher is small; hence it won't take up significant space on your counter. It's movable, and for it to work, you should have an outlet.  
The dishwasher should be hooked up to the sink tap, and therefore, you cannot use water from the sink when the dishwasher is operating. 
However, a dishwasher is space-saving, given that you can move it out when not in operation. But when compared to the standard-sized dishwasher, it has less volume. 
If you have a tight budget, limited space, or small families, then this type of dishwasher is the best option for you. Its measurement is 20 to 25 inches in width, 25 to 28 inches high, and 23 inches deep. 
Custom Dishwasher Size 
Any dishwasher whose size is much different from the standard size is termed a custom-size dishwasher. So, if you need a giant dishwasher, you should buy a custom oversized dishwasher size that is about 30 inches or 45 inches wide. You must be prepared to add to the cabinet size for installation; however, if you are trying to save space and require a smaller portable dishwasher, it is excellent to buy a compact or countertop dishwasher.
Other Dishwasher Types And Their Sizes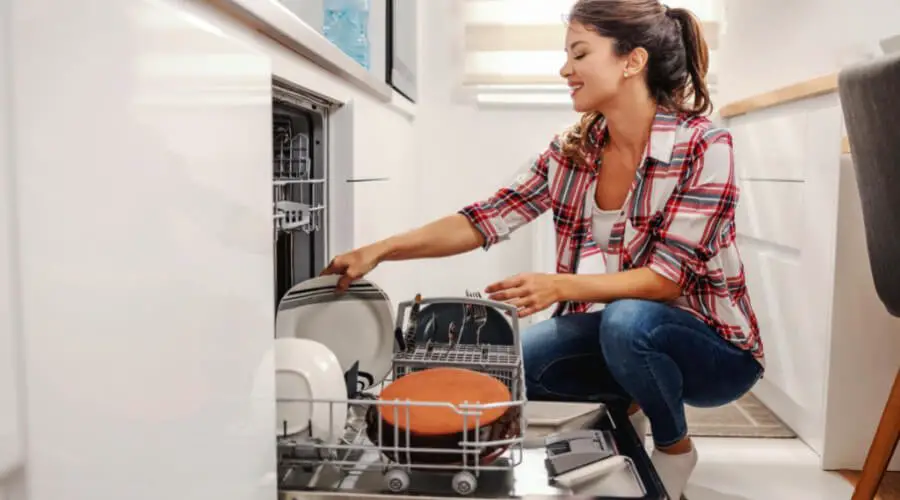 The built-in 18 
If you are looking for a dishwasher perfect for a small apartment, then a built-in 18 is the one. Its measurements are 18 inches wide, 34 inches tall, and 24 inches deep.  The dimensions help to make good use of available space in the apartment. 
The built-in 24
The measurement for built-in 24 is 24 inches wide, 34 inches high, and 23 inches deep. They are usually produced in large quantities because of their high demand. It's more appropriate for a home that houses a family. When acquiring this dishwasher, you will require a clearance of 24-25 inches wide, 24 5/8 – 25 inches deep, and 33 7/8 – 35 inches high. A clearance of 49 7/8 inches is required to open the door of the dishwasher altogether. 
Convertible Portable Dishwasher 
If you are looking for a two-way dishwasher, then it's the one. It can be used as a countertop or built-in dishwasher. 
Custom Panel Dishwasher 
It let the installation of a panel that matches the cabinet on it. A 34 1/8 – 36 inches high clearance, 21 ¼ – 24 inches deep, is needed, and 24-24 ¼ inches width is necessary for this dishwasher.
How to measure a dishwasher
Measuring a dishwasher in points usually refers to determining its capacity in terms of place settings. Here's how you can measure a dishwasher in points:
Understand place settings: A place setting typically includes a dinner plate, a small salad plate, a bowl, a glass, a cup, saucer, fork, knife, and spoon – enough dishes and utensils for one person's meal.
Identify the dishwasher capacity: Check the specifications or the user manual of the dishwasher to find the manufacturer's stated capacity in place settings.
Count the racks and tines: Some dishwashers have adjustable racks and tines to accommodate larger or smaller dishes. Ensure these are properly positioned to maximize the dishwasher's capacity.
Load the dishwasher efficiently: When loading dishes, organize them neatly, and avoid overloading the dishwasher to ensure optimal cleaning and drying performance.
Final Words
Dishwashers form an integral part of our kitchen like any other pantry appliance. Ensure you have enough space in the kitchen for the dishwasher you are willing to buy. Therefore, it is good to know the different measurement types of dishwashers available in the market.
References:
https://www.kitchenaid.com/pinch-of-help/major-appliances/how-to-choose-the-right-dishwasher-size.html
https://www.whirlpool.com/blog/kitchen/dishwasher-dimensions.html
Emma is a graduate of Domestic Science or Family and Consumer Sciences (Home Economics) from the University of Wisconsin. She has 7 years of experience Working with the strategic section of BestBuy and now writing full-time for Homeeon.
From Managing the Home, Interiors, Cleaning, and Exteriors to Gardening and everything about Making A Home Liveable – is her passion and this Homeeon is the result of this.
Emma loves decorating her home with the best stuff found online. She cares about quality over anything and writes reviews about them here in Homeeon. Get in touch with her over Pinterest.
Keep reading her blogs.