Last Updated on August 13, 2023 By Emma W. Thomas
A bar faucet is smaller and typically has a height of around 11-13 inches. It's designed for use in wet bars or smaller sinks. In contrast, a standard kitchen faucet is taller, around 15-18 inches, suitable for larger sinks and more extensive tasks.
Difference Between A Bar Faucet And A Kitchen Faucet
| Factor | Bar Faucet | Kitchen Faucet |
| --- | --- | --- |
| Size | Bar faucets generally tend to be small and compact, designed for use in small spaces. | Kitchen faucets are usually larger and can accommodate large pots and pans. |
| Purpose | Specifically designed for use in home bars or wet bars, suitable for filling small containers such as drinking glasses. | Primarily used for cleaning vegetables, washing dishes, filling pots, and other kitchen chores. |
| Water Flow Rate | They offer a lower flow rate as they're typically used for light duty tasks. | Kitchen faucets offer a higher flow rate due to the heavy-duty tasks performed in the kitchen. |
| Design | They have a minimalistic design to accommodate the bar counter space and are often sleek and stylish. | Available in a variety of designs in order to cater to different kitchen needs, including pull-down, pull-out, or double handle models. |
| Hose Length/Reach | Generally has a shorter hose or reach, as extensive reach is not typically required in a bar setting. | They often have a longer hose length or reach to allow for maximum flexibility in the kitchen. |
Bar Faucets Are Smaller And Lower Than Kitchen Faucets. 
Most people get confused about the difference between a bar faucet and a kitchen faucet. We are here to clear your doubts. Do you want to know the difference?
Okay, kitchen faucets are a wide set faucet. To be more specific, a kitchen faucet has a wide structure. Again if the faucet does not consist of two-level valves, then it will be 8″ in the center and the base plate will also come wide to cover the 8″ countertop hole in the center.
If we look at a bar faucet, then we will see it has the same height as a kitchen faucet but has a narrow valve layout of only 4″ in the center. This means the cold and hot water is at a 4″ distance. It looks like a gooseneck in order to make it easier to fill the jar and the like. This is why a bar faucet's reach is lower than a kitchen faucet.
These are designed, keeping in mind, that bar sinks are smaller than kitchen sinks. The faucets come in proportion to the sinks.
Why Are Bar Faucets Smaller?
A bar faucet is an additional workstation. It helps to maximize the functionality of the space.
It helps both sinks-related work happen side by side. 
If positioned in the right place, then it can modify the inefficient kitchen setup.
When installed on an island, it holds the ability to maximize the usefulness of the work area.
If you place the bar faucet at the end of the countertop, then you can also use it for your beverage hub.
Furthermore, if you add a beverage refrigerator under the counter and fine glassware, then you can have your own drink station.
If you place the bar faucet relatively out of the aisle, you can avert joining others to just wash an apple or drink water from the main workstation.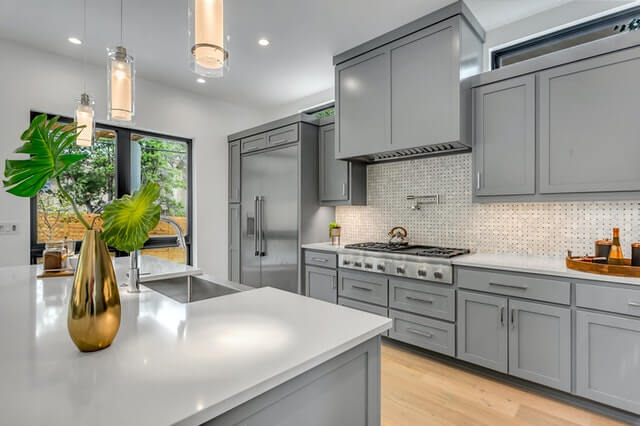 Characteristics Of Bar Faucets
Learn more about the characteristics of bar faucets below.
Choose the faucet size in accordance with the sink.
It is recommended to check whether your spout is landing over the center of the sink or not.
You can choose the under-mount installation to give a clear look at the counter.
Bar faucets are designed in both traditional two-handle models and also single-handle models.
They also come with a pull-out and pull-down spray head. You need to either pull out the spray head towards you or pull down the spray head into the kitchen sink to use them.
After that, you can spray water wherever you want. It comes with fingertip control. This allows for changing the flow of water.
Some faucet models are designed with sensors in the base and the spout. You can operate this model with touchless control mode.
The latest model comes with a voice activation where you can direct the bar faucet to start or stop the flow of water and also how much water the faucet will dispense.
The advanced models have a light indication mode to show the water temperature. This acts as a safety measure. 
How To Choose A Bar Faucet?
Buying a bar faucet can seem like a tough chore if you do not have an idea. Here are a few things you need to look out for if you are planning to buy a new bar faucet.
If you are planning for a cheaper option, you will get bar faucets with zinc alloy and plastic components. However, it is less expensive, so it would not last for a longer period of time.
You can opt for the traditional solid brass faucet model. They are strong and will last for years, but cleaning is a drawback.
The contemporary favorite is the stainless steel bar faucets because they come with a lead-free option. Moreover, it is durable and causes no trouble. 
Always prefer to use cartridge-style mixing valves over the old compression valves. Cartridge-style mixing valves are more reliable and also easier to fix.
Try to handle the faucet you wish to buy before actually buying it. This will give you an idea of quality and performance.
If the space of your workstation is small, then choose larger levers. Most people choose larger levers than small knob or handle.
You can choose any polished chrome, glossy brass finish, or matte finish according to your preferences. All come with a strong and long-lasting finish.
If you have a high budget, go for ceramic valves. They come with a pull-down spout, and touchless control, durable, and also trouble-free. Isn't it great?
Generally, bar faucets are available between $100 to $950 and more. It is better to choose a bar faucet from the middle or even higher range to get durable and trouble-free components.
Again, a professional installation will cost you around $200 to $400.
How To Install A Bar Faucet?
Basically, the installation process of a bar faucet is somewhat the same as the kitchen faucet. The manufacturers try to develop the faucets in a way to make a hassle-free installation. Apart from this, there are some guidelines you need to follow during the installation of a new faucet.
While installing a new faucet, also install a braided supply line to prevent any possibility of leakage.
Wash out the lines before connecting the lines with the kitchen faucets.
It is recommended to use two twists to fix the supply lines with the faucet shanks. One wrench is to tighten the nuts and another to keep the shank in position.
Both pull-out and pull-down spouts come with long hoses. Make sure to leave an unclogged space in your cabinet.
Tips To Maintain A Bar Faucet
Always follow the manufacturer's guidelines to clean and remove spots.
Generally, you can clean with mild soap and lukewarm water daily.
Always wipe dry the faucets with a soft cloth to prevent water spots.
To remove the calcium deposit, mix equal quantities of white vinegar and water. Dip a piece of cloth and apply it over the faucet. Leave it for an hour. Then wash the faucet with water and again wipe it with a soft dry cloth.
Make sure to avoid detergents containing bleach, ammonia, or any other harsh materials. Otherwise, it can leave a scratch on your faucet.
Top 10 Kitchen Faucet Finishes
Here is the list of the top 10 finishes you can choose for your kitchen faucets.
| | | | |
| --- | --- | --- | --- |
| Serial Number  | Name | Initial | Cost (Average) |
| 1. | Polished Nickel | PN | $8.95 |
| 2. | Satin Nickel  | SN | $8.95 |
| 3. | Unlacquered Polished Brass | UPB | $8.95 |
| 4. | Satin Brass | SB | $8.95 |
| 5. | Antique Brass  | AB | $8.96 |
| 6. | Classic Bronze | CLZ | $8.95 |
| 7. | Matte Black | MB | $8.95 |
| 8. | Stainless steel  | SS | $8.95 |
| 9. | Antique Pewter | AP | $8.95 |
| 10. | Chrome | CH | $8.95 |
What To Look For In A Kitchen Faucet While Buying?
It is not only about buying a kitchen faucet. Additionally, you have to search according to your requirements. Whether you want only a new sink, new faucet, or a new kitchen.
1. New Sink: If you are looking for a new faucet without a wall mount, then you can specify the location and number of holes on the sink deck. Then you can buy a new sink and install the faucet.
2. Old Sink: Try to find a new faucet that will require fewer holes than your sink has. Faucet hole covers are readily available in the market. But if you wish to buy a faucet requiring more holes in your existing sink, then you have to take the risk of drilling it.
3. Wall-mounted faucet: if you want a wall-mounted faucet, then look after the location of the sink and stud. It is important for the faucet to line up the centerline of the sink. If you live in a cold place, then try to avoid installing water supply pipes on the outside wall. The water supply can freeze sooner the temperature drops.
4. Size: It is better to buy an 8″ or higher arc faucet to wash large pots and dishes easily. 
5. Material: It is always better to go for the solid brass or stainless steel counterpart for its durability and trouble-free use.
6. Additional features: The most popular and advanced features available in faucets are pull-out and pull-down spout, which gives flexibility and coverage to maximum space. If you have a higher budget, you can also get the touchless sensor faucet feature.
Best Kitchen Faucet Brands
We have listed the best kitchen faucet brands for you. Check them out.
1. Delta Faucet Leland Single Handle Pull Down Kitchen Faucet:
If you are looking for the best kitchen faucet, you can choose this one. They are ideal for your kitchen. This one will tick almost all your requirements checklist.
2. WEWE Single Handle Arc Brushed Nickel Pull-Out Kitchen Faucet:
This one is ideal to fit your budget. They are inexpensive and budget-friendly faucets.
3. Moen Arbor Spot Resist Stainless One Handle High Arc Motion Sense Wave Pull-Down Kitchen Faucet: 
If you are looking for the best touchless sensor kitchen faucet, then you can go for this one. They come with advanced features like a sensor and pull-down spray heads.
Final Verdict
Bar faucets and kitchen faucets are almost the same but have a different size than the gooseneck. Bar faucets are smaller than kitchen faucets. Make sure to check the location, materials, size, and features before buying. Furthermore, research the brands and their offerings while buying a kitchen faucet or bar faucet. Cleaning faucets are not that difficult. You need to choose the right faucet for your space.
References:
https://fixturesacademy.com/the-difference-between-kitchen-faucets-bar-faucets/
https://www.mrkitchenfaucets.com/what-is-the-difference-between-a-kitchen-faucet-and-a-bar-faucet/
Emma is a graduate of Domestic Science or Family and Consumer Sciences (Home Economics) from the University of Wisconsin. She has 7 years of experience Working with the strategic section of BestBuy and now writing full-time for Homeeon.
From Managing the Home, Interiors, Cleaning, and Exteriors to Gardening and everything about Making A Home Liveable – is her passion and this Homeeon is the result of this.
Emma loves decorating her home with the best stuff found online. She cares about quality over anything and writes reviews about them here in Homeeon. Get in touch with her over Pinterest.
Keep reading her blogs.