Last Updated on July 16, 2023 By Emma W. Thomas
On average, you need approximately 10,000 up to around 50,000 dollars to start a business. These amounts cover the fee of insurance, employee wages, the price of acquiring raw materials, and day-by-day costs for a few months. After that, you need to have sufficient cash to do business without relying on the company's profits.
How Much Does It Cost To Start A Roofing Business Company?
Starting a roofing business company can be a lucrative and rewarding venture. However, it is essential to understand the costs involved to ensure a successful launch. The initial investment required to start a roofing business can vary based on multiple factors such as location, equipment, employees, and licensing requirements. While exact figures may vary, here are some facts and statistics to provide a general idea:
Licenses and Permits: Licensing fees can range from $50 to $500, depending on the location and type of license required.
Equipment and Tools: The cost of essential roofing equipment, such as ladders, safety gear, hand tools, and power tools, can range from $5,000 to $15,000 or more.
Vehicle and Transportation: Purchasing a work vehicle, such as a truck or van, can range from $10,000 to $30,000 or more, depending on the condition and specifications.
Office Space: The cost of leasing or renting an office or storage space can vary greatly based on location and size, ranging from a few hundred dollars to several thousand dollars per month.
Marketing and Advertising: Allocating a budget for marketing efforts, such as creating a website, developing a brand identity, advertising campaigns, and online marketing, can range from a few thousand dollars to tens of thousands per year.
Insurance Coverage: Costs for liability insurance, workers' compensation insurance, and general business insurance can vary based on factors such as company size, location, and coverage limits, ranging from several hundred to several thousand dollars per year.
Initial Working Capital: Setting aside funds for initial expenses, such as payroll, materials, and miscellaneous costs, is crucial. This can vary based on the scale and scope of the business but may range from $10,000 to $50,000 or more.
Factors Affecting the Cost of Starting a Roofing Company
Starting a roofing company comes with various costs that need to be considered before launching the business. Several factors can impact the overall cost of starting a roofing company. These factors include:
Type of Roofing Services: The cost of starting a roofing company can vary depending on the type of services offered. Different roofing services such as repairs, installations, or maintenance can require different tools, equipment, and training, which can affect the initial investment.
Business Licenses and Insurance: To operate legally, a roofing company needs to obtain the necessary licenses and permits. The cost of acquiring these licenses can vary based on the location and type of roofing work being performed. Additionally, obtaining insurance coverage, such as general liability and workers' compensation insurance, is crucial to protect the company and its employees, which adds to the overall cost.
Tools and Equipment: Proper tools and equipment are essential for a roofing business. The cost of purchasing or leasing tools like ladders, safety gear, roofing materials, and specialized machinery can significantly impact the initial investment. The quality and quantity of tools required depend on the size and scope of the roofing projects the company intends to undertake.
Workforce and Training: Hiring and training employees are vital considerations when starting a roofing company. The cost of recruitment, salaries, and training programs need to be factored into the initial costs. Skilled and experienced workers may demand higher compensation, increasing the overall cost of setting up the business.
Marketing and Advertising: In order to attract clients and establish a brand presence, marketing and advertising expenses should be considered. Costs may include developing a website, creating a logo, printing business cards, digital advertising, and other promotional activities. Investing in marketing can help generate leads and expand the customer base, but it can also impact the starting cost.
Location: The location of the roofing company can influence the costs involved. Setting up in an area with high demand for roofing services may increase competition, overhead costs, and the price of permits and licenses. Additionally, the cost of renting or purchasing office or warehouse space should also be considered.
Business Structure and Legal Assistance: Determining the business structure, such as a sole proprietorship, partnership, or limited liability company (LLC), requires legal assistance. Consulting with a lawyer or accountant to ensure compliance with local regulations and tax requirements can incur additional costs.
How To Start A Roofing Company?
Already knowing the amount required to start a roofing company, you have to have an idea of how to begin its operations.
Here are the steps to follow;  
1. Make A Business Plan.
As a business person, having a plan is crucial. It prepares you for any barriers that would come your way.
The startup and ongoing costs should be the first thing to mark off your checklist. A business cannot start today and be self-sufficient the following day. The starting period shouldn't focus on creating a profit; instead, finding a target market and penetrating the already existing market. 
The startup capital can be anywhere between 15,000 and 20,000 dollars. Meaning there should be a budget for ongoing charges on the side. This ensures that your organization will not struggle to keep up once the costs exceed the budgeted amount. Also, set aside some money for buying company assets like vehicles and other secondary supplies. 
Other running costs include wages, rent, overhead expenses, transportation, and office supplies. These are not the only charges in organizations; they are just a few honorable mentions.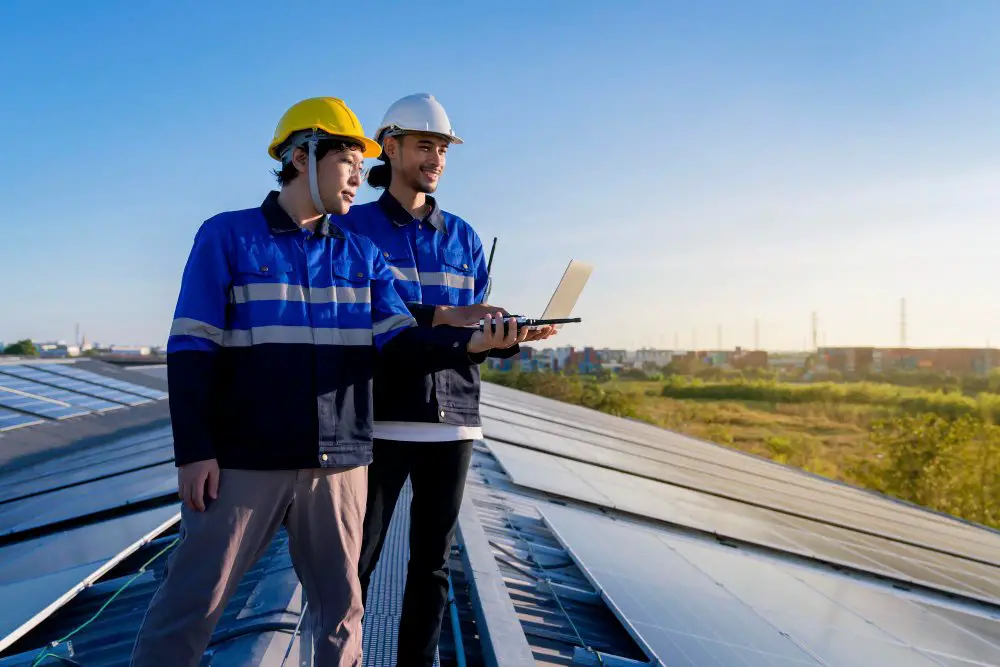 2. Identify Your Target Market
No business can exist without there being supply and demand. The roofing companies supply roofing expertise, and the consumer has the property that needs this service.
Many roofing companies prefer working under construction companies or people with multiple projects that require roofing. This way, the organization will always have consumers to serve.
Before you start your roofing company, you need to pick a market that has been deserted or is not being exploited by already existing companies. If you cannot find one, then put in strategies to attract consumers from the existing market. 
3. Decide On The Roofing Service You Will Offer
The roofing business offers different roofing services. You need to decide which service best fits your enterprise and focus on it. Services to consider include: 
1. Repairing Roofs
A leaky roof can be annoying to a homeowner. If it is not detected early, it could cause a lot of damage to the house. Your company can focus on fixing leaking roofs or provide this service, plus others. 
2. Roof Replacement
After a few years, a roof or parts can get adverse damages that need to be removed entirely and replaced. However, considering that roofs can last for long periods, you can consider this as a secondary service to offer.
3. Roof Installation
Putting in a roof is the primary function of a roofing company. You need to set up your company as a dependable provider.
4. Roof Inspection
Top roofing companies offer their clients an inspection service before a roof is set up or even after installation. A roof inspection can constitute a roofing system inspection, evaluation of work done or to be done, correcting any issues, inspection of the roof's condition, and cost estimation.
These are just a few of a roofing company's services. You can decide to combine all or choose a few of the services.
4. Come Up With A Pricing Model
Coming up with a pricing model before starting your business lets you compare and contrast with what other companies are charging. A pricing model helps set a range for the different services you offer. The charges set should match the current market prices and your company's financial goals.
Your company's services need to have a pricing model that incorporates all of the factors affecting it. Creating a profit and turning in exceptional service should be the primary goal for your businesses.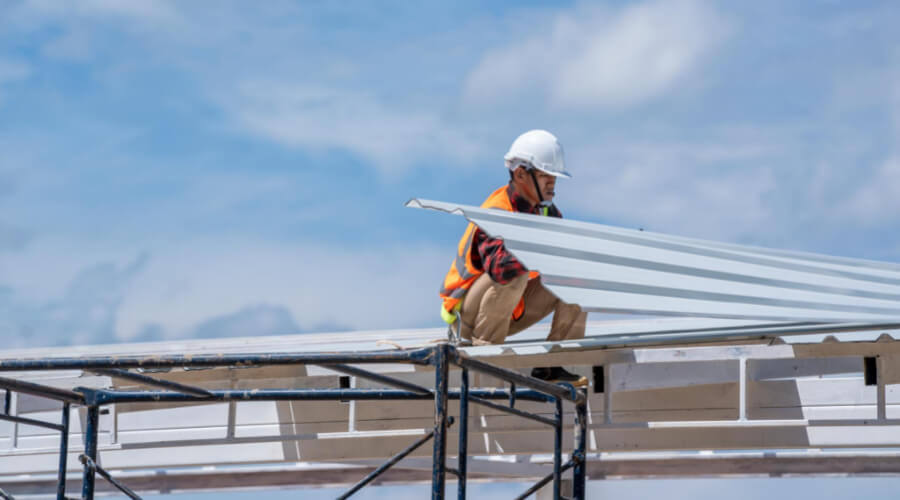 What Do You Need When Starting A Roofing Business Company?
The Company's Name And Structure
A company must have a catchy name that is easy to remember. Additionally, you have to come up with more names for the organization. This could be helpful while you head to the secretary of state to register your company's name. The other names work as a safety net; just in case, your first choice name is taken.
There are different types of business structures and companies. Some of these include:
Sole proprietor
Non-profit
Limited Liability Company (LLC)
Partnership
Joint challenge
Corporation
Cooperative
The most appropriate structure for a roofing company is the limited liability agency company (LLC). The advantage of an LLC is that it reduces your liability as to the owner and protects your interests. It offers flexibility in control, tax structure, and management.
As a proprietor in a limited liability company, you will not be liable if your corporation is sued. 
To form an LLC, you need to file Articles of organization with the secretary of state's office. After that, you select a Registered Agent responsible for receiving all legal paperwork on your behalf. The structure requires all individuals working in the company to be registered and their roles defined.
The state also requires that your company file for an employer identification number with the internal revenue service. A business must have the employer identification number when employing workers, opening the business's bank accounts, or filing tax returns. 
Business Permits, Licenses, And Insurance
Different states have different requirements for roofing companies; however, they require you to have a contractor license to work as a roofer.
The state contractors' board or your local authorities in your state take care of all of the services you need to get the permits.
But, a roofing company comes with many risks. So, it is advisable to have proper insurance cover for your business and your personnel to save you the hassle when the risks occur.
For a roofing company, you can apply for the following insurance covers.
1. The General Liability Insurance. The insurance covers the business enterprise from any liability that may arise from damages due to the employees.
2. Employee's Compensation Insurance. This covers your employees when they get injured or ill at the workplace.
3. Commercial Vehicle Insurance. This is to cover company cars. If there is an accident or the company car is damaged whilst at work, the insurance company will incur the costs of fixing or buying a brand-new car.
Other requirements include: 
A plan
Capital
Business Registration
Skilled exertions
Sales and marketing skills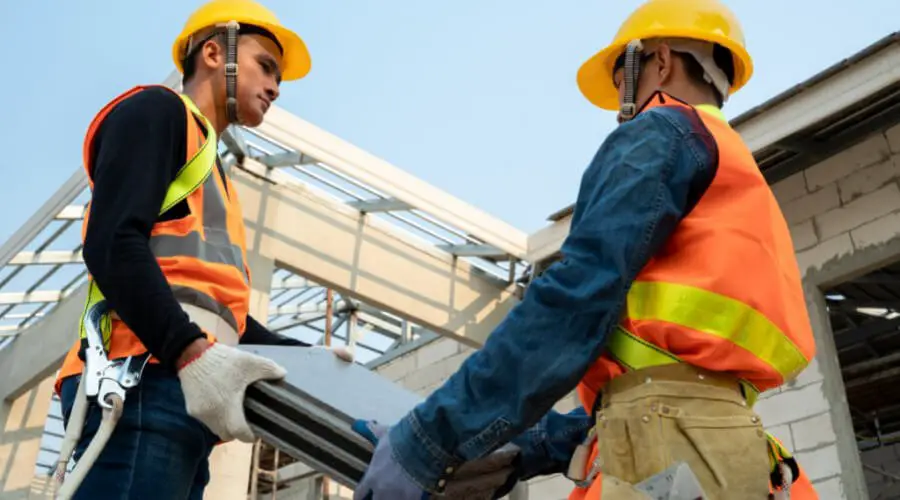 Is A Roofing Company A Profitable Venture?
There is never a shortage or decline of properties that need roofing or roof-related service. Therefore, there will always be demand as long as you remain competitive in the market.
For this reason, the roofing company is a profitable venture. Every day there is a new home, school, or hospital looking for roofing services. All you need is to identify the potential market and exploit it as much as possible.
On average, a roofing company can make 20% to 40% gross profit. A new company is not expected to hit these targets within the first year. Established roofing companies can make such profits or even more.
Do I Need Indemnity Insurance For My Roofing Company?
Yes, it is best to have indemnity insurance. As a roofing company, you need to cover yourself when you give advice to a client or work for a business that advises consumers regarding roofing.
If your recommendation to the client yields losses, indemnity insurance will cover all liabilities.
Final Thought
The cost of starting a roofing organization can range from 15,000 to 20,000 dollars. However, these expenses may increase or decrease depending on the size of the company and the materials, among other factors. But, regardless of the starting cost, a roofing company is profitable and can be a source of income for many years to come as long as you manage it well.
References:
https://www.govdocfiling.com/blog/how-to-start-your-own-roofing-business/#:~:text=Frequently%20Asked%20Questions-,1.,and%20professional%20liability%20insurance%20premiums.
https://www.profitableventure.com/cost-open-roofing-company/
Emma is a graduate of Domestic Science or Family and Consumer Sciences (Home Economics) from the University of Wisconsin. She has 7 years of experience Working with the strategic section of BestBuy and now writing full-time for Homeeon.
From Managing the Home, Interiors, Cleaning, and Exteriors to Gardening and everything about Making A Home Liveable – is her passion and this Homeeon is the result of this.
Emma loves decorating her home with the best stuff found online. She cares about quality over anything and writes reviews about them here in Homeeon. Get in touch with her over Pinterest.
Keep reading her blogs.