Last Updated on August 8, 2023 By Emma W. Thomas
The average income for a cleaning service business can range from $25,000 to $75,000 annually. Factors such as location, services offered, client base, and operational efficiency impact earnings. Successful marketing, quality service, and effective pricing strategies contribute to higher profitability.
Cleaning Business Type and Average Annual Income
| Cleaning Business Type | Average Annual Income |
| --- | --- |
| House Cleaning / Maid Services | $50,000 – $70,000 |
| Commercial / Janitorial Services | $70,000 – $100,000 |
| Carpet and Upholstery Cleaning | $30,000 – $50,000 |
| Window Cleaning Business | $40,000 – $60,000 |
| Specialty Cleaning (e.g., pressure washing, car detailing) | $50,000 – $80,000 |
With these profit margins and various areas to specialize in, you can't go wrong with a cleaning service business. If you are looking to start a cleaning service business, then you are in the right place. In this guide, we take you through everything you need to know about the cleaning business, and how to start and grow your cleaning company. Read on!
Cleaning Business Owner Salary by State in the USA
State
Annual Salary
Monthly Pay
Weekly Pay
Hourly Wage
New Jersey
Wisconsin
Nevada
Massachusetts
Minnesota
Oregon
Hawaii
Washington
New York
Alaska
Iowa
Rhode Island
Connecticut
New Mexico
South Dakota
North Dakota
Ohio
California
Tennessee
Utah
Illinois
Virginia
Maryland
Vermont
Mississippi
Delaware
Colorado
Wyoming
Maine
Kansas
Indiana
Arizona
Oklahoma
Louisiana
South Carolina
Michigan
Georgia
Missouri
Pennsylvania
New Hampshire
Texas
Montana
Nebraska
Idaho
Kentucky
North Carolina
Arkansas
West Virginia
Alabama
Florida
$119,094
$118,058
$115,625
$115,167
$113,481
$113,362
$111,767
$111,454
$111,159
$109,360
$108,824
$107,075
$106,998
$106,968
$106,781
$106,701
$105,806
$103,990
$103,566
$103,091
$101,939
$99,715
$99,667
$99,359
$99,013
$98,233
$98,087
$95,191
$95,175
$95,165
$94,790
$94,759
$94,737
$94,619
$94,567
$93,819
$93,152
$93,129
$93,016
$92,671
$92,252
$90,911
$90,356
$89,519
$87,269
$86,343
$85,706
$80,148
$80,080
$79,998
$9,924
$9,838
$9,635
$9,597
$9,456
$9,446
$9,313
$9,287
$9,263
$9,113
$9,068
$8,922
$8,916
$8,914
$8,898
$8,891
$8,817
$8,665
$8,630
$8,590
$8,494
$8,309
$8,305
$8,279
$8,251
$8,186
$8,173
$7,932
$7,931
$7,930
$7,899
$7,896
$7,894
$7,884
$7,880
$7,818
$7,762
$7,760
$7,751
$7,722
$7,687
$7,575
$7,529
$7,459
$7,272
$7,195
$7,142
$6,679
$6,673
$6,666
$2,290
$2,270
$2,223
$2,214
$2,182
$2,180
$2,149
$2,143
$2,137
$2,103
$2,092
$2,059
$2,057
$2,057
$2,053
$2,051
$2,034
$1,999
$1,991
$1,982
$1,960
$1,917
$1,916
$1,910
$1,904
$1,889
$1,886
$1,830
$1,830
$1,830
$1,822
$1,822
$1,821
$1,819
$1,818
$1,804
$1,791
$1,790
$1,788
$1,782
$1,774
$1,748
$1,737
$1,721
$1,678
$1,660
$1,648
$1,541
$1,540
$1,538
$57.26
$56.76
$55.59
$55.37
$54.56
$54.50
$53.73
$53.58
$53.44
$52.58
$52.32
$51.48
$51.44
$51.43
$51.34
$51.30
$50.87
$50.00
$49.79
$49.56
$49.01
$47.94
$47.92
$47.77
$47.60
$47.23
$47.16
$45.77
$45.76
$45.75
$45.57
$45.56
$45.55
$45.49
$45.47
$45.11
$44.78
$44.77
$44.72
$44.55
$44.35
$43.71
$43.44
$43.04
$41.96
$41.51
$41.20
$38.53
$38.50
$38.46
What Do I Need To Start A Successful Cleaning Business?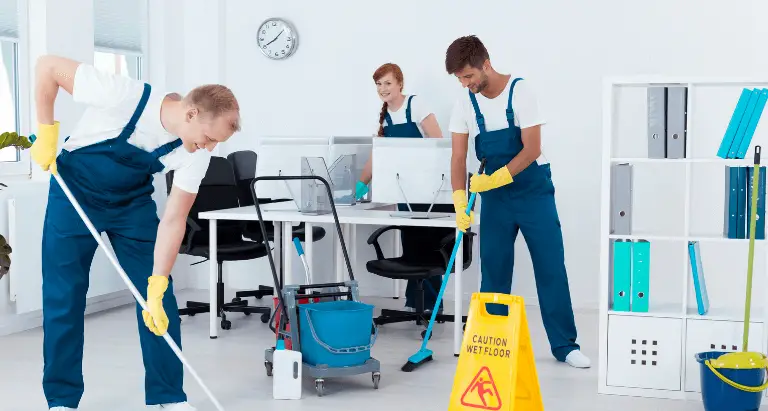 To start any business that will turn out great, you need to be informed and plan. This will help you define your business model and have everything figured out before you spend on capital. Here's a step-by-step guide on what you need:
1. Choose A Specific Niche
The cleaning business can be as comprehensive as you can imagine. You can choose to offer services like carpet cleaning, window cleaning, office cleaning, or housekeeping. When starting up, it is advisable to choose a niche as this will lower the cost of startup and labor. Starting with a few core services will also give you time to refine your processes and systems. As your business grows, you can choose to add complementary services. The ideal place to start is domestic cleaning since startup cost is low, and demand keeps increasing. You can then incorporate other services that require you to invest more and gain skills.  It is advisable to specialize in specific services since you will grow your skills faster, and you can charge more than a generalist.
2. Decide Whether To Buy A Franchise Or Start Your Business
Creating your own business or buying a cleaning franchise is a decision you need to make right from the onset. Each option has its pros and cons, and your final decision will be based on personal preference. Starting your own business needs less capital, and you have total control and flexibility. With franchising, you will need a huge amount of upfront capital, but you will enjoy getting clients who trust the brand. Choose what fits your needs and budget and get into the business.
If you end up choosing to buy a franchise, you need to know some popular companies, what type of cleaning they specialize in, and their minimum initial investment. We've compiled a list of major cleaning franchisors to choose from, depending on your specific needs. Have a look:
The maids
Stratus building solutions
Jaan pro
Vanguard cleaning systems
Maid pro
Merry maids
Molly maid
3. Register Your Business And Get All The Essential Requirements
Now that you already know your niche and how you plan to start up, we advise you to register your business and get all legal requirements ready. You need to register a business name and get insurance, and licenses. In some states, you don't require a cleaning business license, and it's advisable to check on your state's business regulation website. You also need a general liability license since most clients ask for proof of liability insurance before hiring your company. It costs about $300 per year for a general liability license.
4. Buy Cleaning Products And Equipment
The right equipment and products will go a long way in ensuring that you deliver and exceed your client's expectations. Making your client happy should be your ultimate goal since you will get repeat business and referrals. Ensure you have the right equipment to help you get the job done faster and with ease. The type of equipment you need will depend on the area of specification. You can start with the necessary equipment and supplies to cut costs, then buy equipment as your business grows. For household cleaning, we have a list of equipment and products that you will need to start.
Equipment
Products
1. uniform or apron
2. microfiber cloths
3. latex gloves
4. toilet brush
5. grout brush
6. scrubbing brush
7. bucket and mop
8. broom and dustpan
9. vacuum cleaner
10. cleaning sponges
1. All-purpose cleaner
2. Window cleaner
3. Furniture polish
4. Disinfectant
5. Wood cleaner
When buying products and equipment, go for quality to ensure they last long, and they will make your work stand out. For products, you can purchase commercial-grade as opposed to the usual products found in supermarkets. It would help if you also considered getting eco-friendly products that do not harm the environment or clients' upholstery. After getting these products, you are now ready for your very first clients.
5. Get Your Pricing Right
Value your services accordingly and come up with a suitable price. It is tempting to price your services competitively but ensure you don't make losses. Most customers would rather pay more for a premium service than save some bucks and end up with substandard work. When giving quotes to your client, factor in the size of space, the time it takes to clean, and any extra services.
You can offer complementary services as part of your cleaning package to woo and keep clients coming back. You could also consider pricing your services as a package as opposed to each service with its fee. This makes clients perceive more value making them willing to pay more. Compare prices with other cleaning service providers in your area to ensure you are within the market rate. However, it is essential to note that clients can pay even more than the market rate when service is exceptional.
6. Networking And Marketing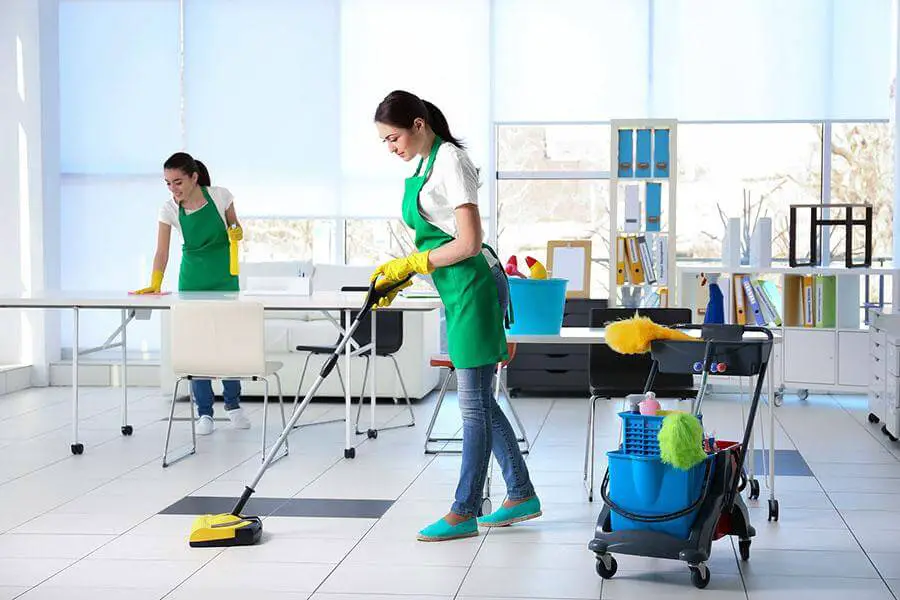 After registering your business and getting the necessary supplies, you need to put your business out there to get clients. Your social network could make your first and best clients. Tell your family, friends, and neighbours about your business. Since you want to keep costs low while still advertising your business, use social media, and free marketing tools to grow your audience. For physical marketing, make flyers, postcards, and business cards for your business. You can leave your card after a cleaning service and ask your client to pass it on to someone needing your services. Ensure you have your cards with you anytime you go to a social gathering and let people know what you do and how you can reach them.
For online marketing, ensure you have a business page on Facebook, Instagram, and Twitter. Keep your pages active with at least a post each day. Use photos of your cleaning or cleaning motivation videos to grow your following. Once in a while, do engaging posts that require feedback from your audience. These posts will help your page appear customer friendly without looking too 'salesy.' you can boost posts once in a while to reach a greater audience. When starting, you can use a free and temporary website from Google and then set up your own as you grow. Ensure you list your business on Google to make it easier for potential clients to find you.
7. Stand Out From Your Competitors
Customer experience will linger in your clients' minds long after the service is offered in the service industry. Try to make your services different from competitors in an excellent way. Doing this brings you referrals and more repeat business. You don't have to spend a million bucks for you to stand out from the crowd. Personalized service, thank you notes to clients, and going the extra mile is what will make you stand out. Position your business uniquely to be remembered. 
8. Strive For Growth
Have a plan for your business to help you keep your goals in check. Ensure that your business grows with every experience. When you expand and get more clients calling for your services, hire helping hands, and train them. Bookkeeping is also essential. You can get an accountant to help you. Keeping records is vital in monitoring your growth, and it enables you to get financing later when you need it. Proper records can also help you when applying for tax exemptions later on.
Wrapping Up
A cleaning business is a worthy investment that will help you make money and grow in your career. You don't need much startup capital, and this venture can grow into a multi-million business. It would help if you had the right skills and attitude and ensure that customer satisfaction is your number one priority. We hope that this post motivates you to start your venture and not only make a living but become rich while at it.
References:
https://www.method.me/blog/how-much-does-a-commercial-cleaning-business-make/
https://www.edomeyenterprises.com/blog/how-much-does-a-cleaning-business-make-a-year
Emma is a graduate of Domestic Science or Family and Consumer Sciences (Home Economics) from the University of Wisconsin. She has 7 years of experience Working with the strategic section of BestBuy and now writing full-time for Homeeon.
From Managing the Home, Interiors, Cleaning, and Exteriors to Gardening and everything about Making A Home Liveable – is her passion and this Homeeon is the result of this.
Emma loves decorating her home with the best stuff found online. She cares about quality over anything and writes reviews about them here in Homeeon. Get in touch with her over Pinterest.
Keep reading her blogs.