Last Updated on August 13, 2023 By Emma W. Thomas
Jamba Juice primarily uses Blendtec Stealth 885 blenders in their outlets. These high-performance blenders, often with 3+ peak horsepower and advanced blade designs, allow Jamba Juice to efficiently blend its signature smoothies and beverages.
Why Did Jamba Juice Use Vitamix Blender Before?
We all know that Jamba Juice smoothies contain hard fruits and ice. So they needed a blender that is powerful enough to break the ice into slush and blend perfectly into drinks. Other blenders often left chunks of fruits and ice and ruined the smooth experience. So Jamba Juice used Vitamix blenders before. 
But now they have their hands-on Blendtec blenders which work faster and quietly.
Which Blender Is Better Between Vitamix And Blendtec?
Both Vitamix and Blendtec blenders are good in their way. It mainly depends on the work you would use. 
Blendtec blenders have a direct effect on pulverizing food items. Its blades are massive and have a curve at their end. Blendtec blenders perform an excellent job to crush ice, frozen food, or nuts. Likewise, it can also grind and liquefy items, but it takes extra time to do so.
On the other hand, Vitamix blenders consist of both blunt blades and very sharp blades. The two upper pointed edges are more pointed than the two flat blades making it convenient for both crushing and finely chopping food items. But unlike Blendtec, it takes more time to crush hard things. Also, Vitamix has smaller blades as compared to Blendtec. 
Moreover, the users of Blendtec and Vitamix blenders said Blendtec was more comfortable operating with the touchscreen interface than Vitamix. In short, if you are looking for a blender to crush food, then Blendtec is a better option. For grinding and liquefying, you can choose a Vitamix blender.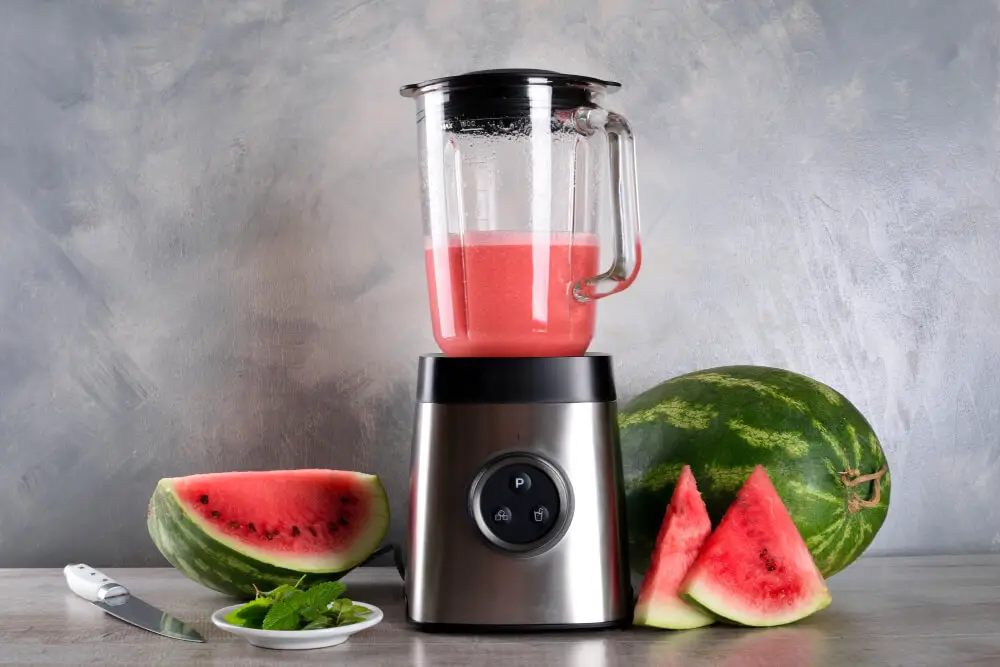 Why Does Blendtec Show The Number Of The Cycle It Has Operated?
In the beginning, Blendtec blenders were designed keeping in mind commercial usage. They offered a system where the customers can pay based on their blender use which helped them to get chains to try them.
With the increasing brand presence in the market, Blendtec has eliminated this selling style but counter-prevailed it in a modified version. Now it serves as a cool technique to show how often you have used the blender.
Are Blendtec Blenders Expensive?
Blendtec Blenders are an investment you do to get long-term ownership of the blender. Blendtec blenders can serve you for almost 5 to 7 years. So if you go for an inexpensive option then over the years, you will spend more than what you would have paid to buy a Blendtec blender. 
Blendtec blenders have the potential for heavy-duty usage. The professionals used it in their kitchens where the blenders are not only limited to making a morning smoothie. It comes with a long-run guarantee making it suitable for frequent use.
Is Vitamix Blender Worth The Price?
Let me tell you firstly, Vitamix blenders can cost you around $450 to $550, which makes it a very expensive blender in comparison to the other blender available in the market. Most people shy away from buying it at first glance, mainly because of the high price.
Keeping this aside, if we genuinely talk about its worth, then this is one of the best blenders available to add to your kitchen appliances. You can use it to make multiple dishes. You can make healthy smoothies, and ice cream using seasonal fruits like pineapple, blueberries, strawberries, bananas, and yogurt. You can also use it to make cold gazpacho, nuts butter, soy milk, waffle and pancake batter, cocktails and cocktails, powdered sugar, fruit syrups, and the list goes on. 
Not only that, but you can also grind your grains and then mix the ingredients and knead to have your own freshly baked bread. So it is a good quality blender but ask yourself if you need a blender to do all these or if you are looking for a simple good quality blender that is also pocket friendly. It depends on the purpose. So make your choice wisely.
What Are The Smoothie Blenders In The Market?
Are you looking for the best blender to make smoothies? Yes, there are so many smoothie blenders available in the market, and it can create confusion in the mind. But we are here to help you out with the top 7 smoothie blenders you can choose for your kitchen.
1. Blendtec Designer Smoothie Blender: This blender comes with a 90-ounce pitcher making it perfect for large gatherings. It is built with blunt blades making it suitable for homemade ice creams and dough making. Also, the jar has a fifth side structure to avoid ingredients getting stuck. 
Pros: 
 1. Easy to clean.
2. Warm soups.
3. No worry to get cut from the blades.
4. You can mix ingredients without even stopping the blender.
5. Suitable for parties.
Cons:
1. The blades are massive.
2. The dull blades are not suitable for chopping.
3. The touchscreen does not last long.
2. Vitamix 750 Smoothie Blender: If you are looking for a blender with high performance over budget then Vitamix 750 Smoothie Blender is for you. It comes with a 64-ounce pitcher and has the facility to turn the dial on the front panel to get variable speeds.
Pros:
1. It comes with a powerful cool running motor.
2. Has variable speed
3. Easy to make smoothies with all the seasonal fruits.
Cons:
The only con of this blender is its price. It is highly expensive.
3. Hamilton Beach Wave Crusher Blender: This blender from the famous brand Hamilton comes with a -ounce glass pitcher and a no-mess lid. You get four blending settings for every possible situation.
Pros:
1. Comes with four blending settings
2. It has a 40-ounce glass pitcher which makes it adjustable on any countertop.
3. Has a 700-watt motor
Cons:
1. The push button is challenging to clean and leaves enough room for dirt.
2. Ingredients get stuck at the bottom of the pitcher.
3. The stacked blades cannot do the chopping well.
4. NutriBullet Pro Smoothie Blender: If you are looking for a value-for-money blender, NutriBullet Pro Smoothie Blender is the best choice. It has a powerful 900-watt motor and extraction blades which use stainless steel to build.
Pros:
1. Has a powerful motor
2. Breaks the ingredients finely
3. Very easy to clean
4. Available in various colors 
Cons:
1. The lid may get unscrewed while blending.
2. The noise can disturb you.
5. Jamba 58910 Blender: It has a powerful 2.4 HP motor that propels blades and a four-program setting option. You can use this blender to blend smoothies and healthy drinks. Also, extract juice from whole fruits and vegetables. You can buy this for $355.
Pros:
1. Has a powerful 2.4 HP motor propels blades 
2. Can be used to blend a smoothie, soup, juice, ice crushing, etc.
3. Comes with BPA- Tritan jar
4. Comes with eight years limited warranty 
Cons:
1. You may find it difficult to clean
2. The motor sometimes smells.
6. Ninja BL770 Smoothie Blender: This blender comes with a powerful 1500-watt motor that can easily crush frozen fruits, vegetables, and ice. It has a 72-ounce pitcher and also a 64-ounce processor bowl. This smoothie blender has made it to the list for its overall performance.
Pros:
1. Has a 72-ounce pitcher and a 64-ounce processor bowl
2. Consists of two 16-ounce smoothie cups
3. Designed with stacked and offset blades
4. 1500-watt motor
5. Very easy to use in daily life
6. Also, very easy to clean
Cons:
The blender has no hole in the lid to add ingredients while blending.
7. COSORI C700- Pro Heavy Duty Smoothie Blender: This blender comes with a 70-ounce pitcher and a powerful 1500-watt motor. It can also blend frozen fruits, vegetables, and ice.
Pros:
1. Has a powerful 1500-watt motor
2. 70-ounce pitcher
3. Can blend ice and frozen fruits and vegetables
4. Adjustable speed
Cons:
1. It cannot blend any thick ingredients.
2. Quickly gets overheated
What Is The Difference Between A Smoothie Maker And A Blender? 
There are no extraordinary differences between a traditional blender and a smoothie maker. However, to give you a clear image of the two, follow the given table.
| | | |
| --- | --- | --- |
| Category  | Blender | Smoothie Maker |
| Design | Comes with a glass or plastic pitcher. | Along with the pitcher, it also has a stopper. |
| State | It melts the ice. Does not have the ability to keep drinks frozen. | Has the ability to make and keep frozen drinks. |
| Power | Can crush ice into small chunks | Not only breaks the ice but also can liquefy to make a smoothie.  |
| Cost | Costs between $10.00 to $100.00  | The usual costs around $29.99 but can go high up to $1000.00 depending on the brand and model. |
Final Verdict
There are many blenders available in the market, and they vary in power, design, functional capacity, and price, Jamba Juice started to use Blendtec Blenders in recent years. Earlier they used Vitamix Blenders. But because of the noise and slightly slow functioning, they opted for the former. Blendtec blender is a smart choice to use in a professional kitchen. There are many options available for you to choose from for your professional kitchen or merely add to your kitchen countertop. Go through the options and do your research and get a brand-new blender.
References:
https://riseandblend.com/what-blender-does-jamba-juice-use/
https://iupilon.com/what-blender-does-jamba-juice-use/
Emma is a graduate of Domestic Science or Family and Consumer Sciences (Home Economics) from the University of Wisconsin. She has 7 years of experience Working with the strategic section of BestBuy and now writing full-time for Homeeon.
From Managing the Home, Interiors, Cleaning, and Exteriors to Gardening and everything about Making A Home Liveable – is her passion and this Homeeon is the result of this.
Emma loves decorating her home with the best stuff found online. She cares about quality over anything and writes reviews about them here in Homeeon. Get in touch with her over Pinterest.
Keep reading her blogs.