Last Updated on September 23, 2022 by
Roof tiles have been used in different European countries since the medieval period. Most people believe that roof tiles have some artistic significance in these countries. Research has shown that roof tiles were preferred due to their availability and affordability. They are also easier to work with within various spaces and have more aesthetic options.
Roof tiles have a distinct history, especially in The European countries, as they have served many people. They come in different designs, are made of different materials, and have a variation in patterns. 
This article takes you through everything you need to know regarding roof tiles and their use in Europe. Keep reading! 
What are roof tiles made of in Europe?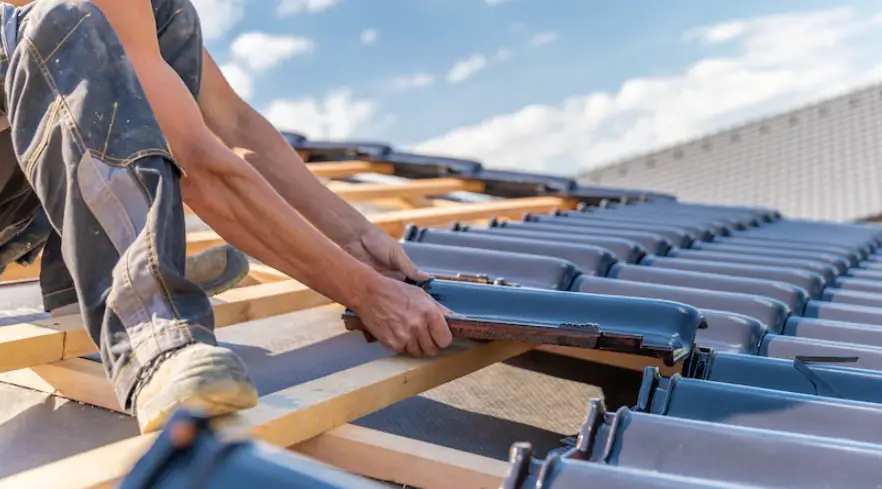 The most common roof tiles in Europe and some parts of Asia are ceramic roof tiles. They are famous for their attractiveness, durability, and ability to repel more water than wall shingles.
Roof tiles can also be made from other materials such as terracotta, slate, mud, concrete, or clay. For tiles to be made, there needs to be sufficient water, clay for making the tiles, sand, and lime deposits to make mortar and wood to fire the kilns. 
In the medieval period, tile making was seasonal, and manufacturers would dig clay in winter and leave it to weather until spring or summer when they would fire the tiles.
. 
Types of Roof Tiles' shapes
Roof Tiles come in different shapes. This gives an individual the needed allowance to choose what they refer to. Tastes and preferences are necessary for selecting suitable roof tiles.
The following are some of the known shapes;
1. The Flat tiles
These are one of the simplest known tiles. They can be made from different materials such as wood, plastic, concrete, or even stone; however, clay is the most common material used. The most common type is the Beaver tiles, used mainly in Germany.
2. Plain clay tiles
Designed in 1477 during Sir Edward's reign, they are known to be good quality. Through the years, the design has advanced and is now more pretty and more presentable. Most people prefer them because of their aesthetic property and their providence of environment-friendly conditions. Their traditional model of manufacture is still being used in many areas in Europe, but most producers use the modified formats.
3. Imbrex and tegula
These ancient Roman tiles create a channel impression on the roof. They are made from two main shapes; curved and flat tiles.
4. The Roman Tiles
Have you ever pictured a combination of shapes where one end contains a different design from the other ends? Then there are just those tiles. With a concave curve design on one end, the thrilling convex curves on the other end, and the fat shapes in the middle, these tiles are admirable. The end product is just an awesome vibe with all these shapes interlocking!
5. Pantiles
This shape is arrived at by putting the S-shaped pattern, which allows the interlocking of tiles to resemble a field that has just been ploughed. It is a different and elevated design, hence earning double Roman tiles.
6. Monk and Nun Tiles
They are also named Barrel or Missionary tiles. They are of a semi-cylindrical shape and are laid in different designs to achieve the concave, convex design. Initially, thy were made by attaching clay to a slightly curved surface. However, through advancements, especially in technology, today, they are made from either concrete, plastic, clay, or strictly metal.
Pros and cons of using roof tiles
| | |
| --- | --- |
| Pros  | Cons  |
| Durable and can withstand high winds, fire and hall tiles help to regulate indoor temperatures They come in a wide variety of styles and colors to match different home styles they are environmentally friendly they are impervious to rot and damage by insects they are energy-efficient yet low maintenance | High cost needs skill and time to installHeavyweightNot suitable for some roof designs and slopestyle are prone to breaking  |
Essential factors to consider when selecting or choosing tiles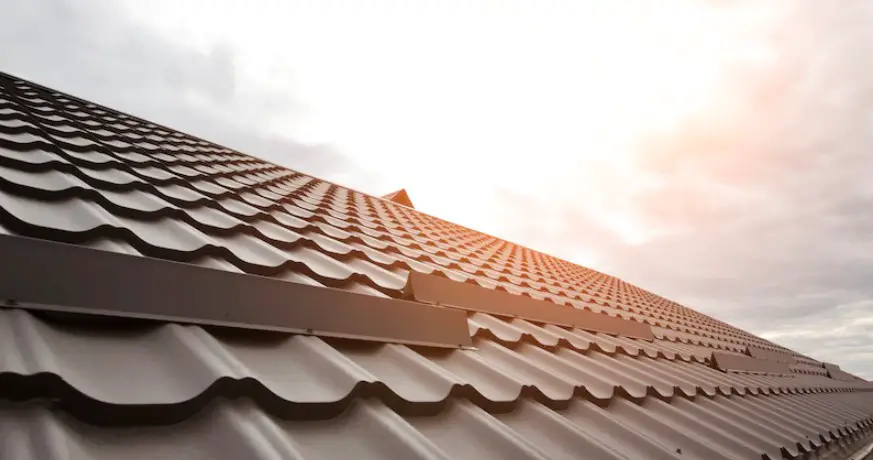 Know what you want before you start
This is the most critical factor of consideration. Without prior and keen planning, you will be unsure of what you want. Be keen when planning to avoid last-minute rushes and poor decision-making, which is realized after the roof tiles have already been placed. Your choice and style preference is also a factor to consider. Never choose something that you are not completely satisfied with.
The Tile sizes
Tiles vary in size. To know the correct size, make sure you have an accurate measurement on the roof to select the appropriate size. The right size also boosts the average appearance.
The color
What do you want to achieve? What best works for you; bright or dark colors? Colors speak. Your color selection must be just brilliant. The questions stated above can be fundamental when determining which color best suits your house.
The texture and the pattern
Texture and pattern cannot miss the list. They are also of personal choice. They can be confusing, especially when you have to choose from many types. In this case, prior advice can be constructive. With the right texture and pattern, you can easily select the color. Therefore, all these factors work hand in hand to make the selection more convenient.
Quality
You want long-lasting tiles. Quality is also a reasonable consideration in this case. Make sure to select the quality that will serve you for an extended period. Advice from experts and also other customers can come in handy. Never neglect tiles on the materials they are made from. Nevertheless, materials are also of different tenacities. The company you purchase from can also be an essential consideration if you want the best quality tiles.
Other roofing materials used in European countries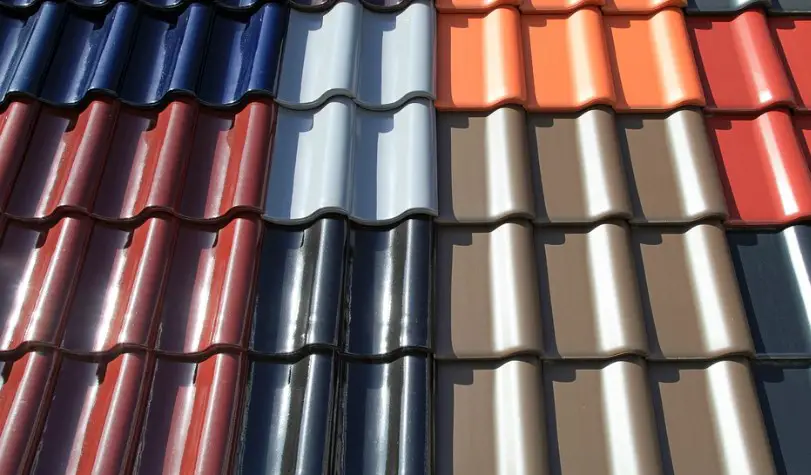 Rolled roofing
This is an upcoming trend in Europe. Each roll is about 100 square feet and has a width of up to 3 feet wide. They are mainly composed of asphalt and other mineral-oriented granules.
They are primarily used in low-sloped residential buildings and shops.
Built-up roofing
Being one of the oldest roofing methods, its pitch is relatively low. It requires several layers that are also asphalt-oriented. Each layer is applied to an already placed layer to attain a thicker layer. This process is then repeated until the intended roof size is reached.
Membrane roofing
It is also a key considered roofing idea because its end product is a well-made flat or slightly low-pitched roof.
They are a variety of this type, namely;
Neoprene which is also called polychloroprene
EPDM is also known as ethylene propylene diene monomer, which is synthetic and often referred to as rubber roofing.
PVC, also known as polyvinyl chloride
Chlorinated polyethylene and chlorosulfonated polyethylene sheets
Polymer-modified bitumens
Asphalt Composite Shingles
Famous in North America and is made from fiberglass that has been topped on a bit of asphalt and some mineral granules.
It is famous among many people because the materials used to make the roofing can quickly adapt to roof movements: expansion and contraction.
They serve a building's roof to a maximum of thirty years and a minimum of twelve years.
Standing Seam Metal Roofing
It is a widespread method as it combines aluminium and steel. It is very strong. It is widespread in areas that experience snow and wildfires from time to time. They act as a shield as they are fireproof.
Other roofing methods include;
Metal shingles
Wood shingles
Slate shingles and also
Rubber tiling
Final word
roof tiles have been used in Europe for centuries for their aesthetic appeal and durability. They also have some artistic significance, but they were mainly used because they are readily available, and almost anyone could make them for themselves. Most churches and important buildings in Europe have roof tiles because of the value attached to them. Roof tiles have grown in popularity worldwide, and most people love them for being long-lasting; they can last over 50 years without repair or replacement. Most manufacturers give 50-year warranties for roof tiles.
Investing in roof tiles is an excellent decision because you are sure that you are getting a long-lasting solution. When it comes to selecting roof tiles, one should pay very close attention to the quality and material. Roofs are what any person coincidentally sees first when they look at your roof. This means that this area needs a lot of consideration. Whether the tiling is expensive, cheap, or affordable, the focus remains that you get what you are pleased to look at and something that will serve you for a good period.
References:
https://blog.ipleaders.in/polo-ralph-lauren-vs-u-s-polo-association-won-race/
https://en.wikipedia.org/wiki/Polo_Ralph_Lauren_vs_U.S._Polo_Association