Last Updated on July 9, 2023 By Emma W. Thomas
Several delightful sweets begin with the letter S. For example, Skittles, starburst, snickers, sugar babies, S'mores, Saltwater Taffy, Scones, Swedish Fish, etc.
Our Top 15 picks for sweets that start with the letter S
Skittles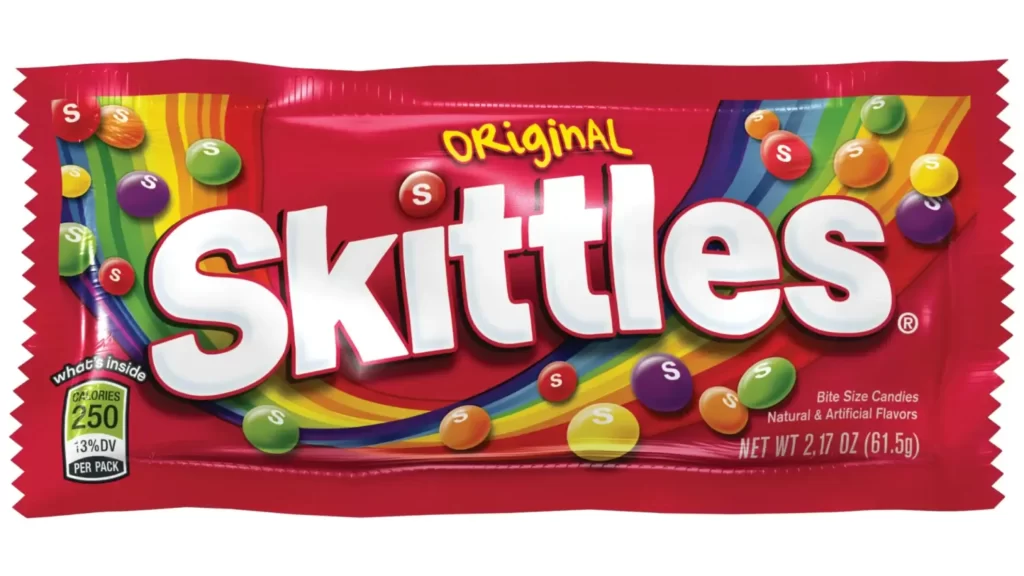 Taste the rainbow with Skittles; Skittles is a type of chewy candy that is multi-colored, button-shaped, and fruit-flavored. The candy is made and marketed by the Wrigley company. Skittles resemble M&Ms with the hard sugar shells with the letter 'S' imprinted on them. Inside the sugar, the shell is the chewy component made of corn syrup, sugar, hydrogenated palm oil, citric acid, fruit juice, and flavoring. Skittles come in different flavors: smoothie, sour, wild berry, tropical, dessert, and sweet heat.
Starburst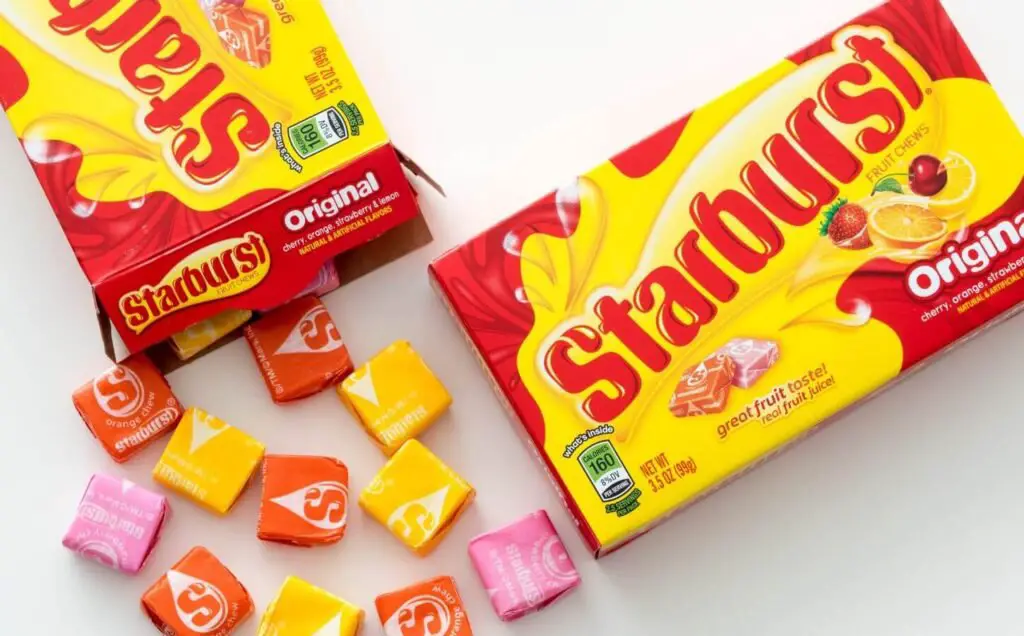 Starburst is a box-shaped, soft, taffy candy that is fruit-flavored and unexplainably juicy. The same manufacturer makes Starburst as Skittles, the Wrigley Company. This sweet has various flavors such as Tropical, watermelon, FaveREDs, superfruit, sour, very berry, original, and summer blast.
Starburst also exists in the form of popsicles, candy corn, jelly beans, gum, and candy canes. The brand has also partnered with various companies to make yogurt, energy drinks, and lip gloss.
Snickers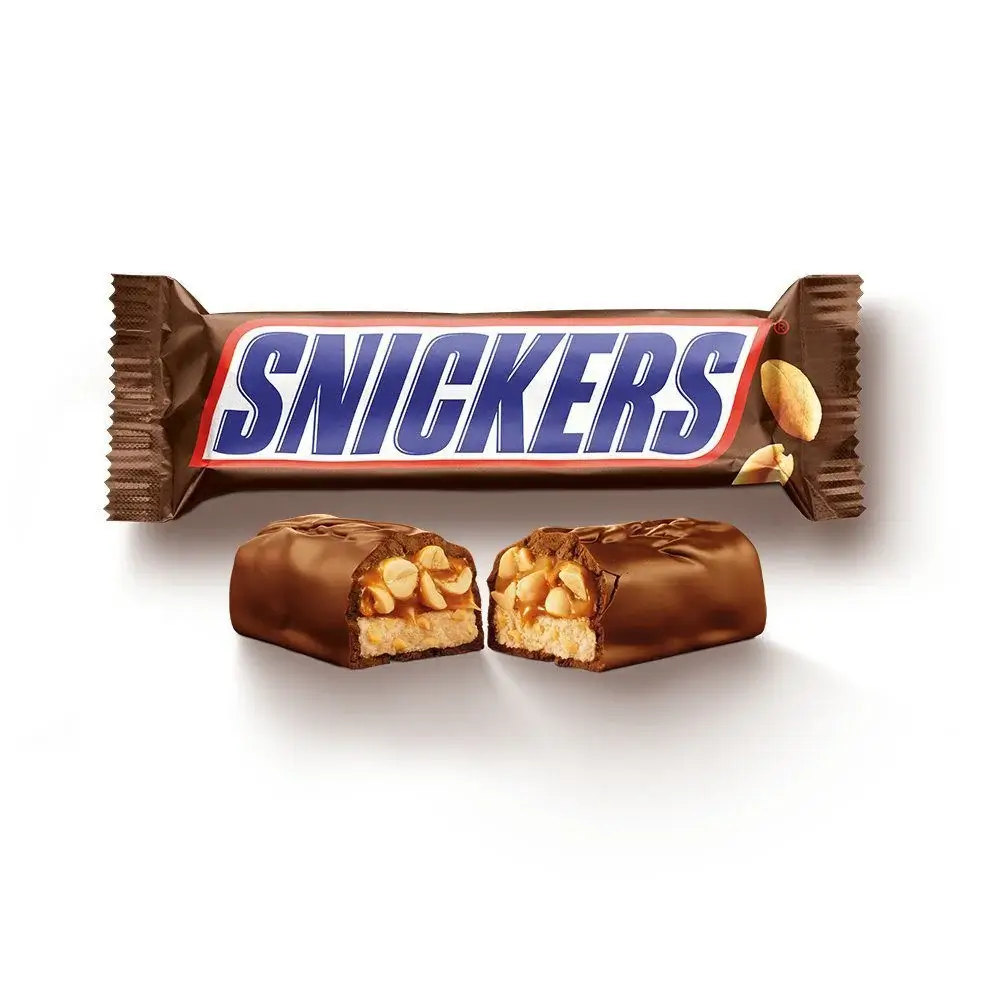 SNICKERS is sweet in the form of a chocolate bar; it consists of nougat topped with peanuts and caramel and then covered in milk chocolate. SNICKERS is made and distributed by the American company Mars, Incorporated.
We cannot mention SNICKERS and fail to talk about the vein design on the chocolate that has become a signature. In April 2022, a Twitter user pranked people that SNICKERS had done away with the veins, and the company had to clarify.
Sugar babies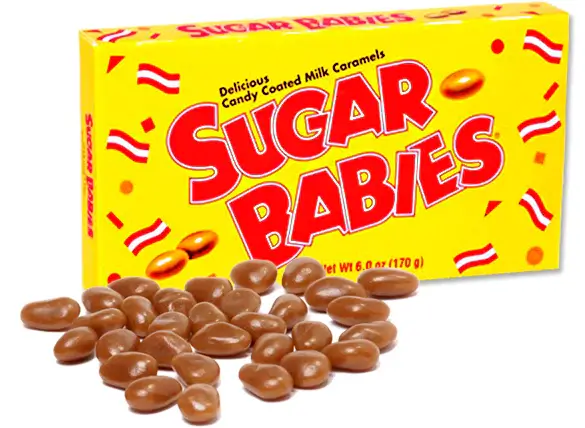 Sugar babies are soft caramel sweets that are oval in shape and coated with candy. These sweets are soft to chew and are manufactured by the Tootsie Roll company. Did you know that sugar babies were named after the song "Let Me Be Your Sugar Baby?" now you know.
Swedish Fish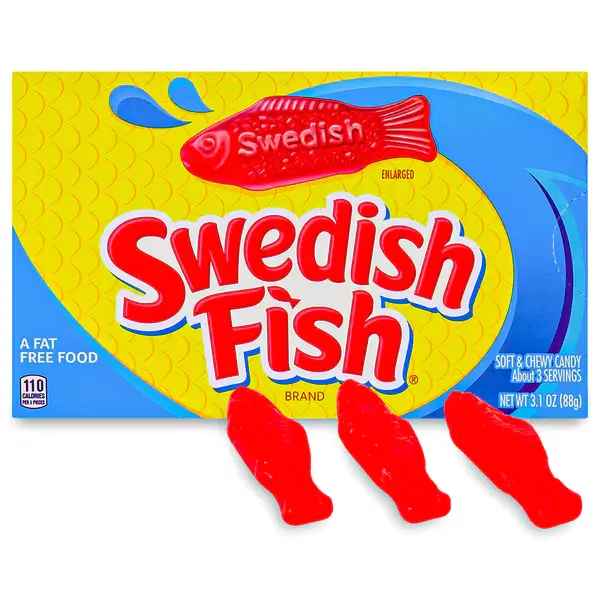 Swedish fish is a chewy candy that comes in different colors and flavors. Swedish fish is distributed by Mondelez international. This candy got its name from Sweden because it originated there. We also know that fish is a huge part of Swedish culture, so it makes sense that they have candy shaped like fish.
Swedish fish candy has the name "Swedish" embossed on them, and they taste like strawberries, fruit punch, cherry, and raspberry.
Smarties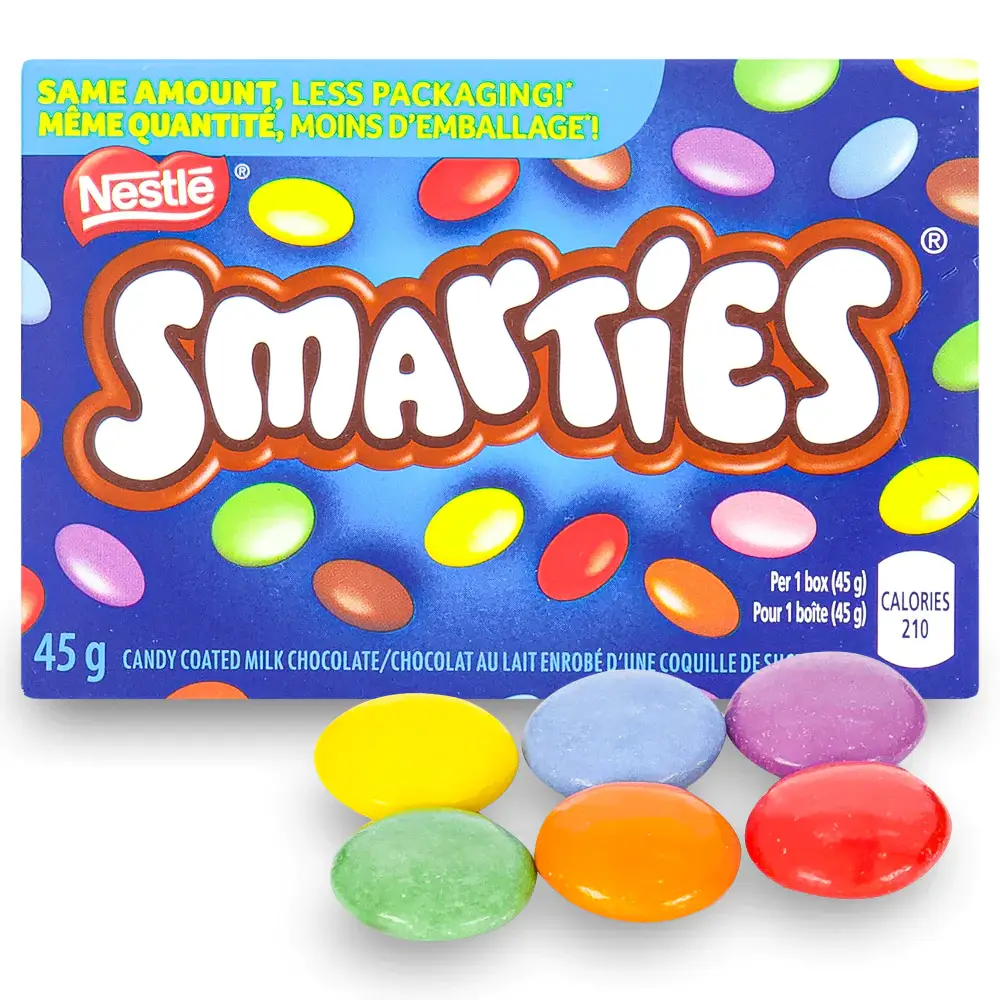 We cannot pass up our top picks without looking at smarties. Smarties are sugar-coated chocolate sweets that come in various colors. They are manufactured by Nestle and have been in the market for over 85 years. These sweets have an oblate spheroid shape and are chalky; sometimes, the coating might be slightly tart. Smarties are very popular worldwide, with the company making over 2.5 billion smarties for consumption each year.
Sour patch kids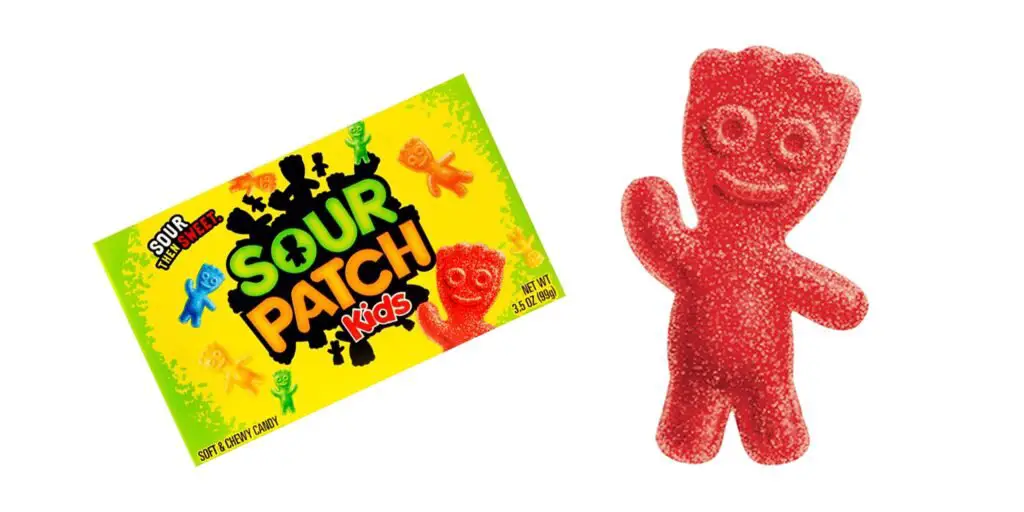 Sour patch kids are a chewy and soft candy with a sour flavor. They have interesting shapes that look like kids and have a sour coating. When you chew the candy and get past the coating, it has a nourishing sweetness. The candy comes in different flavors, including watermelon, raspberry, sour apple, and strawberry
 SweeTarts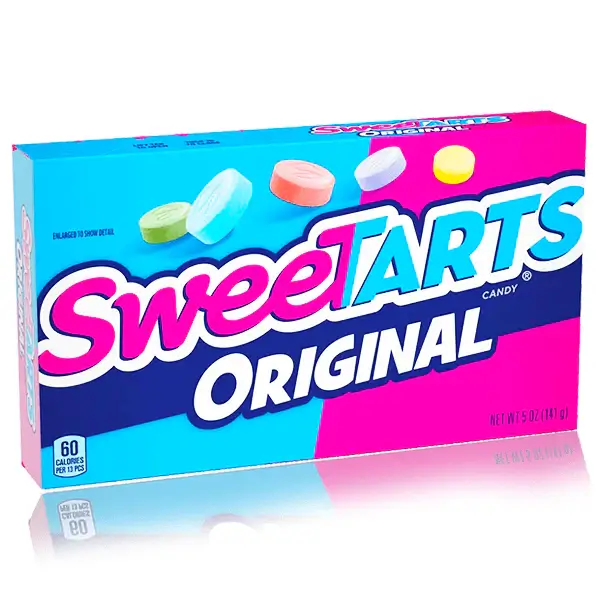 SweeTarts is a tangy-tasting candy that comes in different shapes and flavors. They are available in heart shapes for valentine's Day, bunnies, ducks, chick shapes for easter, and skulls for Halloween. The flavor offerings include strawberry, cherry punch, green apple, blue punch, lemon, and grape. Each flavor has a unique color.
Snaps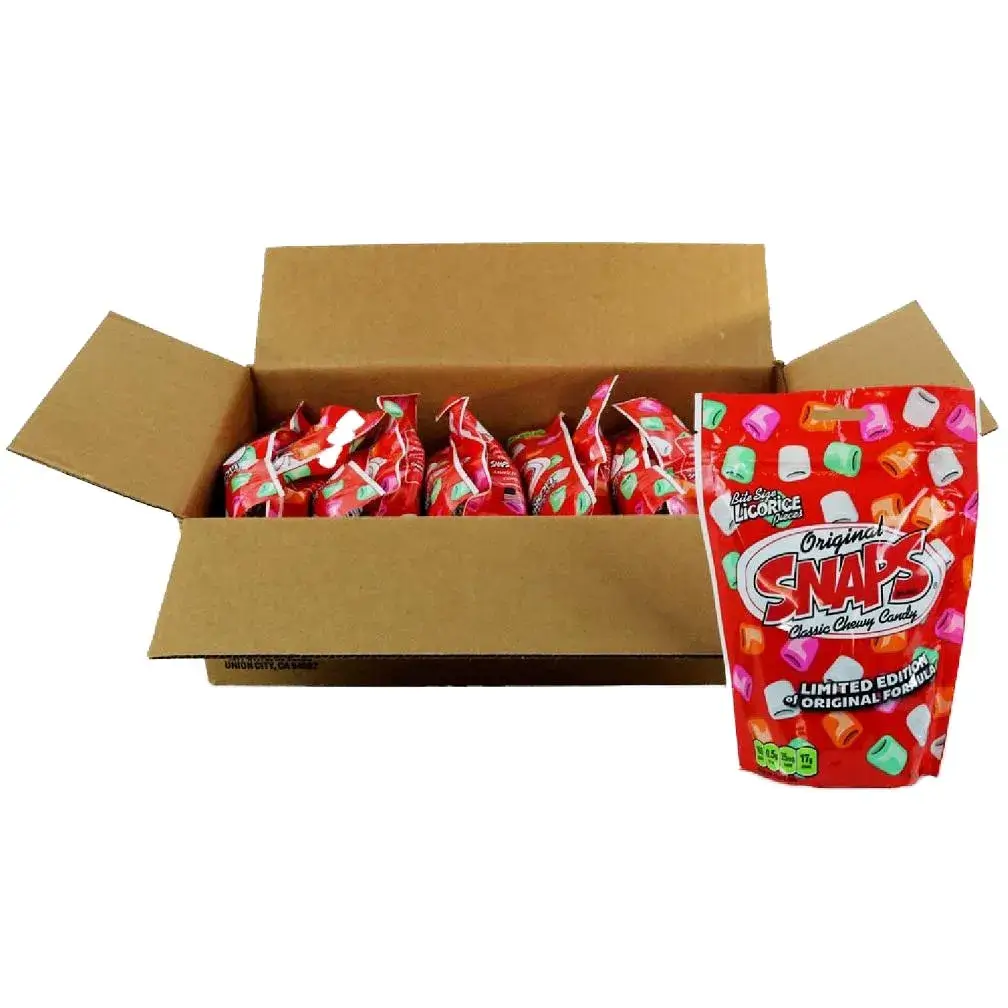 Snaps is a type of chewy candy made by the American Licorice company. These sweets have hollow centers and come in various colors and flavors. The most common colors are white, pink, green, and orange. These classic chewy sweets have been on the market since 1930, making them a favorite for sweet tooths.
Skor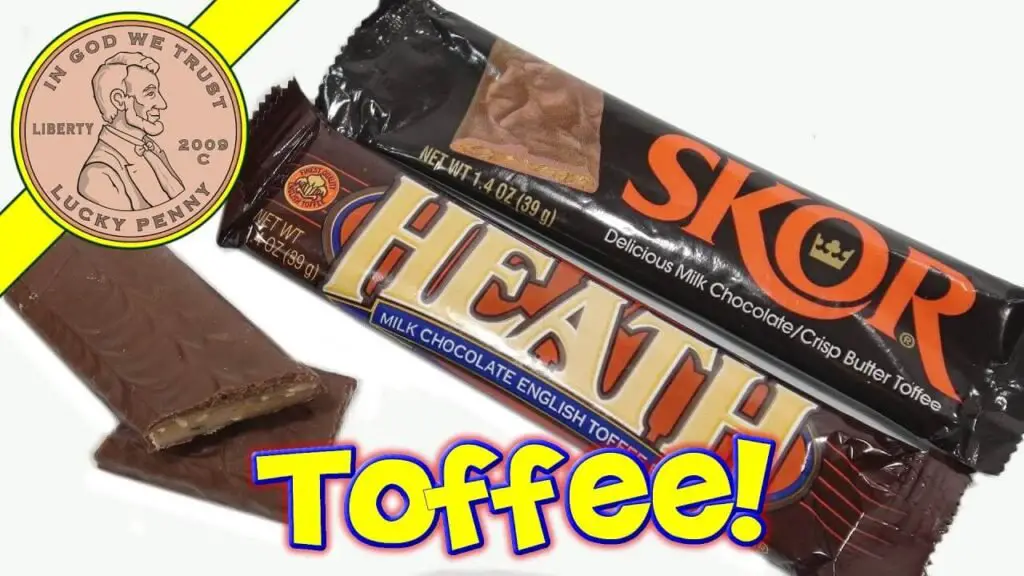 Skor is a chocolate candy bar with buttery toffee covered in milk chocolate. It is produced and marketed by the Hershey Company. Skor is similar to the popular Heath bar, the only difference being that it is slightly thinner.
Sno-caps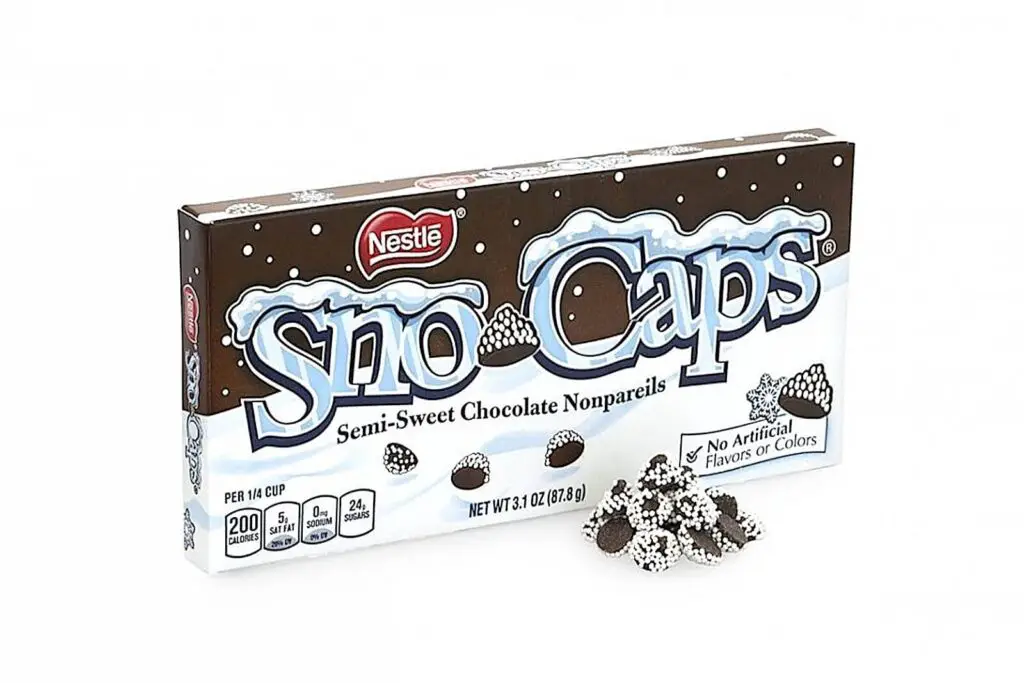 Sno-caps are chocolate candy made of semi-sweet chocolate covered in white nonpareils. The candy has been around since the 1920s and is made and distributed by Nestle. Sno-caps are a common sweet and classic, especially in movie theaters.
Sour power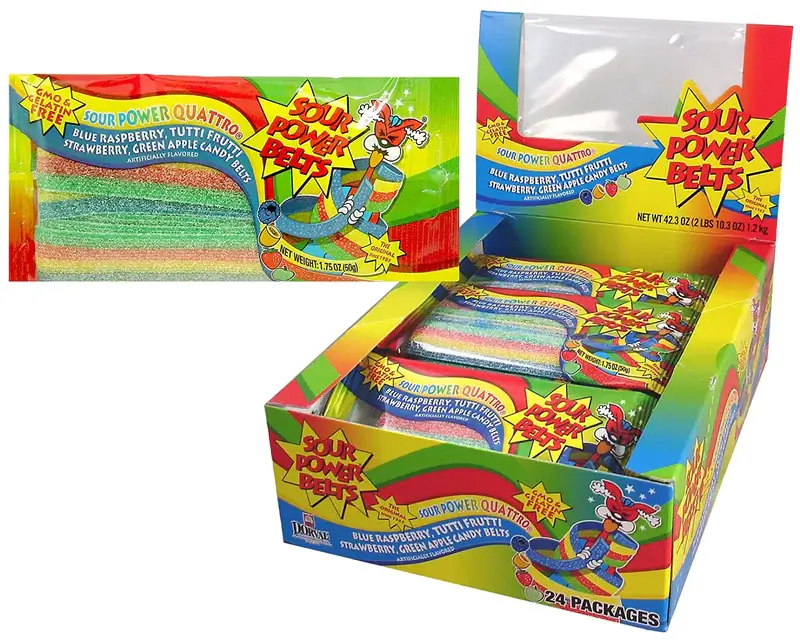 Sour power is yet another type of sour candy on our list; it comes in the form of candy belts or candy straws. Sour power sweets are licorice sweets with a delightful tangy taste. The sweets have a sour sugar coating that makes them sandy to the touch and brings a sour flavor.
Starbucks candy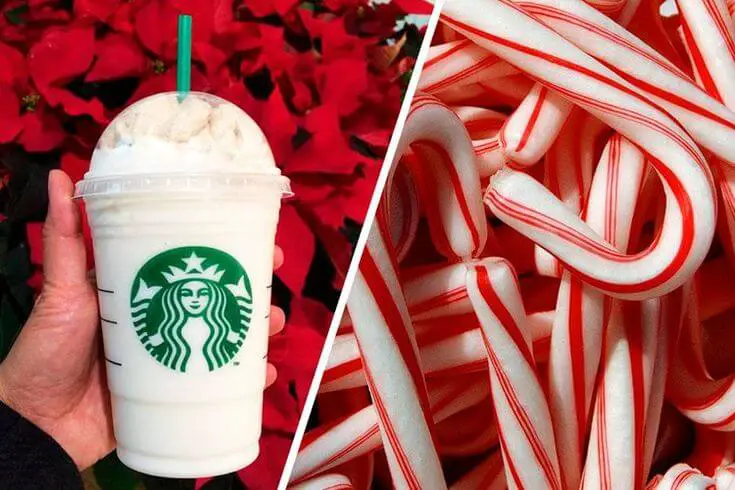 Did you know that Starbucks also makes and sells chocolates and candy? Yes, they do. As we continue with our list of sweets that start with "s", we have to mention Starbucks salted almond chocolate bites. These sweets consist of almonds salted with gray sea salt and then covered in a triple chocolate layer.
Sour punch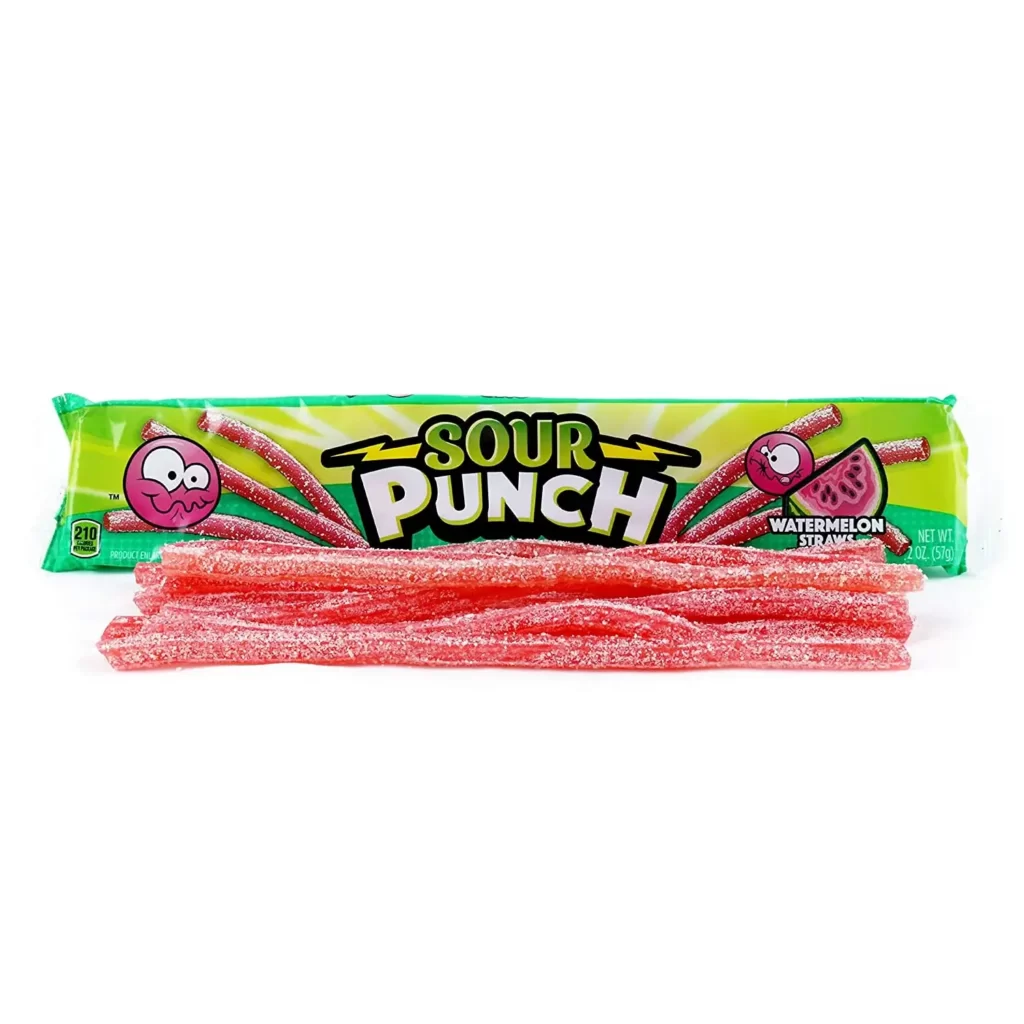 Sour punch candy is sweet that has a fruity yet tart flavor. They come in various forms, including candy bites and straws. Sour punch sweets are available in four flavors: rainbow, strawberry, grapes, and blue raspberry. Sour punch straws have been made and distributed by the American Licorice Company since 1990.
Spree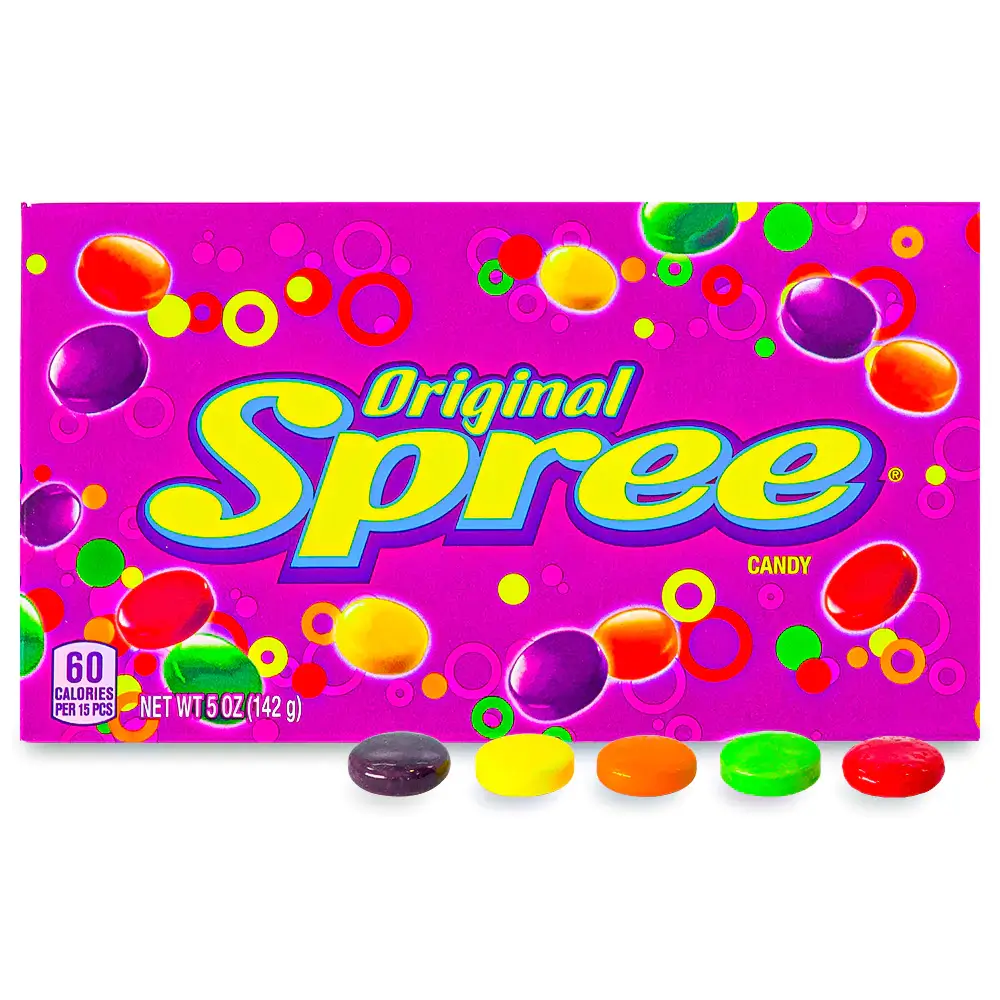 Spree is a type of dextrose candy covered in a fruit-flavored shell. Sweet comes in many colors and flavors. It is manufactured by the Willy Wonka Candy Company and comes in three variations. It is available in 50g rolls, a Chewy Spree variety that features a candy shell with a chewy center that comes in 340g pouches instead of rolls, and a Mini Chewy Spree that comes in a 49g dispenser. The flavors for both Spree Candy and Chewy spree are cherries, orange, lemon, grape, and green apple.
Desserts that start with the letter S
Now that we know the most popular types of candy brands that start with the letter "S", let's look at a list of sweet desserts that start with "S". these sweets can be served on their own or enjoyed as part of a full-course meal.  
S'mores
Swiss roll
Souffle
Strudel
Snickerdoodle
Sundae
Sticky toffee pudding
Sorbet
Shortcake
Strawberry pie
Sponge cake
What are the different types of sweets?
Sweets, candies, confectionaries, or whatever you like to call them come in different types depending on the ingredients list, sugar concentration, and conditions in which they are made. Below is a comprehensive breakdown of the types of candy we have in the market today.
Hard candy
Heating sugar-based syrups make this type of candy to temperatures of up to 160 degrees Celsius. Most stick candies are hard candies.
Licorice
Licorice is a chewy candy made from the extract of the roots of the licorice plant, sugar, and gelatin or flour as a binding agent.
Caramel
Caramel sweets are hard or chewy candy made by heating sugar until it is caramelized.
Sours
Sour candy is made by adding an acidic coating from citrus fruits or vinegar to give that tart taste.
Gummies
gummy candies are jelly-like and chewy candies made of sugar, starch, corn syrup, and gelatin. Since they contain gelatin, these sweets are non-vegetarian, and most people associate them with pig skin.
Chewing gum
Chewing gum is made of gum base, preservatives, softeners, sweeteners, and flavorings.
Final word
Many sweets start with the letter "S" and our list has you covered most of them. Whether you love chocolatey sweets, gummies or something sour, there's something for you. Which candy are you looking to taste next? All these candies are readily available in grocery stores, and if you are interested in any of them, you won't have a hard time finding them in a store near you.
References:
https://www.quora.com/What-sweets-start-with-letter-S
https://us.toluna.com/opinions/4232948/Can-you-name-a-CANDY-that-starts-with-the-letter-S
Emma is a graduate of Domestic Science or Family and Consumer Sciences (Home Economics) from the University of Wisconsin. She has 7 years of experience Working with the strategic section of BestBuy and now writing full-time for Homeeon.
From Managing the Home, Interiors, Cleaning, and Exteriors to Gardening and everything about Making A Home Liveable – is her passion and this Homeeon is the result of this.
Emma loves decorating her home with the best stuff found online. She cares about quality over anything and writes reviews about them here in Homeeon. Get in touch with her over Pinterest.
Keep reading her blogs.