What is a Walk in Shower? A walk-in shower is a shower that is free from any obstacles, meaning that it doesn't have curtains or a bathtub. It also has no doors, and one can easily access it without navigating any steps and obstacles. It is ideal for senior people and those with mobility problems.
Walk-in showers come in different designs and styles according to one's preferences. This type of shower offers a lot of spacing as it has no curbs or enclosures. It is also more functional when compared with a standard bathroom as it is safer and easily accessible.
Showers come with different names, styles, and designs; this article will take you through walk-in showers, some of the benefits and styles of walk-in showers, walk-in shower ideas that add luxury to your bathroom, and finally, the pros and cons of walk-in showers. Read on!
Benefits and styles of walk-in showers
These showers are becoming a trend nowadays because they are accessible, spacious, and elegant. They are also easily cleaned as they have stain and moisture-resilient tiles in most cases. They are also beautiful no matter which style or design you choose for your bathroom.
Now, let us look into some styles of these walk-in showers. They include;
| | |
| --- | --- |
| Modern style   |  They easily blend with modern styling as the showers themselves are very simple. The showers lack any overboard decorations or, at other times, have no decoration at all. This gives them an upper hand in blending with the rest of the styling and decorations in the bathroom. Modern showers combine other design aspects, such as a square showerhead or geometric designs, for a more appealing look. Straight lines and sharp right-angle designs also serve as a booster. To emphasize the openness of your walk-in shower, use neutral colors for the tiles.   |
| Traditional   | Walk-in showers easily blend in with traditional-style bathrooms. This enables them to work well with the Traditional style as well. They also blend perfectly with plastic or porcelain tiles to give a classic look. |
| Industrial   | Industrial spaces have two main characteristics; they are open and also revealing. They also need metal, concrete, and wood to achieve the design. A simple illustration of an industrial walk-in shower is its minimal but streamlined design and classy clear glass for the enclosure.   |
How to make your walk-in shower look luxurious
Walk-in showers can be that one thing in your bathroom that you cannot resist looking at each day and feel proud of the design and style that you chose for it. With a good design, you are sure to create a pleasing sensation in the bathroom and boost your whole bathroom's décor.
The following ideas will help you create a classy, elegant, eye-catching walk-in shower.
Use luxurious material for a statement look
Marble, marble, and marble! Marble should be your first preference for that statement and elegant bathroom look. Yes, it will be an expensive task as it may be very costly, but on the brighter side, it will serve you for a lifetime. Considering marble ideas will make the bathroom attractive. You can visit a tile showroom to see what style or design excites you the most.
Build a walk-in shower beneath the eaves
This will require you to have the shower placed at a slightly higher point in the bathroom. The result of placing the shower under the eaves is just magnificent. It is also essential for you to confirm if the bathroom floor is up to the task and that the room is well tanked to avoid unnecessary leakages.
Opt for a compact corner shower
If you have a busy household, this idea suits you best. This gives the walk-in shower its tiny space in its corner away from all other things. Dark or moody retro tiles are suitable for this design.
Always think outside the box when it comes to layout
If you have a big bathroom, then do not hold back. Make the walk-in shower worth it. Instead of having one entry, make them two, one from each side. Who said that you only need one shower head? Go ahead and make it a twin shower head. You can also have shelves on the marbled walls to serve as décor. This will create a bold appeal in your shower and create an elegant look for your bathroom. You can first look into designs through research. If you get two or more designs that you find interesting, combine them into one and see the outcome. I am sure it will not be disappointing as it will be unique.
Use color in a small walk-in shower.
A walk-in shower may be small, but the colors that have been used in it remove the size thoughts and make you admire it. There is no doubt that the results will be excellent with a good color scheme. Hue, for example, can be a great color choice. You can also go for bright and beautiful colors to ensure that the shower has the necessary lighting.
Always go for statement tiles
Intense colors will always produce positive results. If you give the tiles the focus they require, they will create a good appeal. The color does not have to necessarily be dramatic with crazy patterns on the tiles, but bold-colored and well-patterned tiles will always do.
Pros and cons of walk-in showers
Some of the advantages of these showers include;
They are easy to clean
Most of the surfaces of the walk-in showers are generally flat; some may also have few corners. This design makes sure that dirt accumulation is minimal, making cleaning much more straightforward. The cleaning is also simple for the walls and glass, as minimal scrubbing is required.
They are versatile
They can be fitted in any bathroom size and customized into any space by being versatile. This rules out not having the shower because of the small-sized bathroom space. They are conducive and can fit perfectly when well placed.
Ease of access
For people with mobility challenges, for example, the aged or disabled, these walk-in showers are very recommendable. As earlier mentioned, they have no obstacles or barriers; therefore, one can move quickly. They also do not have any high ledges or threshold steps when entering the bathroom.
The minimal contemporary design needed
Walk-in showers are simple. They have no doors, no curtains, and no obstacles. This means that nothing else takes the attention of the bathroom. They are simple well-sized spaces that also act as transparent features.
More space
The first impression about these showers is that they need all the bathroom space. This is untrue because they can fit in any bathroom size very well and can be quite a beautiful and unique way to keep it simple when it comes to your bathroom.
Some of the disadvantages of these showers include;
Less privacy
With no doors, no curtains, and just glass as shelter when taking a shower, the level of privacy is reduced. Depending on your living situation, you can change the design and get more privacy.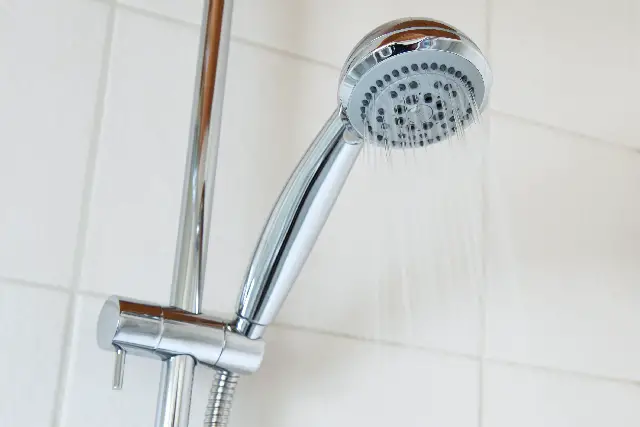 The free flow of air makes them feel colder
These showers are doorless and lack curtains, thus allowing air entry, which may make the bathroom cold. Considering that there is no door or curtain to block the air, the room is even colder. Nevertheless, you can solve this by either installing a warmed flooring or mounting a warmth light in the bathroom.
There is the splashing of water which may cause accidents and injury
The chances of water splashing into the rest of the bathroom is relatively high. This may cause slipping and even falling, which may cause injuries or even disastrous depending on the impact. Prior planning and preparation for the best design are very helpful in solving this. Setting up the correct shower base is also another way to solve this.
High moisture and humidity
Water and moisture have to leave the bathroom, and this is something that is off your control. They can either leave in the form of steam from the hot showers or even when water splashes. This can cause damage to the bathroom because this creates a damp environment due to the raised humidity and moisture. If this is not well taken care of, you will notice mold in your bathroom.
It is costly
If you are looking for a minimalistic design, the walk-in showers are a no-go zone. The walk-in showers have a description that may make you see them as something affordable to get. However, they require high-quality glass and very complex drainage systems that tend to be costly.
Despite having some drawbacks, let us not forget its advantages. These showers are very comfortable and always blend with the rest of the area. Having it installed at your place by a professional is always the best idea to be on the safer side.
Final word
Walk-in showers are elegant and functional, but they can be costly. However, with accurate planning, your investment in the walk-in shower will serve you for a lifetime.
References:
https://www.housebeautiful.com/room-decorating/bathrooms/a24166956/walk-in-showers/
https://www.thespruce.com/youll-want-switch-walk-in-shower-3984666