You can make your desk taller by using heavy-duty risers that match it then adding felt furniture pads or wooden extensions to make it stable. Replacing the desk's legs with new ones is also a great way of increasing the height. 
Nothing feels uncomfortable like working from a desk whose height is not right. You will get back and neck pain and strain your muscles, which may lead to health issues. It is, therefore, necessary to make sure that your desk is raised to the appropriate height that makes you work longer without straining. 
Ways To Raise The Height Of A Desk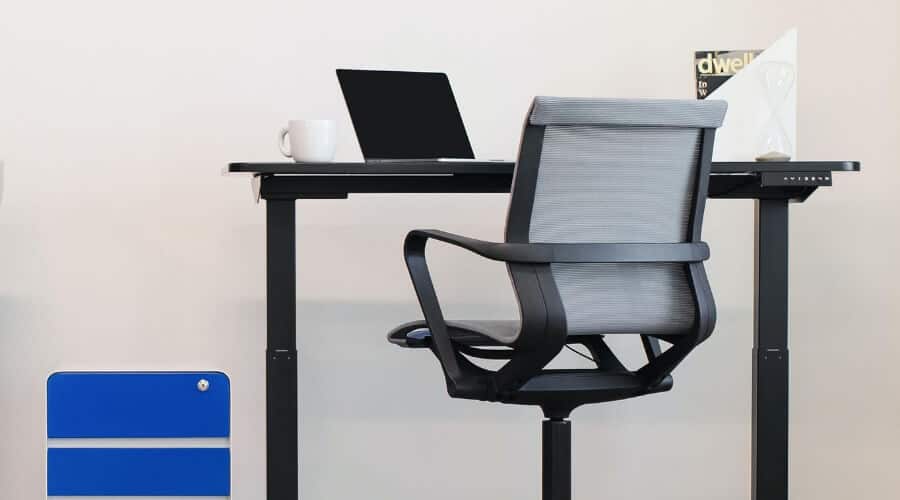 The following methods are effective in making your desk taller for stress-free working on your computer or in the workshop;
Using Heavy-Duty Risers
Risers come in varying sizes and materials such as wood or plastic to match your desk. For example, you can use bun feet if your desk is wooden to make it taller. If, after adding the risers, your desk seems to shake, you can add felt furniture pads or wood extensions to make it stable. 
There are adjustable sets of risers that help meet every need of your desk without scratching your carpet or floor. Risers come in handy when you want to raise your desk's height fast or when you don't want this adjustment to be permanent. If you like these items to match your desk, you can paint them with your desired color. Painting helps to conceal the risers such that no one notices them. 
Getting Wooden Extensions
Your desk may become shaky and uncomfortable after adding the risers. If this is the situation, you may want to add extensions such as furniture levelers or felt pieces. Doing this helps your desk to become firmer. You can follow these steps to make your desk sturdy and taller using extensions;
1. Look for short wood pieces. You can obtain these pieces from a thrift or hardware store, and be sure to get some that match your desk.
2. Drill holes at the bottom of your desk's legs. Turn your desk upside down while being careful not to hurt yourself. Make sure that you locate the center of the legs and use a pencil to mark it. 
3. Make some holes (they should be 0.25-inches deep) using an electric drill. Put a tee nut at each leg and insert them in the hole. Use a hammer to pound the tee nut into the hole to set it accurately.
4. Use hanger bolts to insert pieces of wood in the hole, then use a screwdriver to make them tight. Doing this ensures that the wood pieces are set correctly.
Adding Bun Feet
For wooden decks, you can raise their height by the use of bun feet. Bun feet are 3-4 inches high and rounded. You can buy these items from your local home stores or online and put one on each leg of your desk. These items can be removed later at will. Follow these simple steps to add bun feet;
1. Make holes beneath the desk legs using an electric drill
2. Make sure that the holes have a 0.25-inch diameter
3. Take a bun foot and place it in the hole
 4. If you want the tool to match your desk, choose suitable color and paint it
Replacing The Desk's Legs With New Ones
You can also replace your desk's old legs with new and taller ones to raise their height. You can either use motorized or adjustable legs to make your desk permanently tall. Follow these simple steps;
1. Remove the old legs from your desk using a screwdriver
2. Screw in the new legs into your desk with the help of a screwdriver
Using A Desk Converter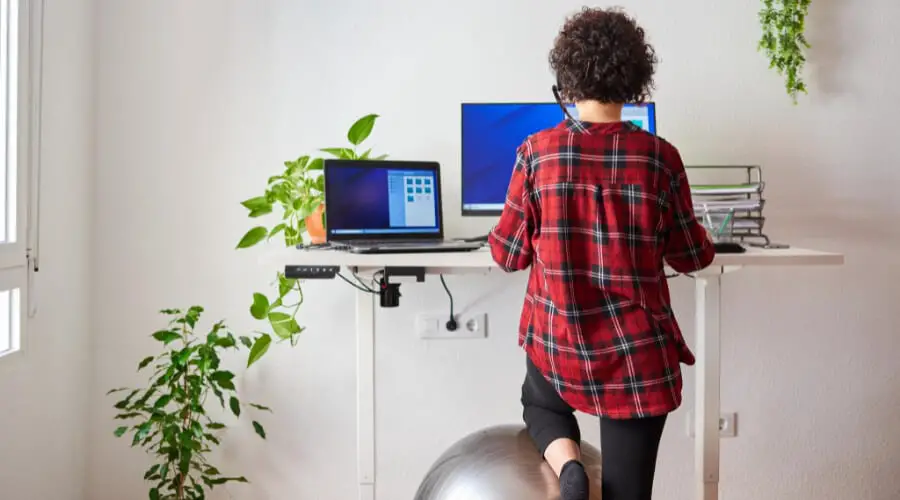 You can also use a desk converter to raise the height of your desk. These items have adjustable sizes ranging from 4.5-inches to 20-inches, and you can choose depending on what suits your needs. A desk converter comes in handy when you are comfortable with your furniture and don't need additional legroom. 
This tool helps you to adjust your working positions from sitting to standing. 
What Is The Ideal Height For A Computer Desk?
Working from a computer desk whose height is inappropriate is not only uncomfortable but also unhealthy. Due to wrong ergonomic practices, you may experience great pain in your arms, back, neck, and wrists. It is, therefore, important to make sure that your desk's height is right in relation to the chair you sit on. 
The following tips will help you adjust your computer desk to make it comfortable;
How High Should Your Desk Be?
Your desk needs to be about 20 to 28-inches from the ground to get the comfort you need. But, this height will depend on the brand and model of this piece of furniture. If your desk's height is outside this range, you may adjust it to your desire. However, if it is not adjustable, you may change your seat's height. You can make the chair slightly shorter or taller depending on the comfort and size that you want. 
Ensure that the height you choose makes the furniture as ergonomically correct as possible to prevent painful posture. 
How Much Leg Space Do You Need?
The height of your desk from the ground should also be perfect for you to slide your legs comfortably into the chair's space. An ideal leg space needs to be 15-inches between your knees and the desk's bottom and 24-inches from where your feet rest on the ground. Make sure that the combination of chair and desk that you choose will give out enough space as per your desire.
What Is The Right Workspace Depth And Width?
Your computer desk ought to meet some depth and width requirements besides having the optimal height. These requirements will not only make it efficient but will also make your workstation comfortable. An ideal width should be between 24 to 27-inches to allow proper motion when sitting down. 
The desk should have a depth that allows your monitor to be more than 20-inches away from your face while working. 
Does Your Desk Have Accessories For Adjustment?
If your computer desk does not have a feature for adjusting height, you may consider adding some accessories. Doing this will make your desk more comfortable and ergonomic. But, if you have an adjustable office chair and a sliding keyboard tray, you will get the necessary adjustments for hand position and height suitable for all sizes of people. 
You may also consider adding a stable footrest beneath your desk to help minimize any discomfort on the lower back. Doing this also helps alleviate pressure on your upper leg.   
Which Is The Right Height For Your Computer Desk Chair?
Besides having an adjustable computer desk, you also require a good chair that provides enough comfort for your height. Ensure that the chair allows your feet to be firmly placed on the floor. Doing this helps to prevent any problems with your ankle. Your back also needs to be aligned with your shoulders facing to the front. A chair whose height is perfect ensures the stability of your workspace. 
Conclusion
Nothing can be as frustrating as working from a desk whose height is wrong. It can cause great discomfort as well as pain in your back, neck, and even shoulders. You can, however, embrace a few ways to raise your desk's height, such as the ones mentioned above.
Be sure also to have the right chair, leg space, and the correct depth and width of your workspace. It is also crucial to make sure that the height of your desk allows you to place your feet comfortably on the ground for proper ergonomic practice.