Last Updated on July 27, 2023 By Emma W. Thomas
No, there is no significant difference between a yard sale and a garage sale. Both terms refer to the sale of used or unwanted items at a private residence, typically in the front yard or garage. The choice of term may vary regionally, but the concept remains the same.
What's The Comparison Between A Yard Sale And A Garage Sale?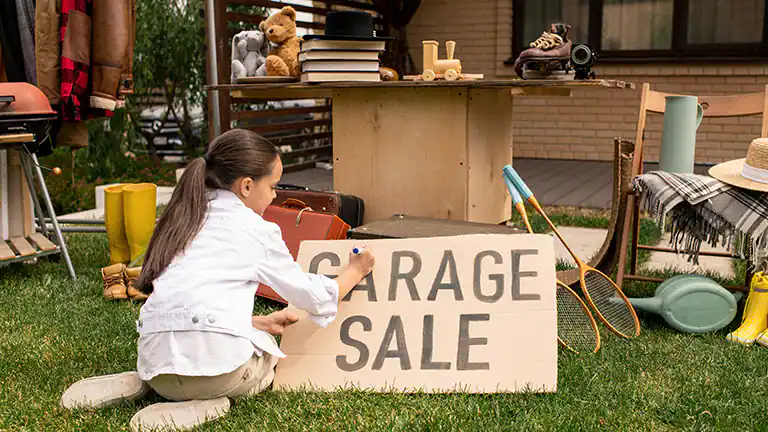 Below is a summary of what distinguishes a yard sale from a garage sale.
| | |
| --- | --- |
| Yard Sale | Garage Sale |
| These are mostly annual events that are organized and advertised by the whole neighborhood | Typically done in the garage |
| Comprised of items donated by neighbors and hopes to sell them off as well | Made of personal items the individual homeowner is hoping to sell |
| Are mostly annual events that are organized and advertised by the whole neighborhood | Mostly organized by individuals in whose garage it will take place |
Let's look at some of these differences in detail for better understanding.
Yard Sale.
A yard sale is a broader term for this sale because it takes place in the owner's yard, usually at the front side of the lawn. Selling involves giving out personal belongings for money if the items need to be rehomed, maybe due to the need to move out or a financial motive. The items sold at a yard sale can include items donated by neighbors hoping to sell them off. The organizer of the sale collects these items and sorts them into groups depending on their price. After sorting, the goods are advertised online and on the streets with the date of the sale indicated on the advert. On the specific day of the sale, the organizer arranges all the items on the yard at the front lawn and waits for willing buyers to come and choose what to buy. 
Garage Sale.
Going by the definition of the word garage sale, selling is usually done at the garage. Garage sales can also be extended into the driveway or even onto the front lawn when needed. Like yard selling, the seller picks out items from their homes to include in their selling to not be disposed of for nothing beneficial. This helps create space at the home of the hosting seller. In the Midwest, this is commonly known as a yard sale. The use of tables in the garage is more compared to the usage in the yard sale. This aids in the creation of space and placement of items in the garage 
Is An Estate Sale The Same As A Garage Sale?
No. There are distinct differences between estate sales and garage sales in how they are done and items sold. Estate sales are mostly done when a homeowner dies or moves long distances or downsizing. Professional estate sales companies mostly conduct them at a fee. 
Below is a comparison of an estate sale and garage sale
| | |
| --- | --- |
| Estate Sale | Garage Sale |
| Takes place inside the home being liquidated | Takes place outside the home |
| Includes items the owner no longer holds | Involves the belongings the owner no longer wants |
| Includes everything from valuable to expensive household items | Includes items that ceased from being used, such as clothes or utensils |
| More valuable items are sent for auctioning | Items are kept in the garage |
Estate Sale
The estate owner knows how to arrange an estate sale to look like a retail shop, giving the potential buyers ample time to choose. The items for sale include everything from highly valuable goods like jewelry to expensive household things like kitchen stuff and furniture and even stationery like books. The sales may either be held by the family or the estate owner, making decisions 
What Sells Best At A Yard Sale?
1. Games – Old games like super Mario kart are best to refurbish online for more cash than you originally paid for
2. Picture Frames –These are the most commonly sold. Sites like Pinterest allow you to go through many ideas on how to decorate the frames you no longer use.
3. Furniture  –These are the most admired yard sale items, and for this case, they are in high demand
4. Kitchen Stuff – a demand for dishes and serving utensils is more as people will need unique household stuff
5. Ornaments –consider letting  go of flashy old jewelry like necklaces for extra cash
How Should You Price Items At A Garage Sale?
Pricing your valuable items at a lower price can be tasking since you want to attract customers and make money while at it. Pricing will mostly depend on where you live, the condition of your stuff, and their quality. Different items will have different price tags; thus, you cannot have one price for all items.
Tips On How To Price Your Items For A Successful Garage Sale
1. Pick Out Special Items And Sell Them First
When sorting out your stuff as you organize the garage sale, pick out items in mint condition and go for high prices. These items can include designer or brand shoes and clothing or vintage décor pieces. Once you pick these stuff, sell them online for a better price since customers who find them at a garage will expect to pay less.
2. Find Out Prices At Other Garage Sales
Visit other garage sales near you and take a look at their prices. Furniture, clothing, toys, and household equipment are usually priced at almost the same price. Adjust your prices accordingly to suit these price ranges or make your prices almost similar to those at other garage sales because this is what customers are used to paying
3. End Your Prices In 5's Or 10's
To make your payments easier without the hustle of looking for extra change, make your prices end in 10s. Also, ensure you indicate prices on all items since most customers will not have time to ask for the price of each product.
4. Follow The 10 Percent Rule In Pricing
Most second-hand goods are sold at ten percent of their current retail value, and most customers know that. Those customers coming around will not buy at a price exceeding 10 %, but for those in perfect condition, you can sell them at 20-30 % of their retail value. Unique items also attract higher prices since it's rare to find them elsewhere. 
5. Be Ready To Bargain 
Most customers coming around the garage sale love to bargain, so be ready to negotiate and reach a good deal. While negotiating, it might not be promising to make good money, but the logic is that the more you sell, the more you make good money. A great time to make negotiations is in the afternoon on the last day of the garage sales, especially when you are planning to donate those items that don't sell to charity
How Much Should I Sell Clothes For At A Garage Sale?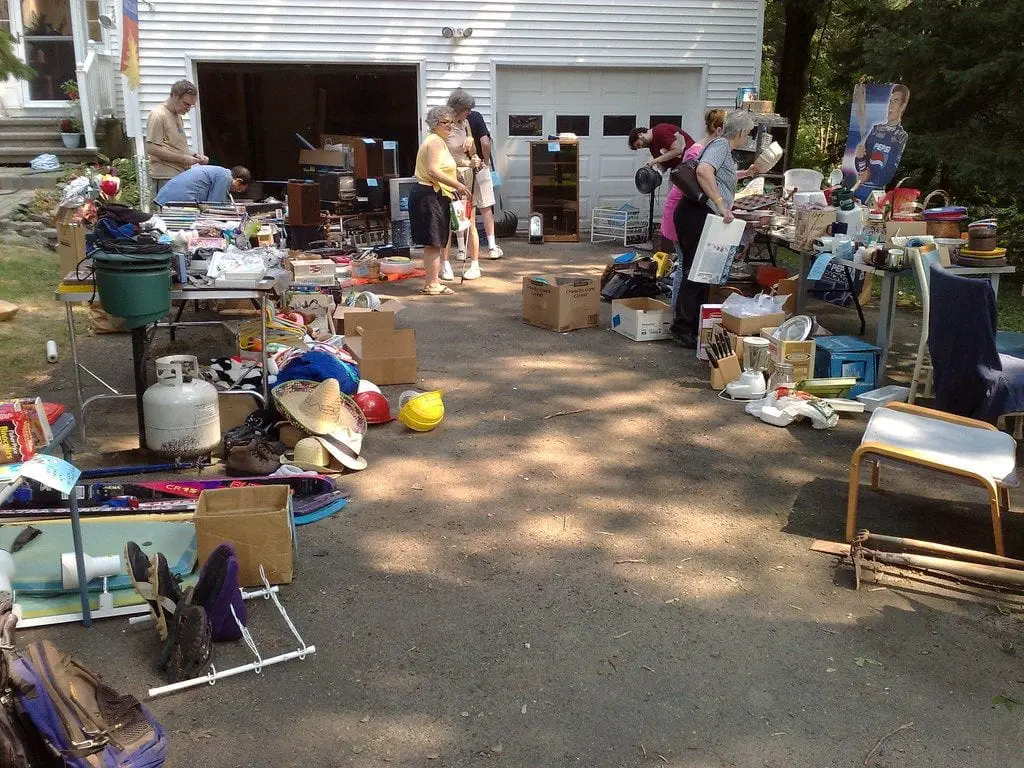 The price of different items varies depending on their condition, your location, and other factors. Here's a table summarizing the price range of items by their categories. This table, together with research from sales in your area, will give you an idea of how much to sell your stuff.
| | | |
| --- | --- | --- |
| Category | | Price Range |
| Clothing and accessories | Clothes of any size | $.25 to 1.00 |
| | Shoes depending on the quality | $1 to 5 |
| | Jewelry depending on the style | $.25 to 2.00 |
| | coats | $5 to 15 |
| Furniture and decor | Low-quality furniture | $10 to 30 |
| | Artwork depending on style, size | $2 to 30 |
| Entertainment items  | Hardcover books | $1 to2 |
| | Paperbacks  | $.25 to .5 |
| | DVDs  | $1 to 5  |
| | CDs  | Up to $2 |
| Household items | Kitchen stuff | $.25 to 5Unless it's a full set that will be sold at 15% of the retail value |
| | pillows | $1 to 10 |
Conclusion
A garage sale and yard sale are all terms used to refer to a second-hand sale organized by individuals to dispose of used items. The term used differs depending on the region you are in, but the concept remains the same. These sales help you give out your treasured items and get something in return. You can also visit these sales and get something unique at a relatively low price. We hope that this article has helped you distinguish between different second-hand sales and the next time you are invited to one, you'll know what it is about. Good luck.
References:
https://www.moveeast.com/moving-guide/selling-your-belongings/the-differences-garage-sales-yard-sales-estate-sales-and-more/
https://www.quora.com/Is-there-a-difference-between-a-yard-sale-and-a-garage-sale
Emma is a graduate of Domestic Science or Family and Consumer Sciences (Home Economics) from the University of Wisconsin. She has 7 years of experience Working with the strategic section of BestBuy and now writing full-time for Homeeon.
From Managing the Home, Interiors, Cleaning, and Exteriors to Gardening and everything about Making A Home Liveable – is her passion and this Homeeon is the result of this.
Emma loves decorating her home with the best stuff found online. She cares about quality over anything and writes reviews about them here in Homeeon. Get in touch with her over Pinterest.
Keep reading her blogs.