Last Updated on August 7, 2023 By Emma W. Thomas
In American English, "bathroom" and "restroom" are often used interchangeably to refer to a facility with toilets and sinks for public or private use. However, "bathroom" is more commonly used for private spaces in homes, while "restroom" is typical in public settings.
Differences in the use of the terms Washroom and Restroom across the World
The terms "Washroom" and "Restroom" are both used to refer to facilities with toilets and sinks, but their usage and connotations can vary across the world. Here are the differences in their use in different regions:
North America (USA and Canada):

"Restroom" is the most common term used in public places, such as restaurants, malls, and airports.
"Washroom" is less common but still used interchangeably with "restroom" in some regions, especially in Canada.

United Kingdom and Commonwealth Countries:

"Toilet" is the most common term used to refer to these facilities, both in public and private settings.
"Washroom" is rarely used, and if it is, it may be associated with more upscale or formal locations.

Australia and New Zealand:

"Toilet" is the widely accepted term for public and private facilities.
"Restroom" is sometimes used in more tourist-heavy areas or influenced by American English, but it is not as prevalent.

Europe:

"Toilet" is the standard term in most European countries, both for public and private use.
"Restroom" and "Washroom" are less common and are more likely to be found in areas frequented by English-speaking tourists.

Asian Countries:

English terms like "Restroom" and "Washroom" are commonly used in tourist areas and establishments catering to foreigners.
Native languages often have specific terms for such facilities that differ from region to region.

Middle East:

"Toilet" is a commonly understood term in English.
Arabic and other regional languages may have specific terms for these facilities.
What Is The Bathroom?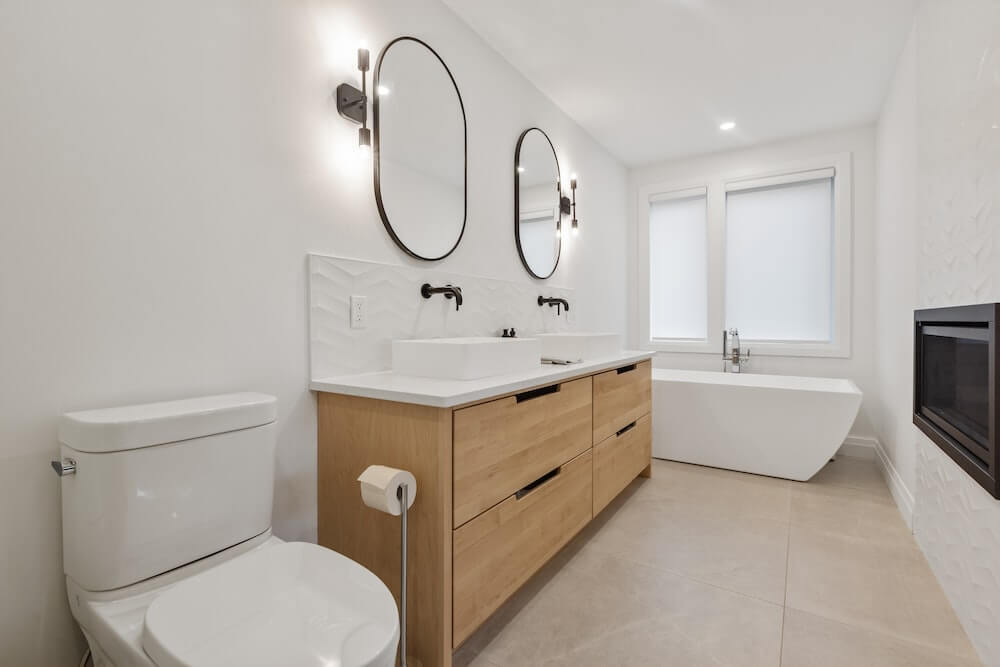 A bathroom is a special room in a home or house that is used for personal hygiene. It generally consists of a basin (sink), a bathtub, or a shower (or may contain both). Some countries include a toilet in a bathroom, while in others the fixture is in a separate room. If the toilet is a pit latrine, it is usually built outside the home. The toilet may also not fit inside the bathroom if there is not sufficient space.
What Is A Restroom?
A restroom is a small building or a room with one or more urinals or toilets for use by the general public. Employees or customers of a business can also use the facility, but the facilities are separate for males and females. There may, however, be unisex toilets for single or small occupancy. There are also public facilities for people with disabilities. 
 Different public toilets such as washrooms, restrooms, water closets, bathrooms, and comfort rooms, are available depending on the country. You may get a public toilet for free, while some charge a small fee. The pay toilets sometimes have a coin-operated turnstile.
Restrooms are usually found in factories, schools, offices, and other workplaces, cinemas, bars, restaurants, museums, or entertainment joints. There are toilets for public use in ferries, trains, planes, and filling & railway stations.
Differences Between A Bathroom And A Restroom
| | |
| --- | --- |
| Bathroom  | Restroom  |
| Found inside a house for personal hygiene | Found in public places for public use |
| Contains a bathtub, a shower and may include a toilet | Contains a public lavatory |
| Found in a private residence | Found in commercial buildings |
| Has bathing facilities as well as their fixtures and fittings  | Has toilet facilities as well as their fittings and fixtures. Bathing facilities are optional. |
Types Of Fixtures And Fittings In A Bathroom/Restroom
A bathroom or a restroom may not be complete without some essential fittings and fixtures. Whether you are building or redesigning a bathroom in your home or putting up a toilet for your business, it may not be very clear when deciding what to put in this room. It is, however, necessary to know the difference between a fixture and fitting in your bathroom. Knowing the difference helps you to decide what to put up and what to avoid.
A bathroom fixture is a feature that is plumbed or wired permanently in the bathroom. It cannot be freely or easily moved unless there is renovation. Examples are toilets and bathtubs. 
A bathroom fitting, on the other hand, is an additional element included in the fixtures. You can quickly move or replace the fittings at will. Examples are wall cabinets and mirrors.  Here's a list of fixtures and fittings that are worth considering;
Bathroom Fixtures
Bathtubs
This bathroom fixture helps to add some elegance to your space and can serve as a focal point. While a bathtub may feel unnecessary when working with a small space, it is useful when you have young children in the house. The facility provides you with a comfortable and relaxing way to unwind after a long day's work. You can combine a bathtub with a shower to save on space. 
When looking for a bathtub, choose one made of high-quality, durable material that keeps the water warm. Look for an ideal shape too, which can be freestanding. Check where you want the taps and plugs to sit.
Toilets
There are several types and styles of bathroom toilets to choose from, with the most common being closed-coupled. This toilet is a single unit with a cistern that sits atop a bowl and stands on the floor. For a space-saving toilet, you can choose a back-to-wall closed-couple facility with the back sitting fully on the wall.
A wall-hung toilet is also an excellent space-saving facility with an in-built tank at the back and a bowl attached to the wall. This type of toilet gives your bathroom a contemporary feel, and they are also easier to clean than other types.
Sinks
When choosing a suitable sink for your bathroom, you need to consider the shape, material, size, and mounting method. To maximize the space in your bathroom, you can design a bespoke custom-made bathroom.
Taps
These fittings go hand-in-hand with sinks, and without them, the sinks will be incomplete. The taps you choose for your bathtub and basin should be practical and have the ideal style. You may pick a mono mixer tap or a single-hole faucet. The item has a single handle that helps regulate the temperature of water from hot to cold, making it modern.
There is also a center-set item that is more traditional with different taps for cold and hot water. You can also choose a wall-mounted faucet for an ultra-modern feel. If your bathroom style is contemporary, choosing taps with clean and sharp lines or waterfall spouts will be ideal.
You may also pick brass taps since they provide a modern, stylish look and it is also corrosion-resistant. 
Bathroom Fittings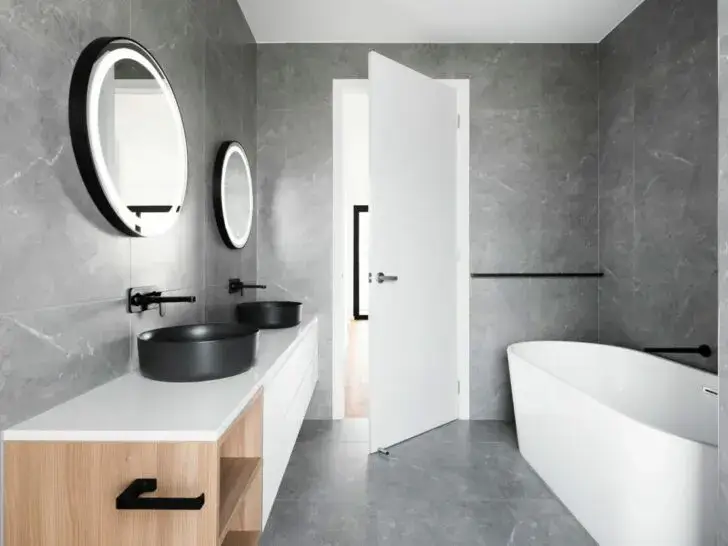 Toilet Seats
These fittings are sometimes overlooked, and they may undergo wear and tear due to frequent use. When choosing the items, look for those with thermo-set or thermoplastic materials that are easy to clean and hardwearing. You can also select a solid wood or wood effect seat if the vintage style is what you are looking for.
Bathroom Accessories
These accessories are smaller items such as soap dispensers, shower baskets, towel rails, and toilet roll holders. The facilities need to be aligned with your bathroom's interior décor style. If you want a modern style, go for minimalistic and clean accessories that are in block colors. But, if your style is traditional, then intricate decoration will be ideal.
Always consider your personal preferences when choosing accessories. You can choose a sleek dispenser, for example, which will look clean and stylish on your countertop. However, always remember to refill it. You can decide to have a freestanding toilet roll holder or one mounted on the wall.
Whatever accessories you choose, let them be practical for your style. 
Wall Cabinets
A wall cabinet helps to maximize space in your bathroom and also acts as an ideal storage solution. Wall cabinets help you keep your items neat and organized. They also allow you to store your toothbrushes more hygienically.
You can choose a cabinet with a mirrored front to give your bathroom a more stylish look. The cabinet could have additional features like LED lights. Keep in mind also the shelving style and how many shelves you need while minding the space of your bathroom.
Mirrors
Mirrors are staple accessories in every bathroom and need to match the style. Frameless mirrors that have sharp edges are more affordable, and they provide a modern feel. You can also choose a rounded mirror with an intricate frame to give your bathroom a more traditional look.
Give your bathroom ideal lighting to complement the mirror and make it more luxurious. You may also consider mirrors with LED lighting that makes them look sleek, and convenient, and offer excellent lighting.
Final Word
Although the words bathroom and restroom may be used interchangeably in some countries, they may have different meanings in others. It is necessary to know that a bathroom has a bath facility such as a shower and a bathtub, mostly inside a home. A restroom refers to a public toilet and may or may not include a bath facility.
References:
https://www.diffen.com/difference/Restroom_vs_Washroom
https://thecontentauthority.com/blog/bathroom-vs-restroom
Emma is a graduate of Domestic Science or Family and Consumer Sciences (Home Economics) from the University of Wisconsin. She has 7 years of experience Working with the strategic section of BestBuy and now writing full-time for Homeeon.
From Managing the Home, Interiors, Cleaning, and Exteriors to Gardening and everything about Making A Home Liveable – is her passion and this Homeeon is the result of this.
Emma loves decorating her home with the best stuff found online. She cares about quality over anything and writes reviews about them here in Homeeon. Get in touch with her over Pinterest.
Keep reading her blogs.