Last Updated on August 16, 2023 By Emma W. Thomas
Back tab curtains are window treatments with hidden tabs on the back of the panel. These tabs create a pleated look when hung, providing a clean and tailored appearance. They offer a versatile and modern style, fitting various curtain rods, and are popular for light control and privacy.
What are Back Tab Curtains?
Back tab curtains are popular window treatments, defined by their unique hidden tab design on the back of the curtain panel. The tabs are usually the same color and made from the same fabric as the curtain itself, thus blending in seamlessly.
2. Working of Back Tab Curtains
The working mechanism of back tab curtains is pretty simple. The hidden tabs are slid onto the rod, creating a series of deep, soft folds that flow down the curtain. This type of hangings assist in achieving a smooth and polished, yet informal and laid-back aesthetic at the window.
3. Aesthetic Elegance
One of the most significant features of back tab curtains is their aesthetic elegance. When hung, they display a clean, tailored line across the top, which complements both contemporary and classic interior styles. They also completely hide hardware for a streamlined look.
| Key Attribute | Description |
| --- | --- |
| Curtain Type | Back Tab |
| Appearance | Tailored and Streamlined |
| Style Suitability | Contemporary and Classic |
4. Room Darkening Feature
Another insightful aspect of these curtains is their room-darkening features. Some back tab curtains are tight when closed, blocking most if not all the light and providing excellent privacy.
5. Versatile Installation Options
Back tab curtains offer flexible and versatile installation options. They can be hung on a standard rod or can be paired with clip rings. When hung traditionally, they showcase their signature folded look, while clip rings provide them a pleated effect.
6. Wide Array of Material Choices
Back tab curtains are available in a wide array of materials including but not limited to – cotton, velvet, polyester, silk, and linen. This variety allows homeowners to choose based on their personal style preferences and practical considerations like insulation or light-filtering needs.
7. Easy to Maintain
Lastly, yet importantly, these curtains are relatively easy to maintain. Depending on the fabric used, many back tab curtains are machine washable or can be dry cleaned which makes them a practical choice for high-use spaces or homes with children.
To wrap up, back tab curtains combine functionality with aesthetic appeal. Their sleek design makes them an effective choice for achieving a modern yet timeless look, while their versatile features meet diverse styling and practical needs.
Can Back Tab Curtains be Hanged with Hooks?
Most drapes have back tabs for you to clip the rings or pinch the fabric to create pleats. When using a curtain hook, ensure that it does not go through to the front of the drapery but let it grab the lining or back tab.
Tips to Use When Hanging Curtains and Drapes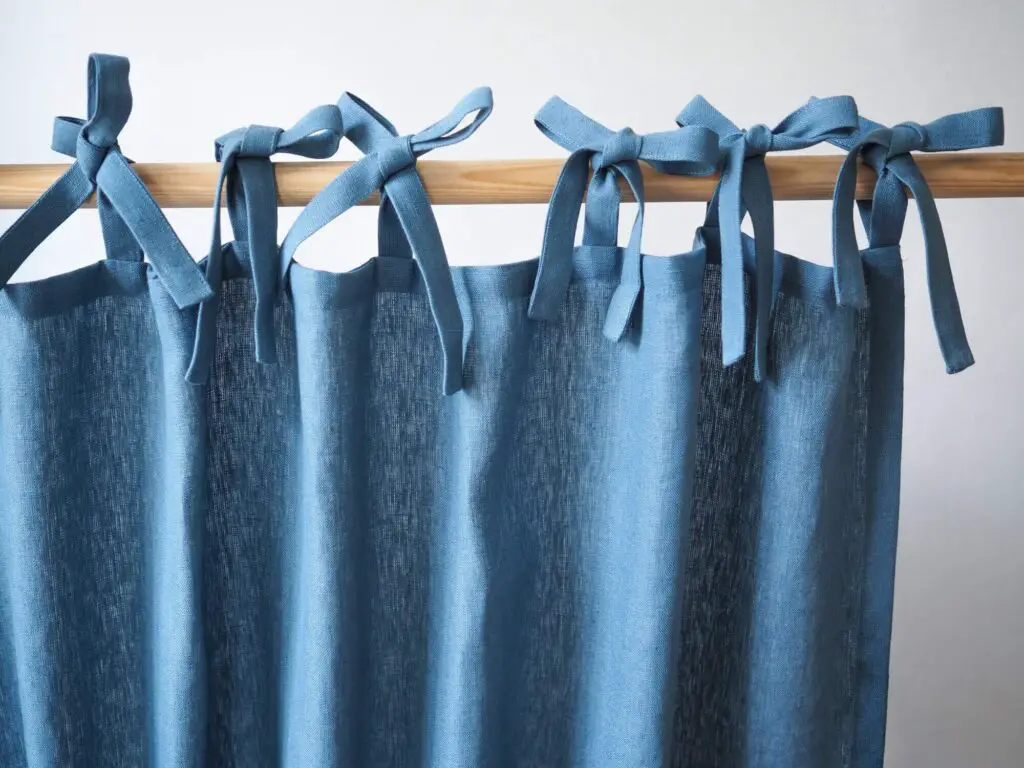 When you hang your drapes and curtains, you must ensure that they look professionally done and give the illusion that you desire. The following tips will work for you;
 Hang Your Curtains High
If your rooms have low ceilings, ensure that your curtain rods are as high as possible. Taking your drapes to the roof accentuates the room's height and also helps to draw the eye up as well as create the illusion of a higher ceiling.
If on the other hand, you have a tall ceiling, be sure to hang your curtain rod 8-12 inches above the window frame. You can also hang it halfway between the roof and the window frame.
Hang The Curtains Wide
When you open the curtains, you don't want to see the panels obscure the glass window panes but just touch the outside edge of the frame. You will get the maximum amount of light into the room as well as the benefit of making your windows look and feel wider.  
You need to hang the rod brackets about 6-8 inches above the window frame so that the curtains will not block the light when they fall naturally. 
Use the Right Length
Your curtains should hang slightly above the floor or just touch it. Although you can 'puddle' the drapes on the floor for a fabulous bohemian look, you should never let them hover more than a few inches off the floor. 
Hang the Correct amount of Panels
Your curtains should give you some fullness when you close them and not look flat. You can multiply your window's width by 1.5 to determine how many panels you will need. Doing this gives you the minimum amount of width for the panel to cover your windows.  A window whose width is 60 inches requires at least 90 inches of the panel width.
Since most panels have a width ranging between 48-54 inches, then two panels are enough for the job. 
Hang the correct Panel Style
You should use the right style of panels, for example, lined, sheer, or blackout curtains. If you want some privacy while at the same time getting some light passing through, then sheers are a perfect choice. 
Sheers are common in main living spaces, and they also come in a variety of fabrics and feature subtle textures or patterns. When purchasing sheers, you need to look for materials with a dryer hand, and a more natural-looking touch rather than synthetic fiber as this may seem outdated.  
Lined curtains provide more privacy than sheers, but they still filter light through. These curtains are perfect if you are concerned with their appearance from the outside. Passersby will see sparkling white lining other than the rear of the curtains. 
Blackout drapes feature special fibers that are woven directly into the curtain to block light as much as possible. They are suitable for bedrooms or nurseries since they have a lining that converts ordinary curtains to blackout ones. You can maximize the light-blocking features by using curtain rods that are rounded at the edges. The curtains will envelop the window frame completely when you close them. 
What is a hook belt on a curtain?
 A hook belt is a band that looks like a ribbon.  It is sewn into the back of the rod pocket curtain and is used to strengthen any drapery pins. You can then attach the drapery pins to a traverse rod or ring. 
Differences between Curtains and Drapes
Although the terms curtains and drapes are used most of the time interchangeably, the two types of window treatments have great differences. Understanding the distinctions will help you choose the right one and change the feel and function of a room. 
Curtains are normally sold in pairs with a variety of lengths and widths. You can install them over blinds or on their own, and they come in a wide range of patterns, fabrics, and colors, and they are ideal for any room in your home.
You can choose from simple grommet curtains that are medium-weight or sheer café curtains that are half-length to suit your needs. Curtains are not very effective in blocking light since they have a sheerer nature and are usually paired with shades or blinds. They are also perfect for spaces that do not need a blackout effect. 
Curtains normally hang from a pole that is fixed above the window frame and can be either decorative or hidden. 
Like curtains, drapes are also sold in pairs, and they usually come with a lining that could be heavy or light according to the desired purpose. The padding can be for letting in or blocking light.
Drapes may extend from the top of the window to the flooring, or they can be longer to achieve a puddling effect beyond the window. They are normally pleated at the top of the panel and fall from a rod. Each drape has an aesthetic appeal ranging from simple, silky box pleats, to complex and formal tuxedo pleats. 
Drapes come in thicker, stiffer fabrics and are normally sold custom-sized to fit the exact dimensions of your window. They are regarded to be more luxurious and formal than curtains due to their custom design and thicker construction. 
How to Choose the Right Window Treatment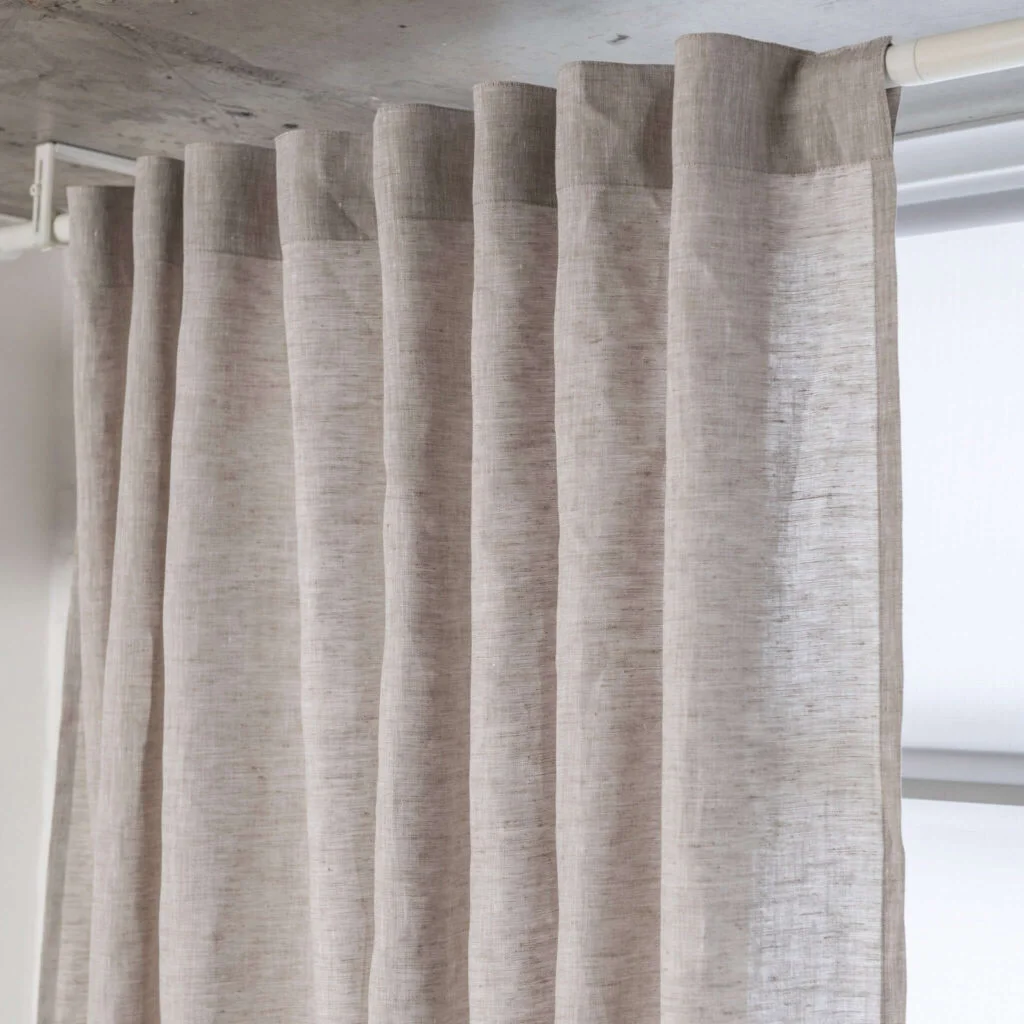 Choosing the right window treatment requires you to know the purpose for which to use them. You can select drapes or curtains for;
Blocking out light
Letting in light
Alternating between allowing in or blocking out light
Blocking out noise or insulation
Blocking out light
You can choose thick-lined drapes if you are looking forward to blocking out light. The curtains are perfect for private areas such as your bedroom.
Letting in Light
Curtains have different thicknesses with sheer options that allow light to get in. If you want a warmer shade that will give your home a beautiful view as the sun shines, then choose a sheer curtain.
Alternating between letting in and blocking out light
Curtains that have blinds underneath them are the perfect choice for alternating between letting in light and blocking it out. You can either lower or raise the blinds to your desired length.
 Blocking out noise or insulation
If you need drapes to block out noise and insulate your house as well, go for those that expand from the top of your window to the floor. Polyester is a popular fabric that helps in noise reduction and also insulation. 
Final Word
Back tab curtains can give your home the illusion and decoration that you desire, but you need to be cautious when choosing them as well as hanging them. You can use these curtains if you do not want to keep opening and closing the drapes all the time.
You will also need to choose the right rods when hanging the curtains to keep the pleats and tabs straight. Ensure that you get the correct length of the curtains and also the ideal color to suit your desire and give your home a fabulous look.
References:
https://www.spiffyspools.com/spiffy-speak/back-tab-curtains-drapes/
https://www.onlinefabricstore.com/makersmill/how-to-sew-lined-back-tab-curtains/
Emma is a graduate of Domestic Science or Family and Consumer Sciences (Home Economics) from the University of Wisconsin. She has 7 years of experience Working with the strategic section of BestBuy and now writing full-time for Homeeon.
From Managing the Home, Interiors, Cleaning, and Exteriors to Gardening and everything about Making A Home Liveable – is her passion and this Homeeon is the result of this.
Emma loves decorating her home with the best stuff found online. She cares about quality over anything and writes reviews about them here in Homeeon. Get in touch with her over Pinterest.
Keep reading her blogs.