Last Updated on May 17, 2022 By Emma W. Thomas
There is no parent who doesn't want the best thing for their kids. And even when they want to buy toys for their children they want the best. However, choosing and buying toys for two years old boys are very difficult as it is very hard to keep them entertained and engaged. Two years old children are very active explorers and curious about the world around them. Like any other toddler, a two-year-old boy requires toys and many play activities to help them get through the next stage of their childhood development.   
Toys & Gift Ideas for 2 Year Old Boys is not an easy task because there are different types of toys available in the market. So it makes it difficult for the parents to choose the right toys for their child. Luckily, there are other parents out there who have bought and tested the toys, and we have gathered the best information for you.  
Toys & Gift Ideas for 2 Year Old Boys
We have made a list of toys that are suitable for 2-year-olds, they are affordable and free from small parts, thus safe. Whether you want a birthday gift or you just want to buy a toy for a 2-year-old boy, here is a list of top 10 best toys and gift ideas for you.
Fisher-Price Harley-Davidson Tough Trike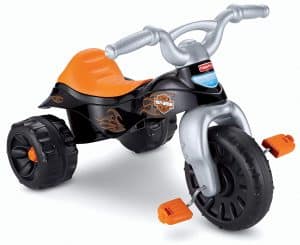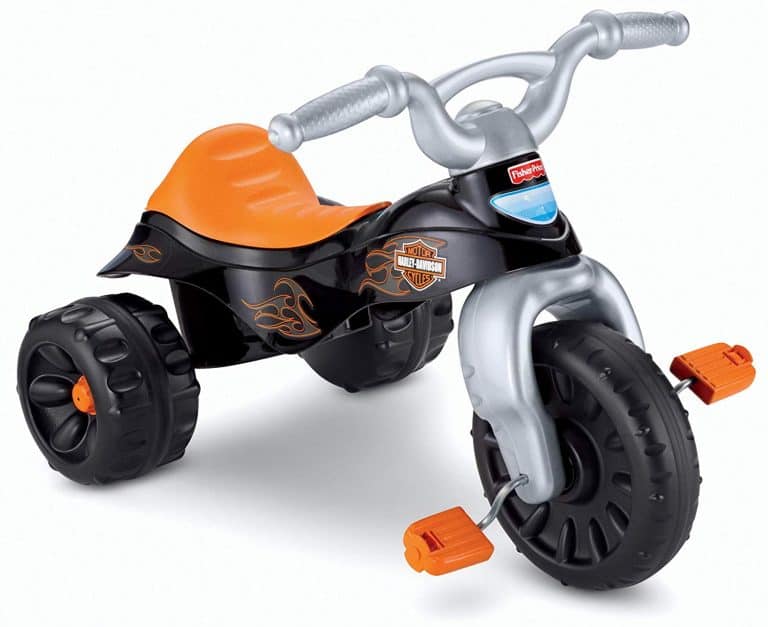 This tricycle is suitable for boys under three years old. This tricycle has stable wheelbase with bigfoot pedals that allow easy ride. The chair of this bike is very comfortable and your son will enjoy riding the cycle. It also has a secret compartment for storage under the chair. The rugged tires make it more durable and stable for a safer ride. The handlebars are also easy to grip so he won't be losing his balance and the overall design is just beautiful.
Mega Blocks 80-Piece Big Building Bag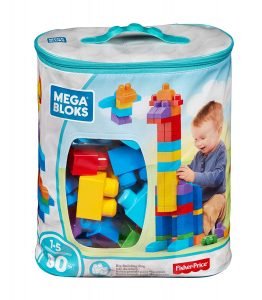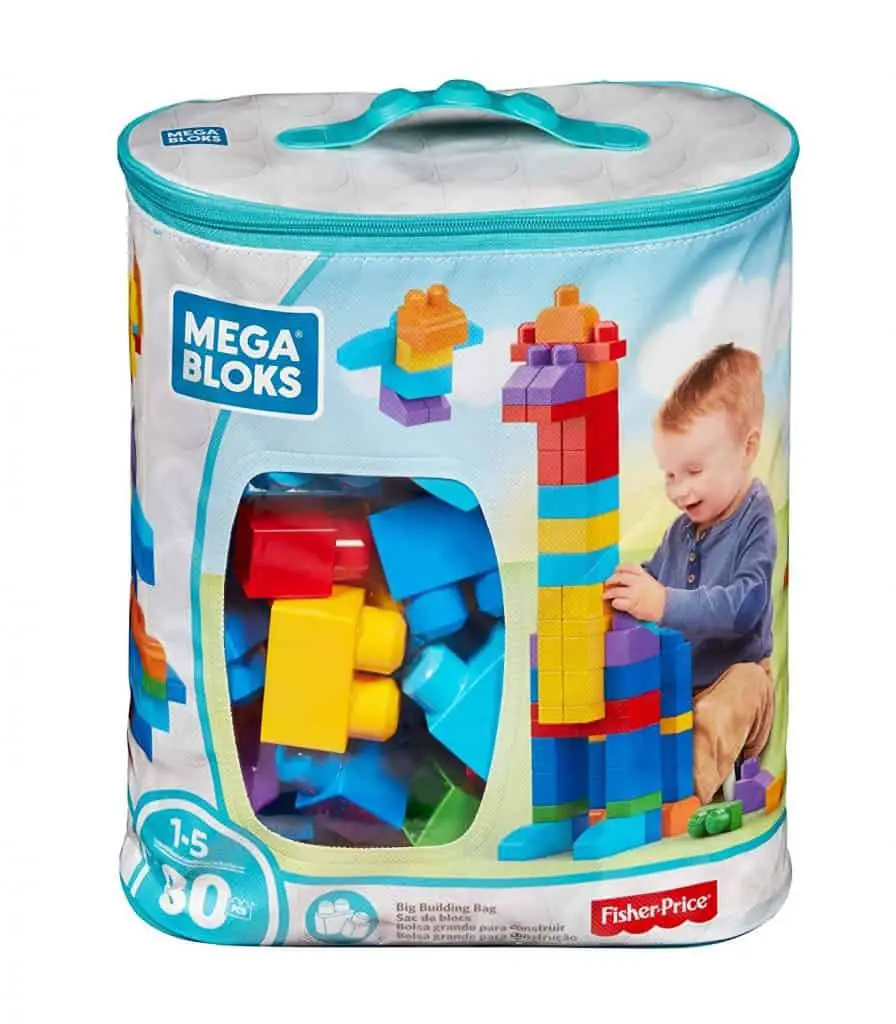 This is a perfect toy for a two-year-old boy. This bag of 80 classic blocks holds a huge option of assemblies it can form. The size of these blocks is perfect for two years old. Your son can comfortably grasp, stack, or take them apart. These blocks can engage your child for hours as they build and rebuild their imaginations. This Mega Blocks 80-Piece comes with a storage bag and a wide variety of colors making them very appealing. The storage bag helps to make clean up easy and also keep the blocks safe.    
Step 2 Easel For Two with Bonus Magnetic Letters/numbers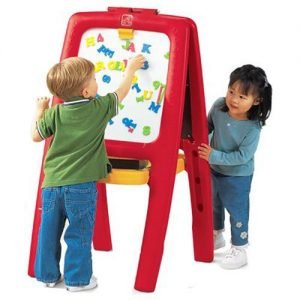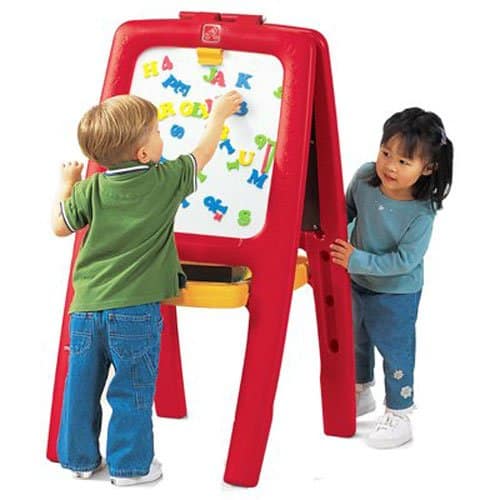 This multipurpose easel is available in pink or red and it is perfect for kid artists. It has a chalkboard on one side and a dry erase board on the other side. Your child can also paint on a craft paper attached to the easel which has clips on either side. There are a tray and pencil lasers available under the chalkboard. Children can use this tray and pencil lasers to keep chalks, eraser, markers, paintbrushes, and accessories. It also has 77 magnetic letters, signs, and numbers. This easel has two sides, so two kids or twins can play together.    
3 Bees & Me Bath Toys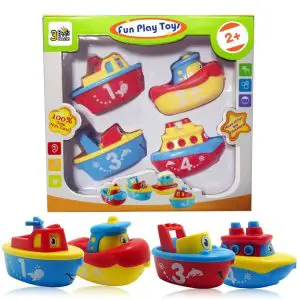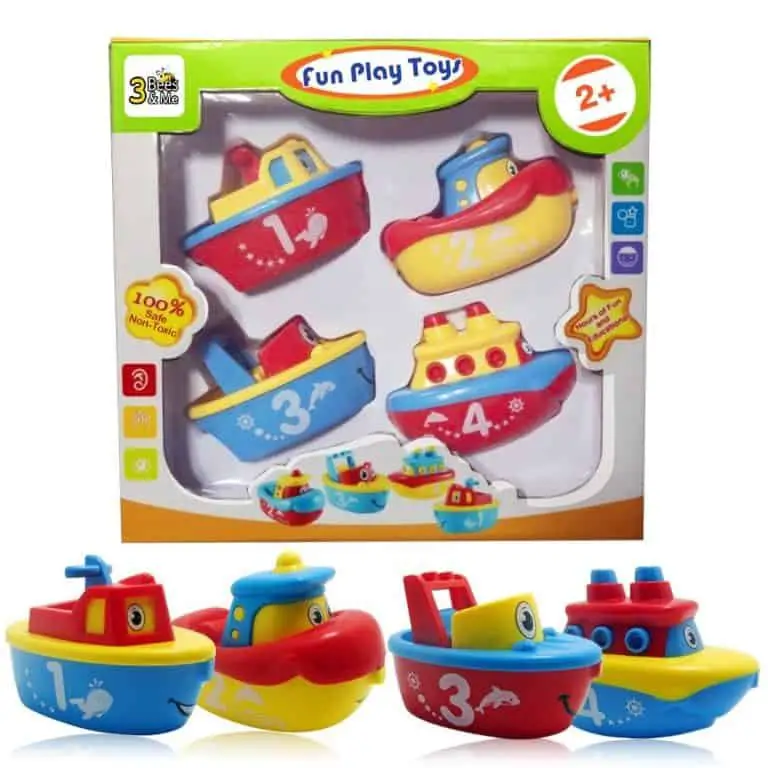 A parent knows how difficult it is to give showers their little one. 3 Bees & Me Bath Toys can be a great solution to this problem. These toys will make bathing fun for your child and something to look forward to. The playset has four twin boats that float on water. With these toys, the child can learn shapes and colors while improving motor skills as well as creative skills. There are no sharp edges in these toys and perfectly sized for the small hands. Moreover, these toys retain no water and make it totally safe to use in water.     
Amytalk Doodle Children Drawing Mat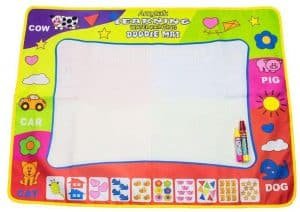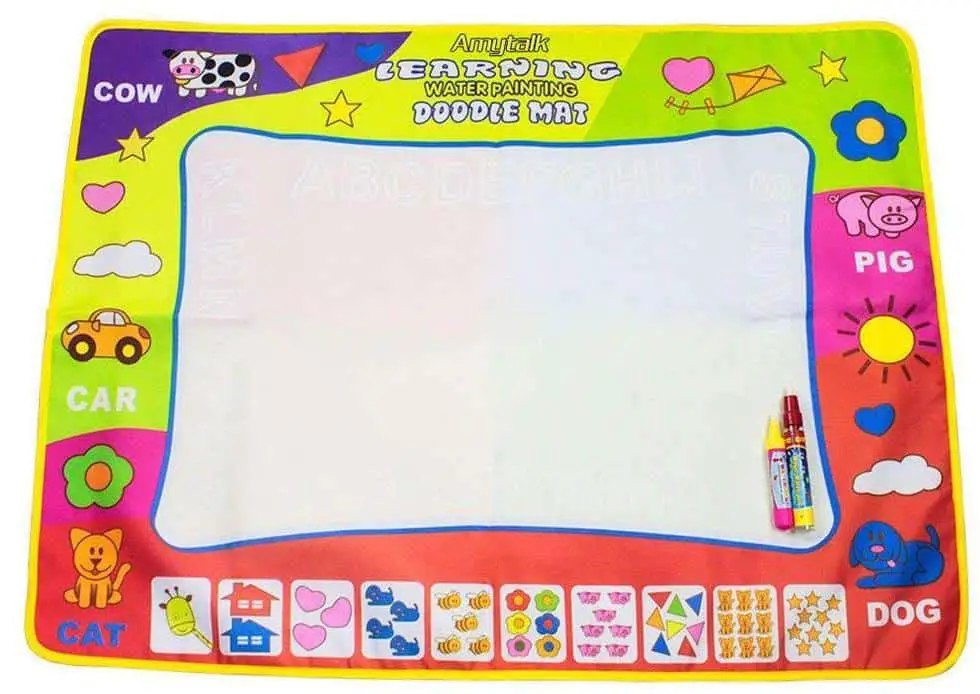 Children Drawing Mat comes with four color parts that include blue, red, yellow, and green. It has unlimited use since the painted content will vanish spontaneously following painting for around ten minutes. It helps kids to explore and imagine things and paint pictures, numbers and letters as well as trace and write. This drawing mat is easily folded and perfect for both Indore and outdoor use. You can easily refill and empty the water pen.
Battat Sound Puzzle Box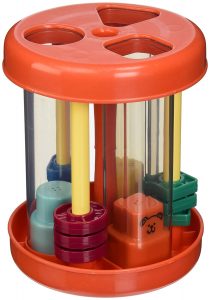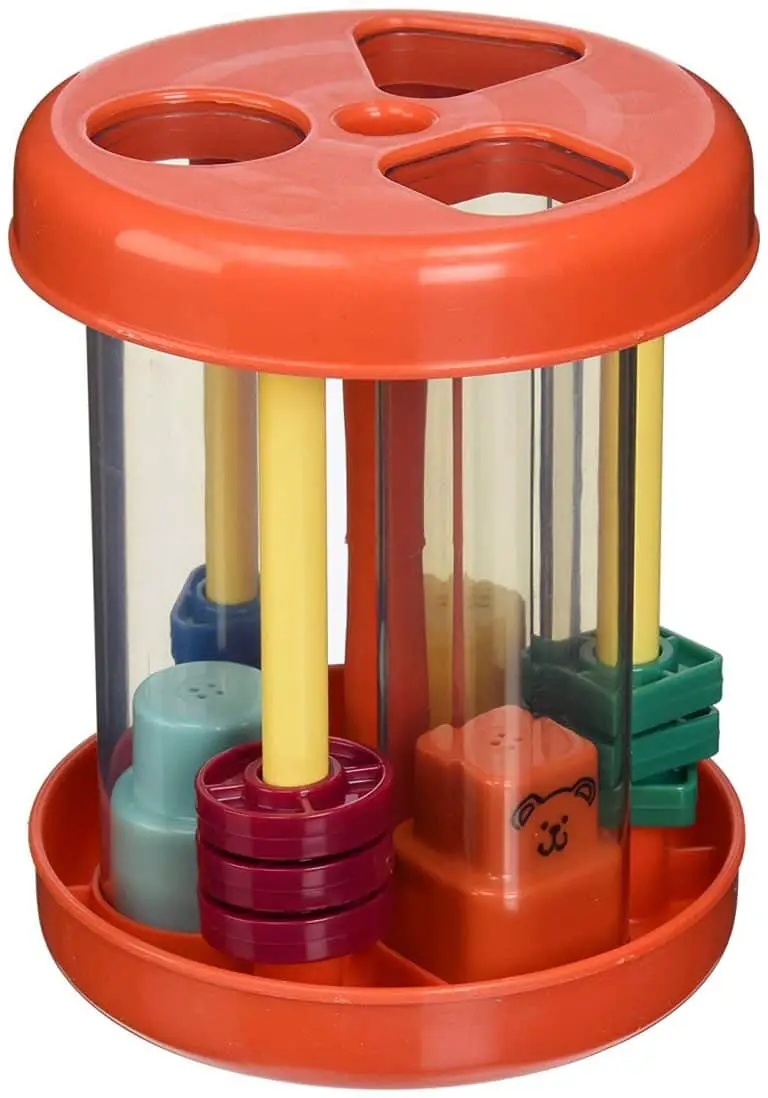 This product is a fun puzzle, develops hand-eye synchronization and pattern matching skills. It is an easy game where the child is only required to match each shape with its matching form on the hole at the top of the puzzle then drop it inside. Each shape makes a different sound as it falls to the bottom of the puzzle. This is a good way of boosting eye-hand coordination and difference between shapes and colors. It is recommended for children one year and above.
Brio My First Railway Beginner Pack Wooden Toy Train Set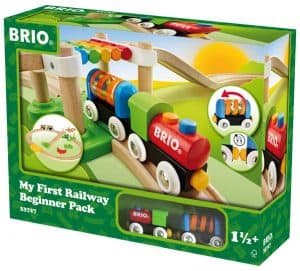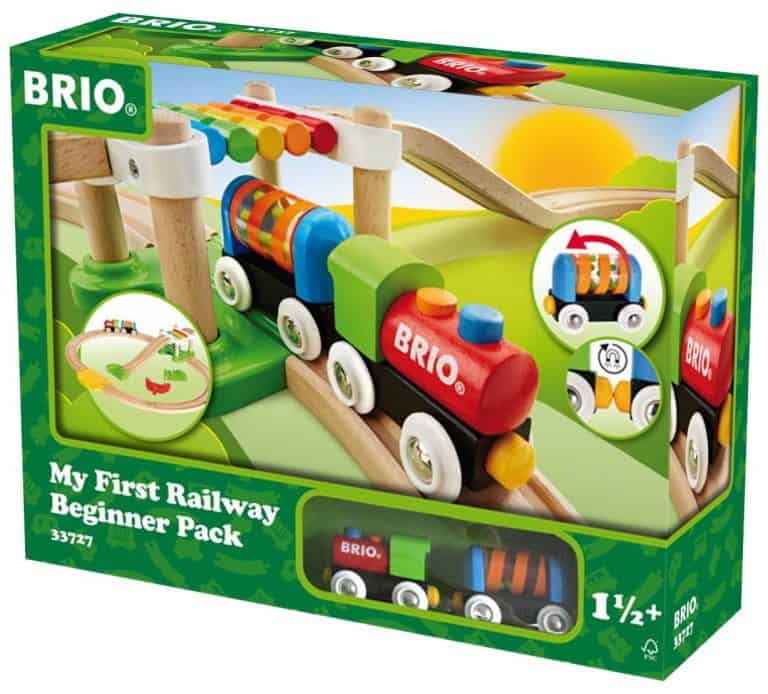 This is an amazing railway starter pack toy train set for children 18 months old or above. It is made of FSC certified beech wood and works with all wooden railway sets. In this train set, there are 18 pieces that include a wagon which makes new noises and an ascending wooden track for the train to go up and down. The train travel over or under a bridge that is rainbow-colored makes it very enjoyable. Moreover, your child can make train line layouts of his own. The train and train cars are connected via magnets. These connecting magnets are hidden making it completely safe for your children.      
HABA Rainbow Whirls Pegging Game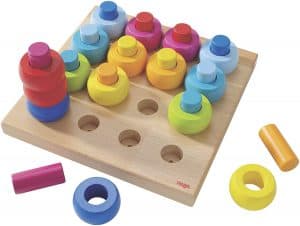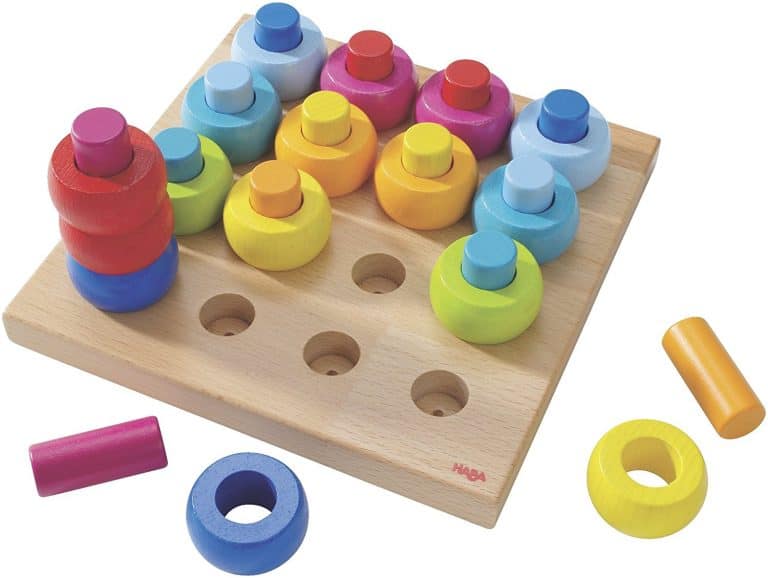 This is an award-winning toy for children. This toy won some prestigious award like creative child magazine game of the year, Dr. Toy best vacation products, the National Parenting Seal of Approval 2011. This toy is made of brightly multicolored pegs and rings. It will keep your child busy for hours as he assembles and reassembles it. Your child will enjoy stacking rings up the pegs. It is made of wood and its paints are water-based and solvent-free, makes it completely safe for the children.      
Cartoon R/C Race Car Radio Control Toy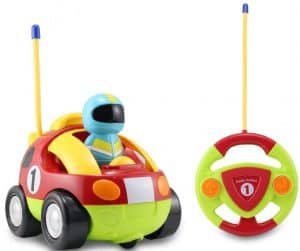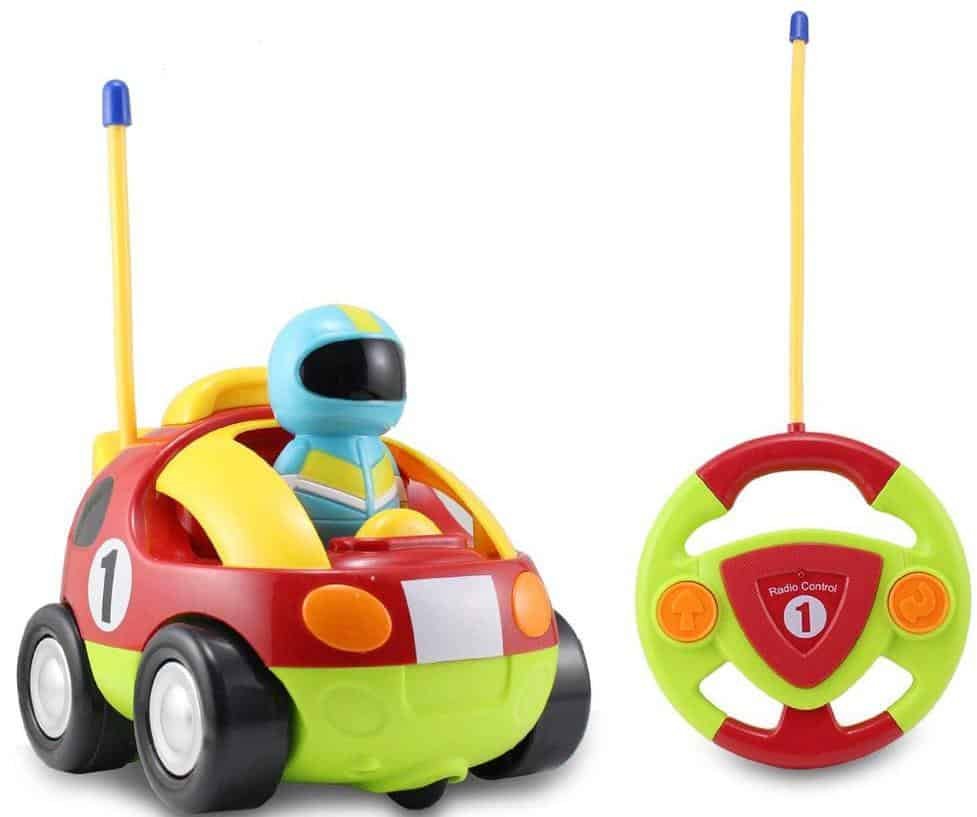 This is a beautiful and stylish race car with remote controls. The toy is brightly colored and perfect for a 2-year old. This is a super-fast car and it can ride in four directions, forward/ backward and left/right. This car honk, blink headlights and play music when pressing a button. It has a removable car driver figure that the kids can place inside the car or play with outside. For first-timers, this is a perfect introduction to remote control toys for young toddlers.
HABA Tree Maze Wooden Magnetic Game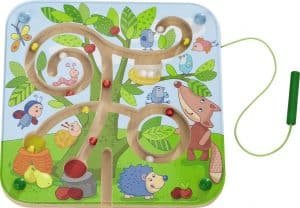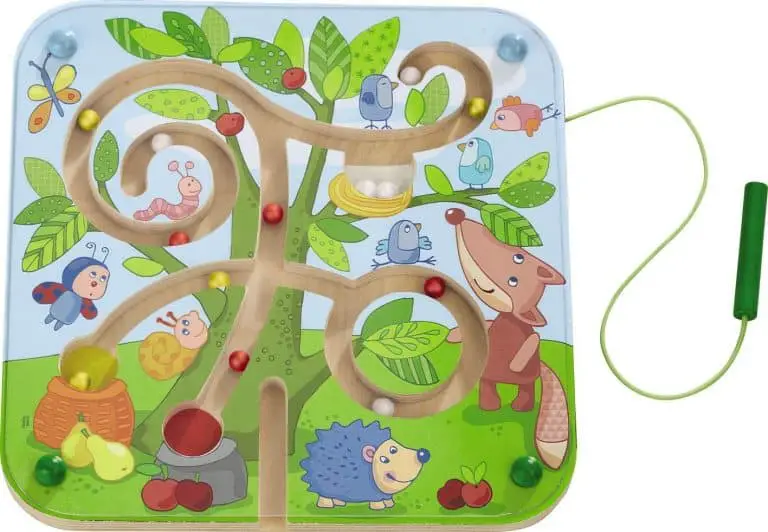 This is a very amazing and unique toy for children over two years old. A child will use a magnetic rod to guide the balls around the tree maze. He has to sort them according to colors or he can play randomly. The white balls are the eggs in the bird's nest; the red balls are the apples in the basket and the yellow balls are the ripe pears decorating the tree.     
Bottom Line
The best toys are the ones that develop and spark your child's imagination, encourage learning, and also urge him to cooperate with other objects in the environment as well as other people. That said; it's essential that you strike the right balance between the looks, effectiveness, affordability, and availability of the toy.
Emma is a graduate of Domestic Science or Family and Consumer Sciences (Home Economics) from the University of Wisconsin. She has 7 years of experience Working with the strategic section of BestBuy and now writing full-time for Homeeon.
From Managing the Home, Interiors, Cleaning, and Exteriors to Gardening and everything about Making A Home Liveable – is her passion and this Homeeon is the result of this.
Emma loves decorating her home with the best stuff found online. She cares about quality over anything and writes reviews about them here in Homeeon. Get in touch with her over Pinterest.
Keep reading her blogs.