Last Updated on August 9, 2023 By Emma W. Thomas
Foosball table prices vary widely based on size, quality, and brand. Basic models start around $100, while more advanced, durable tables can range from $300 to $1,000 or more. Consider your preferences and budget when selecting a foosball table.
How Much Does a Foosball Table Cost?
Foosball, a game with an exhilarating mix of skill, strategy, and luck, is a widely beloved choice for home entertainment and professional sports alike. The market for foosball tables offers a wide range of options, varying extensively on factors like materials used, durability, level of craftsmanship, and gameplay features. However, when it comes to cost, how much does a foosball table cost? Here is a list providing varying price ranges for a variety of foosball tables:
Entry-Level Foosball Tables: $100-$500
Entry-level foosball tables are great for beginners and younger players. While they may not provide the highest level of play, they are usually more affordable and durable enough to withstand occasional play.
Mid-Range Foosball Tables: $600-$1,000
Typically, mid-range tables offer a decent balance between price, durability, and gameplay quality. These tables are perfect for serious players who want a more immersive experience without breaking the bank.
High-End Foosball Tables: $1,000-$2,000
High-end foosball tables often come with improved construction, enhanced durability, and better gaming features. Whether hardwood construction, counterbalanced men, or solid steel rods, these tables are built keeping professional-level play in mind.
Luxury Foosball Tables: $2,000 and Up
Luxury foosball tables are the crème de la crème of the foosball world. Often crafted with the finest materials, boasting the most advanced features and exuding aesthetic appeal, these tables are a favorite among enthusiasts willing to make a significant investment.
Second-Hand Foosball Tables: Prices Vary
Let's not forget about second-hand options. Prices will vary depending on the table's condition and original price. This is a good way to secure a high-quality table at a lower price if one is on a budget.
Table: Price Ranges for Foosball Tables
| Table Type | Price Range |
| --- | --- |
| Entry-Level | $100 – $500 |
| Mid-Range | $600 – $1,000 |
| High-End | $1,000 – $2,000 |
| Luxury | $2,000 and up |
| Second-Hand | Varies |
Features And Qualities Of A Good Foosball Table That Determine Their Cost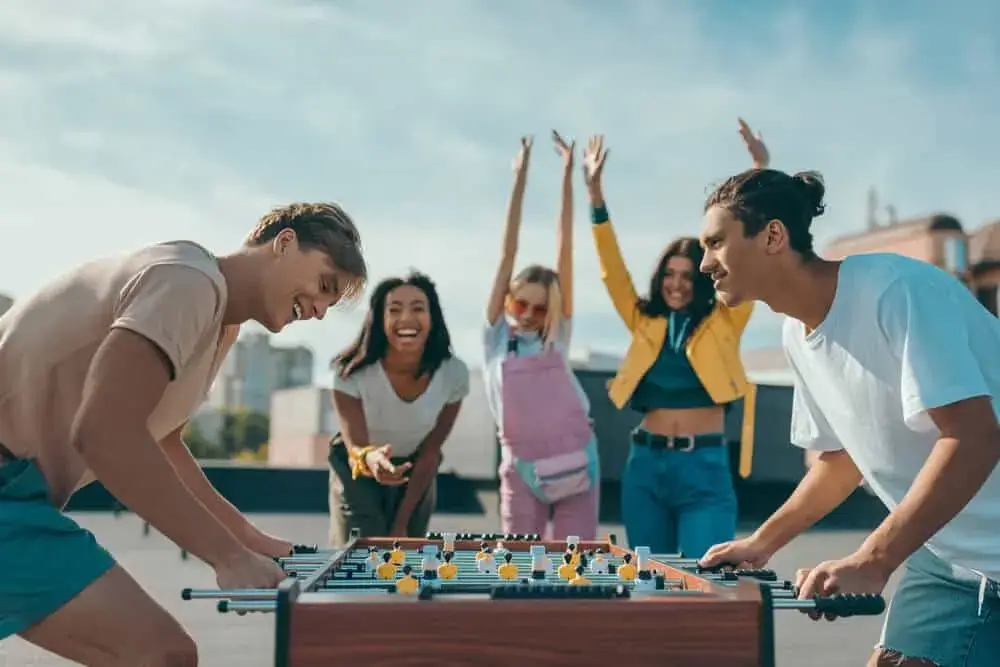 If you are serious about the foosball game and want to take your skills to a high level, you will need to invest in a quality table. With a cheap table, you cannot learn ball control or shoot and passing techniques necessary for a serious player.
However, if you intend to buy a toy for your kids, you can purchase one with cheaper components. The following features are vital when looking for quality equipment:
1. Weight Of The Table And Side Rails Thickness
If you are looking for a stable table during heavy play and one that is durable, then choose one that is at least 200 pounds heavy. The rails also need to be 1 ½ – inches thick for maximum performance and consistency when your ball bounces around. You will also learn to bank shots accurately with thicker and heavy tables.
Light and thin foosball tables are not durable, and they flake around the goalposts. They undergo wear and tear after only about one or two years, making them not cost-effective. These models may also shift position during gameplay and hence need constant leveling.
2. Counterweighted Or Counterbalanced Men
Counterbalanced foosball men feature is common in high-quality tables. The head of the men's weight is equal to the toe's height. A table that lacks this feature cannot keep the men's horizontal position without holding the rod. It will frustrate you if playing a one-on-one game since you will have to raise the man front. Doing this will prevent blocking your shots from the back.
A foosball table without a counterweighted man requires you to rotate your men upside down vertically when on your defense. If you have the men horizontally, the feet's weight will make them fall, thus blocking the shots. A counterbalanced men's table allows you to rotate the men horizontally and helps them remain in that position. The height will stay out of your way while the weight will add speed to your shots. 
3. Solid Rods Of Steel With A Hollow Interior
Rods influence the style that your table will have. Some manufacturers may use lightweight, cheap metals that will bend over time. Others may use solid steel metal that is not hollow (hollowing reduces the weight). 
Make sure that you get a reinforced or hardened model with a center that is drilled thoroughly. This makes your device lightweight and ensures a smooth glide with excellent performance.
4. Foosball Men Without Slick, Rounded Toes
A foosball table whose men have cross-hatching and a pointed-toe structure lets you have better ball control. Cross-hatch looks like small teeth or ridges along the foot bottom to help improve ball control. You will get to catch the foosball and pin the ball down for superior shots such as the snake shot. 
A conventional man with a round, slick toe design prevents you from passing the ball back and forth to the players. This man is also not favorable for shooting bank shots since they need a sharp edge. 
5. Octagon Shape Tacky Plastic Or Wooden Handles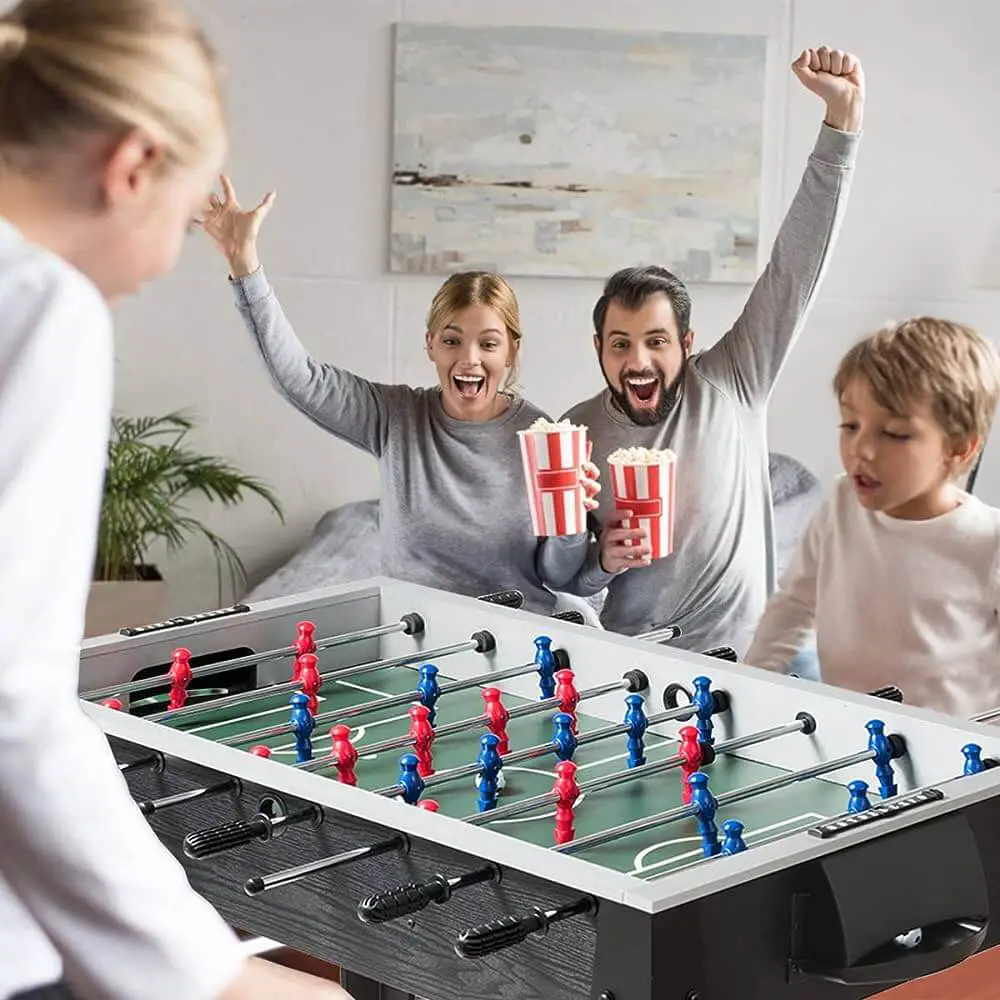 Excellent quality tables are octagonal to give an ergonomic grip. The grip lets you place your hand well for a better shooting experience. Ensure that you look for a plastic or wooden material with a tacky feel instead of a slick or rounded handle that causes your hand to slip and slide around.
Plastic handles are likely to cause accidental spins. They are also less effective in shooting since they will make your hands slip loose from the shaft. Ensure that the equipment you choose gives you maximum opportunities to score highly.
6. Table Sides With Ball Returns 
Although the side balls on the table do not necessarily affect the actual gameplay, they are convenient. The features help you to position your table near the wall and keep it out of the way. You will not have to strain to get to the side of the table when practicing foosball, and the ball will not fall out of place.
The side balls, therefore, make your equipment user-friendly.
7. Thick Legs With Spinning, Adjustable Leg Levelers
Thick legs give your table the stability it requires not to shake when the game is in play. The legs should be bolted tightly to the cabinet to prevent wobbling in the structure. Higher-priced tables come with spinning, adjustable leg levelers at the bottom. You can adjust the legs to the desired height so that you can play comfortably.
A level foosball table gives you a chance for a fair and competitive game. You will also get a level playing field for serving, passing, and setting your scores. 
8. Sticky (Tacky) Foosball
Make sure that the balls can be easily pinned down or gripped against the table with your men. Avoid plastic balls or those with a shiny, slick finish. Tables that cost over $500 usually come with excellent-quality balls. Foos balls are easy and cheap to upgrade, and you need to replace them yearly as they wear down quickly.
What Is The Standard Size Of A Foosball Table?
The dimensions of a full-size foosball table are 5 feet long and two ½-feet wide (60 inches long and 30 inches wide). Foosball tables have specifications depending on their use, whether for sporting clubs or use at home. There are also those made to satisfy a small kid's curiosity. 
You will therefore look for a suitable size depending on where you need to use them.
References:
https://www.foosballsoccer.com/table-prices.html
https://www.howmuchisit.org/foosball-table-cost/
Emma is a graduate of Domestic Science or Family and Consumer Sciences (Home Economics) from the University of Wisconsin. She has 7 years of experience Working with the strategic section of BestBuy and now writing full-time for Homeeon.
From Managing the Home, Interiors, Cleaning, and Exteriors to Gardening and everything about Making A Home Liveable – is her passion and this Homeeon is the result of this.
Emma loves decorating her home with the best stuff found online. She cares about quality over anything and writes reviews about them here in Homeeon. Get in touch with her over Pinterest.
Keep reading her blogs.