Last Updated on July 22, 2023 By Emma W. Thomas
End-of-lease cleaning refers to the deep cleaning and sanitization of a property by a tenant who moves out of the rented home. A tenant moving out of a rented house is responsible for cleaning it up to retrieve their bond (the security deposit one pays to the homeowner or agent before the tenancy commences).
What is End of Lease Cleaning?
End-of-lease cleaning is a crucial part of the moving-out process, ensuring that tenants leave their rented property in pristine condition. It involves a thorough cleaning of the entire property, often following a specific checklist, to meet the cleaning standards set by the landlord or property manager. Let's dive into the key aspects of end-of-lease cleaning.
Purpose and Importance:

End-of-lease cleaning is essential as it helps tenants secure their bond refund. A well-cleaned property increases the chances of getting your full deposit back.
Landlords rely on end-of-lease cleaning to prepare the property for new tenants. It ensures a smooth transition and maintains the property's value.

Scope of Work:

End-of-lease cleaning typically covers all aspects of the property, including bedrooms, living areas, bathrooms, kitchens, and outdoor spaces.
It involves deep cleaning and disinfection of carpets, windows, walls, floors, appliances, and fixtures.
Areas like ovens, refrigerators, bathrooms, skirting boards, and exhaust fans receive extra attention due to high levels of dirt and grime buildup.
What Does End-Of-Lease Cleaning Involve?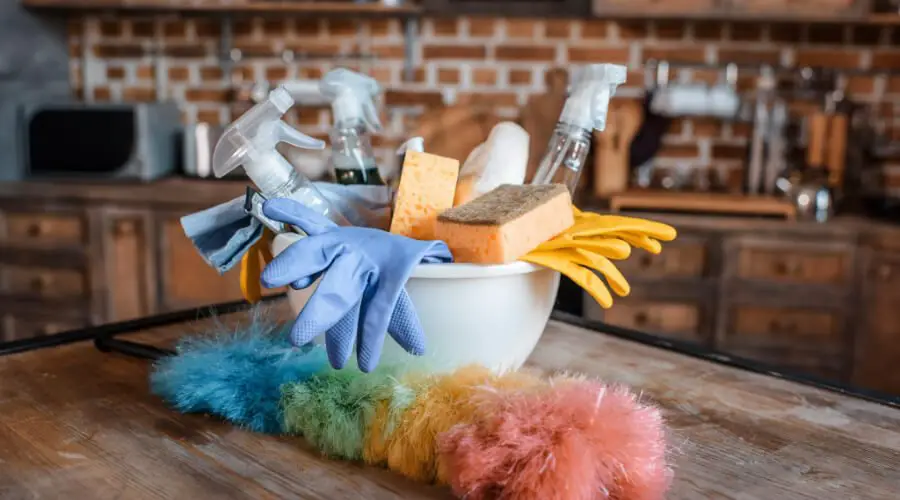 end-of-lease cleaning entails more than just the routine cleaning of a property. The property needs to be spotless and in excellent condition before one can get back their bond. A tenant wishing to terminate their tenancy must do the following;
General Cleaning
General cleaning entails;
Removing any cobwebs, insect marks, and small nests from the walls
Cleaning the walls, light switches, and fittings and leaving them spotless
Getting rid of stains from doors and skirting boards. 
Washing air conditioners, ceiling & exhaust fans, and filters, and cleaning the windows thoroughly.
Vacuum cleaning carpets and floors and mop hard floors.
Getting rid of grease from sliding door tracks and washing drawers and cupboards.
Cleaning The Kitchen Space
Clean all shelves, drawers, and kitchen cupboards deeply
Scrubbing off any stubborn stains around knobs, rings, and stovetops and getting rid of grime and grease from the oven, glass, trays, and doors. Be sure to use water and soap to clean all detachable parts of the grillers and range. You can also use organic cleaners to clean the machines, both inside and outside. 
Deeply clean the refrigerator, including the inside, outside, and behind. 
Clean the dishwasher and microwave if necessary.
Clean the drain holes and drainers, not forgetting to sanitize the sinks and polish the faucets
Mopping up the floor and eliminating dirt from the exhaust fan filter. 
You also need to clean the range hood filter.  But, this is a tedious process that may require the services of a professional. 
Cleaning The Bathroom Area
The bathroom space is sensitive since it can be a breeding ground for bacteria and germs. It can also attract mold and mildew infestations as a result of moisture presence. These areas, therefore, need systematic cleaning. The following steps are necessary:
Start by cleaning the ceiling, then proceed to the towel rails, cupboards, soap holders, and shelves. Be sure to throw away all soap residue and remove any hard water stains from the taps and walls. 
Ensure that you thoroughly clean the toilet, toilet seat, cistern, tub, and basin behind the 'S' bend. The showerhead, curtains and all taps need thorough cleaning too. If there are any white surfaces, make sure that no stains remain on them. 
The bathroom floor also needs to be swept and washed deeply, and any water dried up. Make sure that you also clean the tiles and mirrors and remove any noticeable mold. 
Grooming The Outer Space
Cleaning the outdoor area such as the garage, patio, and garden is also crucial since the property managers notice them first. It is, therefore, necessary to make sure that they are spotless. The following practices will help:
Sweep the garden and remove all branches and leaves. Make sure that you trim any hedges that have overgrown while removing the weed.
Clean the driveway, throw away garbage, and wash the bins, including the inside. Remove all cobwebs from the garage, including the walls. Get rid of all dust from the interior of the garage.
Is End of Lease Cleaning Worth My Money?
Whether end of lease cleaning is worth your money depends on several factors:
Lease Agreement: Check your lease agreement to see if you are required to perform end of lease cleaning. Some agreements may stipulate that you must hire professional cleaners to ensure the property is left in a certain condition.
Time and Effort: End of lease cleaning can be time-consuming and physically demanding. If you have a busy schedule or lack the time to clean the entire property thoroughly, hiring professionals can save you time and effort.
Deposit Return: The primary reason tenants opt for end of lease cleaning is to maximize the chances of getting their security deposit back. If the cost of cleaning is lower than the potential deposit amount, it may be worth investing in professional cleaning to secure the refund.
Cleaning Standards: If you are confident in your cleaning abilities and have maintained the property well during your lease, you may not need professional help. However, if you are unsure about meeting the landlord's cleaning standards, hiring professionals can provide peace of mind.
Property Condition: Consider the overall condition of the property. If the property requires extensive cleaning or if there are stubborn stains or damages, professional cleaners may be better equipped to handle the job effectively.
Rental Market: In some rental markets, end of lease cleaning is common practice, and landlords may expect the property to be professionally cleaned. In such cases, hiring cleaners can help meet these expectations.
Ultimately, the decision depends on your personal circumstances and priorities. If you decide to hire professional cleaners, ensure you choose a reputable company with experience in end of lease cleaning to get the best value for your money.
Are There Benefits Of Hiring A Professional To Do Your End-Of-Lease Cleaning?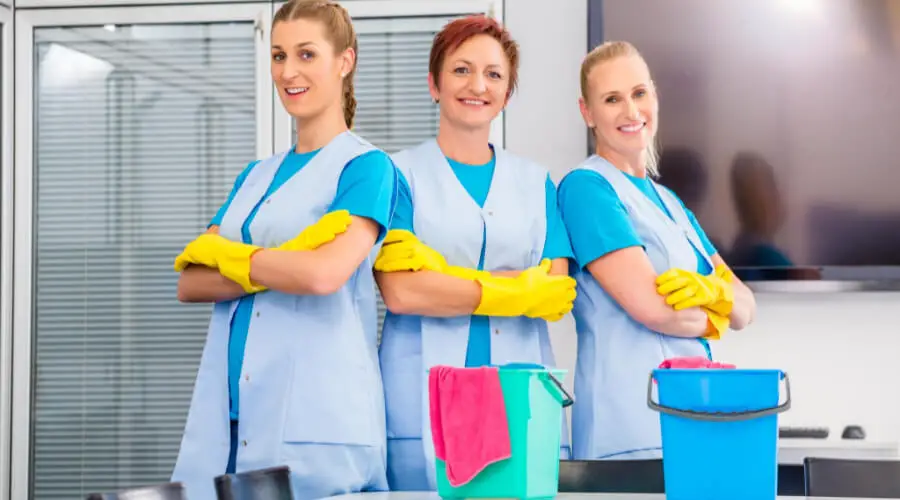 Professional cleaning has several benefits, including;
It saves you money and time to perform other duties
It helps to secure 100% of the bond amount
Professional cleaning uses environment-friendly cleaning solutions and follows the standards of cleanliness.
It helps to make the moving out process easier.
It ensures that your home is free of germs and pests since a professional will be thorough to clean even those areas that may be hard-to-reach
What Are The Factors That Affect The Cost Of Professional Cleaning Services?
Several factors may affect the cost of cleaning services, including;
The Condition Of Your Home
Your home's current condition dramatically impacts the cost of cleaning. For example, if your house has a lot of clutter or dust build-up, it will take time for the experts to put it back in order. If, on the other hand, you clean your house regularly, there may not be a lot of dirt, and this will take only a few hours of deep cleaning. The more time it will take to clean will mean more cost and vice versa. 
Your Home's Size
Cleaning experts will charge for the cleaning services depending on the square footage of your home. The number of rooms in your home will also affect the charges.  If your home has a lot of space, you can expect to pay more than when the area is smaller. 
The Table Below Shows A Rough Estimate Of These Costs As Per The Size Of Your Home.
| | |
| --- | --- |
| Size of home | Average total cost (in dollars) |
| A studio flat | 120 |
|  One-bedroom  | 150 |
| Two bedrooms | 180 |
| Three bedrooms | 200 |
| Four bedrooms  | 250 |
Your Home's Location
Besides your home's size, different cleaning companies will charge for cleaning services depending on your region. For example, it will cost more in a big city than in a rural area. It is advisable to get estimates from various cleaning firms before settling for the right one to do the job. 
The Number Of Times To Clean
If you hire a cleaning firm to do a one-time job, you will most likely pay more than when you want them to do it regularly. Frequent sanitization of your home may attract a discount from the professionals, unlike when you do it only at the end of the lease. 
Number Of Cleaners Doing The Job
If you want the cleaning job to be done in a shorter period, you may need to hire more workers. Having more people to do the task means paying more. It is, therefore, necessary to get a quotation from the cleaning firm to know how much they charge per person for you to make an informed decision. 
Conclusion
It is a requirement in most if not all states that a tenant leaves a rented property in the same condition it was at the beginning of the tenancy. A property owner or agent asks for a security deposit (bond) at the beginning of tenancy which they refund at the expiry of this period. 
A tenant is responsible for the end-of-lease cleaning and proper maintenance of the property to get back their deposit. This practice involves deep cleaning of all rooms, including fixtures and fittings, and also getting rid of any stains, molds, or mildew. One can hire the services of cleaning experts to get the job done perfectly and on time.
References:
https://dirt2tidy.com.au/blog/what-does-end-of-lease-cleaning-mean/
https://www.bondcleaning.sydney/what-is-end-of-lease-cleaning-what-all-does-it-include/
Emma is a graduate of Domestic Science or Family and Consumer Sciences (Home Economics) from the University of Wisconsin. She has 7 years of experience Working with the strategic section of BestBuy and now writing full-time for Homeeon.
From Managing the Home, Interiors, Cleaning, and Exteriors to Gardening and everything about Making A Home Liveable – is her passion and this Homeeon is the result of this.
Emma loves decorating her home with the best stuff found online. She cares about quality over anything and writes reviews about them here in Homeeon. Get in touch with her over Pinterest.
Keep reading her blogs.