Last Updated on July 30, 2023 By Emma W. Thomas

The cost of living in Bora Bora can vary significantly based on accommodation preferences, dining choices, and activities. On average, a mid-range budget for a couple could range from $500 to $1000 per day, including accommodation, meals, and leisure activities.
How Much Does It Cost To Live In Bora Bora?
Bora Bora, a small island located in French Polynesia, is known for its breathtaking beauty and luxurious resorts. Living in this paradise may seem like a dream come true, but it's important to consider the costs before making any plans. Here's a listicle breaking down the expenses of living in Bora Bora:
Accommodation:

Rent for a one-bedroom apartment: $2,000 to $3,000 per month.
Luxurious villas and overwater bungalows can range from $5,000 to $10,000 per month or more.

Food and Groceries:

Eating at local restaurants can cost around $20 to $40 per meal.
A gallon of milk costs approximately $6, while a loaf of bread may be around $5.
A monthly grocery bill for a couple can range from $400 to $600.

Transportation:

Taxis and private transfers are the primary means of transportation on the island.
A taxi ride within the main villages can average $10 to $20.
Renting a car can cost approximately $80 to $100 per day.
Boat trips to nearby islands or snorkeling spots can range from $100 to $200 per person.

Utilities:

Electricity, water, and internet bills can vary depending on usage and location.
Monthly utility costs for a small apartment can average around $150 to $250.

Health and Medical Care:

French Polynesia has a universal healthcare system, which gives access to affordable medical care.
Basic medical services and doctor's visits can range from $50 to $100.
Health insurance premiums can vary, with average prices around $150 to $300 per month.

Activities and Entertainment:

Bora Bora offers various outdoor activities like snorkeling, scuba diving, and boat tours.
Prices for these activities can range from $50 to $200 per person, depending on the excursion.
Relaxing at the resorts and enjoying the stunning beaches is generally free.

Education:

For families considering moving to Bora Bora, international schools are available.
Tuition fees for international schools can range from $10,000 to $20,000 per year.

Miscellaneous Expenses:

Buying or renting water sports equipment, like paddleboards or kayaks, can cost approximately $500 to $1,000.
Miscellaneous expenses, including clothing, personal care items, and leisure activities, may add up to $300 to $500 per month.
How Much Does A House Cost In Bora Bora?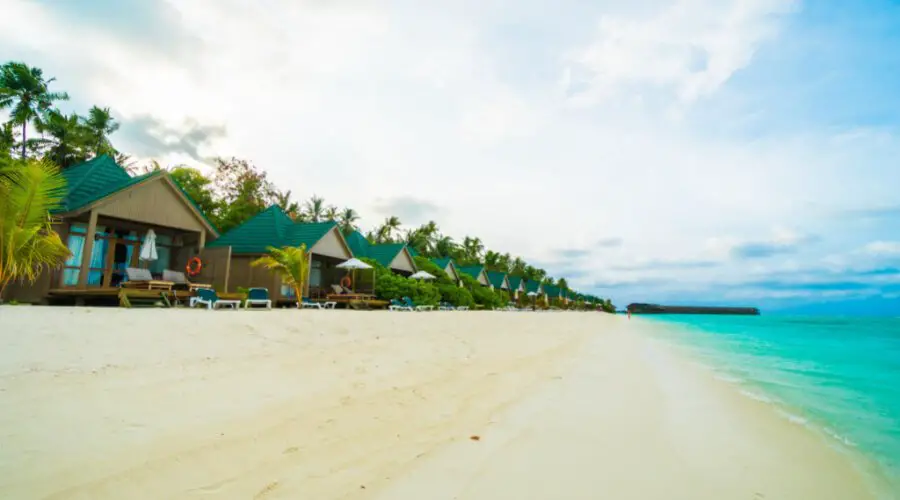 The Cost of a house in Bora Bora varies depending on its size and location. Generally speaking, expect to pay anywhere from $600,000 to $3,000,000 for a home in Bora Bora.
Cost Of Living In Bora Bora VS The US
The Cost of living in Bora Bora is significantly higher than in the United States. It can be up to four times as expensive. A couple can expect to spend around $5,000 per month on basic food, housing, and transportation. This doesn't include luxury items such as clothing, alcohol, or entertainment.
How Does This Compare To The US? 
Well, the average monthly rent for a one-bedroom apartment in New York City is $3,600. So, while you can certainly find cheaper places to live in the US, it will still be more expensive than living in Bora Bora.
What About Other Expenses?
A gallon of milk costs an average of $3.15 in the US – nearly double the price of a gallon of milk in Bora Bora, which costs about $1.70 on average (both prices for 2016). Bread and eggs are also less expensive; eggs cost an average of $1.50 per dozen, and bread is typically under $2 per loaf.
The Cost of transportation is very different: a monthly subway pass costs around $116 in New York, but free if you can navigate the island on your own two feet or rent a moped/scooter. A gallon of gas typically runs about $2.80 here versus closer to $3.80 across the Pacific Ocean.
What About Utilities? 
For keeping track at home, that'll cost you around $180/month in NYC or just $60/month in Bora Bora.
A couple can expect to pay at least $1,000 per month on groceries alone but consider that imported items are more expensive. For example, a pound of coffee costs about $30 here versus it's closer to $7 across the ocean. You should also budget for higher restaurant prices since most food must be imported from Tahiti.
The high Cost of living does not mean that eating steak is out of the question, though! A decent meal for two with wine will run you less than $100, even at higher-end restaurants located right over the water on Vaitape Bay. 
Keep in mind that the Cost of living in Bora Bora is still much more expensive than in most places in the United States. If you want to retire or take a vacation in paradise on a budget, Bora Bora may not be the best option.
Where Is Bora Bora?
Bora Bora is an island in the South Pacific Ocean. It is part of French Polynesia.
How Do We Get To Bora Bora?
The only way to get to Bora Bora is by plane or boat. You can fly into Faaa International Airport (PPT) on Tahiti Island, which takes about 2 hours and $1,000 by plane from Papeete, Tahiti. 
From there, you can take a ferry across the lagoon to Vaitape, the main port of Bora Bora, for about $15 one-way or a $30 round trip per person if you share it with another person. There are also private boats at the marina that will bring you over for about $200 one-way.
When Is The Cheapest Time To Visit Bora Bora?
The off-season in Bora Bora is during April, May, and June. The weather is a bit cooler, and there are fewer crowds. However, the prices for airfare and hotels are also lower. If you're looking to save money, this is the time to go!
How Much Does It Cost To Stay In Bora Bora?
One of the most well-known honeymoon destinations is Bora Bora. This island is known for its luxurious resorts and beautiful sights. It's no wonder how it got the reputation as one of the most romantic places in the world! 
However, are you wondering what it costs to stay at a resort in this tropical paradise? Keep on reading to find out!
Whilst visiting, staying at an over-water bungalow is recommended if you wish to be surrounded by picturesque views all day long. It makes sense that these types of accommodations would be expensive since they best show off the beauty of Bora Bora!
You can expect to spend anywhere from $900 to $2,000 per night if you choose to stay in an overwater bungalow. If this seems a bit too pricey for you, we suggest looking into staying at a bell tent or cliff-side villa. These accommodations usually range anywhere from $300 to $800 per night.
Do Keep in Mind: There are always ways to get discounts! Ask your wedding planner if they can get you any special prices because sometimes resorts will give out discounts if there is availability around your wedding date. 
Also, keep in mind that Bora Bora is quite popular year-round, so it's recommended that you book 6 months to one year ahead of time, so you don't miss out on any discounted rates!
What Not to Miss Out: On the Honeymoon Breakfast over the lagoon with your partner is a must-do during your stay in Bora Bora! 
This intimate breakfast setting is served every morning and usually includes an assortment of pastries, tropical fruits, coffee, and tea. If you're looking for something a bit more extravagant, breakfast options include French toast with vanilla sauce or eggs benedict.
If you're not feeling up for a meal, another great activity to do is head to the spa for a couples massage! Nothing says "romantic honeymoon" like massages side-by-side in a warm and tranquil setting.
To get a better idea of how much it costs to honeymoon in Bora Bora, here is a breakdown of some average prices:
Overwater bungalow: $900 to $2,000 per night
Cliff-side villa or bell tent: $300 to $800 per night
Romantic breakfast over the lagoon: FREE! (If you stay at a resort)
References:
https://www.onelifepassport.com/cost-of-living-in-bora-bora-guide/
https://mikeandlauratravel.com/is-bora-bora-expensive/
Emma is a graduate of Domestic Science or Family and Consumer Sciences (Home Economics) from the University of Wisconsin. She has 7 years of experience Working with the strategic section of BestBuy and now writing full-time for Homeeon.
From Managing the Home, Interiors, Cleaning, and Exteriors to Gardening and everything about Making A Home Liveable – is her passion and this Homeeon is the result of this.
Emma loves decorating her home with the best stuff found online. She cares about quality over anything and writes reviews about them here in Homeeon. Get in touch with her over Pinterest.
Keep reading her blogs.