Last Updated on August 13, 2023 By Emma W. Thomas
The cost of a bouquet varies widely depending on factors like the type of flowers, size, and location. On average, small bouquets can start at around $20, medium-sized at $50, and larger, more elaborate arrangements can range from $80 to $150 or more.
How Much Does A Bouquet Cost?
| Bouquet Type | Estimated Cost Range |
| --- | --- |
| Hand-tied Bouquet | $35 – $75 |
| Posy Bouquet | $30 – $70 |
| Nosegay Bouquet | $45 – $85 |
| Cascade Bouquet | $80 – $150 |
| Pomander Bouquet | $40 – $90 |
| Composite Bouquet | $100 – $300 |
| Round Bouquet | $60 – $120 |
| Presentation/Arm Sheaf Bouquet | $70 – $120 |
How Much Does A Bridal Bouquet Cost?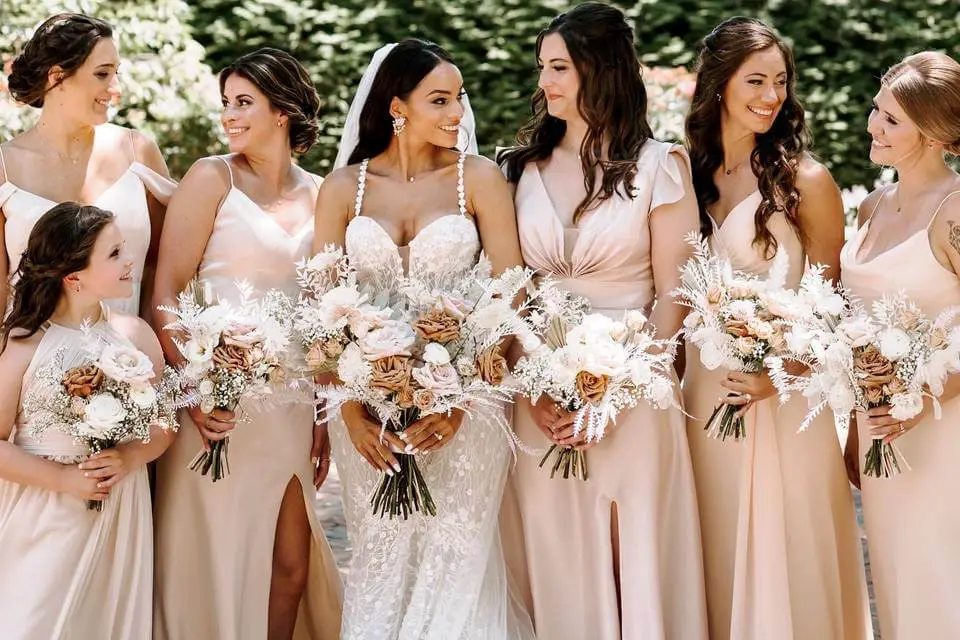 Almost every girl dreams of holding her perfect bridal bouquet and tossing it at their wedding. If you are curious about how much you are likely to spend on your big day, we got your back. According to professional wedding planners, flowers are amongst the highest expenses at a wedding. On average, couples spend about $100-$ 400 on the bridal bouquet alone. These costs vary depending on a few factors that can make you spend more or less.
Factors Affecting The Cost Of A Bridal Bouquet
1. Flower Season
Flowers have seasons and the price of the flowers you choose is highly impacted by seasonality. If you want a flower that is not in season, it will be scarce and more expensive. Always ask yourself whether the flowers you are choosing will be in season at your chosen wedding date. It would help to know flowers and their seasons to make a better decision.
Summer Wedding Flowers
Roses Hydrangeas
Dahlia Chamomile 
Sunflowers 
Spring Wedding Flowers
Peonies Cosmos 
Daisies Veronicas 
Tulips
Winter Wedding Flowers
Ranunculus Amaryllis
Tulip Orchid
Gerbera Narcissus Paper White
Gardenia
Fall Wedding Flowers
Rose Yarrow 
Celosia Orange gerbera 
Calla lily Solidago 
2. Type Of Flower Combinations For The Bouquet
Mixing flowers for a bridal bouquet is a trend that can help you cut costs. You can combine your favorite expensive flowers with more affordable ones to cut costs. Mixing flowers compliments them and lowers your costs thus hitting birds with the same stone. You can mix roses or casa Blanca lilies with baby breath to create an affordable yet popping bouquet. Always walk hand in hand with your florist to match your preferences to your budget.
3. Cost Of Stems
Different flowers are priced differently and if you want an affordable bouquet, you need to know your options. 
For Extravagant And Glamourous Flowers
Casa Blanca lily    Hydrangea
Lisianthus Orchid
Gardenias Peonies
For Medium-Priced Yet Beautiful Flowers
Roses Ranunculus
Gerbera daisies Lilies
Tulips
For Affordable And Gorgeous Flowers
Baby breath
Hydrangeas
Poms 
Carnations 
4. Where flowers are sourced
Lately, there's a craze about locally sourced flowers that are sustainably grown. If you plan to get on this trend, expect to pay more for locally sourced flowers. If you are looking to have an environmentally conscious wedding with sustainably grown local flowers, you might need a backup plan. This is because, in case of rapid weather changes, flower harvest might be affected thus affecting your order at the local farm.
5. Hiring A Florist Or DIY
If you want a professional to design and bring together your wedding bouquet, expect to part with more money. Hiring a florist means you are not only paying for flowers but for expertise, skill, and time. If you are on a budget and you consider yourself creative and artsy, take on the challenge and design your own bouquet. Doing so will cost you less and you'll be proud to walk down the aisle with a bouquet you created from scratch. Making your own bouquet will cost you half of what you would pay to a florist. You can save more if you choose to DIY by using alternative materials in place of flowers for your bouquet. You can use ribbons, pearls, paper, or wooden bouquets. The main advantage of such bouquets is they are not perishable and they can be kept for years as a memory.
When To Hire A Wedding Florist
If you have no idea about how to source or arrange your wedding flowers, it is safer to hire a professional florist. We recommend getting one six months before your wedding for easy planning and budgeting. When looking for a wedding florist, you need to be sure of your venue first. Reach out to different florists in your area, check their reviews and ratings then plan for meet-ups to choose one you will work with. A florist will save you some hustle since they provide a lot of services that you won't need to follow up on. Here's a breakdown of the services that a florist provides:
1. Consultation- after choosing a florist, you will have to meet up and discuss your vision for the wedding. It's at this point where you discuss details like color, preferred flower types, and arrangement. Your florist then gives you a proposal, sample arrangements, and prices to choose what suits you. Ensure you ask all the crucial questions at this point to get all the information you need.
2. Getting flowers and processing them– purchasing flowers is the biggest part of the task for your florists and it takes up the largest share of your flower budget. Your florist will source flowers from wholesalers or growers. Florists will offer better quality flowers than those you find at grocery stores. These flowers are hand-picked and grown purposely for events décor. After sourcing flowers, your florist then processes them in readiness for storage. This involves counting, taking thorns from roses, and preserving them in a cold room or refrigerated space for them to stay fresh and vibrant
3. Arrangement– this stage can be referred to as the production and labor stage. Your florist will take hours of keenness and creativity to arrange flowers for bouquets, centerpieces boutonnieres, and all those beautiful designs
4. Delivery and set up-on the actual wedding day, your florist will bring the arrangement to the venue and ensure everything fits in perfectly. At this point, what was on the proposal now comes to life. Your florist ensures the venue looks picture perfect and the flowers brighten up the mood.
5. Clean up and after-sales services– after the wedding, your florist team removes all the arrangements and cleans up the venue. This step is more reason why you need a florist. It saves you the hustle of worrying about clean up and you can head on to your honeymoon immediately.
Tips To Help You Save Money On Wedding Flowers
As you've already seen, the average price for wedding flowers is quite high. This should not discourage you from having your dream wedding. We have some tips to help you cut on budget while you still have beautiful flowers on your big day. 
1. Choose flowers that are in season since they will be more affordable compared to off-season ones
2. Reuse your flowers at the ceremony and reception. Alter arrangements and bridesmaids' bouquets can be moved to the reception venue where possible and repurposed to centerpieces.
3. Use candles, greenery, and other non-floral items to complement your flowers. Doing this will help you reduce the flowers you need.
4. Choose a garden wedding or a green venue. Garden venues have flowers already budgeted in their price plus the scenery will add to the beauty of flowers without much effort. Enquire with the venue about their floral arrangements and you could save a lot.
5. Limit your flower choices and buy in bulk. Choosing only three types of flowers will help you manage bulk buying which will cost less. Consult with your florist to ensure you get a bargain every step of the way.
6. Have a budget and be open-minded. With wedding flowers, there's no upper limit on what you can spend. That means you need to work around a budget to figure out what works for you. Consult your florists and be ready to make necessary adjustments.
7. If you want those gorgeous but extravagant flowers, go for bud vases. These vases need just a few stems to fill and create beautiful focal flowers. They also add to the décor by their elegance and simplicity.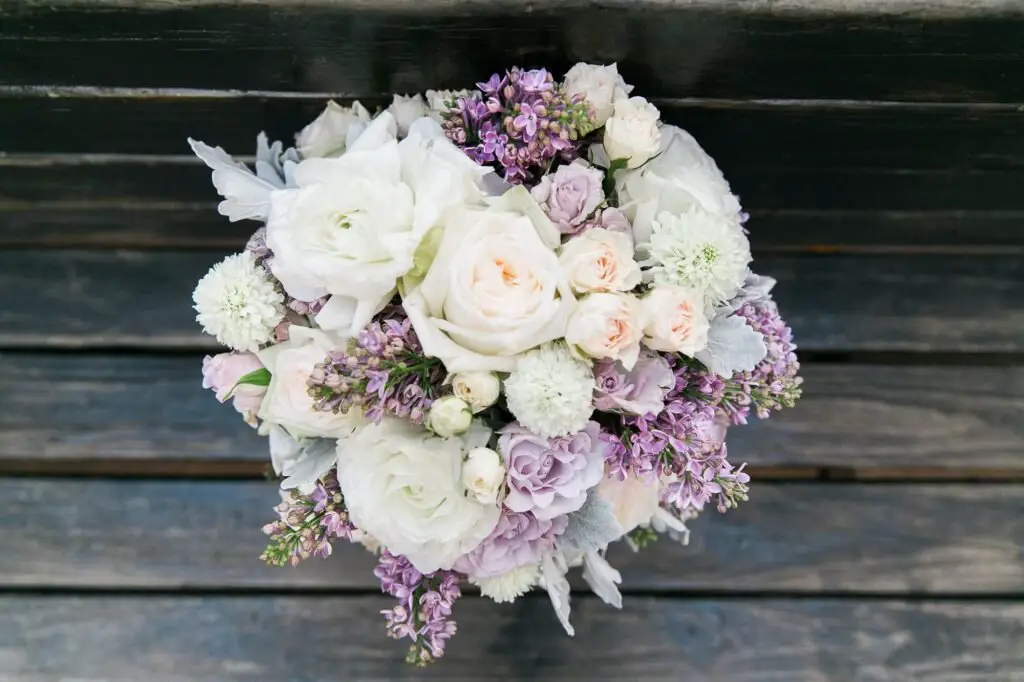 Conclusion 
Flowers add to the visual appeal of a space and create a beautiful ambiance everywhere. Whether you are interested in a bouquet as a gift for your loved one or as an event bouquet, having a budget is key. It's easy to spend all your money on flowers because they are gorgeous. but don't forget you always need extras to go with the flowers. For events, you'll need other services and while gifting, you need to accompany your bouquet with a gift or voucher.
We hope that you get some tips to help you make a smart buy and save some coins while at it.
References:
https://www.floraqueen.com/blog/how-much-does-a-bouquet-of-flowers-cost
https://www.zola.com/expert-advice/how-much-should-a-bridal-bouquet-cost
Emma is a graduate of Domestic Science or Family and Consumer Sciences (Home Economics) from the University of Wisconsin. She has 7 years of experience Working with the strategic section of BestBuy and now writing full-time for Homeeon.
From Managing the Home, Interiors, Cleaning, and Exteriors to Gardening and everything about Making A Home Liveable – is her passion and this Homeeon is the result of this.
Emma loves decorating her home with the best stuff found online. She cares about quality over anything and writes reviews about them here in Homeeon. Get in touch with her over Pinterest.
Keep reading her blogs.