Last Updated on July 14, 2023 By Emma W. Thomas
Both LG and Samsung are reputable brands in the washing machine market, offering a range of models with various features and technologies. The best washing machine between LG and Samsung depends on individual preferences, needs, and budget. Both brands provide innovative features such as energy efficiency, smart connectivity, and advanced washing technologies. It is recommended to compare specific models, read reviews, and consider factors like capacity, performance, reliability, and customer service.
Comparison Between Lg and Samsung Washing Machine
| | | |
| --- | --- | --- |
| Features | LG Washing Machine | Samsung Washing Machine |
| Models | Front Load ‣ Top Load ‣ Pedestal Washers ‣ Agitator Washer ‣ Impeller Washer ‣ Stackable Washer Dryer ‣ Washer/Dryer Combo  | Front Load; Top Load ‣ Agitator Washer ‣ Impeller Washer ‣ Stackable Washer Dryer ‣ Washer/Dryer Combo |
| Load Capacity | Wide range of options, ranging from small to large sizes | Wide range of options, ranging from small to large sizes |
| Wash Programs | Extensive range of wash programs to cater to various fabrics and stains | Versatile wash programs designed for optimal outcomes |
| Smart Features | Innovative technologies like SmartThinQ and TurboWash | Smart Control and AI-powered features |
| Washing Technologies | TurboWash, Steam, SmartThinQ | EcoBubble, QuickDrive, AI Control |
| Noise Level | Ultra-quiet operation for a peaceful laundry experience | Low noise level for enhanced user comfort |
What Are The Similarities Between Lg And Samsung Washing Machines?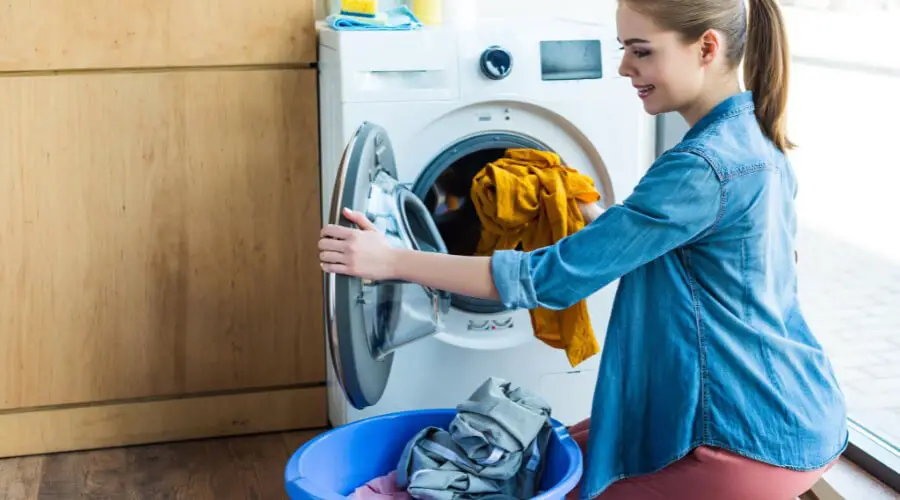 LG and Samsung washing machines have some similarities, including;
Build Quality
The two brands are reliable in terms of build quality. You can get models built of stainless steel with waterproof and rust-free touch panels. Such qualities make it safe to use the products besides making them durable. The excellent designs of these appliances make them produce less vibration and noise, hence enhancing your washing experience. 
Technologies
The features and technologies used by both Samsung and LG are superior, making them among the market's best appliances. But, different models have varying spin speeds and prices. You can get models with a speed of above 1000 RPM from both brands. 
Service Quality
Both brands offer semi-automatic and fully automatic models. You can also choose between front and top loads depending on your desired taste, budget, and water pressure. 
What Are The Differences Between LG And Samsung Washing Machines?
Samsung and LG washing machines have a lot of similarities in quality and service. But, there are some differences in the technologies they use. The table below shows some comparisons.
| | |
| --- | --- |
| Samsung | LG |
| It uses intelligent sensors with creative technologies. The sensors help the dryer to stop when the clothes are completely dry. When there is a blockage, the machine uses alerts to mobile services.  | Its dryer uses a wrinkle-free feature to produce fresh and clean clothes. It also uses a dry sensor system that detects humidity and moisture levels for the perfect drying process. |
| Samsung uses direct drive technology for an effective wash cycle and noise reduction. All stubborn stains are removed with one complete rotation of 360 degrees.  | LG uses baby care technology to produce allergen and germ-free clothes. |
| It has an add-wash door feature that allows you to put in more clothes once the cycle begins.  | Uses turbo wash technology to help reduce wash cycle and drying time.  |
| Short wash cycle irrespective of laundry load (can finish within 30 minutes) due to its super speed feature.  | It has an anti-vibration-designed drum that minimizes vibration and noise. |
What Are Some Of The Unique Features Of Lg's Washing Machine?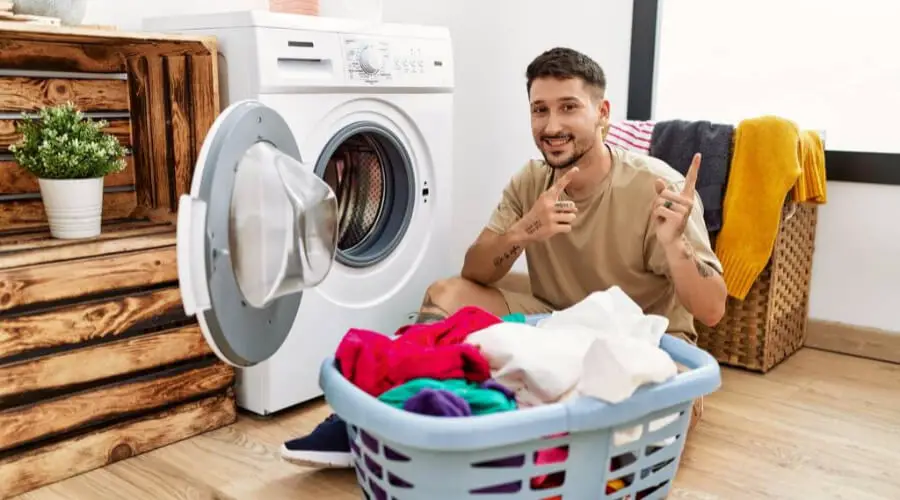 LG washing machines have quality technologies and features, making them excellent appliances. They include;
TwinWash
This unique feature allows some LG washing devices to have two washers, one at the top and the other at the bottom. The top part features the main front load washer, while the base consists of a mini full load washer. You can choose what to use depending on your load. For example, the main washer will do the job with larger and heavy loads, while you can use the bottom washer when working on more delicate loads. 
You can also use the two washers simultaneously without any worry of damaging your delicate garments. 
Steam Wash
This feature enables your wash cycle to produce steam that helps clean any allergen and dirty clothes. Your clothes will finally be clean and hygienic and free of germs and allergens. 
Turbo Wash
Turbo wash technology lets the LG machine clean your clothes within the shortest time possible. You also get the best results since the device produces water spray that helps rinse your clothes effectively. 
AI DD
AI DD technology is excellent in that it enables the machine to detect the weight of your load. It also senses the type of materials and chooses an optimized wash cycle automatically. With this feature, you will get optimal wash results since your appliance can adopt different processes that combine different speeds. 
Smart Diagnosis
It is possible to diagnose problems with your washing machine using the LG ThinQ phone application. Doing this will enable you to fix any defects before they become unmanageable. 
6 Motion
LG provides a combination of different motions (6 drum motions), making it possible to wash clothes efficiently. These motions include Swing, Tumble, Rolling, Filtration, Stepping, and Scrubbing. When you choose a wash program, the six-motion direct drive technology will move the drum in several directions. This movement ensures that the clothes receive proper care and gives them the ultraclean look they deserve. 
Remote Operation
Wi-Fi and LG ThinQ phone applications make it possible to operate your washing machine anywhere. This technology will enable you to do your laundry efficiently with a download of up to 20 extra wash programs.
Which Features And Technology Make The Samsung Washing Machine Efficient?
Samsung washing machine also has some unique features that make it excellent in performance, including;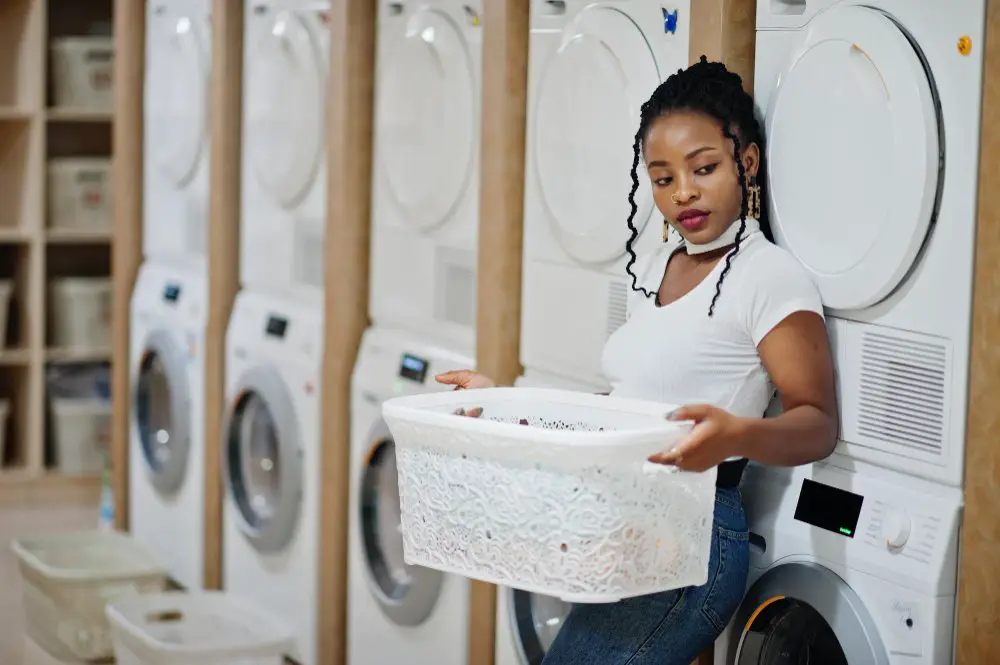 FlexWash
FlexWash allows you to wash two loads of clothes simultaneously, like LG's TwinWash. This washing machine has a mini washer on the top side for cleaning delicate fabrics. The main washer on the front side helps wash larger loads. 
EcoBubble
EcoBubble is a technology that helps to produce bubbles from detergents. These bubbles will penetrate the fabrics and get rid of the dirt quickly. This technology is powerful in removing stains at low temperatures and with gentle cleaning. 
AI Control
AI control is a smart management system that is AI-powered. It improves your washing skill with the use of a smartphone. This management system can recommend the best wash cycle that suits your clothes. It will also help optimize your laundry schedule, allow remote troubleshooting, and improve the device's performance using information from user interaction. 
Bubble Soak
Bubble soak is a function that allows clothes to get soaked into roughly inactive bubbles. This process helps to loosen and remove stubborn stains more effectively. The bubble soak function efficiently removes different hard stains and gives your clothes a spotless look.
Air Sanitize
This technology is helpful in the sanitization and deodorization of clothes which leaves them smelling fresh. It uses heated air to get rid of unpleasant odors and bacteria without detergents, water, or other chemicals. 
EcoDrum Clean
EcoDrum is a wash cycle that helps to keep the inner side of the drum clean. You will need to set the EcoDrum clean cycle, and it will clean the drum thoroughly. Doing this eliminates all odor-causing bacteria. 
Hygiene Steam
This technology enables the bottom of the drum to release powerful steam that cleans your clothes hygienically. The powerful steam cycle enhances the quality of cleaning by removing bacteria and dirt. 
AddWash
With this technology, you can add more laundry at the start of a wash cycle that you had initially forgotten. There is a tiny window at the top side of the washing machine door to add your laundry even when the wash cycle has started. 
Smart Diagnosis
This feature makes it possible to diagnose any issues with your washing machine using a smartphone app. It can also sense errors and offer quick troubleshooting solutions. This innovative check technology helps save time and the inconvenience of unnecessary service. 
What Factors Should You Consider When Choosing A Washing Machine?
Before you can purchase a washing machine, you need to keep in mind several aspects, including;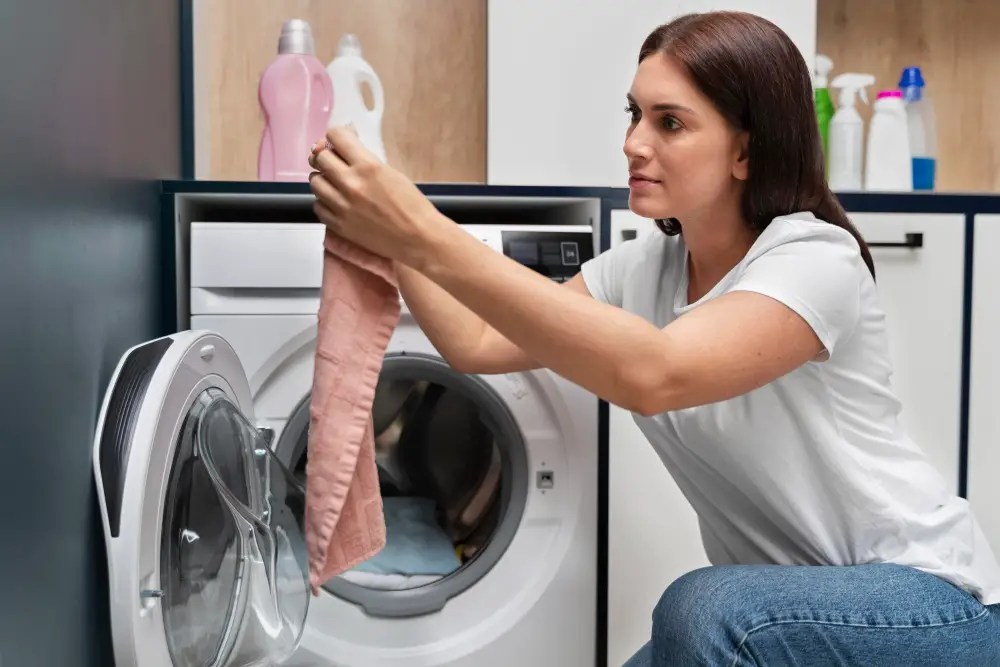 Wash Settings
Some devices have wash programs such as gentle wash and water level alternatives for delicate clothes. The appliances allow you to personalize and save favorite settings, and you can adjust these settings using the touchpad, screen, or rotary controls.  
Tub/drum Material
The material making the drum/tub plays an important role when choosing a washing machine. The tub is usually made of plastic, stainless steel, or porcelain enamel. Enamel tubs can chip and rust easily, but plastic ones can last longer. Stainless steel drums/tubs are the best since they can endure high spin rates and are also the most durable.
Temperature Control
This feature enables you to regulate the water temperature if the machine has an in-built heater. The temperature control feature is helpful during winter, and it also helps improve the quality of your washing since hot water cleans better than cold water. You may also get a washing machine with a steam setting to enhance dirt and stain removal. 
Spin Cycle
A spin cycle helps in drying clothes. Its efficiency depends on the number of revolutions per minute (RPM). A spin cycle of between 300 and 500 rpm is ideal for frail dresses, while tougher clothes such as jeans require a spin cycle of 1000 rpm. 
Time Delay
With the time delay feature, you get the opportunity to load your washing machine and then start it afterward. This feature helps you to avoid noise at certain times. It has a pre-soak feature that allows you to soak your garments for a certain period before the wash cycle starts automatically. 
Bottom Line
LG and Samsung brands have excellent washing machines, and the best choice will depend on individual tastes and preferences. You can choose one according to load capacity, design, spin cycle, and budget. 
References:
https://www.appliancesconnection.com/blog/lg-vs-samsung-washer-and-dryer
https://blog.yaleappliance.com/lg-vs-samsung-front-load-washers
Emma is a graduate of Domestic Science or Family and Consumer Sciences (Home Economics) from the University of Wisconsin. She has 7 years of experience Working with the strategic section of BestBuy and now writing full-time for Homeeon.
From Managing the Home, Interiors, Cleaning, and Exteriors to Gardening and everything about Making A Home Liveable – is her passion and this Homeeon is the result of this.
Emma loves decorating her home with the best stuff found online. She cares about quality over anything and writes reviews about them here in Homeeon. Get in touch with her over Pinterest.
Keep reading her blogs.