Last Updated on August 2, 2023 By Emma W. Thomas
Restoration Hardware is located in California but has its furniture manufactured in different international locations. Most of its furniture is manufactured in China. It also deals with other manufacturers and designers such as Australia, Indonesia, and India.
Where Does Restoration Hardware Get Their Furniture?
Restoration Hardware sources its furniture from a variety of suppliers worldwide, with a major focus on artisan craftsmanship and exceptional quality. They have a network of selected vendors that produce distinctive furniture pieces closely aligned with the brand's upscale and elegant aesthetic.
One key supplier base for Restoration Hardware is found in Asia. Countries such as India, China, and Indonesia are renowned for their high-quality craftsmanship and abundant raw materials. Many pieces of Restoration Hardware furniture, particularly those made from solid wood, are produced here. These countries also offer a unique blend of traditional and modern furniture designs, perfect for the brand's eclectic catalogs.
Central and Eastern Europe are other important sourcing regions for the company. Countries such as Hungary and Romania are well-regarded for their skilled artisans and their ability to produce high-quality handcraft furniture. Their centuries-old traditions in furniture making align perfectly with Restoration Hardware's approach towards delivering timeless and durable pieces.
Nevertheless, Restoration Hardware also works with suppliers based in the United States. This ensures a consistent supply of certain items, expedites delivery and maintains high-quality standards. Domestic suppliers often provide upholstered and customized items in the brand's range.
While the brand imports a significant proportion of its items, it is worth noting that Restoration Hardware is committed to ethical sourcing. Their supplier code of conduct highlights strict standards for labor practices, safety requirements, and environmental impact. This is instrumental in ensuring that all Restoration Hardware items are not just finely crafted and durable, but also responsibly sourced.
| Area of Sourcing | Types of Furniture |
| --- | --- |
| Asia | Solid Wood Furniture |
| Eastern Europe | Handcrafted Furniture |
| United States | Customized and Upholstered Items |
When Was Restoration Hardware Founded?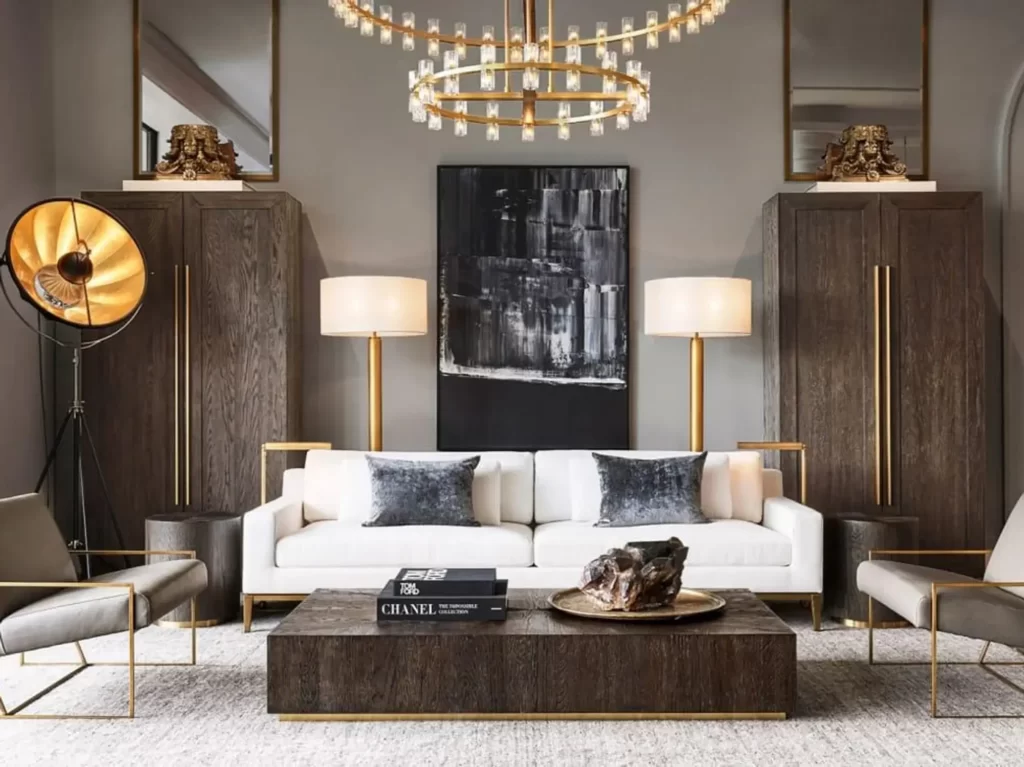 Restoration Hardware was founded in Stephen Gordon's Eureka, California home. Gordon began by collecting catalogs from hardware dealers countrywide until he could find his own antique-looking hardware. In 1980, he rented a 300-square-foot storefront in Eureka and invested by purchasing hardware samples. As a result of his determination, he worked tirelessly through the day and night until he was able to turn profits. He was then able to expand further until he opened his furniture line in the year 1994. 
The furniture line easily developed and adopted a restoration hardware signature. It was represented by oversize and deceptively minimal furniture in cool Cali hues. After that, there was tremendous growth in the furniture line until several brands were developed up to date. Some of the brands include Restoration Hardware Baby and Child, Restoration Hardware Modern, and Restoration Hardware Teen, among several Restoration Hardware outlets countrywide.
What Is Restoration Hardware's Specialty?
Restoration hardware baby and child features are their specialties ranging from the oval back French chairs and Thonet bistro chairs which are shrunk down to size. Their baby cribs are manufactured to mimic upholstered beds with washed wood and tufted side panels. For this reason, they are mostly used by parents concerned with discerning designs. Restoration hardware teens also take the lead in sales from their teen pieces, such as their original tweaks, making them feel more youthful. 
What Is The Quality Of Restoration Hardware Furniture?
There are numerous positive reviews on the quality of Restoration Hardware furniture. Most of the reviews are about their pleasant designs and timely shipment of their products. Most customers also point out the excellent customer service and after-sales services provided. For instance, some point out that the restoration hardware sometimes allows refunds and furniture returns even after light use. 
They also allow the return of products that fail to match the pictures in the catalog or online page. However, these are done under very special situations, and you must have sustainable proof of defect in the product and printed receipts of purchase of the product. 
But, there are a few complaints here and there on customer service, especially when refund, replacement of broken items, or a reshipment. Such treatments from Restoration Hardware customer service providers have resulted in a lower star rating of 1.5 regarding customer affairs. Generally, items in Restoration Hardware are elegant, greatly designed but have an inconsistent manufacturing quality which creates room for easy breaking. Some of their items are also prone to easy, normal wear and tear.
How Can You Save While Shopping In Restoration Hardware?
Prices at Restoration Hardware for home furnishings are sky-high and not easily affordable to many people. They proudly promote elegance and class over bargain-basement pricing, with their prices being quite expensive. However, one can reduce the high prices using the following tips;
Joining the restoration hardware program, especially for those who love shopping with them. Joining this program provides you with some bargaining power with only a 100$ annual membership fee plus taxes. It may sound like a lot, but the power and discounts that come with it are far better. Restoration Hardware members enjoy a slew of perks and offers that do not apply to any other customers.
Another way to save at Restoration Hardware is by signing up for their email promotions. Their retailers usually send notices on upcoming sales and other exclusive offers, giving you a chance to get their products at discounts. It helps save a few coins while still maintaining elegance and class provided by Restoration Hardware furniture and products. 
To save on the delivery fee, you can have all your items delivered at once. It mostly applies to people who have recently moved to a new home and are remodeling, making them order many items. Also, hotel owners who want to outfit several rooms can save themselves some money. All they have to do is pay for their items in a single shopping trip to save on several shipping trips, which could be very expensive.
Restoration Hardware also offers a flat rate delivery on bulk items, with their service going beyond delivery. They carry out other services such as inside-home delivery, unpacking, and inspecting each delivered item. They even go to the extra point of assembling the delivered furniture to their customer's choice. In this case, you save on delivery charges and any damages that may occur during delivery, unpacking, and assembly.
It would be best if you considered shopping at restoration hardware outlets. Outlet stores are the best way to acquire high-end quality goods at discounted prices. Restoration Hardware has over two dozen outlets countrywide. In case you fail to find any of its outlets, you can sign up for their emails through which they alert you in case of outlet promotions. The only disadvantage of shopping at their outlets is that the Restoration Hardware membership discount does not apply to purchases.
Lastly, you can purchase discounted gift cards which mostly appear on Restoration Hardware pages and other discount websites. These gift cards can save you a bundle at Restoration Hardware, where prices are extremely high. Such cards run out of stock very fast, even if the discounts are as low as 2 percent.
What Is The Future Of Restoration Hardware?
Restoration Hardware is known for its ability to swim against the current. Whereas other businesses are up and about trying to attract a wide customer base, it focuses on planting a firm flag and maintaining its stand as a luxury furniture dealer. Restoration Hardware has foregone conventional wisdom by limiting its physical stores and has changed them into furniture showrooms. Instead of attracting new customers with promotions, it offers membership options to its regular customers who are into daily discounts.
Additionally, restoration hardware is into finding methods to acquire superior earnings for its growth. For example, it is more concerned with home delivery services by ensuring that products reach clients perfectly. With this, the company is assured of fewer goods returns and complaints from clients due to damages. It also creates a good customer base due to excellent customer service. This company is also able to save some money from wear and tear caused during delivery. Their savings are estimated to be about 15 million dollars annually.
Other than its furniture outlets, the restoration hardware company is gearing up to the hospitality industry while still safeguarding its core business of furniture dealings. So far, the company has six restaurants set inside its showrooms. It also has several guesthouses that have tremendously gained popularity which is good news for the shareholders.
 However, the management is not so much into hospitality as their wish is to maintain the company as a core furniture business.  They feel that a lot of energy and time will be squeezed too much into the hospitality part, making them detract from furniture dealing. They fear that even if they could get more money from the restaurants, it will be at the cost of their furniture clients, and they are not willing to go down that path. 
Restoration hardware has more room for substantial long-term growth. It is Cleary seen as the management has set plans for a fragmented luxury market for their furniture in Europe with about seven prime locations suitable for expanding their furniture business. Restoration Hardware grows in a lean way since physical expansion would be expensive. It achieves this by using a sale-leaseback model, which involves selling their properties to landlords and later leasing them back for a contract. At the end of such a deal, restoration hardware suffers only a little upfront cost, increasing its profitability while still accelerating its new property. 
What Are The Challenges Facing The Restoration Hardware Furniture Business?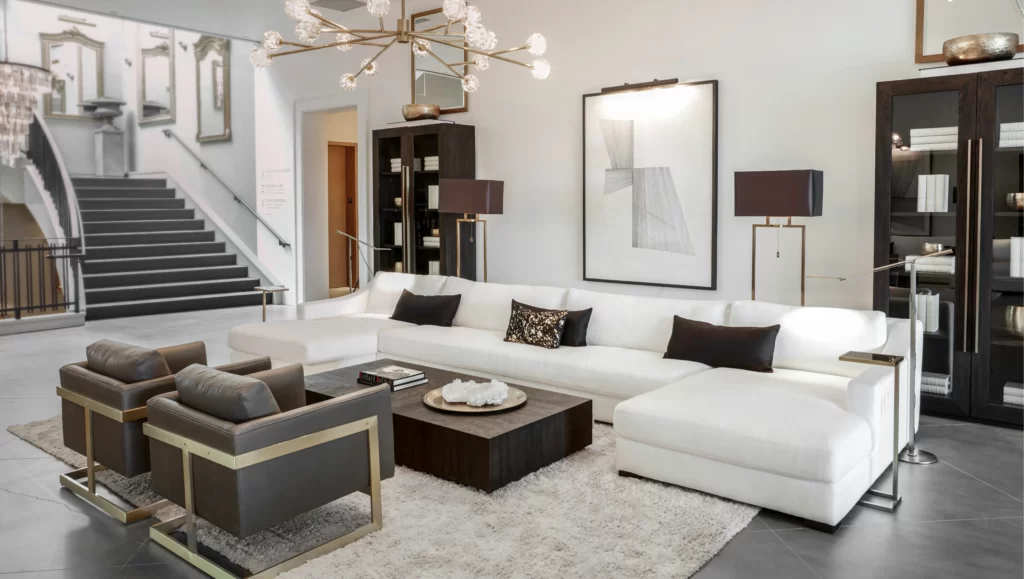 One main challenge facing restoration hardware in their furniture business is e-commerce which is a long-term threat. The reason being other furniture dealing stores such as Mayfair and Amazon have reported that almost 90% of their sales are from the e-market. Since the coronavirus pandemic hit the world, Restoration Hardware is among the business that was hit hard due to high dependence on physical retail.
Another challenge facing it is stock market volatility since most of its clients are wealthy individuals with large percentages in the stock market. In case their net worth falls, it would lead to reduced and postponed furniture purchases. Generally, a bad economy is bad news for all consumer discretionary brands.
Conclusion
In conclusion, Restoration is a furniture retail store that deals with high-end furniture at sky-high prices. Even though they do not display their furniture sources everywhere, they now source them from countries such as China, Indonesia, Australia, and India.
References:
https://www.1stdibs.com/answers/is-restoration-hardware-furniture-made-in-china/
https://madefind.com/where-is-restoration-hardware-made/
Emma is a graduate of Domestic Science or Family and Consumer Sciences (Home Economics) from the University of Wisconsin. She has 7 years of experience Working with the strategic section of BestBuy and now writing full-time for Homeeon.
From Managing the Home, Interiors, Cleaning, and Exteriors to Gardening and everything about Making A Home Liveable – is her passion and this Homeeon is the result of this.
Emma loves decorating her home with the best stuff found online. She cares about quality over anything and writes reviews about them here in Homeeon. Get in touch with her over Pinterest.
Keep reading her blogs.