Last Updated on July 18, 2023 By Emma W. Thomas
Bushwick, a neighborhood in Brooklyn, New York, has seen significant improvements in safety over the years. While crime rates have decreased, it remains essential for prospective apartment buyers to conduct thorough research, assess the specific location, and consult with local authorities. Factors such as gentrification, proximity to public transportation, and community initiatives contribute to the overall safety of the area.
Is Bushwick Safe To Buy An Apartment?
Bushwick is a vibrant neighborhood in Brooklyn, New York, known for its thriving art scene and diverse community. But when it comes to buying an apartment in Bushwick, safety is always a top priority. So, is Bushwick a safe neighborhood to invest in? Let's take a closer look.
Crime Rates:
According to statistics, the crime rates in Bushwick have decreased significantly over the past decade. With increased police presence and community initiatives, the neighborhood has become safer overall. However, it's important to note that certain areas within Bushwick still face higher crime rates compared to others.
Building Safety:
When considering purchasing an apartment, it's crucial to assess the safety of the building itself. Look for well-maintained entrances, reliable security systems, and appropriate lighting. It's also recommended to investigate the building's history of maintenance and any past incidents.
Surrounding Area:
Examining the neighborhood's surroundings is equally important. Take note of nearby amenities such as grocery stores, schools, and parks. Additionally, assess the presence of community organizations and programs that promote safety and active neighborhood engagement.
Community Engagement:
A community that actively participates in promoting safety is a positive sign. Bushwick is known for its tight-knit community, and residents often work together to address safety concerns. Look for community organizations, neighborhood meetings, and initiatives geared towards safety projects.
Gentrification and Development:
Gentrification can often contribute to increased safety in a neighborhood. As areas undergo redevelopment and improvements, crime rates tend to decline. Bushwick has experienced significant gentrification in recent years, with new businesses and residents moving in, leading to increased safety measures and overall improvement.
Research and Professional Advice:
Before making any investment, it's essential to do thorough research and seek professional advice. Real estate agents with expertise in the area can provide valuable insights into the safety of specific buildings and neighborhoods. Additionally, consulting with locals or current residents about their experiences can help paint a better picture.
In conclusion, while Bushwick has seen positive changes in terms of safety, it's important to conduct thorough research and due diligence before buying an apartment. Assessing crime rates, building safety, the neighborhood's surroundings, community engagement, and the impact of gentrification can help determine the viability of investing in a particular area of Bushwick. Seek professional advice and gather information from various sources to make an informed decision.
Where Is Bushwick?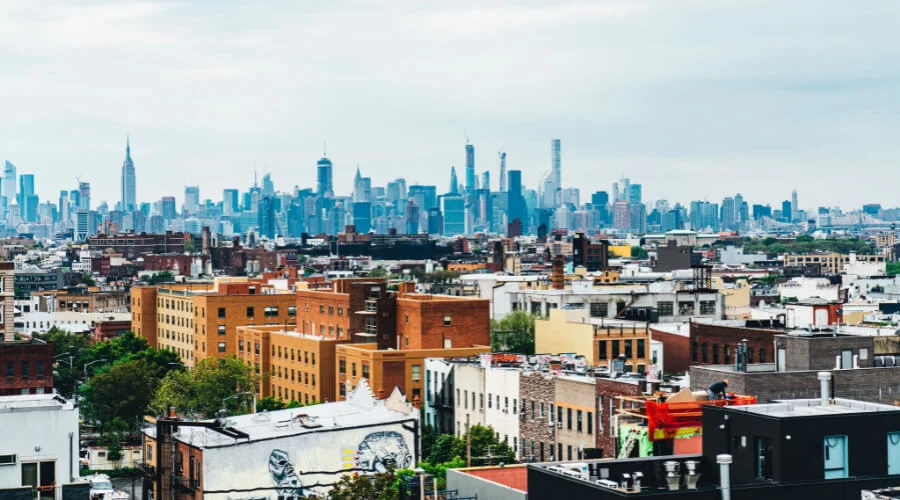 Bushwick Town is in the Northern New York borough of Brooklyn. The city was founded during the Dutch colonization. At first, it started with being a German immigrant community. In the 20th century, its population rose due to the influx of Italian Americans and immigrants. Later in the same century, the town became Hispanic. There was continuous arrival of immigrants from all over. 
After the tremendous increase in population, the town became independent. For now, Bushwick is in the Brooklyn community. It has zip line codes 11207, 11221, 11206, and 1137. The city is currently under the 83rd precinct of the New York police department(NYPD)
The Table Below Shows The Demographic Distribution Of The Bushwick Neighborhood:
| | |
| --- | --- |
| Country | United States of America  |
| City | New York City |
| Ethnicity; Black White Hispanic Asian Others | Brooklyn |
| Area size | 6.1KM2 |
| Population | 650,000 |
| Ethnicity;Black White Hispanic Asian Others | 18.5%9.4%67.1%3.9%1.1% |
| Population density | 21,000/km2 |
What Should You Know Before Buying An Apartment In Bushwick?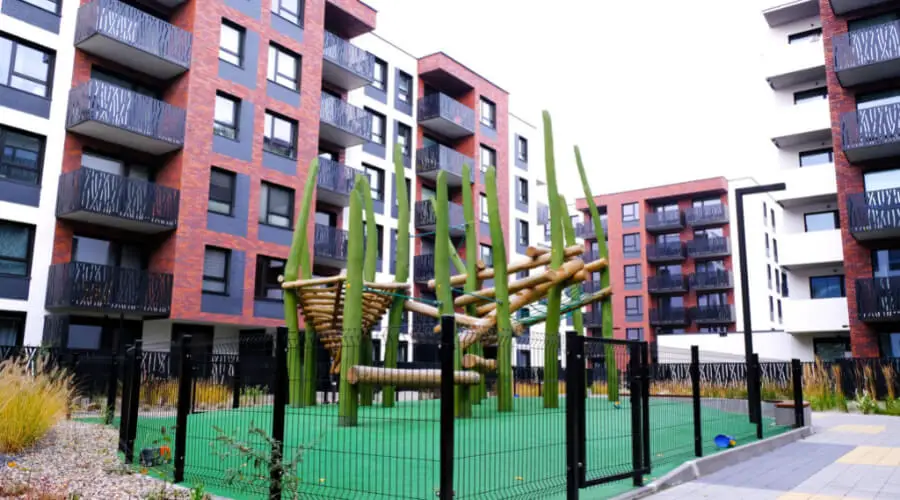 The Bushwick from the 20th century is different from the current one. There are various people with dozens of new businesses and houses. There is more in Bushwick than what people think. We all consider it polyamory, a crime town, among other inadequate definitions. The following are some things you should know about the place;
Bushwick Boarders
Bushwick town is in the New York City neighborhood and lacks official boundaries. New York communities were created in 1975 and later divided into smaller wards. Before the division, Bushwick was more significant in size and population than Boswijck. Currently, it lies in the Brooklyn community. The district (Brooklyn) has a flushing avenue, queens broader, the evergreen cemetery, and a Broadway to define it. Its division lines are invisible on the ground. However, they are well documented and available in blueprints and maps.
Renters Insurance
Many people ask whether renters insurance is worth it in Bushwick. The town is busy and has high crime rates. What better way to protect your property than using renters insurance? The good thing about this cover is its ability to protect your property even when you are away. It is also comprehensive. Comparing it with other towns, it is also cheaper. 
For instance, you find insurance going for around $300 per year. Such an amount is enough to cover property worth $50 000. In this case, if your property goes missing when you are away, the renters' insurance may chip in for replacement. There is a monthly insurance cost as low as $5 a month. For these reasons, renters insurance is a must-have in Bushwick Town.
Rent Rates
Rent rates in Bushwick can be higher than in other towns. Before moving in into an apartment, consider carrying out valuable research. Some buildings have rent stabilizers and rent tends to be high in these buildings since you pay the market rent. It would be wise to avoid apartments built before 1974 since they are covered by rent regulations, making them costlier. 
Ensure to research thoroughly since landlords conceal such information from their tenants. You should register yourself with the tenant rights agency to avoid these situations. In this way, you prevent getting high rent increments. You also protect yourself from illegal landlords since the agency sends all their details and the building in question.
Safety
How safe is Bushwick? It is another common question for people who want to settle in that town. Safety begins at a personal level. Locking your doors is a step towards being safe. Bushwick is among the most dangerous neighborhoods in New York City historically. There are reports of decreased crime rates in recent times, especially in the past 25 years. 
The reason is that the town was set under the protection of the 83rd precinct of NYPD. One of the best ways to ensure your safety in the city is by avoiding questionable places. Always be aware of your surroundings. The people you talk and walk with, especially at night. You can start by not taking phone calls when walking at night. It will also help to avoid headphones and hoods to hear and see the surrounding environment.
Transport
On the transport issue, the town is okay. Bushwick has the J and M subways with different weekend schedules. This city also enjoys the L trains. However, it sometimes messes up and the best way to get around Bushwick is by riding bikes. They are better than walking from one neighborhood to the next.
How Safe Is Bushwick?
Safety concerns on Bushwick are the most common question to New Yorkers. Like any other town, Bushwick is prone to theft and other crimes. These are associated with the population diversity of the place. We all have our definitions of safety. What is safe for you might not work for another person. 
Safety is also a process. How you respond to previous crimes determines how the neighborhood stays. Crime rates in Bushwick have decreased. The situation changed when the governing authority changed and introduced the NYPD in the area. With them around, there is justice and punishment for crime makers. Such has made the town more secure.
However, even in other towns, it is advisable to be cautious. You do not walk in risky areas at night and then claim how unsafe a place is. It would help to contribute to safety measures to make the neighborhood friendly. For instance, always report crimes. Avoid keeping quiet as you might be their next victim. Ensure to lock your doors and windows while away. Anyone might go in without your consent, especially in questionable places.
Which Are The Best Neighborhoods In New York To Buy An Apartment?
Investing in an apartment requires you to find value even where it does not exist. Sometimes it is not all about affordability. It would be best if you considered other factors like utility services availability. Some apartments might require you to dig deeper into your pockets. In the long run, you find their worth depending on the nature of the neighborhood. Some may be close to your workplace hence saving on transportation costs. Some of the best areas to buy an apartment in New York include;
Bushwick
Bushwick is the new escape route for most people running away from escalating housing prices. The town has improved in popularity, rising above other competing towns. According to realtor.com, medium listing in Bushwick is currently at $1.6 million. You can compare this with Williamsburg, which stands at $2.1 million. With this, it is clear that Bushwick has better deals. Most apartments are two and three bedrooms making them a habitable family row.
There are more industries in Bushwick compared to earlier. Most of their distribution centers were turned into artisan spaces. The people here also support street art, creating a sprawling street display. There are parks ad playgrounds in the town, making the perfect appeal for the family. There is the L train for people working in Manhattan when it comes to transport. There are also other train options you can rely on.
Murray Hill
Murray Hill is among the towns that recently experienced a growth spurt. Even after the 66% median price increase, the city still maintained its value. One-bedroom apartments cost about $972,000. This price is low compared to that in Manhattan. Their house prices are sandwiched between Stuyvesant Town and Kips Bay. That is reason enough to buy an apartment in such a place as it is neither as their prices are average. 
Chelsea
It is a neighborhood that comes with the hip. Chelsea has among the most expensive apartments on Manhattan Island. Like Bushwick, most apartments are two and three bedrooms suitable for family set-up. Chelsea registered a 24.1% increase in its apartment values over the past five years. It is impossible to find an undervalued property in this neighborhood. 
The reason for their high-value apartments comes from the peaceful nature of this neighborhood. They also boast about their rich architectural designs ranging from sleek to brownstones. Additionally, Chelsea is surrounded by an array of shopping and culinary centers and it also boasts of its numerous transit options. It serves as a destination for almost all residents in all parts of New York City. The neighborhood also provides a vast entertainment and recreation option ranging from the art galleries to the Chelsea Piers sports complex. 
Conclusion
How safe a neighborhood is depends on the people living in it. Whether the crime rates increase or decrease depends on you. Bushwick is now considered a safe neighborhood. The changes started after a new precinct was reported in the place. Individuals also learned to report crimes to the authorities. In return, they punish the lawbreaker hence the improvement. With that, you can tell anyone that Bushwick is safe to buy an apartment.
References:
https://www.propertynest.com/blog/city/bushwick-neighborhood-review/
https://bushwickdaily.com/community/2700-20-things-you-should-know-if-you-just-moved-to-bushwick/
Emma is a graduate of Domestic Science or Family and Consumer Sciences (Home Economics) from the University of Wisconsin. She has 7 years of experience Working with the strategic section of BestBuy and now writing full-time for Homeeon.
From Managing the Home, Interiors, Cleaning, and Exteriors to Gardening and everything about Making A Home Liveable – is her passion and this Homeeon is the result of this.
Emma loves decorating her home with the best stuff found online. She cares about quality over anything and writes reviews about them here in Homeeon. Get in touch with her over Pinterest.
Keep reading her blogs.